Over the past few years, Perth's health and wellness scene has taken off and we are loving it! From the juice cleanse companies to the healthy cafes, from the wellness warriors to the hip yoga studios sprouting up all over town, Perth has got it going on.
To celebrate all of Perth's health magic, we've created a cool little health and wellness series which will allow you to gain insight into the lives of some of Perth's healthiest cool cats. They'll share their tips and tricks and a whole lot of inspiration to help you live the healthiest life ever. Yesss!
This week, we met with Debra Edwards, the brains behind nutrition and homeopathy business Wholeness Health and Lifestyle. We took 10 with Debra to find out what homeopathy is, her top health tips, her favourite winter immunity boosting salad and how to avoid bloating.
Hey Debra, what are your best health tips?
Learn how to become the observer of your mind, emotions and body. Mindful breathing and meditation helps guide us to what we need to do be healthy.
Eat and drink as mother nature intended. That means fresh healthy produce (nothing out of a packet, with preservatives or additives) and keeping all stimulants to a moderate level.
Drink two glasses of fresh filtered water upon waking and aim to drink two litres a day.
What are the best foods to eat/avoid when it comes to bloating?
Avoid sugar (including soft fruits), wheat and all wheat products. If you're gluten intolerant avoid oats, rye and spelt. Excessive alcohol, dairy and red meat also cause bloating. The best foods to eat to prevent bloating are fresh vegetables, brown rice, buckwheat pasta and bread, quinoa and amaranth. You can also try sauerkraut and kimchi for good gut health.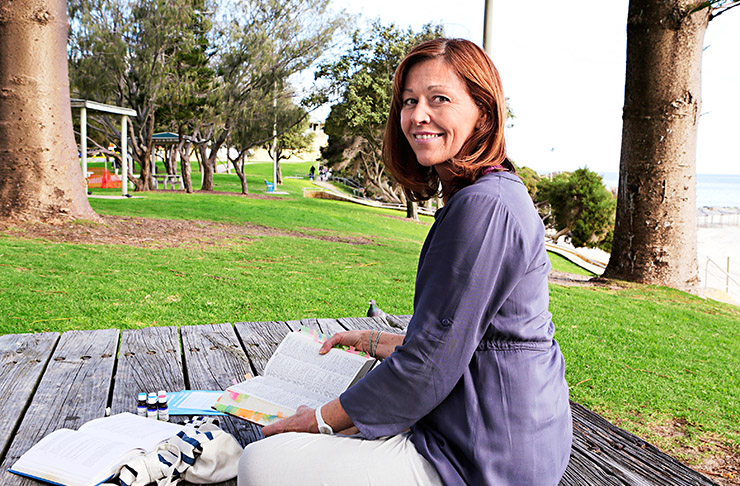 What should everyone know about homeopathy?
Homeopathy is truly holistic. A homeopathic prescription is not just based on the symptoms of the body but also takes into account the symptoms of the mind and emotions. Contributing factors such as shock, grief, abuse and stress are all considered strongly during a consultation.
In a homeopathic consultation lifestyle choices are noted and nutritional and lifestyle advice is given along with a homeopathic remedy.
What would your last meal on earth be?
That's a tricky one. If there was time, I'd head off to The Raw Kitchen in Freo and have a vegan warm Thai curry with coconut cream, a large piece of raw cacao cheesecake, washed down with a chai latte with nut milk. I'm salivating at the thought!
What's a good recipe to help keep our immune system up through winter?
This is simple and one of my favourites. It's a warm salad that'll keep your veggie intake up during the winter. I recommend buying organic where possible and washing vegetables in a little apple cider vinegar and water.
Immunity Boosting Winter Salad
Ingredients:
For the salad
1 bunch of English spinach
1 broccoli, chopped into florets
2 tsp coconut oil
2cm piece fresh ginger, finely chopped
1 clove garlic, crushed
1/4 tsp Celtic sea salt
1 avocado
1 tbs slivered almonds
Pepper to taste
For the dressing
Tamari or Bragg's Liquid Aminos
Bragg's Apple Cider Vinegar
Extra virgin olive oil
Method
Put the pre-washed English spinach in a large bowl. Sautee broccoli in coconut oil along with ginger root and crushed garlic. Cook until semi soft and add the Celtic sea salt and fresh ground pepper. Place the warm broccoli mix on top of the greens. Add sliced avocado and lightly browned slivered almonds. For the dressing, sprinkle tamari or Bragg's Liquid Aminos to add flavour, along with Bragg's Apple Cider Vinegar and a dash of extra virgin olive oil.
Image credit: Elle Borgward