Do your Bali trips often start with the best of intentions (I'm going to do yoga every day! I am gonna drink sahhhh many healthy juices! I will get loads of sleep!) and end up with you tucking into a Bossman burger at 2am after eight too many cocktails? Yeah, we hear ya.
But here's the thing. Our fave tropical island is pumping out some pretty amazing and healthy food these days and whether you're a vego, vegan or just keen to have a healthy holiday, you CAN arrive home feeling well nourished and glowing, as opposed to err…bloated, sunburnt and ready for a detox.
Here's 19 of our fave healthy hot spots for next time you visit the island of the gods, plus the best places to stay to enjoy them. Now put down those Pringles…
Seminyak
Earth Cafe: Heaven for vego's and vegans alike, there are heathy and fresh options galore at Earth Cafe like juices, smoothie bowls, veggie burgers and the most delicious salads.
Shelter Cafe: Looking for delicious breakfast and lunch fare served in lush, tropical surroundings? Us too! A hearty menu of home-cooked dishes is on offer at Shelter complemented by some cracking juices and smoothies. Located on a roof top garden, this place is a secret, relaxing escape from the busy streets of Seminyak.
Cafe Zucchini: One of the most popular places to get your healthy food on in Seminyak, this cafe has become an institution for its freshly made salads, refreshing juices and smoothies.
The Spicy Coconut: An awesome hidden gem, this vegan cafe is not only absolutely stunning, but there's a lot of love and passion in every dish. Try the vegan pancakes!
Watercress Cafe: The latest addition to Seminyak's burgeoning health cafe scene, Watercress is set in an airy tiled building and is the perfect healthy brekky, lunch or dinner pit stop, dishing out plenty of quality noms. We likey a lot.
Where To Stay In Seminyak?
One of the most gorgeous villas in Seminyak, Chandra Luxury Villas is one of those rare places where Balinese culture has been embraced but the space still feels really modern and stylish. Perfectly located in Seminyak, it's close to all the action but removed enough to feel like you're in your own private oasis. The villas are beautiful, tranquil and each includes the most epic outdoor shower set-up! Looks aside, the staff at Chandra will ensure your stay is amazing—from the chef cooking you breakfast in your villa every morning, to the private massages, yoga classes and an in-villa BBQ you can book. This place is the best!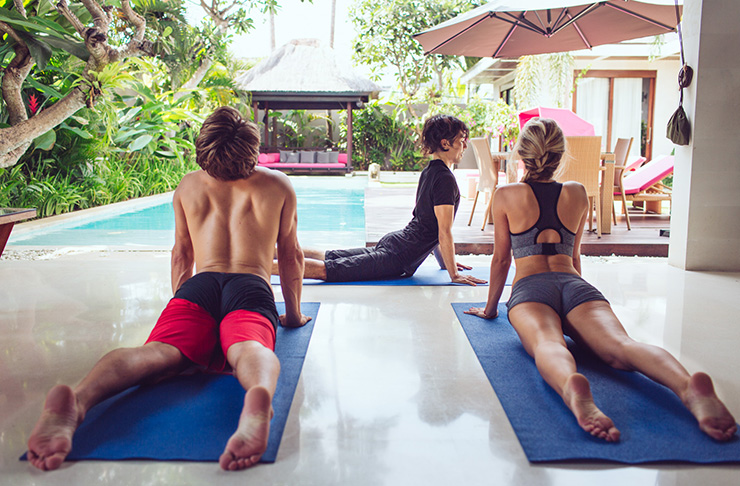 Kuta
Nebula Petitenget: A fave brekky spot for the health nuts, smoothie bowls abound at this Kuta cafe which also dishes out excellent coffee in clean, minimal and totally instagrammable surrounds.
Nalu Bowls: The perfect spot to grab yourself a refreshing, healthy bowl of goodness to survive the heat, all ingredients in your Nalu Bowl are sourced locally (and daily). Plus, they look real pretty. These guys now have four spots across Bali and are getting more popular by the day!
Where To Stay In Kuta?
A stunning boutique hotel in Kuta, The Sandi Phala Beach Resort is one of the best places to stay in Bali for its excellent location on the private Segara Beach, gorgeous big rooms and incredible service. Chill out on your private balcony and thank your lucky stars this beautiful part of the world exists.
Ubud
Alchemy: 100% raw vegan and organic, the delicious food at Alchemy may be free from refined sugar, flour, dairy, wheat and chemical additives, but it's still dang tasty. There's also some pretty epic raw desserts on offer.
The Seeds of Life Cafe: Serious about your raw food? The Seeds of Life is for you. It's not all tofu and quinoa though, there's some hearty feeds like raw lasagne and burgers on the menu.
Dayu's Warung: A cool little hippie restaurant, dig into delish organic Balinese, Indian, Mexican and Italian fare here. You won't be disappointed!
Kafe: It might be located on one of the busiest streets in Ubud, but this popular organic restaurant will have you feeling stress-free as soon as you walk inside, thanks to the comfy chairs and the tasty food on offer. Extra points for the super friendly staff.
The Elephant Restaurant: This much-loved Ubud restaurant is worth paying a visit for the delicious and nutritious food, along with the cool view.
Garden Kafe: Straight from the yoga mat to the kafe, enjoy a super healthy brekky, lunch or buffet dinner overlooking the lush gardens of the Yoga Barn. Namaste indeed.
Where To Stay In Ubud?
It has been named one of the world's best swimming pools, so you know the Hanging Gardens of Bali is going to be an exceptional place to stay—think 5-star service, supreme luxury and ultimate privacy in Ubud's breathtaking countryside. Every one of the 44 suites is beautiful, the only hard part will be leaving.
Canggu
Peloton Super Shop: Part vegan cafe, part bicycle store, part event space, Peloten ticks all the boxes for deliciously healthy food. The smoothie bowls and power pancakes are great for brekky while the 'tricken parmy'—a soy 'chicken' schnitzel is waaaay more delish than it sounds.
Green Ginger Noodle House: One of the original cafes in Canguu, this vego cafe also caters to coeliacs. To complement their range of vegetarian and vegan Asian inspired dishes, there's also vegan ice cream, juices, smoothies and plenty of yum-looking salads.
Motion Cafe: Another Canggu healthy hot spot, previously Avocado Cafe, Motion Cafe is a health lover's paradise, with plenty of noms that will have you radiating health in no time.
Ithaka Warung: If you're after local, real and fresh cooked Indonesian, this gem is awesome. A must-visit Canggu healthy hot spot.
Crate Cafe: With an Aussie owner at the helm, Crate is always bustling and for good reason—the food is healthy, delicious and brimming with nutrients, the vibe is relaxed and you'll always meet interesting and like-minded travellers.
Milk & Madu: Run by the same team as Watercress, head here for a refreshing acai bowl in the morning, one of their amazing burritos at lunch or one of the legendary salads. The Byron earth bowl will have you glowing from the inside out in no time.
Where To Stay in Canggu?
Villa Saba in Canggu is nothing short of paradise. Surrounded by terraced rice paddies near Nerawa Beach on Bali's south-west coast, this exclusive property has five private villas and a team of staff ready to make your time here the best ever.
Looking for more epic Bali info? Check out How To Have A Rockstar Weekend In Seminyak!
Image credit: Nalu Bowls / Chandra Luxury Villas