Who else is done with adulting? Me, too. I feel like we should all revert back to kindergarten… Those times when half an hour of times tables meant we got to drop everything and read for an hour, take a nap and then make a paper mache volcano.
In celebration of simpler times, we've rounded up a few dishes to remind you of the simple times. The times when finishing your day at 3pm meant a cheeky ice cream and a few cartoons before an early bedtime. Here are 12 dishes to order in Sydney if you're really just a giant kid.
The Paper Plane Burger | Paper Plane Cafe
Parramatta
Our five-year-old selves are having a tantrum at the mere thought of this. Beef, bacon, Swiss cheese, lettuce, tomato, and… Wait for it…. Peanut butter. Yep. Every mouthful is mouth stickingly, salty-sweet, juice-down-your-arms good. Then go play on the monkey bars.
Tella Balls | Tella Balls Dessert Bar
Dulwich Hill
You know the drill. Fresh, fluffy doughnut balls rolled in sugar and injected with silky smooth Nutella. There's no better feeling than popping one in your mouth whole and letting it melt, because you and your inner child are worth it. You're also worth a tella bab, that would be a Nutella kebab in case you were wondering.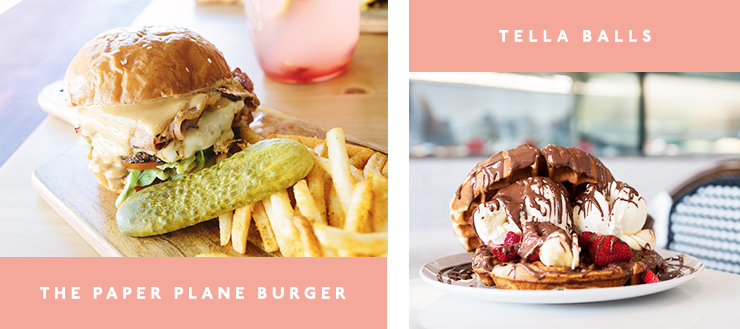 The Dessert Burger | Milky Lane
Bondi Beach
This is for those days when you seriously couldn't care less about your health; in other words the days when you want to be a big kid. Cue the sugar rush with Milky Lane's dessert burger… Are you ready for this? A fluffy bun with Nutella, vanilla soft serve, liquid white chocolate, and Oreos. And then they pop a Kit Kat and a Kinder Bueno. Woooft. Bet you couldn't swap that for an Uncle Toby's muesli bar at recess.
Belgium Waffles Fairy Floss | Tiny Giant
Petersham
Our inner fairy princesses (and princes) go bananas for this monster of a dish that has taken over our Instagram feeds in the past year. Fluffy-ass waffles with pink Persian pashamak, maple syrup, salted caramel and berries. It's the kind of thing you'd bring to show and tell, and win (because we all know it was totally a competition).
Nutella & Ricotta Calzone | Vacanza
Surry Hills and Bronte
Calzone? Good. Ricotta? Good. Nutella? Goooooood. Put them all together, fold it over, pop it in a woodfire oven at one of the best pizza joints in Sydney… You've got yourself a winner, friend. Imaginary friend? Sure.
Gelato Flowers | i-Creamy
CBD
It's always a dilemma when your ice cream is too pretty to stay off Instagram, but also very cold so will melt, and also very delicious. The floral gelato at i-Creamy is even more delicious than you'd imagine. Try the white chocolate miso for a flavour explosion. And then write about it in your journal.
Sushi Burger | Gojima
Pyrmont
For those kids that developed the savoury buds and begged for cheesy goodness, we have Gojima's famous sushi burger. Folded over for your holding pleasure and convenience, it's the perfect snack for when you're hungry for sushi and burgers, you fussy little thing, you.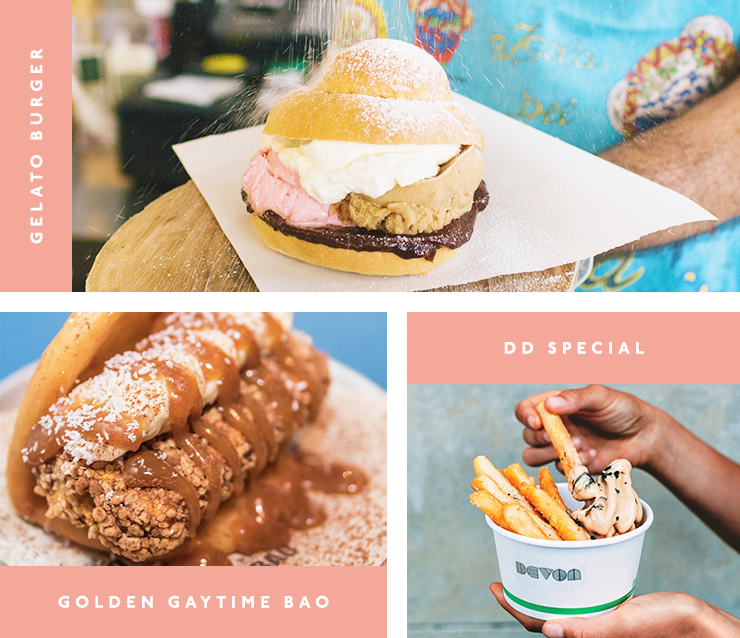 Golden Gaytime Bao | Belly Bao
CBD
We all know there was an art when it came to the choosing your ice cream from the shop after school. And we all know that a Golden Gaytime was always the winning choice. Now, we have our own money and alcohol, and we choose to combine those two things at Belly Bao, in the form of a full Golden Gaytime drizzled with salted caramel and served in a deep fried bao.
Gelato Burger | Cremeria De Luca
Five Dock
So. Much. Ice cream. But this time, it's in a fluffy brioche bun at Cremeria De Luca. Add in some ricotta and panna (cooked cream) and you won't even care about spoiling your dinner. Nope, not one bit.
DD Special | Devon Cafe
Surry Hills & Barangaroo
Ohh yeah, remember going through Maccas drive through, getting a soft serve, and dipping it in your chips like a boss? Me too. This is the grown up version, here at Devon Cafe. Go for the matcha flavour if you want to feel a liiiiittle bit like an adult—but not too much.
Turkish Delight Smashed Pav | Wild Pear Cafe
Dural
Yesssss, our favourite childhood dessert got all kinds of grown up at Dural's Insta-famous Wild Pear Cafe. Topped with berries, watermelon, cream, ice cream, Turkish delight, pistachio, rosewater syrup and pashmak. Seriously. That, and you can definitely stay up past your bedtime.
Cherry Ripe Pancakes | The Local Mbassy
Pyrmont
How do you make your favourite chocolate bar even better? You put it in a pan, layer it with glazed cherries, toasted coconut, wild berry compote and chocolate sauce. Then you eat the whole thing in five minutes without a care in the world. You're a big kid now.
Prefer to stuff yourself with pizza? Check this out.
Tella Balls | Image credit: Caitlin Hicks; Tiny Giant Petersham | Image credit: Caitlin Hicks; Belly Bao | Image credit: Jennifer Romero; Devon on Danks | Image credit: Devon on Danks; Paper Plane Cafe | Image credit: Daryl Kong; Cremeria De Luca | Image credit: Jackielyn Powell