Good things come in threes, but great things come in the form of the perfect trifecta. Introducing Dust—a bakery, pizzeria and fully functioning stone mill. It's the kind of place you go to carbload (guilty) sans the 'why did I eat so much?' feels because the flour here is next-level kind to your belly.
The man behind the mill is Cesare, a third generation baker, so you can rest assured this guy knows flour. And bread. And pizza. And is someone you're going to want to make your new bestie ASAP, because a friend with bread is pretty much the best kind of friend.
All of the bread, and that delicious pizza we mentioned, are milled fresh on site, thanks to Heidi. That's the mill, in case you were wondering, and Agatha, her sister sifter. Using whole grains from local farmers you'll find sourdough, bok loaf, chickpea flour, amaranth, quinoa and more the next time those bakery cravings hit.
To say we arrived hungry is an understatement. First up on the menu was the salumi plate— with prosciutto, bresaola, cacciatore salami, chunks of aged parmesan, house pickles and marinated olives. Yep, we polished all of this off before the main event.
Next was the wood fired pizzas. Made with their in-house stone milled flour and slowly fermented for over 30 hours, the bases were light like a cloud and absolutely droolworthy. The sautéed broccolini with pork and fennel sausage has just enough of each topping that all the flavours complimented each other perfectly. Hot tip: the special of the day is definitely worth asking for. When we visited we had the prawns and they were deliciousness on a plate. If you love your chilli oil ask for a pot or two of their house made concoction, then pair it with a chilled negroni or Italian beer and you're in business.
Open for breakfast, lunch and dinner, Dust is perfect for groups, dates and even small humans. We'll forgive you for taking a loaf or two home with you—the dark rye with fennel packs a punch.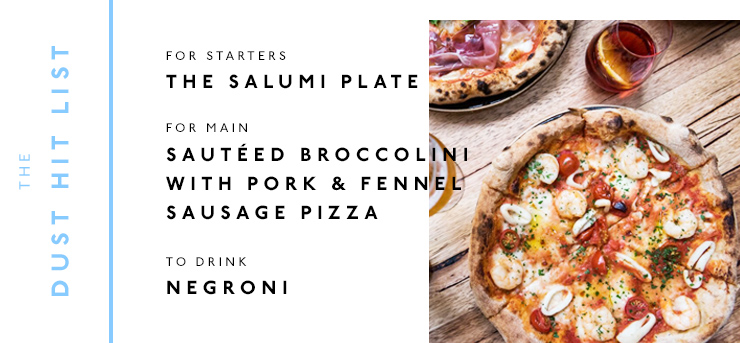 If you prefer cake, then check out our list of faves here.
Image credit: Caitlin Hicks Design credit: Gabrielle Stjernqvist