Looking healthy, gorgeous and glowing is a pre-requisite for enjoying an Australian summer, and while some believe this means a suntan, we beg to differ. What your skin really needs is a good exfoliation.

The reason exfoliation is so important for skin health is that it removes dead and dry skin cells from the skin's outer epidermis. The benefits of removing this layer of discarded cells include: decongestion and the removal of dirt and bacteria from pores, preventing irritation and acne; increased cell renewal speed for younger, smoother skin; better absorption of serums, moisturisers and sunscreens; reduction in the appearance of pigmentation and fine lines, as the damaged cells are broken up; and finally a reduction in the appearance of pore size—genetics determine actual pore size but unclogging will refine the skin.

Regardless of whether you have dry, normal or sensitive skin, there is an exfoliant right for you. Here are some tried and tested brands.
The Face
Antipodes Reincarnation Pure Facial Exfoliator
Creamy, gentle and fragrant, the Antipodes Reincarnation Exfoliator is gentle on the skin and leaves your face and décolletage feeling fresh, clean and clear. A combination of avocado oil, jojoba beads, calendula oil and sandalwood essential oil offer a calming, cleansing experience. $42

Dermalogica Daily Microfoliant
This rice-based exfoliating powder activates when combined with water and releases Papain Salicyclic Acid and Rice Enzymes, which exfoliate removing dead skin cells. Gentle and quick acting, skin is left feeling smooth and looking bright. $69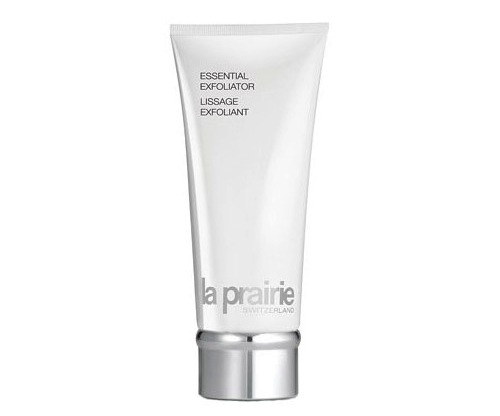 La Prairie Essential Exfoliator
A daily exfoliator, La Prairie Essential Exfoliator uses a combination of botanical extracts to smooth, calm and purify the skin. Luxurious and creamy, pores are refined and the skin cleared of impurities. $95

Crème De La Mer The Refining Facial
An extremely gentle exfoliant, it is perfect for those with sensitive skin. The active ingredient is fermented acidic sea mud, which softens skin and gently lifts dry surface cells. Designed to improve radiance and brightness, this creamy formulation also contains diamond powder and polished sea quartz. $130
The Body
Sanctuary Spa Covent Garden Salt Scrub
Comprising sea salt from the Dead Sea, this body scrub is both luxurious and affordable. The mixture of moisturising oils, including jojoba, coconut and almond, and the sea salt, leaves skin extremely smooth and lightly scented. $19.99

Kiehl's Gently Exfoliating Body Scrub "Grapefruit"
This gentle body exfoliator is a real treat on the skin, creamy yet containing enough granular impact to smooth out imperfections. With a light fragrance and containing moisturising emollients, the skin feels renewed and vibrant. $30

Clinique Sparkle Skin Body Exfoliating Cream
Fantastic for an invigorating all-over scrub you can't go past the Sparkle Skin Body Exfoliating Cream by Clinique. With a fresh peppermint zest, this body scrub is great for a morning wake-up call. $50

Thalgo La Beaute Marine Exotic Island Body Scrub
Indulging in Thalgo's Exotic Island Body Scrub actually makes you feel a little like you are in paradise. A combination of sand, salt and coconut shells purify the skin, whilst vanilla extracts leave you feeling a world away. Perfect for a velvety finish. $87