It was a rainy ol' Sydney afternoon when we caught up with Henry Wilson out at his Rozelle studio-cum-workshop. Somehow the drizzle felt fitting, as we picked our way through a maze of timber suppliers and boat builders to find Henry's shipping container outpost. 'Outpost' is the word for it, like an industrial Robinson Crusoe, Henry designs and tinkers in isolation, with the exception of his sturdy companion Slick.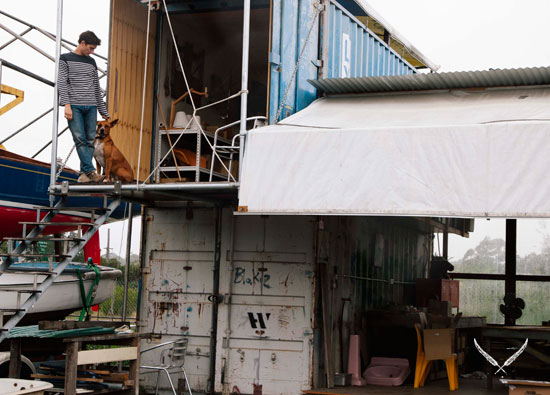 Winner of the 2012 Qantas Spirit of Youth Awards within the Craft and Design category, and the 2011 Bombay Sapphire Design Discovery Award, accolades and acknowledgments have come thick and fast for this young designer. It was Henry's A-Joint series, cast out of bronze or aluminium, which helped firmly establish his presence within the industrial design landscape.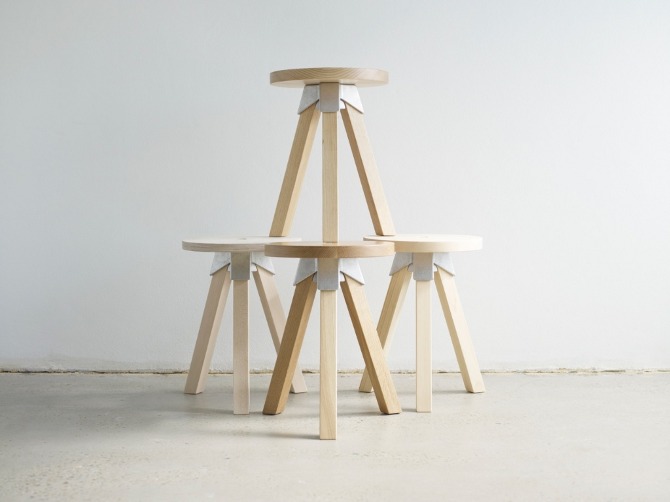 The A-Joint and A3-Joint are reinterpretations of a horse bracket, which can be used to configure stools, trestle tables, coat racks and bench seats. Henry sells a range of A-Joint standardised products via his online store, including: stools, benches, tables and trestles, all with wooden components. Though self-assembled, there is nothing disposable about these products; Henry offers a lifetime guarantee on his A-Joints.

The durability of Henry's designs accompanied by their beautiful simplicity, has garnered a significant following by Australia's interior design, retail and hospitality industries. In addition to the A-Joint furniture, Henry sells shelving (Chevron), lighting (Ceramic Work Light; Stone-Core Sample Repair; LED and Ceramic Anglepoise) and recently the Vide-Poche.


The 'vide-poche' translates to 'empty pockets' in French; Henry designed the trays with your loose-pocket items in mind—think keys, change and phone etc. Made out of aluminium or bronze, 20% of all online sales is donated to Amnesty International. For a complete catalogue of Henry's products head to the online store.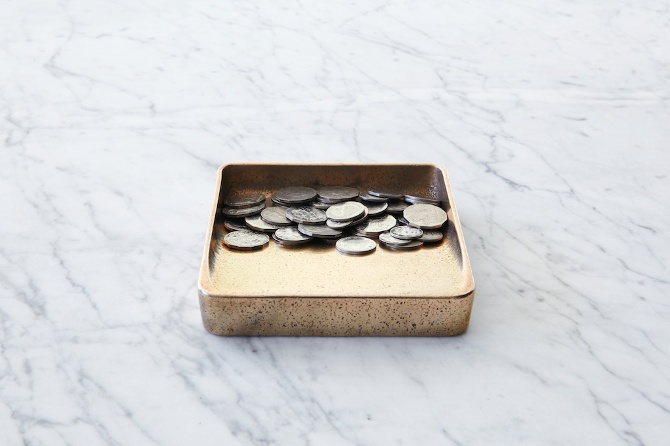 When one learns Henry undertook the wood workshop program, whilst studying at the Australian National University (ANU) in Canberra, and later completed a masters in 'Man and Humanity' at the renowned Design Academy Eindhoven (DAE) in The Netherlands, the balance achieved between a maker and designer's perspective becomes all the more clear.

It was during his time at the DAE, Henry began designing additions to— and re-interpretations of— iconic designs: such as his Tolix leather chair cover (a very comfortable enhancement in our opinion); or his tan leather, blue powder-coated Wassily chair; and finally to his converted LED Anglepoise lamps. A response to his mentors' constant questioning as to whether the market really required new products, and general sustainability issues.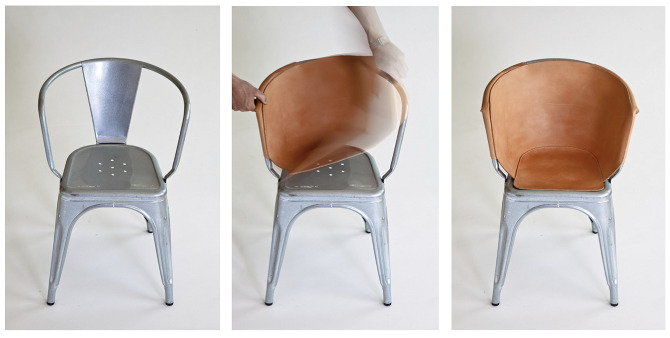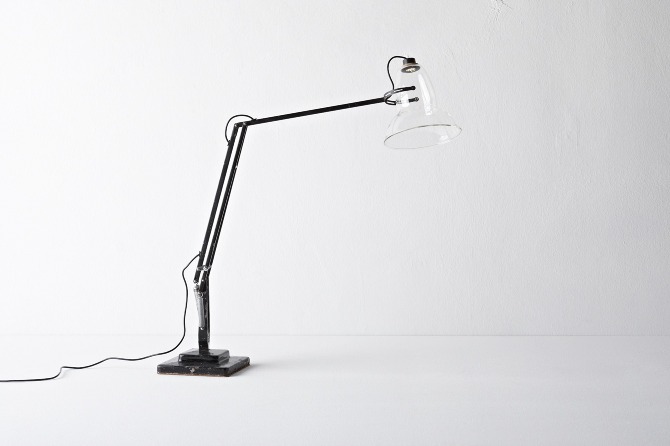 With an exciting collaboration to be launched in Milan early next year and prestigious New York retailer MATTER now producing Henry's A-Joint furniture locally for the US market, we thought it was time to find out just what makes the talented Mr Wilson tick.


TUL: The hands-on experience you gained in the woodwork program at ANU's School of Art, under the tutelage of Dr Rodney Hayward, you have described as "crucial". Can you tell us just how this helped shape your path?
Henry Wilson: The ANU was great as it was all about the process of making something from scratch, design was an after thought; I don't mean that in a bad way, more that a "design process" evolved in each student differently. We were certainly not setting out to design something for the magazines, as corny as it sounds it was an individual 'journey'.

TUL: Dr Hayward continues to play a collaborative role in your design life, can you elaborate on his methodologies?
Henry: Rodney is an amazing man who has taught me the value of details and thorough investigation. He comes from a chemistry background and that rigour in his training comes through in his approach to making and appreciating objects. It doesn't matter how many blogs or edgy design journals I read—one cup of tea with Rodney will bring me bang up to date on a unique view of the modern world and everything in between.


TUL: With regards to industrial design today and issues relating to longevity in design, is there perhaps a too greater divide between the designer and the maker/ the process of building?
Henry: I think that issues relating to longevity are more complex than the divide between designer and maker. It might help that designers have a more hands-on role but in reality I think it comes down to cost, or, cost cutting. We have been trained as consumers to seek value, which is not such a problem just that it is skewed, especially in Australia. The value we compare to is often made in the East at wages that developed countries cannot compete with. It is a false expectation of value.

I was recently asked through my online store "to give a thorough explanation as to why the Vide Poche bronze was $330?" There are no over-inflated markups in my items, just basic fair sums that are derived from the actual cost of production in Australia.

TUL: There is an inherent beauty and sturdiness to the materials you work with: bronze, aluminium, wood, enamel and marble. Do you really attribute a lifetime warranty to your A-joint? What a rarity in this day and age…
Henry: Yes, I do give a lifetime warranty on all iterations of the A-joint. I'm not sure what the rarity of that kind of statement is these days but I feel like if you can break one then I want to see how you did that.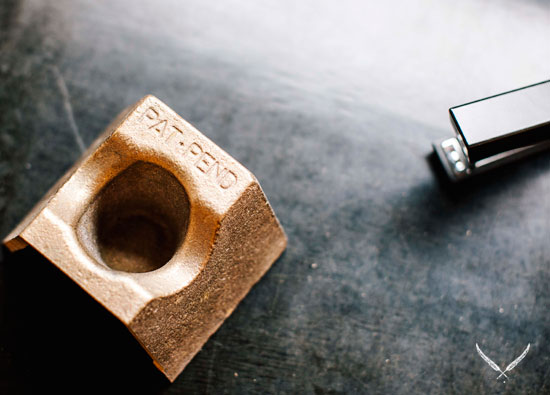 TUL: Studying at the famed Design Academy Eindhoven in The Netherlands was obviously a challenging experience, and one where you faced the ethical questions those creating modern products often face. How did your mentors and peers react to your fascination with adding to— and repurposing— existing design? Iconic designs at that…
Henry: The DAE is quite an avant-garde place so pretty much anything goes. The challenge was to get the green light to make anything at all . . . It was a fight to make without being asked, "can you not find a better example?"

TUL: I believe you love fossicking through junkyards and markets etc.; can you tell us of a significant find and where are your favourite spots?
Henry: No spots in particular, though anytime I am in a new city, especially in Europe, I will hunt out a flea market. I have stopped buying things now and mainly rely on pictures. I'm constantly training my eye to glean potential.


TUL: There have been prestigious awards and significant industry acknowledgements to date, but what do you feel most proud of?
Henry: I love it the most when people who have bought things from me randomly send me notes saying how happy they are with whatever it is. That always makes my day.
TUL: What projects do you have on the go at the moment?
Henry: I am working on a new pendant light with the talented Bianca Chang and Benja Harney (Paperform). Can't say more than they will be launched in Milan early next year.
TUL: I am assuming you are a fan of Grand Designs (haha I hope that is okay); do you have a favourite build/renovation?
Henry: I like GD, or, I did like it in the early days . . . I think the really interesting builds now run a mile from the TV cameras, which is a shame as that is what people should be aspiring to. That said the series on Kevin building his own cabin was fantastic.

TUL: You recently visited the US can you tell us some of the design highlights from your trip?
Henry: I was in the US on work. MATTER in NYC is now producing A-joint furniture locally for the US. On my way I visited SF and LA where I did the obligatory architecture tours of Palm Springs etc. I loved LA, though the biggest buzz from my trip was seeing the retrospective of James Turrell and, separately, Chris Burden.
TUL: Past and present – who are your design heroes?
Henry: Achille Castiglioni, Giò Ponti, Le Corbusier, Charlotte Perriand as far as contemporaries go I think Lex Pott is pretty interesting.
TUL: What does a day off entail?
Henry: I like to go swimming with my dog [Slick]. He is the current dog-swimming champion of NSW, maybe even Australia. We are defending the title again this Christmas eve at the Church Point Annual Dog Race.
Photography by Anastasia Nielsen