Matt Moran's restaurants read like a go-to guide for exceptional Australian cuisine. From Aria to Chiswick and the Opera Bar, to his latest venture North Bondi Fish (opening this December!), diners experience the best of Australia's seasonal produce and an impressive contemporary menu.
Matt is passionate about seasonal produce, growing up on the land has instilled an inherent respect for our locally grown food sources. You may have even enjoyed the Moran Family Farm sustainably and environmentally grown lamb, it is renowned for its quality.
This 'food' passion inspired Matt to get out of the kitchen and hit the road in order to film Paddock to Plate, which is currently airing on the Lifestyle Channel. On his journeys, Matt has met, and gotten his hands dirty with, amazing growers and producers across the country, an experience he describes as incredible and inspiring.
PS: We are very, very excited about North Bondi Fish opening in December, long summer days on the sand and some of the best fish and chips in town: PERFECT.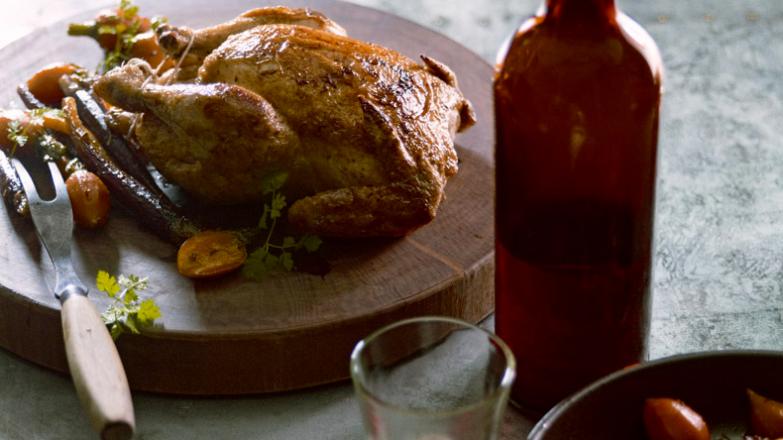 TUL: Do you ever miss life on the farm? How often do you get back to the family property?
Matt Moran: No I don't miss it—I still spend a lot of time there around four to five times a year!
TUL: Filming Paddock to Plate you have 'ticked off' some of your bucket list, can you describe a real standout moment?
Matt: Oh wow too many to list, but what really stood out for me was diving for abalone and pulling a 120g truffle out of the ground. They were definitely bucket list experiences!
TUL: How important is it, getting in touch with our food sources and understanding our Aussie backyard?
Matt: It's extremely important and it's not a fad. People now have a real thirst for knowledge of where their food comes from and how it is grown.
TUL: After 28 years in the industry—you have mentioned creating Paddock to Plate has turned out to be one of the most inspiring experiences of your career. What telling lessons have you learnt?
Matt: For the first time I left the kitchen and was on the other side . . . I have been dealing with producers for over 20 years, being able to go and see where all the produce actually comes from and hear their stories has been inspirational.
TUL: Is there particular produce you really enjoy sharing with your diners?
Matt: I love sharing everything; to me it's all about going out there and finding new ingredients and creating new dishes to bring back to the restaurants.
TUL: Why the passion for the restaurant dining experience?
Matt: It's something I have been doing my whole life, I couldn't think about doing anything else!
TUL: Do you have a favourite meal you like to cook at home?
Matt: Boiled chicken with master stock, it's a regular Sunday night meal with the family!
TUL: Where are your top picks for grabbing ingredients around Sydney?
Matt: I have suppliers that deliver to all my restaurants, but for the home cook I would be going to local growers' markets!
TUL: Finally, could you please tell us your five favourite spots for drink, dine and design in Sydney?
Matt: Opera Bar, Clovelly Hotel, Art Gallery NSW, Academy Brand and North Bondi Fish (opens early December – ill be there all the time!).