You hear that? It's the sound of your mind and body and friendship group begging you to do something other than drink wine or eat copious amounts of cheese or dance on tables.
But what about fruit picking? The lost art of plucking a sweet, ripe apple (or whatever is hanging off a nearby tree) and prancing around with it in your hand while being all at one with nature.
Here are the best spots to go fruit picking in Sydney.
Side note: Make sure you keep an eye on the opening times of these places and the seasonality. Because fruit is seasonal. You laugh, but I'll bet my dinner people show up in the dead of winter looking to pick a strawberry or three.
Bilpin Fruit Bowl
Things most people think when they hear Bilpin: apples and apple cider. And while there are many, many, more things to do, you can't deny they're on the right track with those two wonderful offerings. And at the aptly named Bilpin Fruit Bowl, you can get all that and then some (probably). They're open on weekends for all your picking needs, as well as other times if you simply want to pop by and try the produce.
Clyde River Berry Farm
Off the top of my messy head, there are two good things about going to Clyde River Berry Farm: One, you can pick berries and skip around merrily with said berries in your hands. Two: When someone asks you how it was, you can say "berry good". And it is. Berry good, that is. In the warmer months of December and January, you can pick berries to your heart's content at this lovely spot in Ulladulla. You'll mostly be picking blueberries, but they've been known to have some blackberries and strawberries hanging around (geddit?) as well.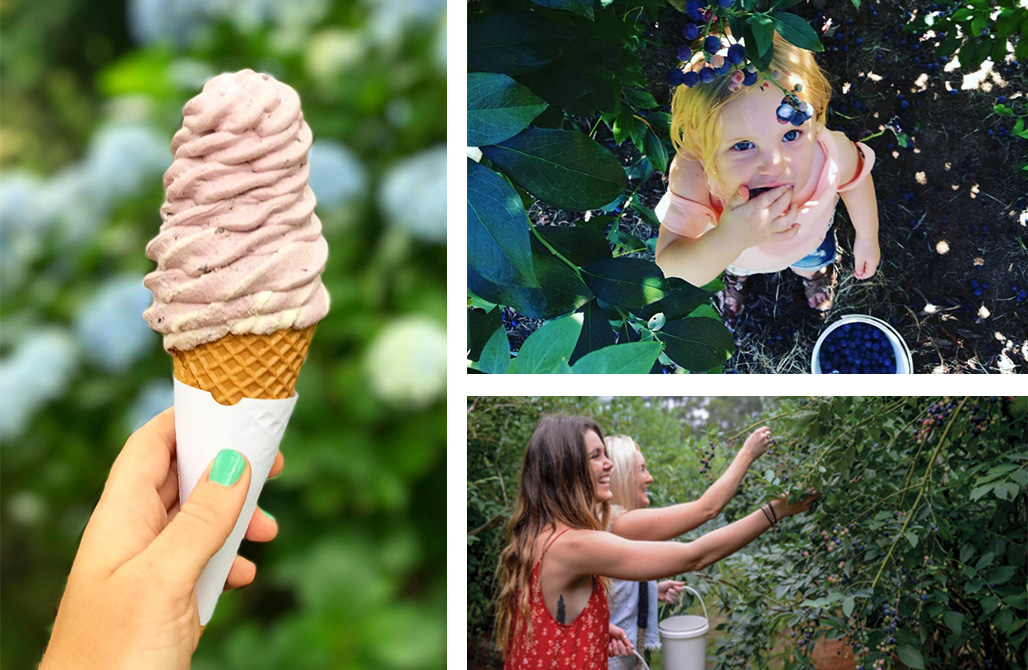 Pine Crest Orchard
This sounds like the kind of place where nothing bad has ever happened. Ever. How can something bad happen when there's ample fruit to be picked? These guys have a lot of fruit on offer at their gorgeous orchard in Bilpin, depending on the time of year, and it's a pay-per-pick situation. So if you only want a few peaches, that's just fine with them. In January, you'll find peaches and plums. Apples are a-growin' until April, and pears are on offer from January through to March. See? Happiest place on earth.
Montrose Berry Farm
Montrose House is every bit as grand and beautiful as it sounds. It's a heritage listed homestead nestled in Sutton Forest, and it's got everything you could possibly need for a weekend of fun and joy and whatever else you're looking for in a country getaway. As the name suggests, these guys specialise in all things berry. You can explore the surrounding farm, picking some ripe goodies that are bursting with flavour along the way. They also do gorgeous country weddings if you want to get hitched surrounded by sweet, sweet berries. You do.
Glenbernie Orchard
Apple Shaaaaaaack, that's where it's at. Sitting happily in Darkes Forest, this place is great because you can do lots of things. You can pick apples, peaches, and nectarines from November to April, you can peruse the shop for delightful treats like honeyed mead, vinegar, a lovely selection of jams, and more apple cider than you can poke a branch at. From November to March, you might be lucky enough to pick some juicy, juicy raspberries and devour them all on the car ride home. Give them a yell before you head up to make sure there's enough fruit for you to pluck.
Canoelands Orchard
Canoelands is paradise for all things fun and adventure. And tomato picking. Is tomato a fruit or a vegetable? I think we can all firmly agree that we don't care, as long as they're delicious. And they are. Tomato picking season begins in March, and then stone fruit season will pick up again later in the year. In the meantime, you can grab some of their delicious Pa's Raw Honey, or book in for a party when picking season rolls around.
Cedar Creek Orchards
Hear ye, hear ye! When nectarine season hits, Cedar Creek Orchards in Picton is the place to be. A bit because it's really cool there, but also because they offer nectarine picking in April and May. Apart from these juicy neccies (which are epic when mixed into a bircher muesli - trust me), you can pick your own persimmons and apples when they're in season. Bookings are essential, so make sure you let them know when you're heading on down to avoid disappointment in the form of no fruit in your car or stomach or bircher muesli.
Need more fun things to do this weekend? Head here.
Design credit: Sarah Law