Fratelli Paradiso in Potts Point has become a Sydney institution. For 13 years brothers Enrico and Giovanni Paradiso, and business partner Marco Ambrosino, have consistently served up exquisite Italian cuisine to Sydney's inner-city dwellers.
The food is impeccable, personally I find it very difficult to go past ordering the calamari Sant' Andre, the lasagnetta or lamb ragu, though I know I should expand my repertoire. It is the simplicity of the fare served that provides its beauty. The service is classically European, with the menu written in Italian upon chalkboard walls, explained in-depth via the knowledgeable (and heavily accented) wait staff.
The success of Fratelli Paradiso soon led to the boys' second destination, 10 William St. in Paddington—the younger, more experimental brother if you will. A cosy, bustling wine bar with an expansive range of natural and organic wines, along with an impressive sake list. Dishes are designed to share, are Italian in bent, and of the same quality as served at Fratelli Paradiso.


While Giovanni is passionate about natural and organic wines, it is Matt Young, 10 William St.'s sommelier, who brings the sake addition to the bar. "Sake and Italian food work really well together, there's umami [Japanese for savoury taste], it matches beautifully," explains Giovanni.
Daniel Pepperell, formerly of Oscillate Wildly and Momofuku in New York, is responsible for the food. According to Marco, Daniel is unleashed, "We don't try to control him, just loose parameters about fitting the food into the way we like it, which he's very, very good at, good at what he does."
"The most beautiful thing about Daniel is he has no ego," says Giovanni.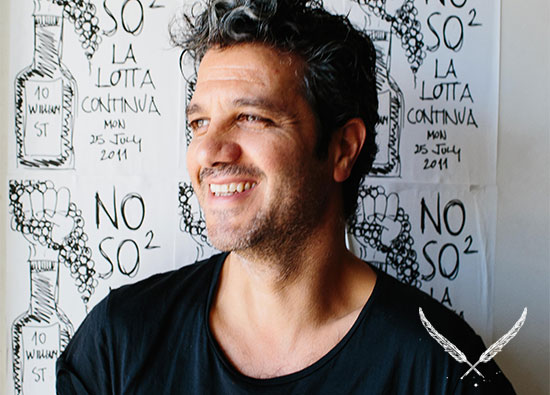 Giovanni Paradiso
Enrico, Giovanni and Marco share a genuine passion for the restaurant business; in their own words they are, "three waiters who work front of house". This down-to-earth approach has led to enduring success and expansion, with their new venture, Paradiso, opening April next year in the CBD.
Located between China Lane and Felix near Angel Place, Paradiso—literally paradise in the heart of the city—will comprise a restaurant and bistro, bar and espesso bar. The décor, a black and white theme.
"It's basically our homage to our upbringing . . . we wanted to do something dedicated to the way the restaurants our parents worked in Melbourne were run and so it's going to be classic Italian. Food wise it will be super traditional Italian food but reinterpreted . . . Waiters in white jackets, very comfortable service front of house," says Giovanni.
The espresso bar will service the breakfast crowd, standing room only, the restaurant for lunch and dinner, and the bar a separate, more expressive destination for the team, with a focus, as always, on great wine.

Marco Ambrosino

"You'll be able to walk in there [the restaurant], have a quick bowl of pasta and a glass of wine or a salad, be in there for 45 minutes and just get bombarded with great service and be looked after," explains Giovanni. "Because people in the city are working 19 hours a fucking day under fluorescent lights and getting their ass kicked by their boss, and they want to be king for a moment."
So, what is the secret to the team's ongoing relevance and success? An intense process of on-going critical evaluation.
"We always question why we're busy week in week out . . . Okay, great service, great night, food's looking good but what can we do to make things better? We're the most critical we can be of each other. Remember, we don't have a view, we don't have the Sydney harbour, so we're always pushing ourselves," says Giovanni.
Marco considers the business' ongoing success a result of their proximity to the daily operation; "We are very close to our business every single day. We're in it, we're on it. We're a part of the service, we're a part of the business from the moment it opens to the moment it closes. Everything has our signature on it."

Enrico Paradiso

The guys also like to dine out a lot, try new places and stay in touch with what is happening in the dining scene, both locally, interstate and abroad.
Marco elaborates, "I think that keeps you relevant, so we're not missing out on any movements you know? Mary's or Frankie's Pizza opens up, or the Baxter Inn and we'll go check it out, we know the proprietors, we understand why they're relevant and we just appreciate what they're doing. If you keep yourself involved, you're always relevant."
It was a pleasant surprise not only to hear about the strong camaraderie that exists within Sydney's hospitality scene, but also the mutual drive to do things differently. An atmosphere where managers, chefs and sommeliers across Sydney enjoy each other's establishments and converse as to what has worked (and not worked), behind their front doors and how to address challenges facing the industry.
So, where do the boys like to dine when not enjoying Italian?
"If non-Italian, we go to Kylie's Billy Kwong," says Giovanni.
Marco is in total agreement, "assured quality, she's the one. I really love her and love her food, she's definitely number one."

The Wine Update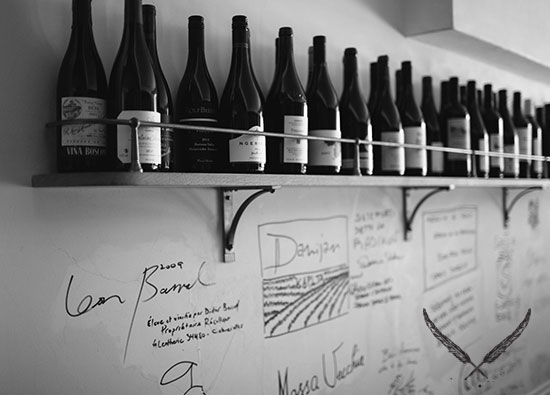 Giovanni and Enrico try to travel back to Italy twice a year on wine-related trips, in order to touch base with existing suppliers and source new producers.

Giovanni is particularly interested in natural and organic wines and Fratelli Paradiso was one of the first restaurants in Sydney to embrace this movement.

While some patrons may want to know the structure they can expect from a wine, feel assured it will taste the same tomorrow, for Giovanni the beauty is in the unexpected.

"Why put something full of chemicals? If it's been planted naturally, the weather is going to affect it and there's varied microorganisms in the soil, or the way it's being cut, it's going to change. Nothing's perfect and the most beautiful things are imperfect. The whole thing about natural wine is that nothing is perfect."

Currently, they import from farms just outside of Siena, Italy, including the Pacino farm (famed as the birthplace of the green movement), which supplies renowned organic and natural wines. In Piemonte they import from the Valli Unite farm, a self-sufficient commune of 35 people, where nothing is brought in from the outside world.
Soon to be arriving are wines by Daniele Piccinin, with vineyards high in the mountains of Soave, grapes grown amongst medicinal and edible herbs. And finally to Cacciagalli, indigenous grapes from Campania in Southern Italy, where all the wines are made and vinified in clay amphora.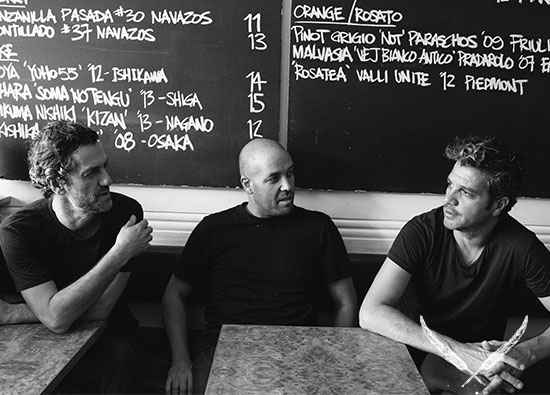 Images by Anastasia Nielsen