Some might argue things are always bigger and better on the north side of the bridge and hey, we wouldn't dispute that. With what undoubtedly has an endless stretch of salt and sand, a more superior collection of pubs and bars than that of your eastern counterparts (forever debatable) and better surf, Manly. If it's not already, should well and truly be on your radar.
Yep, the tables have turned, guys. Manly, once that far, far away place over the pond, is now a buzzing field never short of a place to have post-surf and post-work drinks.
Here's everywhere to eat and drink in Manly.
Bars & Pubs
Manly Greenhouse
Manly, you've just copped a seriously sweet waterfront venue, with the huge reno that has put the ol' Shore Club Hotel on a whole new level of beautiful. Consisting of three levels, every one as lush as the other, this new venue will offer a casual beachside bar and dining, a sizzling charcoal grill restaurant and a rooftop bar with quite honestly the best sea views going around. The Ground Floor will be serving up the likes of crab bruschetta, grass-fed Riverina sirloin, pastas of pappardelle with slow-cooked brisket and seafood squid ink spaghetti. The Rooftop which preaches everything to do with hanging plants, panoramic views and an indoor cloud tree. Here you'll find bespoke cocktails and a bar menu with a selection of cured meats including LP's mortadella and Blackmore Wagyu beef bresaola and a heap of toasted sandwiches.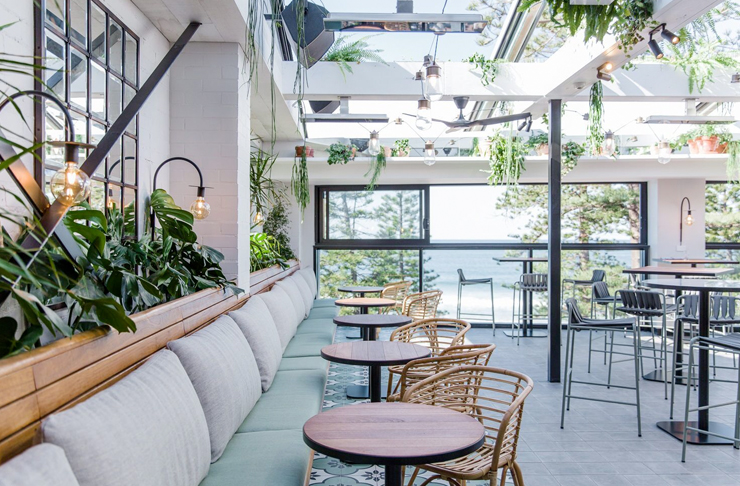 The Glasshouse
Honestly, you can do no wrong on the sandy shores of the north with an epic gin and tonic bar. The dranks here are botanical and lush plus there's a bunch of sliders, bruschettas and chip tasting boards to soak up all that ginny goodness. And did we mention it's an oceanfront rooftop bar? Because it is.
Donny's Bar Manly
Things around here are definitely loftier than most. Donny's Bar (literally featuring one stunner of a loft you'll want to get onto stat), sports a solid mix of cocktails including the boozy sticky date espresso, ciders, beers (say hello to a mighty fine collection to pale ales) and enough vino to wash down all a hefty carb-filled meals. With cheese. They're kind of really good at that.
Hotel Steyne
No Manly list would be complete without mentioning Hotel Steyne. This institution has a secret little rooftop bar that you may not have noticed before plus, it sits literally opposite the beach. Head here early to nab a spot at the window for peak people watching.
Manly Wine
At Manly Wine, it doesn't matter how sandy your feet are or which horrific kaftan you're experimenting with. This is one watering hole where dress code can take a back seat and which cocktail you're going to knock back several times over steps up to the stage. Speaking of, the tipple list reflects a year-long summer holiday (we're talking about the tropical line-up of pitchers too good to be true) and yep there are seafood spreads on offer too.
4 Pines Brewing Company
Let's be honest. When you think of Manly, you think of 4 Pines. And when you think of 4 Pines, you think of Manly. The two are a beautifully inseparable pair and handcrafted beer is at the heart of it.
Sunset Sabi
Not your typical watering hole (namely for glorious obsession these guys have with churning out all the sushi Izakaya style), Sunset Sabi is all about the sharing. Okay, anddd the imported Japanese beers, sake and whisky too. Obvs.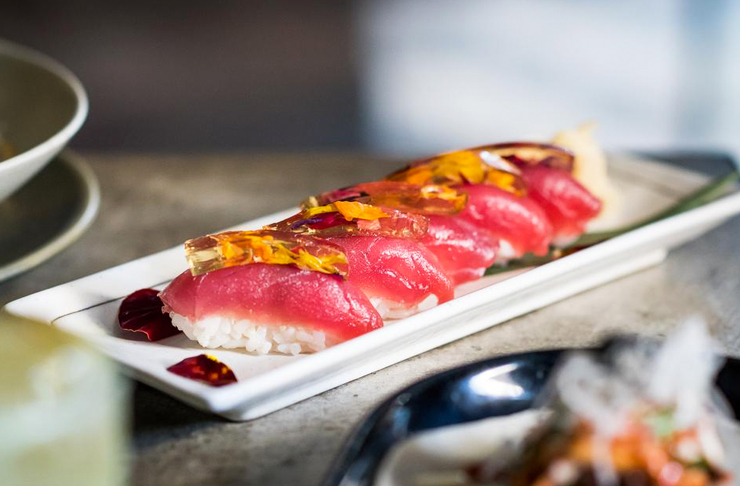 The Hold
Adding to the small bar scene in the Big Smoke, The Hold is the latest win the north folk of Sydney are gladly taking under their wing. Boasting all sorts of pirate vibes with dim lighting, timbered ceilings and what we're all really here for, rum punch cocktails and bar snacks.
Miami Cuba
When cocktails are served in pineapples and waffle baskets are served with bacon, there's not much else we can say other than go forth and conquer, friends. You'll find a 1950s retro fit-out at Miami Cuba which sits smack-bam right on the beach so yes, they've also scored sweeping ocean views.
Ivanhoe Hotel
With killer chic vibes and a beer garden to boot, the Ivanhoe is a classy take on the average pub. From first impression, you'd think you're at a beach house in the Hamptons so yeah, you're going to be in total comfort as you down more bevvies than you can count.
Restaurants
Queen Chow
Located on Manly Wharf, this place is making like the original Queen Chow in Enmore and delivering a menu full of all the Canotense classics right here on the Northern Beaches. With an array of flavoursome dishes, guests can start with the handmade wonton soup and BBQ Peking duck pancakes, then follow with their mud crab, wok fried lobsters & pippies in XO sauce; sticky honey king prawns and Mongolian lamb san choi bao. On the dessert front, finish off with their deep-fried ice cream with butterscotch sauce and you're definitely rolling home satisfied.
The Pantry
Boasting even more rustic vibes than the locals themselves, The Pantry works as your staple breakfast, brunch, lunch and dinner go-to. Yes, they're your classic culinary overachievers (but we're not complaining). Forever known as the old 'Manly Beach House' the seafood dishes here are an avid 'grammers dream.
Arthur's Manly: Seafood
You can absolutely get your dose of slippery little suckers at Arthur's, just the resident oyster locale people lose their shiz over. If you're hitting this big guy up for breakfast you'll find epic avo hotcakes and trout scrambled eggs on the menu. For dinner, expect the ocean goods which look something like sesame prawn toast and salmon Kiev. And on the tipple front, Arthur's sports an almost too good line-up of wines and tinnies but to be honest, even their babychinos go off.
Fika Swedish Kitchen
So IKEA isn't the only Scandinavian treasure trove around Sydney feeding our meatball starved bellies, say hello to Fika. And just so you know, they host a legendary #meatballmonday featuring classic, wild and vegetarian rolls of fun. Which means your Mondays just got a wholeee lot better.
Cured.
This one's not even a secret to Sydneysiders who constantly live under a rock. Cured. Is the New York style bar feeding your need to devour ridiculous amounts of meat, cheese, pickles and bread. So if you're all about a good handmade burrata oozing across ya platter and an international wine and beer list to pair it with, this one's for you. You can also grab an early morning feed if you're in the mood for a super extra BAE roll.
Manly Greenhouse
The former Shore Club Hotel has just been taken to a whole new level of beautiful. Consisting of three levels, every one as lush as the other, Manly Greenhouse is offering a casual beachside bar and dining room, a sizzling charcoal grill restaurant and a rooftop bar with quite honestly the best sea views going around.
In Situ
If you're looking for somewhere to kick off on a night out, In Situ in Manly is about to become your new go-to… oh wait, it just did. All you need to know is that the team here is nailing all the boho vibes and the cocktails go off. Like really, go off. It might be a hole in the wall in Manly's Corso but this gem is thriving everyyyyy weekend so… get to it.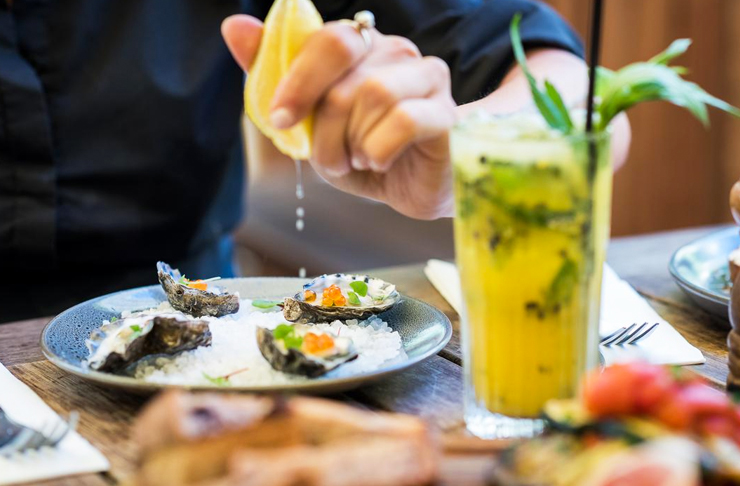 Maestro & Co
Your bellies will be well and truly blessed at this Middle Eastern tapas joint because you can never have too much bread and dip, right? Right. Maestro & Co hit all the spots and cravings at the most important times of the day (brunch and dinner, duh) so take note of the beetroot falafel and ten spice charcoal chicken paired with a green lentil sauce.
Chica Bonita
Meet the no-fuss, hole-in-the-wall taco and margarita joint tucked away in Sydney's northern beaches. Chica Bonita is the perfect little Manly hideaway for those cruise-y post-work shenanigans featuring tamales and red wine.
The Boathouse Shelly Beach
If you're spending an entire day at the beach, The Boathouse is the way to go (because gigantic feasts always get a yes from us). Sharing all the sun-kissed charm from its beloved sister-joint parked up at Palm Beach, this place is for big crews and big feeds, and nothing less.
The Herring Room
You'll get all the cute and cosy vibes from The Herring Room, located just down yonder off Manly Beach. With a focus on high quality seafood from sustainable and environmentally-friendly fisheries, the team here offers up bistro-style meals (like glazed beef short rib with cauliflower puree, mushrooms and confit garlic) that are more homely than a comfort-feed cooked by your own mother. Just don't tell her that.
Daniel San
For modern Japanese-Asian street food, killer cocktails and premium sake, Daniel San is a standard post-beach favourite. Period. There's no doubt this place boasts all the fun and good feeds with everything from fresh sashimi boats to steamy Berkshire pork buns. The rooftop bar (named Beachside Dojo) scores you 'grammable views and DJ sets on the weekend.
Belgrave Cartel
If there's one thing we love, it's a solid mix of good food, good coffee and good music and surprise, surprise, Belgrave Cartel ticks-off on all three (with flying colours too). When the work grind gets to you, hit up Belgrave for a cheeky midweek indulgence of pasta and house wine and yah-huh there's live music too.
Pocket Pizza
A salute to the back lanes of New York's pizza capital, Little Italy, Pocket Pizza is answering all of our prayers. From the prawnographic to the cheesus christ and the I can't believe it's not butternut, the menu is a short and sweet, straight-to-the-point, no-frills type affair. And we bloody love it. For the dietary-impaired (just kidding guys), you'll find a heap of gluten-free and vegan options. As an added bonus, there's spritz on tap and a bunch of tinnies to pair with the perfect pizza.
Manly Wharf Hotel
Get those nautical feels at Manly Wharf Hotel (minus the seasickness). Yep, there's nothing better than digging into a bucket of king prawns on the wharf to bring back a bit (read: a lot) of childhood nostalgia.
Hemingway's
Located on the beachfront of Sydney's iconic Manly Beach, Hemingway's has become a bit of an institution for North-side dwellers. It's not hard to guess why. Serving up breakfast, lunch, and dinner, Hemingway's has every meal of the day deliciously covered. Grab a drink from their extensive drinks list—from VB throwdowns to the fanciest of champagnes—sit back and enjoy the view.
Loco Madre
Heads up, the name of this restaurant means 'crazy mother' so that really only means one thing, the feasts here have got to be good (and they are). The food here is a Peruvian and Mexican mix and just so you know, people are losing it over the kingfish ceviche, hand-torched scallops and fried chicken.
Manly Pavilion
This old faithful had a refurb last year and guys, you can't really go wrong when the view is this damn good (it overlooks the harbour-side of Manly). Book this one out for your next function, head here for the all-day Sunday brunch or hit them up for a weekend sunshine sesh. Go on.
Cafes
Rollers Bakehouse
The focus here is a no-rules and adventurous approach to our dearly beloved morning pastry we know as the croissant. You can stick with the OG classic but should you be tempted by basically every other croissant-fusion goodie (and you will be), you're in for a real treat. The maple bacon snail, a smoky maple bacon with maple custard and roasted almonds, should definitely be on your Rollers bucket list. You should also sink your teeth into the charcoal dough of the sushi roll croissant which has smoked salmon with black sesame, pickled ginger, nori, wasabi and yuzu. On the coffee side, you can expect batch brews, cold drip and classics from Okay Coffee.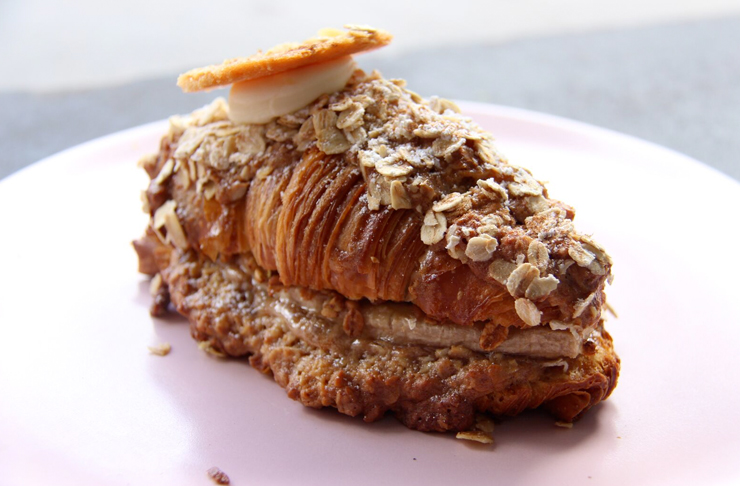 The Mill & Co.
If you're a fiend for pre-midday starts and a lover of everything breakfast and brunch, The Mill & Co. is probably (read: definitely) a place you need to hit up. Firstly, they have unicorn lattes. Secondly, they also have a mean book-exchange set-up and a hella good space to read and chill in. And thirdly, unicorn latte.
Charlotte's Little Sister
You're probably already aware of various Charlotte's popping up around Sydney in the last few years and we're damn grateful this cute as anything cafe is so accessible. If you're up for Aussie staples with a Lebanese twist of flavour then you'll no doubt love the feeds here.
Ora
This northern beaches café is serving up delicious and nutritious meals for brekky and lunch on the daily. To wake yourself up in the best way possible (and just plainly live your best life), you've got to go for the apple porridge pie soaked in coconut milk or for that extra morning punch, the brekky wrap filled with turmeric eggs, guac, fermented salsa and greens.
Momo Bar
If there's one place you can get your salad fix, it's at Momo. ICYMI, momos are little parcels of dumpling heaven originating from Nepal and we kid you not, they should be making a regular appearance in your foodie lives. Along with these golden beauties, these legends also serve up Hawaiian sushi bowls, you know, for good balance.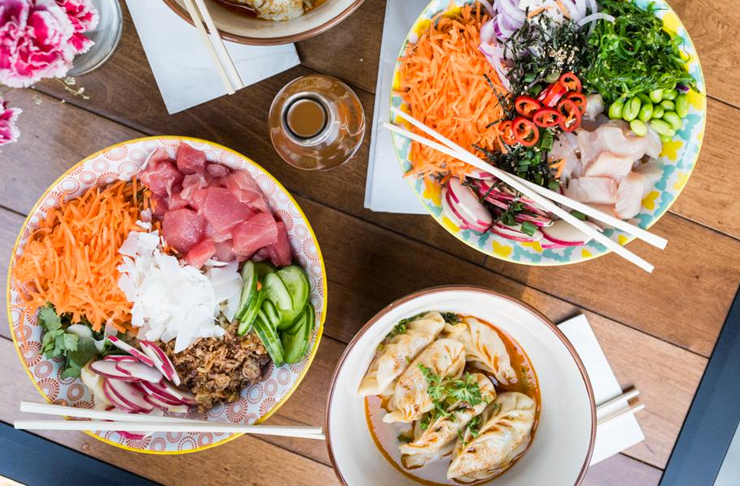 Aloha Mate
As the name so perfectly suggests, Aloha Mate brings the tropical flavours of Hawaii straight to Aussie shores and just quietly (although it's already been a hit over the summer) the power couple here have completely nailed it. The bowls, juices and smoothies here are a complete kaleidoscope of deliciousness.
Showbox Coffee
Snatch up a quality roast (from Wood and Co Coffee) and toast, decked out in smashed avo with goats curd and habanero oil, from Showbox to really kick-start your day. There's also a crazy stack of cold pressed juices, smoothies and batch brew filter coffee to get you through the day too.
Little Legends
This subtle lil' coffee nook serves up good ol' fashioned fresh, seasonal pastries and tarts and hint hint, this hidden haven is easier to spot when you know it's covered in a glorious, bright mural. Smooth guys.
Next suburb on the list? Darlinghurst.
Image credit: In Situ, Sunset Sabi & Momo Bar | Caitlin Hicks