Valonz, Salon X, Renya Xydis City Salon and Miss Frou Frou: four beauty destinations that, like honey to a bee, attract the style conscious from across Sydney and beyond.
For two decades Renya Xydis has coiffed and preened Australia's elite; from leading celebrities to high-fashion editorial and local and international fashion weeks, Renya has left her indelible mark.

Having recently returned from New York Fashion Week, where Renya directed the stunning Sass & Bide runway, we caught up with this master stylist to find out just how we can emulate the stunning looks of her celebrity clientele (including Cate Blanchett and Miranda Kerr), what styles are trending for summer and her favourite spots to hangout in Sydney.
TUL: You have worked with countless Australian celebrities, Cate Blanchett in particular is a regular client, can you give us any tips on how to achieve Cate's flawless blonde tresses?
Renya Xydis: Find a good colourist and listen to them. Flawless blonde like Cate's takes commitment. It's all about maintenance—regular appointments in the salon and the right products at home are non-negotiable: Wella SP Color Save Shampoo and Conditioner prevent colour fading and lock in the brilliance. Otherwise you'll only be disappointed.

Cate Blanchett starring in 'Si' The film, Giorgio Armani; hair by Renya Xydis
TUL: And for the brunette beauties who would like to emulate Miranda Kerr's luscious locks, any tips?
Renya: Miranda's shine is from her diet. But to get that kind of effect, it starts in the shower. Always rinse in cold water, for longer than usual. You want to rinse all the conditioner out until it's squeaky clean. Try weekly treatments too: Wella Luxe Oil Keratin Restore Mask improves texture for amazing softness. And if you're really serious, take Silicea gel for healthy, strong hair.

Miranda Kerr shot for 'Russh' magazine, hair by Renya Xydis; Renya and Miranda in the salon
TUL: Heading into summer, how do we best protect our hair from the sun and surf?
Renya: If you'll be spending summer outdoors, use a specialist anti-UV product. Wella SP After Sun UV Spray protects hair without weighing it down. Mist it in before you head outside. Protecting your hair from the sun is a great reason to wear a fabulous large brimmed hat or a Pucci print silk headscarf as well—so glam!
TUL: What are the hair trends for Spring Summer 2013/14?
Renya: Summer is the time when people make their biggest hair changes. They either want to chop it off or go for a different colour. This summer's short style is the pixie crop—like Jennifer Lawrence's new style—that one will definitely peak over summer.
Beautiful blondes are always around for summer and pastel colours are still big because major trends like that take around two years to go totally mainstream. The trick with pastels now is that it's more about subtle effects—less obvious placement, like accents on the ends or within a ponytail—and pale, pretty sorbet colours like apricot, lemon and lavender.
TUL: That all sounds quite romantic! What hair care products will you not leave home without?
Renya: That's easy. Wella SP Luxe Oil Reconstructive Elixir is the ultimate multi-tasker. Use it after shampooing to prevent tangles and boost shine. It also works as a treatment before washing: work a few drops through your hair, massage into scalp, comb through and leave for 10 minutes before hitting the shower. But mostly I use it before and after blow-drying for the smoothest results.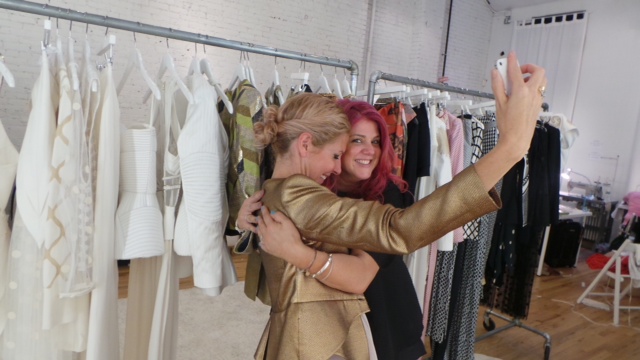 'Selfie' New York Fashion Week, Renya and Heidi Middleton of Sass & Bide

TUL: The Valonz Webazine gives a fantastic insight into what you get up to. Your recent whirlwind trip to New York to direct the Sass & Bide fashion show looked like a lot of fun. Can you tell us a bit about the trip?
Renya: Working with my girls Heidi and Sarah-Jane on their runway shows is one of the highlights of my year—always. We stayed at the Mondrian, which has a fantastic rooftop bar and one of the best breakfasts in the city. Fashion week means long days but I still squeezed in some shopping at my favourite stores in Soho and on Fifth Avenue, not to mention some great dinners with my team. But it's no secret it's the hair trial and show days that are my personal highlights!
TUL: Working extensively on editorial shoots, how do you keep creatively inspired?
Renya: Running out of inspiration for me is never a problem. Anything and everything can inspire me. Ideas can come from a book, the change of season, a particular colour, a movie, great design a conversation, travel, magazines, absolutely anything! I'm also inspired by my team, and the amazing creative artists I get to work with.
TUL: Can you tell us your favourite Sydney spots for drink, dine and design?
Da Mario "Authentic modern Italian with the freshest ingredients. The chef is brilliant—his pizza is unforgettable."
36 Morley Avenue, Rosebery NSW 2018
Ph: 02 9669 2242
Alpha "The buzzy atmosphere and lush traditional Greek food make it my pick for a mid-week lunch in the City."
238 Castlereagh Street, Sydney NSW 2000
Ph: 02 9098 1111
Anibou "Sharp, modern furniture by a mix of local and international designers. Love!"
726 Bourke Street,&nnbsp;Redfern NSW 2016
Ph: 02 9319 0655
Jackies Café "Halfway between my city salon Renya Xydis and my Paddington businesses, Jackies Cafe is where I can work and take meetings. It's a bit of a fashion hub too."
1C Glenmore Road, Paddington NSW 2021
Ph: 02 9380 9818
Miss Frou Frou Beauty -"I'm biased of course but a massage at Miss Frou Frou Beauty is my idea of heaven. And our new manicurist Amy does the most incredible nails. I'm obsessed."
86 William Street, Paddington NSW 2021
Ph: 02 9357 6228

Top image of Renya Xydis: Stephen Chee