With all that time spent running the world, girl's gotta take a break to recharge those batteries. Sometimes a weekend yoga class or a massage will do, but when that won't cut the mustard a retreat might be just what the doctor ordered. And while you could search for one in your city, why not escape your life for a few days, have some incredible new experiences in a new place and meet some boss babes just like yourself?
Here are the best women-only retreats you need to visit this year.
Pura Vida Surf & Yoga Retreat
Santa Teresa, Costa Rica
If you're the type that can't sit still but still likes to chill on relaxing holidays, then Pura Vida's Surf & Yoga Retreat in Costa Rica is for you. You'll stay at the beautiful beachfront Hotel Tropico Latino nestled among palm trees in a shared or private room and get to take part in daily surf lessons and yoga classes. Suitable for new to experienced surfers and yogis, the retreat supplies you with everything you need to have fun out in the waves and relax with on your mat. Enjoy three delicious meals a day, suited to your dietary preferences, either at the resort or some of the best restaurants in Santa Teresa. And to top it all off, the retreat includes a one-hour therapeutic massage. When you're not busy doing yoga, surfing or eating, you can chill out in a hammock by the beach or add an activity to your stay like hiking to the stunning Montezuma waterfalls.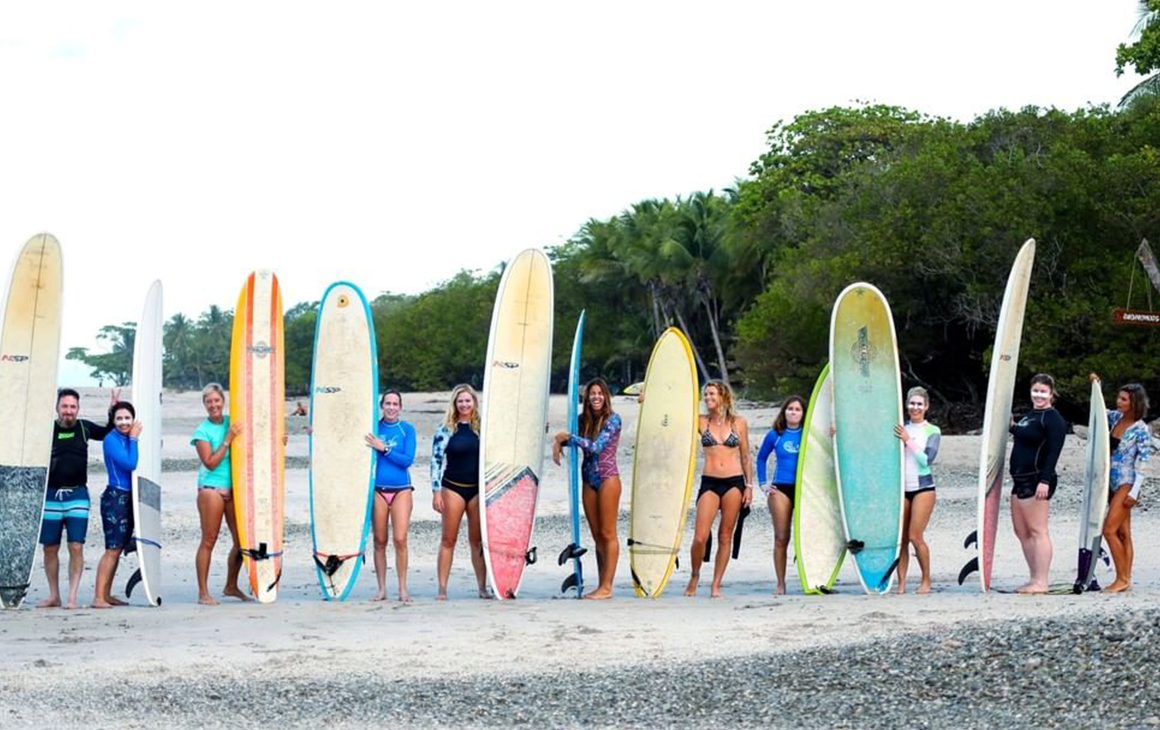 Intrepid Women's Only Hiking Adventure
Morocco
While women can totally travel through Morocco on their own, if you're new to solo travel or just want the company of some lovely ladies as you experience one of the most colourful places on Earth, then Intrepid's women's only hiking adventure will tick your travel boxes. You'll well and truly get off the beaten path as you hike through remote Morocco, beginning in Marrakesh. Along the way, you'll join Berber families and break bread in their homes, learn the art of rug weaving, take in traditional music and dance, and get your makeup done with henna and khol for a night out on the town. Each hike is around five to six hours long, so it might pay to work on your fitness a little before you jet off. Accommodation, transportation, most meals and activities are included.
Atayokan: Traditional Living Skills Retreat
Alberta, Canada
Every woman should feel empowered, strong and capable, but if you're lacking confidence in these areas this Traditional Living Skills Retreat set in the foothills of Canada's Rocky Mountains could be for you. Led by indigenous guides you'll spend five days learning to live off the land. From medicine walks and creating natural remedies to archery and horseback riding, you'll be pushed out of your comfort zone in the best way possible. All meals are included and you'll get to glamp in twin-share tents. The retreat concludes with a blessing walk which will see you leaving feeling more connected to mother Earth than ever.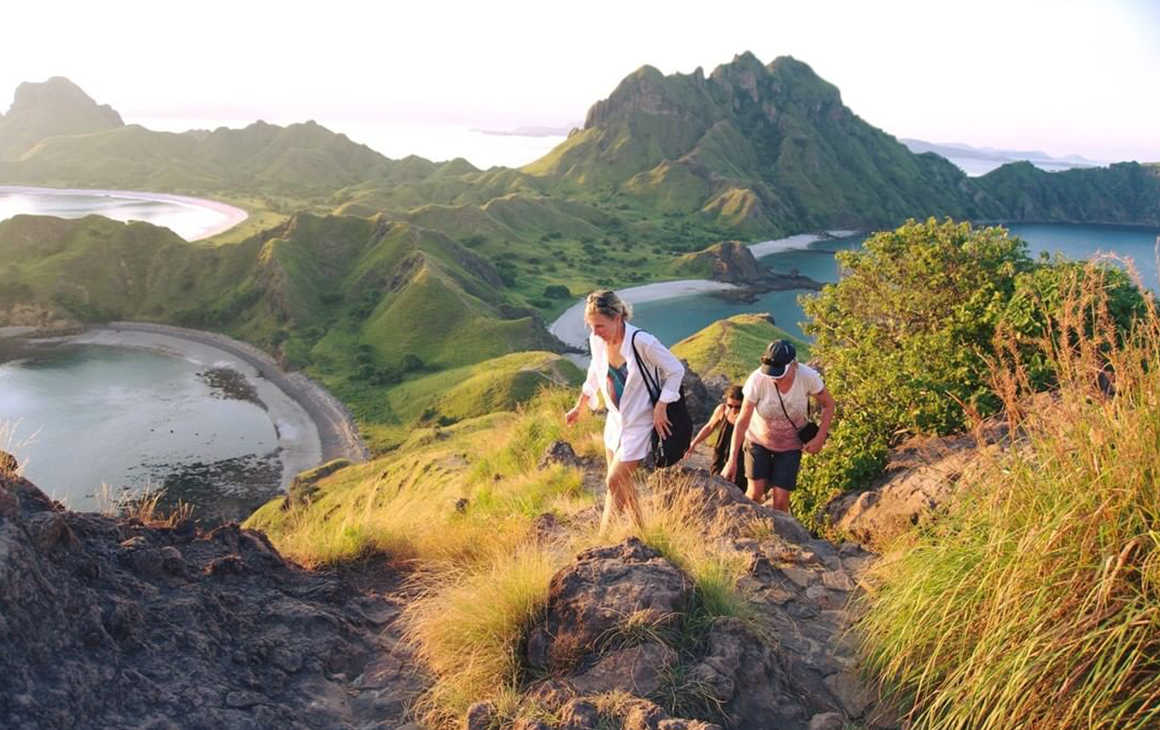 Te Hine Ruru Retreat
Bay Of Islands, New Zealand
Te Hine Ruru Retreat runs one of the most beautiful women's only retreats in New Zealand. Set on 40 acres, the two-day weekend retreats run a couple of times a year and typically include a healthy breakfast, yoga, evening meditation, dinner overlooking the bay and a scheduled activity or free time. Get a massage, go for a swim, try kayaking, set out on a walk or simply read a book, the whole purpose of the retreat is to feel nurtured and peaceful while surrounded by natural beauty.
Big Sky Yoga Retreats
Worldwide
Big Sky Yoga Retreats runs a slew of women's only getaways all over the world, stretching from Sicily to Patagonia. With everything from yoga, hiking and spa retreats in the French Alps to cowgirl yoga and creativity retreats in Montanna. Our interest was strongly piqued at the Cowgirl Yoga and Hiking Patagonia Retreat. This seven-night Argentinean escape combines horses, hiking and yoga and it's perfect for adventure-lovers. You'll sleep in a lavish private house, witness the stunning scenery of Patagonia on countless hikes and enjoy gourmet food with native flair prepared by a private chef. And of course get to live out your dreams of being part of a saddle club for a week.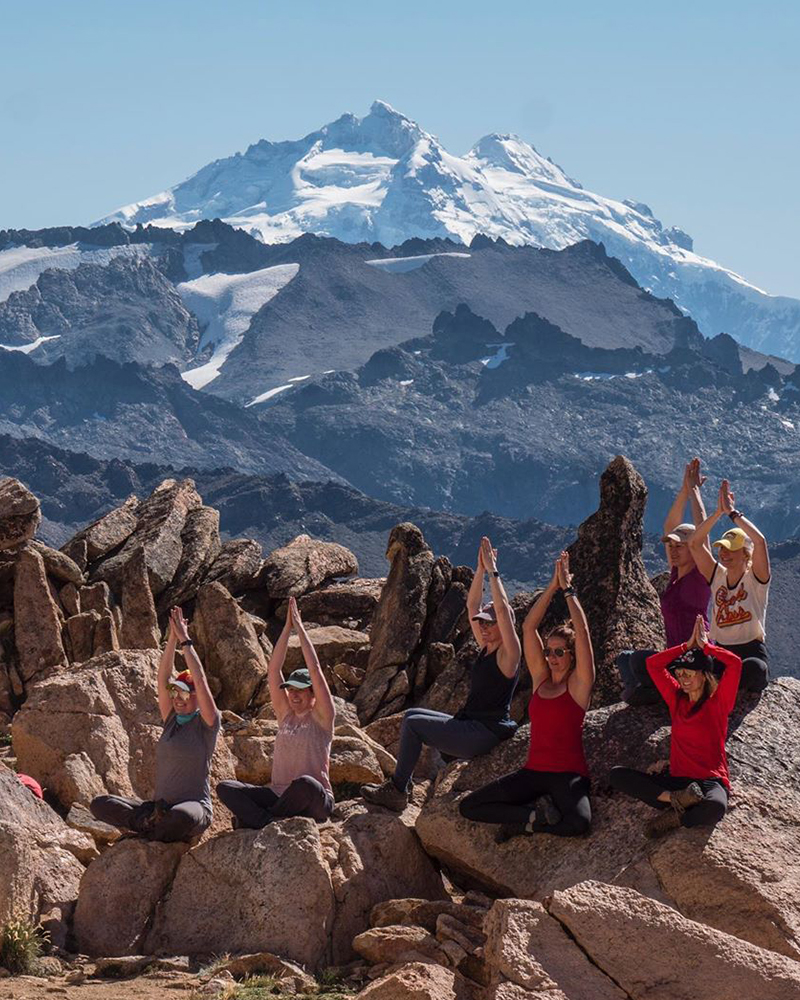 Fit & Fly Tuscany
Tuscany, Italy
Escaping to Italy might seem like a retreat in and of itself, but Fit & Fly is taking the experience to a whole new level with their Tuscany retreat. Running from 11 to 18 April, you'll join your fellow females at a gorgeous 12 bedroom villa 20 minutes away from Lucca, boasting incredible views of hills, vineyards and villages. Take part in daily body sculpting and conditioning fitness classes led by Sydney Miller and indulge in healthy breakfasts, lunches and dinners prepared by a personal chef. During the week-long retreat, you'll get to enjoy a guided bike tour to a winery for tastings, an Italian cooking class, truffle hunting and a multi-course truffle-themed dinner… with wine.
Goddess Retreats
Bali, Indonesia
Goddess Retreats runs a bunch of great female only escapes in Bali and Japan. With relaxation in mind, our top picks go to the Bali Goddess Retreat in Seminyak and the Yoga Goddess Retreat in Ubud. Both seven days and six nights, the Seminyak retreat offers unlimited hours of spa treatments, daily yoga and meditation sessions, and everything from downhill bike tours and SUP yoga to a snorkelling adventure and an Indonesian cooking class. The Ubud retreat focusses more on yoga with two daily classes, daily meditation, pranayama and yoga Nidra sessions, an ayurvedic consultation, three spa treatments and healthy organic plant-based eats. Both offer up exceptional lodgings, which makes choosing between the beach and the jungle even more difficult.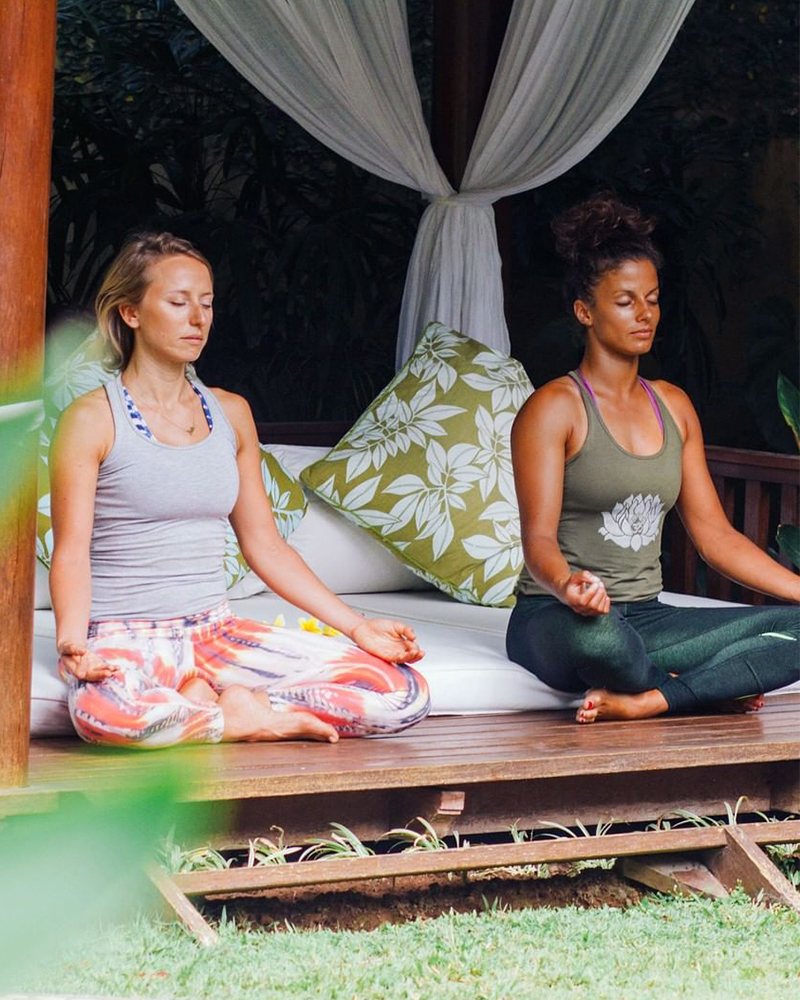 Women's Discovery Retreat
Tallebudgera Valley, Australia
If you're looking to delve a little deeper than yoga and meditation, the Women's Discovery Retreat run by Gwinganna Lifestyle Retreat in Queensland's Tallebudgera Valley is just the ticket. Holistic medical doctor Karen Coates leads the charge at this three-day retreat dedicated to learning about hormones and how you can optimise your health. You'll also enjoy an 80-minute massage, organic meals, snacks and drinks, and complimentary airport transfers. If you can swing it, a stay in a meditation suite set among the rainforest with a glorious deck and daybed will help maximise the relaxation.
SwellWomen Mexico Surf & Yoga
Punta de Mita, Mexico
One look at the W Punta de Mita resort and you'll be booking into this retreat in a heartbeat. The five-day retreat includes jungle or ocean view accommodation, all-inclusive meals, three surf lessons, a swag bag, daily yoga, coaching sessions and a 60-minute massage. As a retreat-goer, you'll also enjoy 20% off at the spa, daily access to stand up paddleboards, surf and snorkelling equipment and plenty of time to relax by the stunning WET pool and deck. If you want to extend your stay, which you will, SwellWomen gets you discounted pre and post-retreat nights.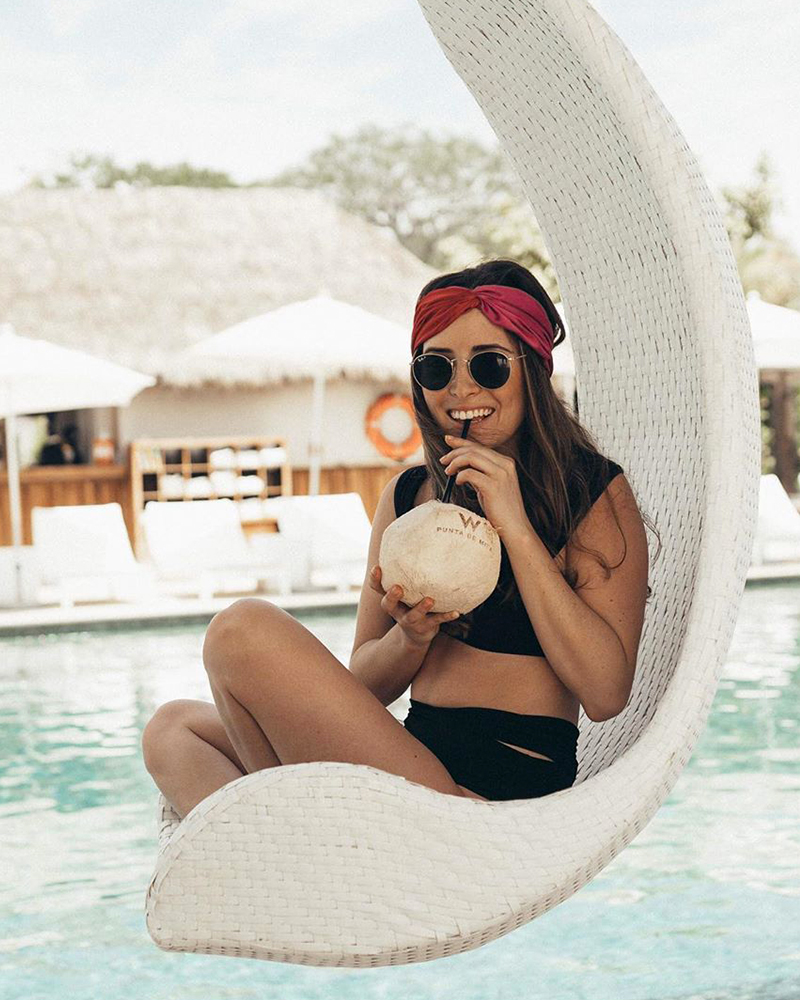 Wild Adventure Retreats
Long Caye, Belize
Set sail for your very own private island getaway on a Wild Adventure retreat. Floating in the Caribbean, Belize's Long Caye is ripe for activity, and you'll get to experience plenty on this retreat, including kiteboarding, rappelling, kayaking and surfing. Led by Wild Adventure's founder, you'll also have access to a coach and shaman on your journey back to you, along with daily yoga and fitness classes, plenty of wellness time, workshops and meditation sessions. Staying in an ocean bungalow, all meals are taken care of, and you can book into extra activities if you're wanting to make the most of your time on the island.
Want more travel goodness? Check out this totally 'gram-worthy treehouse in Africa.
Image Credit: Pura Vida Surf, Bali Goddess Retreat, SwellWomen, Cowgirl Yoga and Hiking Patagonia Retreat, STUDIO FIRMA