Saskia Tillers is a freelance writer from Sydney who lives and works in Milan. We asked her to tell us what it's like over there and how she's adopted to a new version of life, one sunny rooftop and long-distance piña colada at a time.
When my fiancé Jack and I found out that Northern Italy was closing its borders to limit the spread of COVID-19, it was 11pm on a Saturday night, and we'd just finished our tiramisu. Initially, we were in shock. However, a quick search on Google quickly dispelled any hopes of this being a cruel joke. Within hours, the government and military would be setting up checkpoints along the state border of Lombardy, stopping planes and trains both in and out.
Our first reaction was panic. To make matters more complicated, we weren't at home. As a reward to ourselves for the social distancing we'd been practising for weeks, we'd booked a weekend away, to breathe in the fresh mountain air at a small town called Aosta. While we were only two hours drive from Milan, it was a different region. Should we rush back, or stay outside the lockdown? We didn't have our laptops or passports—in fact, we had little more than a change of clothes—and we had no way of knowing how long the borders would remain shut. So common sense eventually prevailed, and in the morning, we nervously reentered the "red zone".
Two days later, the quarantine was extended to the entire of Italy. Schools and universities sent students home for the foreseeable future, events were cancelled and all businesses except food stores and pharmacies ordered to close. 60 million people were confined to their homes.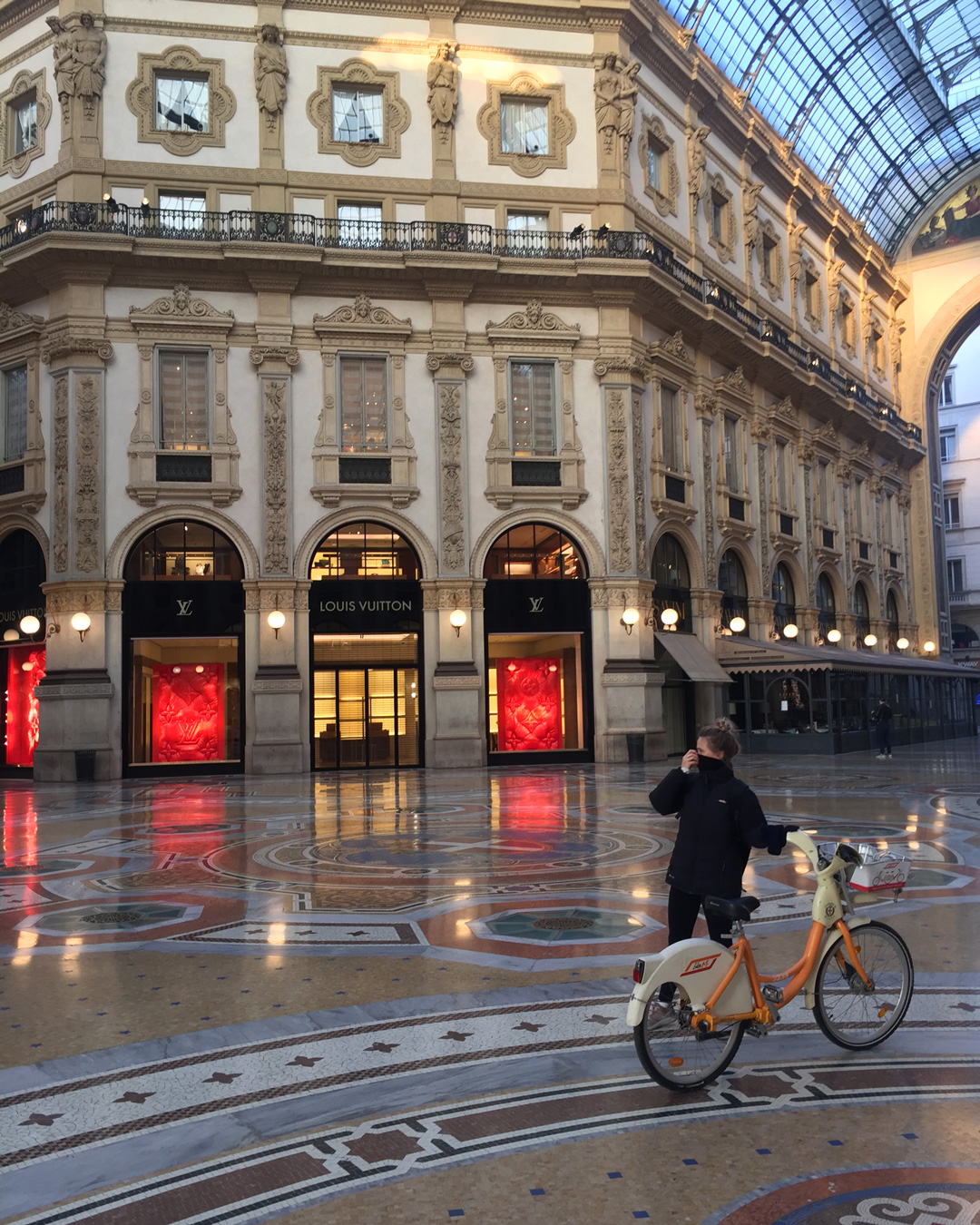 For a while there, things looked pretty grim. But it wasn't too long until we, like the rest of Italy, adapted to this new version of life.
Spring has sprung in Milan, bringing with it brilliant blue-skied days and delicious sunshine that we bask in on our terracotta-tiled rooftop. Even amongst the concrete jungle of apartment blocks, I can spy cherry blossom trees in full bloom on the sidewalks, and potted daffodils on my neighbours terraces. Homemade banners reading, Andrà tutto bene or "Everything will be ok" are draped from window ledges. By day, the streets are eerily quiet, but most afternoons, the air is filled with the sound of Italian pop songs and classics blasting from living rooms. People, young and old, take to their balconies to sing along, dance and wave to other families in captivity.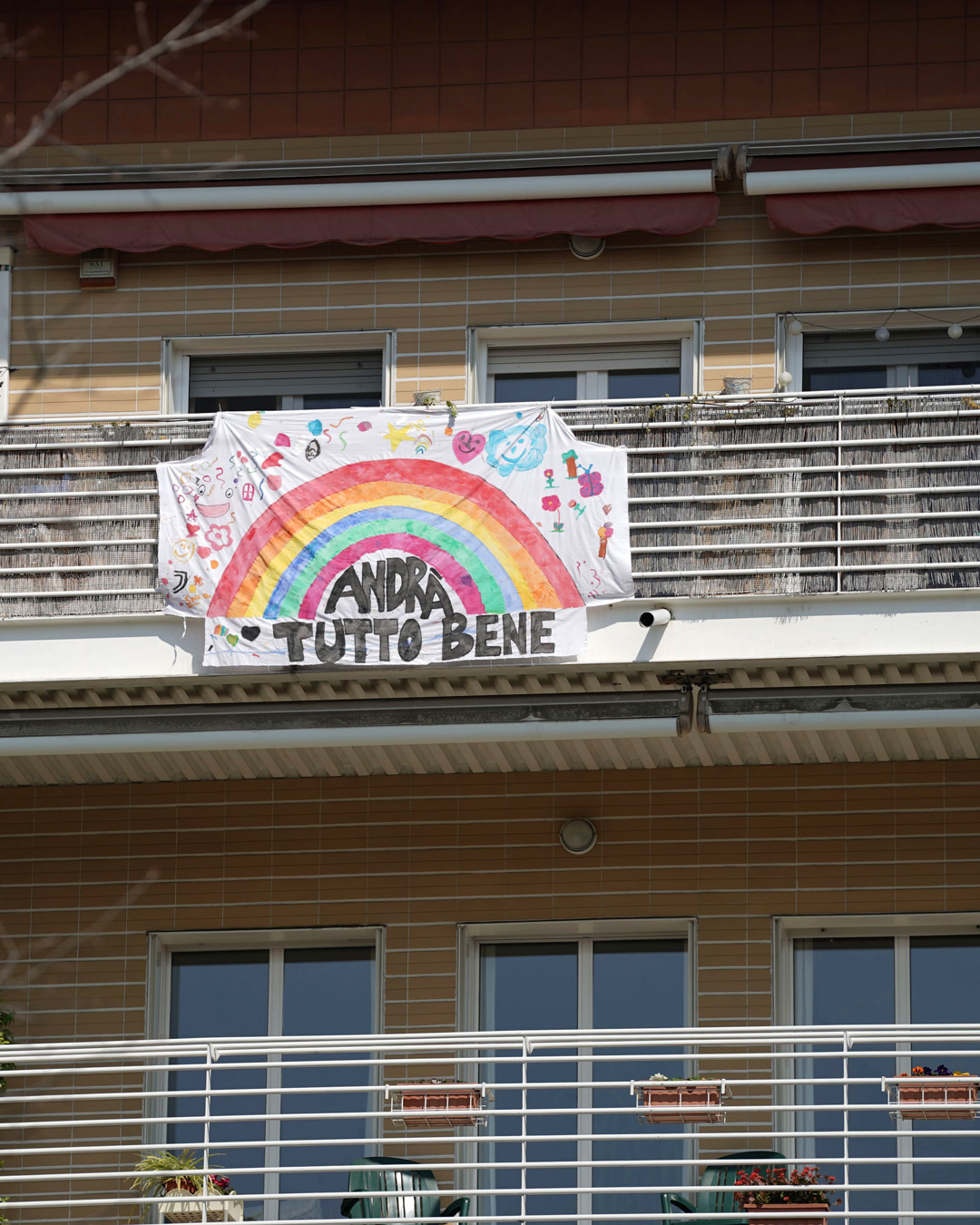 With most of us usually living insanely chaotic lifestyles, chock-a-block with work, social engagements, travel and the never-ending digital treadmill, I wonder if this enforced downtime might be exactly what we all need.
Sometimes these situations have a weird way of actually doing a lot of good as a coincidental by-product. Suddenly, I've developed a few great new routines—I'm doing yoga every day, and thanks to anxiety-related insomnia (must stop reading the updates on coronavirus before bed), I've been listening to a guided meditation each night—a habit I'd been meaning to implement for years.
Funnily enough, even the allure of potentially endless hours on Netflix lost its appeal after a few days, and while we've still got Seinfeld and The Office on repeat in the evenings, we quickly started looking for other (non-screen-based) things to stave off cabin fever. Board games, puzzles, colouring-in books and baking are our new favourite activities, and while on paper it reads like a primary school holidays hit-list, maybe a bit of childhood regression isn't the worst thing?
Remember that even if you can't hang with your friends and family, they're probably feeling just as worried and trapped as you are, so call them, lament together, and get creative with ways of interacting remotely. Last Saturday we made piña coladas and played the board game Articulate over FaceTime with our best mates. Even though we were on slightly different levels thanks to the time difference (it was 10am in Australia, while we were already three cocktails deep), it was such a hit that we've scheduled another round for this weekend.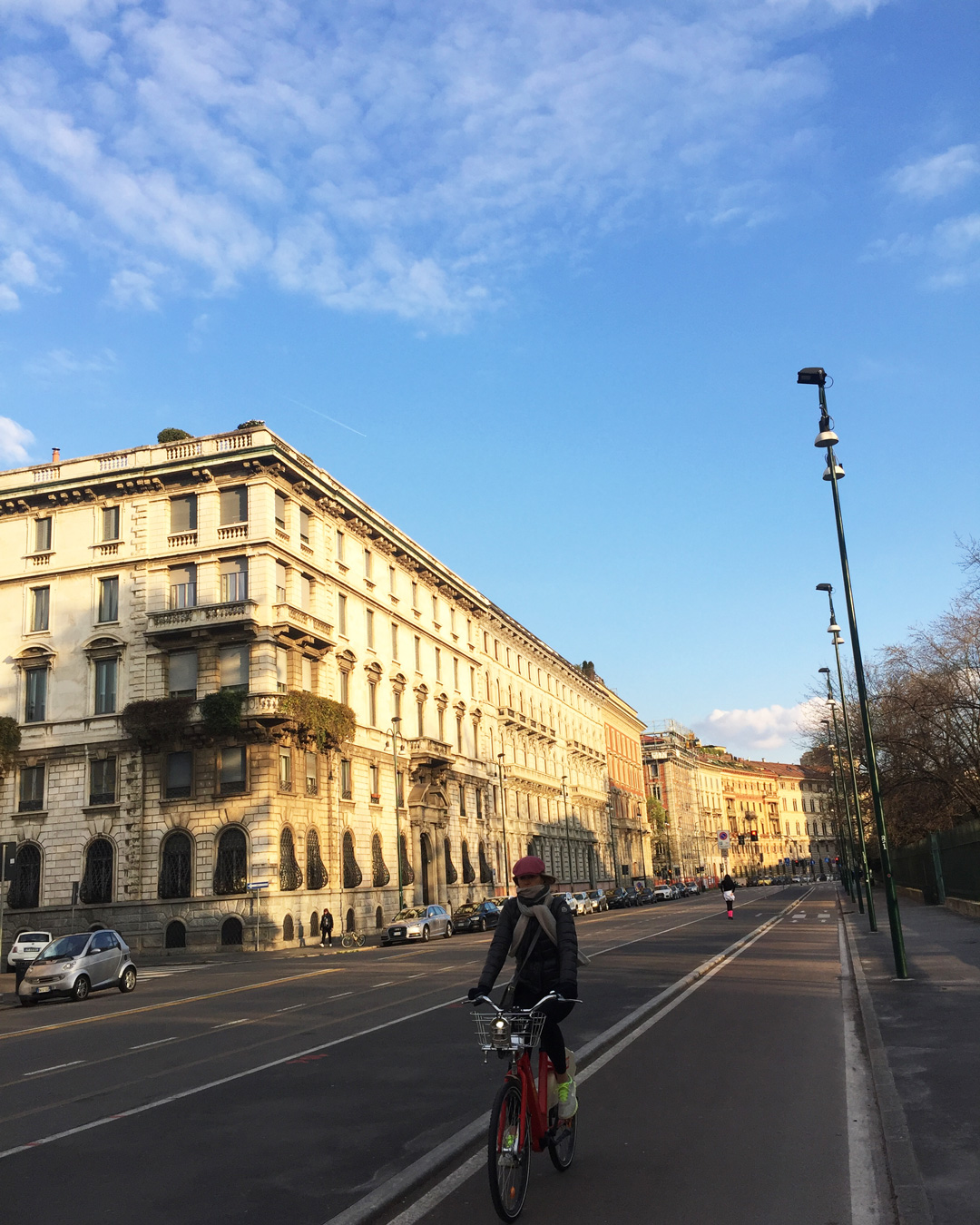 Today marks the end of our fourth week working from home, and our 11th day in forced lockdown. While it's easy (and totally understandable) to feel anxious about the situation, the bottom line is that to flatten the curve, halt the spread and take the pressure off medical workers, this is what we need to do. The hashtag #IoRestoACasa or "I stay home" dominates social feeds across Italy, acting as a symbol of solidarity, of respecting the restrictions, and as a bolstering reassurance that everyone is in the same boat.
While you're here, here's Manoj Dias, founder of A-Space's guide to staying calm when everyone else around you is freaking out.
Image credit: Courtesy of Saskia Tillers and Vittorio Zunino Celotto