It's safe to say that the Melbourne Cup Carnival will look a little different this year. But if COVID-19 has taught us anything, it's that it's going to take more than a pandemic to stop us from having a good time.
While there won't be the usual IRL festivities, there's still plenty to get excited about, thanks to Victoria Racing Club and their epic Melbourne Cup Carnival virtual HQ. They're giving you everything you need to level-up your at-home race day event, serving up recipes, home styling tips, and even a delectable range of ready-to-serve food and drink hampers. So send out the calendar invites and get ready to host the ultimate Melbourne Cup Carnival event at home.
Pre-Organise A Boujee Food Affair
Let's be real, unless you've got a serious passion for cooking, getting down and dirty in the kitchen to feed a group of friends can be exhausting — no matter how much you love them. So, why not focus your efforts on things that really matter (like choosing which shoes to wear) and leave the food to the pros. The Victoria Racing Club Marketplace is officially open and it's serving up a slew of delicious food offerings for every single state. That's right. This year, everyone can experience a taste of the Flemington Racecourse action and treat themselves to a range of themed food and drink offers.
For something casual but delicious, 'Bubbles & Bites' is a tantalising selection of artisan foods, perfect for snacking alongside a crisp glass of bubbles. If you're after something a little more substantial 'Gourmet Gatherings' are hearty feasting tastes and plates that will be sure to leave everyone satiated. But, for those really wanting to impress their guests, make sure to head straight to the 'Chef's Table' tab for the ultimate fine-dining experience which boasts a specially-curated culinary journey that is guaranteed to impress the whole party. And finally, the sweet tooths haven't been forgotten, with 'Sweet Dreams' acting as the perfect finishing touch to any at-home event loaded with delectable desserts cakes, pastries, and other sweet sensations. Who knew organising a Melbourne Cup Carnival event could be so deliciously easy?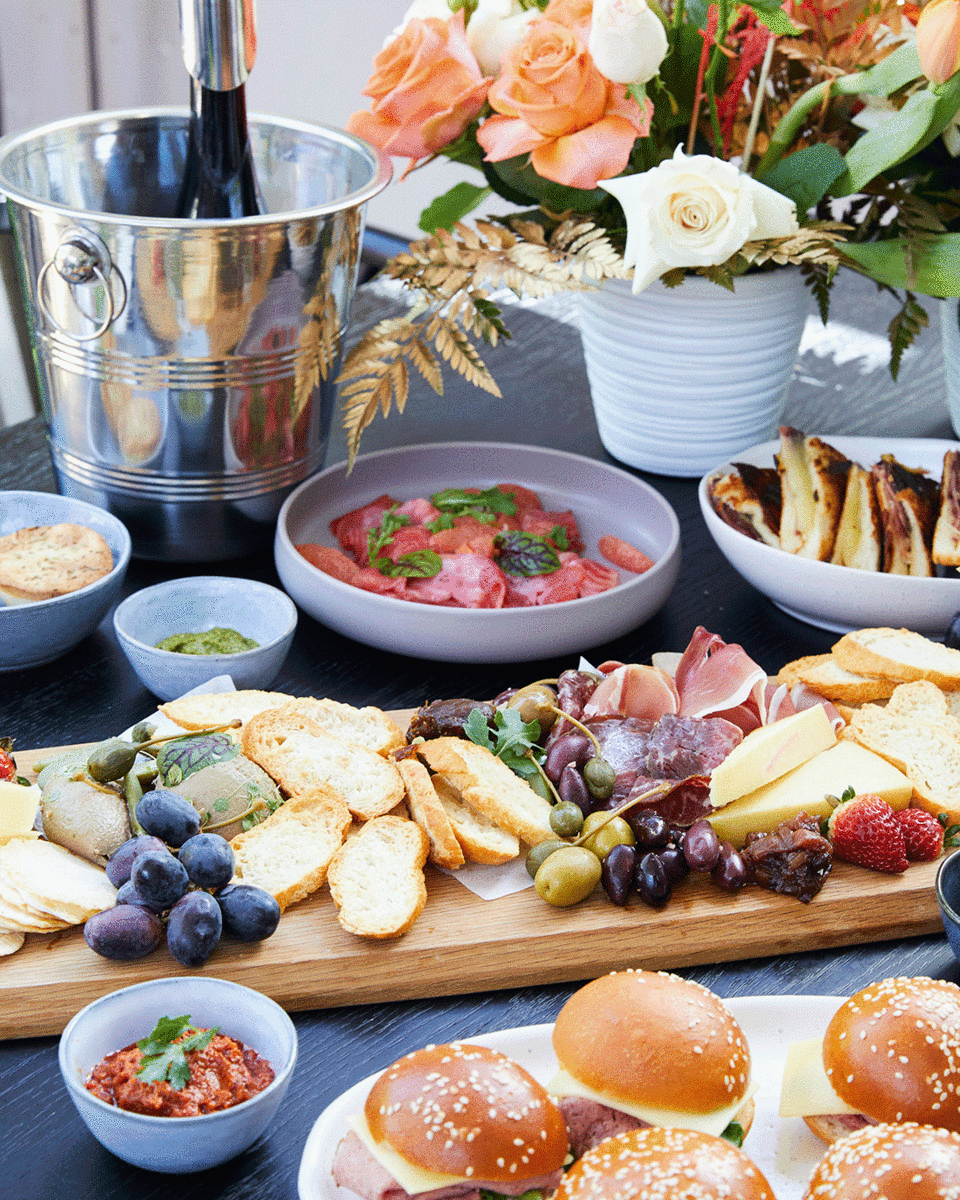 Dress The Part
While we'll always cherish the comfort and memories made in our beloved tracksuit during COVID, there's a time and a place for such informalities, and this is not it. While you'll be residing in the comfort of your own home, any solid Melbourne Cup Carnival event requires the appropriate dress code to get everyone in the mood for an epic day in.
Whether it's swinging a text in the group thread, putting a note in the Facebook event, or sliding into their DMs, make sure all your friends get the memo to frock and suit up appropriately. Not only does a dress code help to set the mood of the day, but you can also even host your very own 'best dressed' awards to get everyone engaging in a little 'friendly' fashion warfare.
Nail Your Feng Shui
We hate to break it to you, but hosting an epic event requires a little more than whipping out a few extra plastic chairs. In order to ensure the party gets going, you'll need to ensure you nail your entertaining space and style your home appropriately — it is the Melbourne Cup Carnival after all. So, first things first, make sure you've got your TV set up somewhere that's easy for everyone to view and so they can still easily mingle with one another, eat and drink. It's going to be a real downer if guests have to move to a deserted area of your house just to catch the action.
Depending on what kind of event you're going to host, you'll also need to arrange your furniture accordingly. For cocktail parties, make sure you've got big bulky furniture out of the way, a few high tables and plenty of space for your guests to roam around and socialise. Boujee sit down affairs will need to ensure you've rustled up enough furniture for everyone to dine comfortably — sorry, but that means no wobbly chairs and mismatched tables. When in doubt, furniture hire is always a great way to get what you need without breaking the bank. Then simply spruce up your home with flowers, balloons and other party essentials to make the space pop.
What are you waiting for? It's time to start organising the event of the year at your very own humble abode, with a little help from Victoria Racing Club. Head to their Virtual HQ and click on the Marketplace tab to check out the incredible packages and experiences available
Editor's note: This article is sponsored by Victoria Racing Club and proudly endorsed by Urban List. Thank you for supporting the sponsors who make Urban List possible. Click here for more information on our editorial policy.
Image credit: Yasmin Mund
Flowers supplied by Fig and Bloom
Platters supplied by Peter Rowland