We need to talk about how mind-blowingly good the NBA style is in The Last Dance. And oversized power suits, basketball shorts, Dennis Rodman's neon hair, sunglasses inside, hoops, two-tone loafers and never-fail red, black and white Air Jordans.
This doco was a real slam dunk for a few reasons right now. One, because crowded stadiums and live sport aren't a thing in the age of COVID—so ESPN has gifted us the story of one of the best basketball players in history, and the team that went along with him, catapulting the code and American culture into the celebrity zeitgeist of the 90s.
Two, because it's a heroic tale of grit and resilience and impossible resolve. The story of a black man who, while his message was never political, drove the culture of an entire decade and totally changed the world. The doco is also a time capsule, feeding us all sorts of nostalgia for what (on the surface or on the basketball court, at least) seemed like a simpler, less scary time.
On a much lighter note, The Last Dance is also, in my opinion, an epic tribute to 90s style, and possibly one of the most stylish films to drop this year. MJ is a style icon as much as he is The Jumpman, from his backwards Nike beret to his ever-present gold hoop earring and his millionaire golf get-up.
So, here are a few ideas to help you emulate and honour His Airness' sweet off-court looks, training style and all-around on-point 90s vibe (cigars and Gatorade not included, soz).
The Trademark Hoop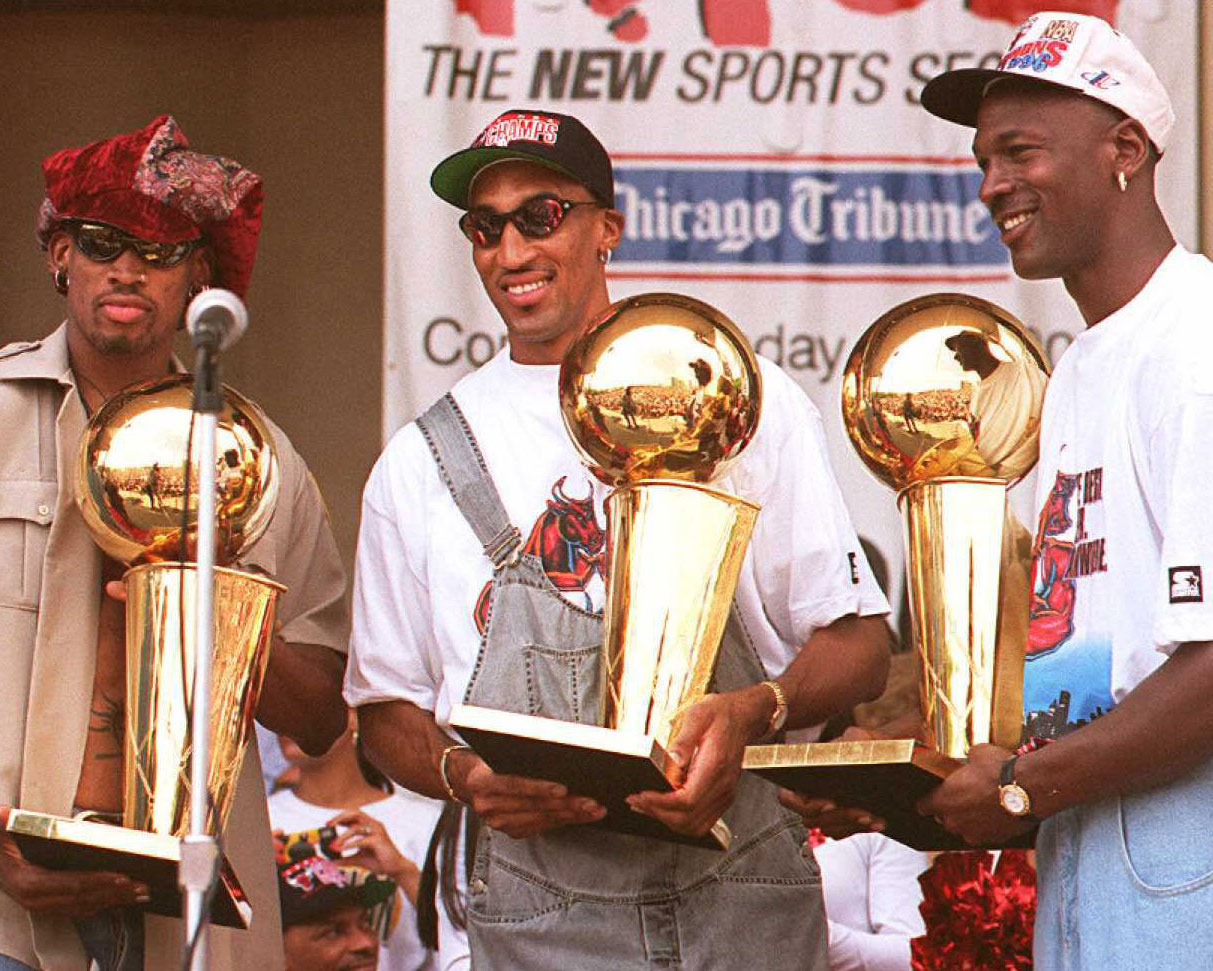 Say what you will, I'm so ready for this to be a trend. I'm not talking about basketball hoops either—I'm all in for MJ's signature single hoop earring, a little accessory he has been doting for decades. It might be the most famous earring in pop culture. Drake even calls it out in his 2013 song, Over My Dead Body ("Don't Michael Jordan still got his hoop earring in?" Yes Drake, he does). Dennis Rodman and Scotty Pippin also wore gold hoops, and honestly—it's a vibe.
Get the look
If you are looking to play at home, I love these Reliquia 18ct gold-filled mini hoops ($139) and these silver-tone hoops from Alice in the Eve ($14.95). These gold vermeil hoops from Sophie Buai ($544.88) are also perfect if you're feeling ready to commit.
The Plus Size Power Suit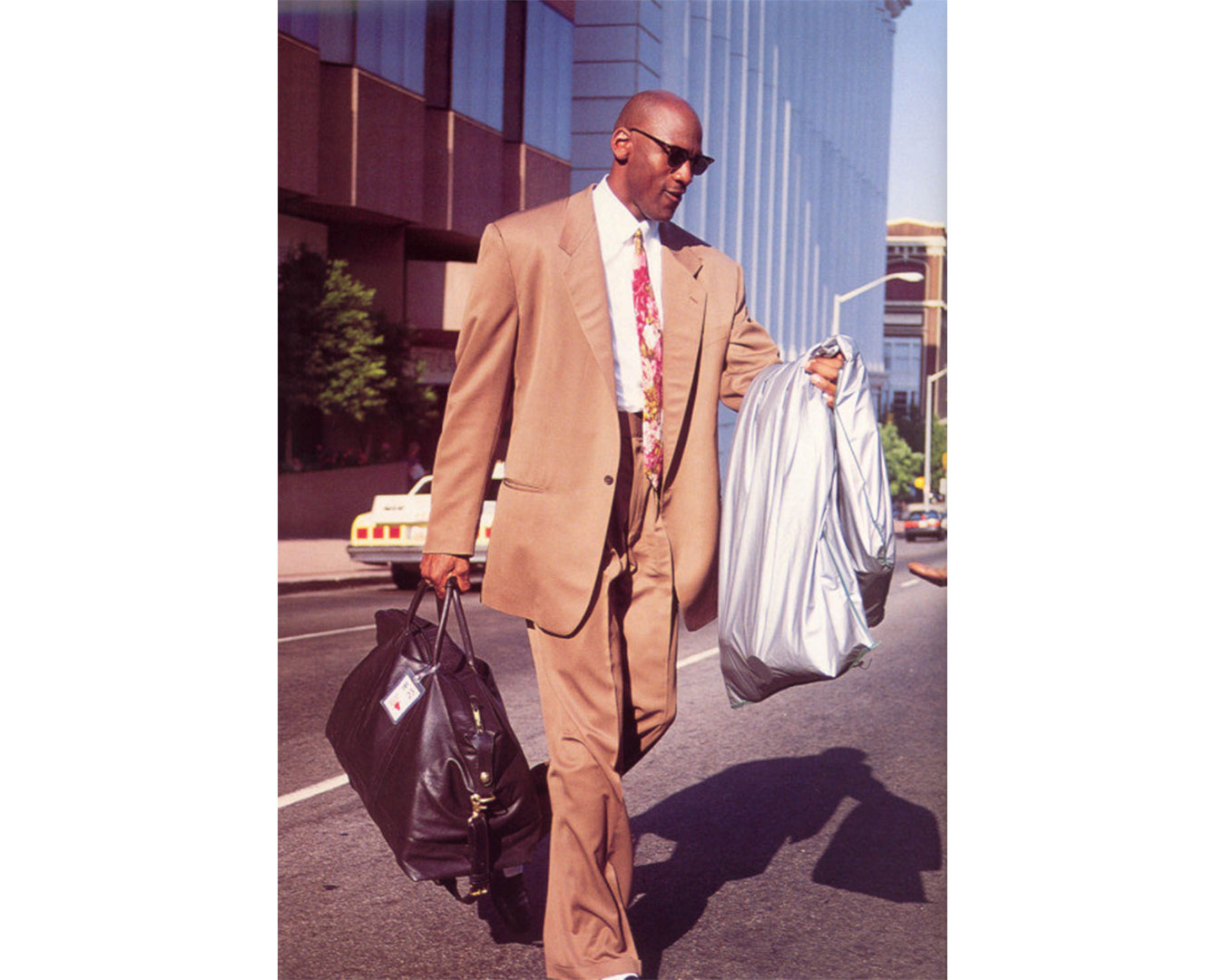 MJ had just three style codes he stuck to. His on-court uniform and training get-up, his golf look, and a series of supremely stylish, totally enormous and very boxy 90s power suits. The Last Dance is filled with power suit genius—the extra broad shoulders (possibly the inspo for the sumo suits in the Kanye West and Lil Pump video for I Love It?) and extra loose drape were a silhouette Jordan wore religiously, and something he had accentuated through bespoke tailoring. "I'm a suit guy," MJ told GQ in the 90s, and look—there's nothing stopping you from being one too.
Get the Look
For dudes, try out this blazer from Band of Outsiders ($153.30), or this boxy double-breasted version ($244.72). For girls, this checked blazer from Oxford works a treat ($169). I also love this beige blazer from LouLou Studio ($615.12).
Complete the look with Ray-Ban Clubmaster shades ($250), a floral tie ($59.95), and a big leather weekender bag ($277.99).
The Millionaire Golf Look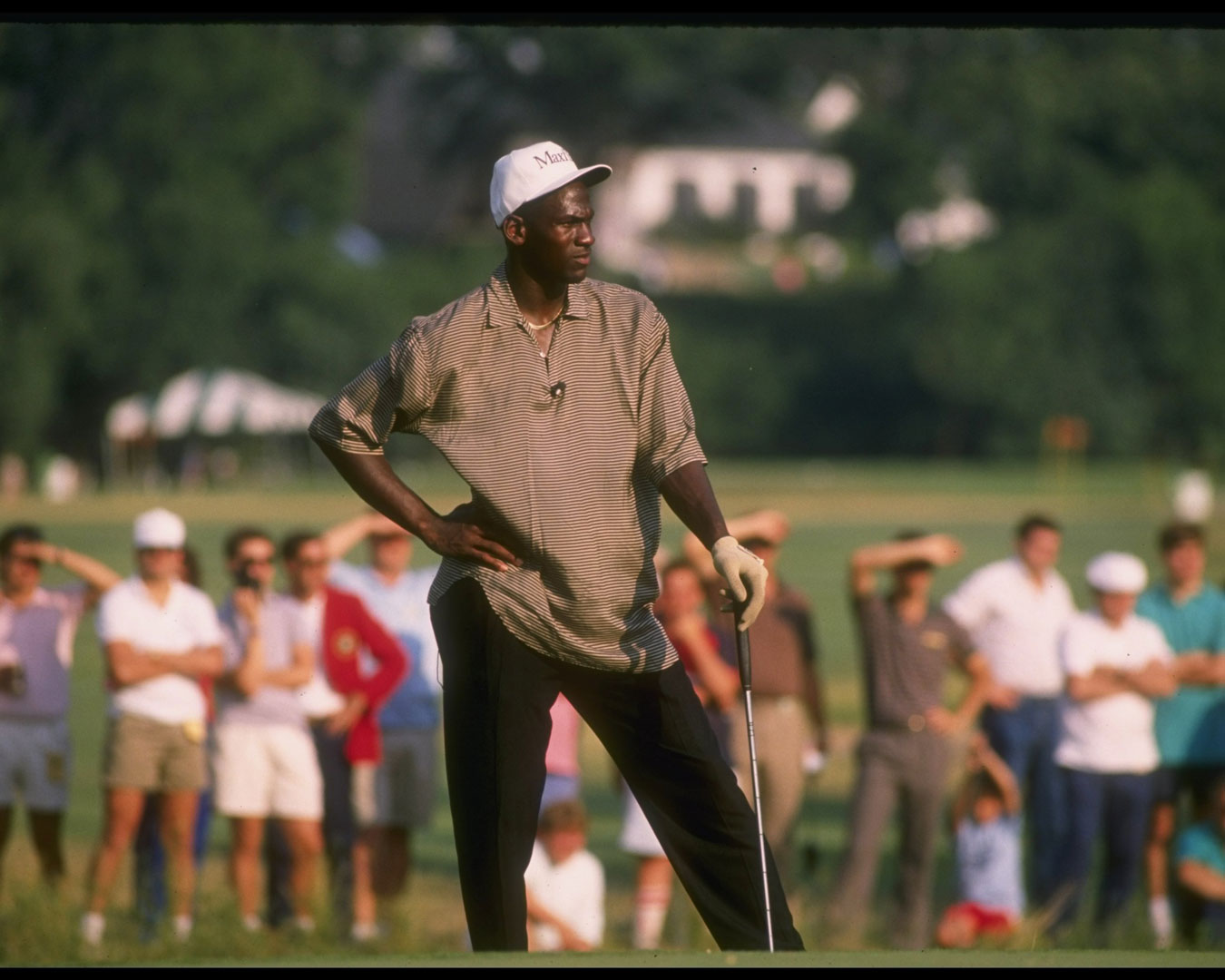 Michael Jordan loves golf—possibly almost as much as he loves basketball. In an interview with PGA Tour this year, he said "I made a par the first time I ever played, and I've been hooked ever since...I love the game of golf. It takes a lot of the competitive juices that I left on the basketball court to now."
And while he was banned from a Miami golf course in 2012 for wearing cargo shorts (why?), his golf style was pretty legendary too. The polos, sweater vests, bucket hats and plaid pants were just, well—cool.
Get the Look
I've been championing this quietly for a while, but it's time to fully embrace the polo shirt. The idea is to keep it drapey, loose. Not like the fitted polos sported by the country club rowing team. Try this Tommy Jeans number ($99.95) , or this striped polo from X-Large ($30).
Complete this look with a bucket hat ($34.95) and a chain ($160). This Acne Studios bucket hat is also on point if you are ready to invest ($223).
The Basketball Shorts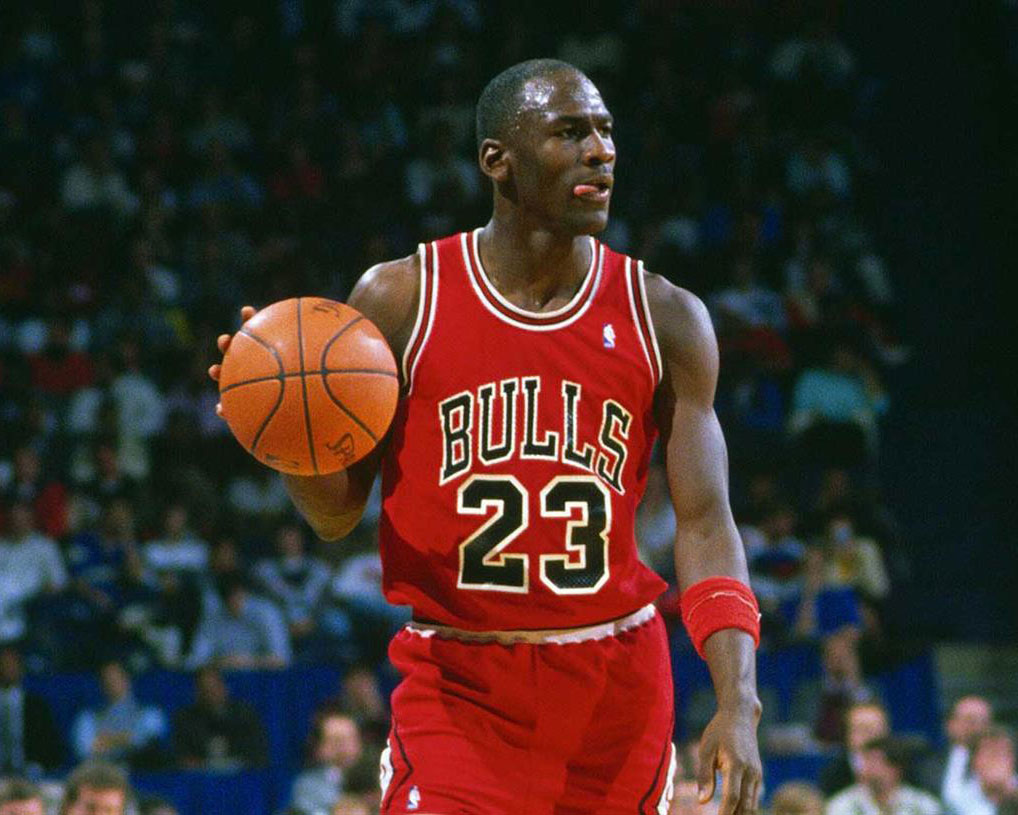 MJ pretty much led the way with the loose, longer basketball shorts of the 90s. While this is a sort of forgotten signature of that decade (I'm definitely reminded of Bugs Bunny in Space Jam), I'm thinking this is an untapped space in athleisure that needs to be brought back to life.
Get The Look
Get yourself some Jordan Jumpman shorts ($65). I also love these Nike shorts ($55), or you can try these Mitchell and Ness practice shorts ($79.95), or these Fila basketball shorts ($50).
The Air Jordans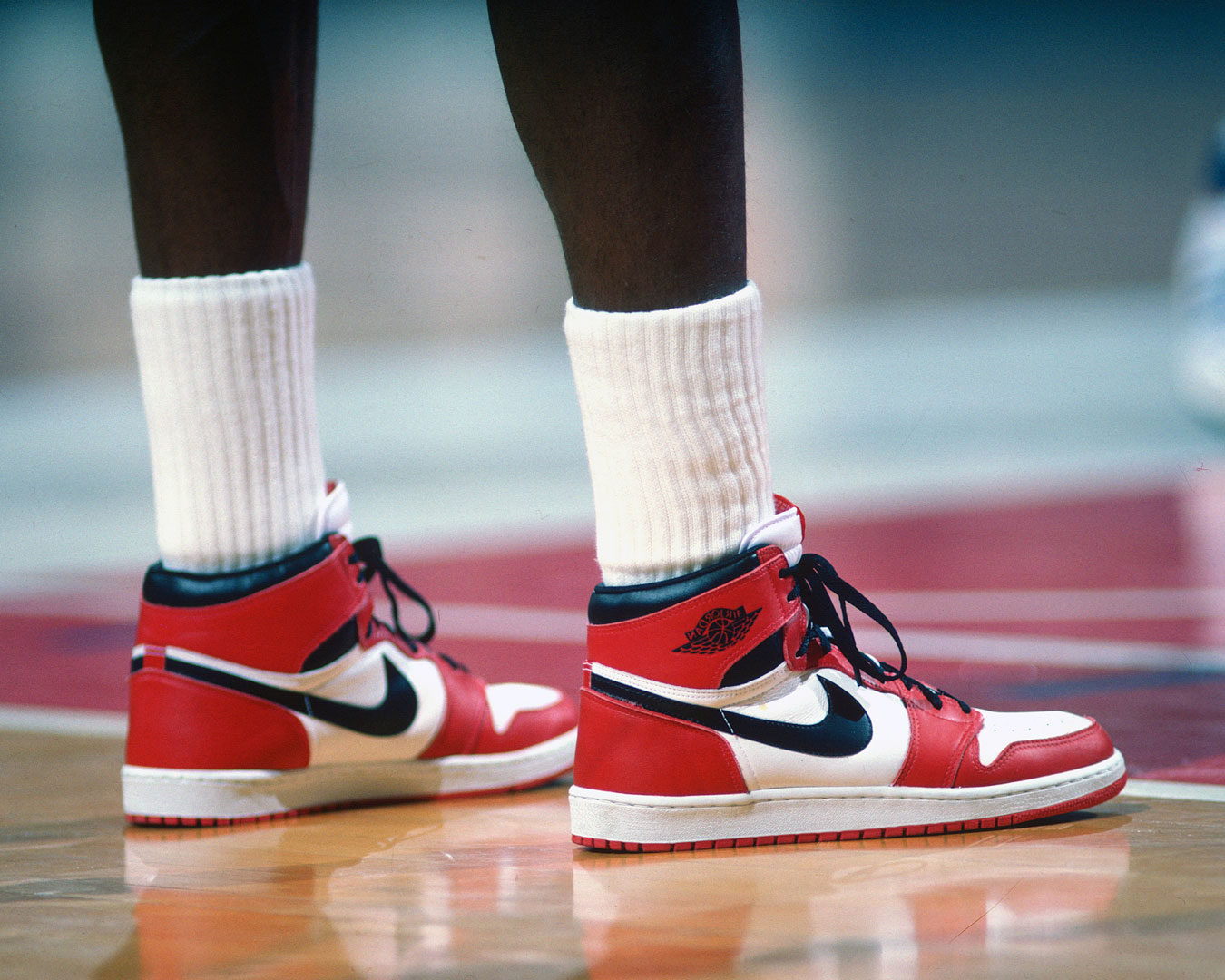 In ep five of The Last Dance, we learn a little about the backstory of the most iconic sneakers in history: the Air Jordans. What we don't hear is that MJ was actually fined $5,000 USD every time he wore the Bulls-themed black, red and white Nikes on the court, as the NBA actually mandated that players wear white Chuck Taylors or Stan Smiths. Nike paid the fine, MJ leaped, floated and soared in his Air Jordans and the rest, as they say, is history.
Get The Look
Where to start? There are so many iterations of Air Jordan these days, but if it's the Bulls colourway you're keen on—try the Jordan Air OG ($240), the Jordan Maxin 200 ($220) or the cherry red Jordan Aerospace 720 ($270).
Editor's note: Urban List editors independently select and write about stuff we love and think you'll like too. Urban List has affiliate partnerships, so we get revenue from your purchase.
Image credit: Getty