We are well and truly in the swing of summer, which means we're also well and truly in the swing of BBQ season! And let's be honest, no-one will invite you to their epic BBQ if you're THAT person who rocks up with a soggy store-bought salad. Yuk. Lucky for you, the girls at This Little Pig Went To Market have got your back with two epic super summer salads.
So roll up those sweaty sleeves, slather on some sunscreen and leap into the kitchen to create these two delicious salads. Now repeat after us, 'I will never take a disappointing salad to a party again and I will always hit the dance floor if one starts up.'
Creamy Dill And Aioli Potato Salad
Ingredients
200g x free range bacon
3 x free range eggs
2 x corn cobs
1 x spring onion bunch
1 x brown onion
2 x garlic cloves
12 x ruby lou potatoes
1 x dill bunch
200g x good quality aioli
1 x tbs gourmet stock
1 x tbs olive oil
Method
Pop your eggs into a pot with cold water and a sprinkling of salt and bring to the boil with its lid on. As soon as the water starts to boil, take off the heat and leave to sit for 4 minutes. After the 4 minutes are up, run under cold water to stop the boiling process.
Chop your potatoes into bite sized chunks and place in a large pot with your gourmet stock and cover with cold water.
Bring to the boil and cook until the potatoes are soft when pierced with a knife. Be sure to not overcook these little spuds—you want them al dente, cooked but still firm. Drain and place into your large salad bowl for dressing later.
Place your corn cobs, with their skins on, into the microwave for 4 mins. Set aside to cool.
Finely dice your spring onion, dill, garlic, brown onion and bacon.
Heat up a large frypan with your olive oil and then add your bacon and cook until starting to crisp. Once your bacon is almost crispy, add in the onion and garlic and cook for a few mins until it is translucent.
Pour your lovely sizzling bacon into the potato bowl, along with your dill and spring onion. Take your cooled off corn cobs and run down the cob with a sharp knife, cutting all the lovely golden gems of corn off. Throw your corn into the potato bowl.
Pour your aioli over the potato salad and after a good grind of pepper, gently mix your aioli through the potato salad, ensuring all the ingredients are mixed well.
Take your cooled-down boiled eggs and gently peel, making sure to keep the egg white intact. Slice into quarters. Lay your beautiful boiled egg quarters over the top of your potato salad and artfully scatter the last of your dill and spring onion.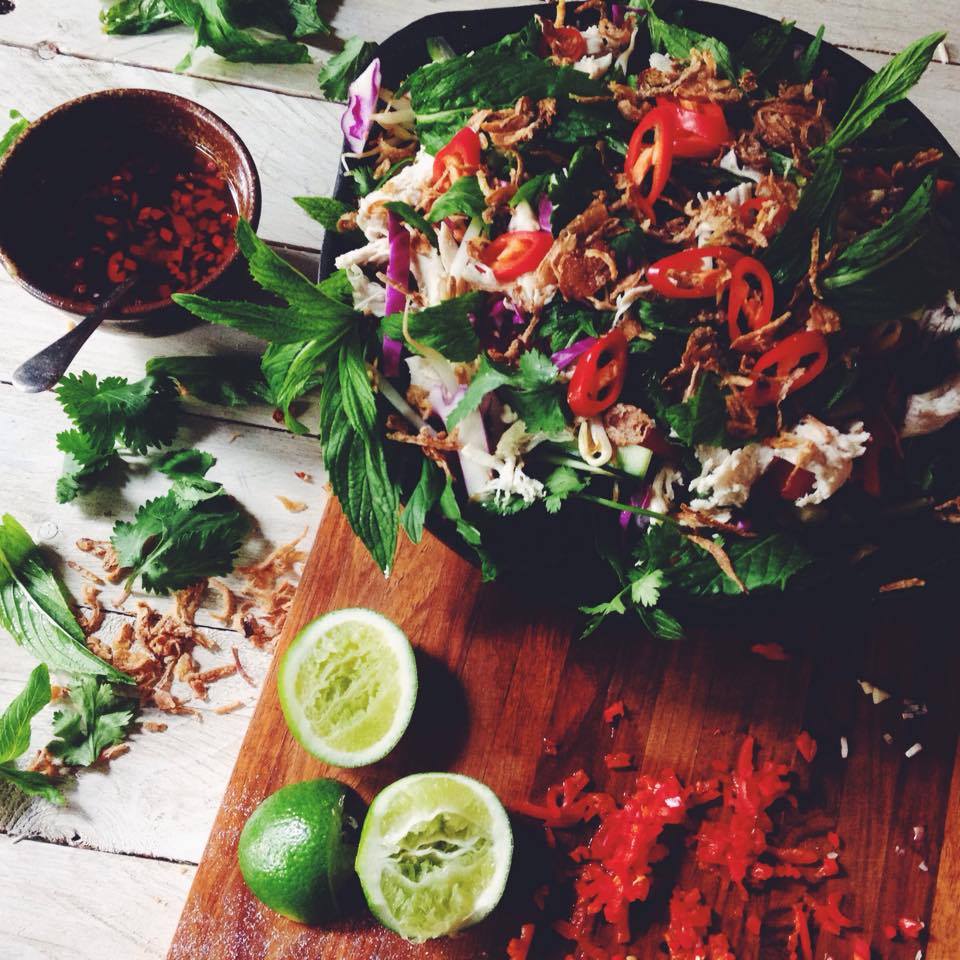 Poached Coconut Chicken On A Crunchy Slaw With Nuoc Cham Dressing
Salad Ingredients
125g x bean shoots
1 x coriander bunch
1 x mint
1 x cucumber
1 x red capsicum
¼ x red cabbage
½ x cup of fried shallots
1 x red chilli
Coconut Poaching Ingredients
600g x chicken breast
400ml x coconut milk
3 x star anise
1 x garlic clove
1 x ginger thumb (around 20g)
1 x tsp powdered stock
1 x tsp 5 spice
Nuoc Cham Dressing
1.5 x tbs fish sauce
1 x tbs sugar
1 x lime
1 x red chilli
1 x garlic clove
Quarter of a cup of water
Method
Skin and finely slice your ginger and garlic and drop into a pot with your star anise, powdered stock and 5 spice. Pour 400ml of coconut milk and 200ml of water into the pot and stir.
Gently plunge your chicken breasts into the coconut milk infusion and bring to the boil. Once it hits the boil, reduce to a low simmer with the lid off for 20 mins. Turn off and allow to sit in the coconut milk for another 10 mins or until cooked through (no pink).
Very finely dice your garlic clove. Using the back of the knife, run it down your chilli to help loosen the seeds and then chop off the chilli's head and bang it's side so all of the seeds fall out.
Now very finely dice your chilli. Slice your lime into quarters ready to squeeze.
Combine all of your Nuoc Cham ingredients in a small bowl and mix very well until the sugar has dissolved.
Remove your second chilli's seeds and slice into thin slices. Finely slice your cabbage, carrot, cucumber and capsicum into very thin strips around half a finger in length.
Gently mix all of your salad ingredients (cabbage, carrot, cucumber, capsicum, bean shoots, coriander and mint) together.
Remove your poached chicken from its coconut broth and allow to cool slightly. Take two forks, or a fork and a sharp knife and scrape away at the chicken down the grain to shred it finely—if it's cool enough you can use your hands to break it up.
Gently mix your chicken through your salad. Serve onto plates and generously drizzle your Nuoc Cham Dressing over the top. Scatter the fried shallots and chilli with wild abandon.
Looking for more? Check out The Healthy Chia Pudding Pudding Recipe You Need This Summer!
Image credit: This Little PIg Went To Market