There's nothing we love more than something that's both more sustainable and more enjoyable than the default option, and scenic train rides are just that.
They might be slower than getting on a plane, but by the time you factor in getting to the airport, all that waiting time and getting to your accommodation on the other side, the time difference is probably negligible. Plus you get stunning landscapes, comfortable seats and maybe even a couple of stop offs in towns you never would have heard of if it weren't for the train.
Did we mention they're usually cheaper and you can cut your carbon impact by as much as 91%?
Sold? Here are 10 of the most scenic train rides around the world you should hop on board with.
Ella To Kandy
Sri Lanka
You've seen the Ella to Kandy train ride all over your Instagram feed, but for good reason. With lush green rainforests, mountain views and tea plantations galore, you'll be amazed that you can do this for less than two bucks. To be fair, you can pay up to $100 to get a first class seat which might be worth it for a seven-hour journey, but if you're planning on breaking the trip up, jump into third class and make the most of the open windows to take in the view.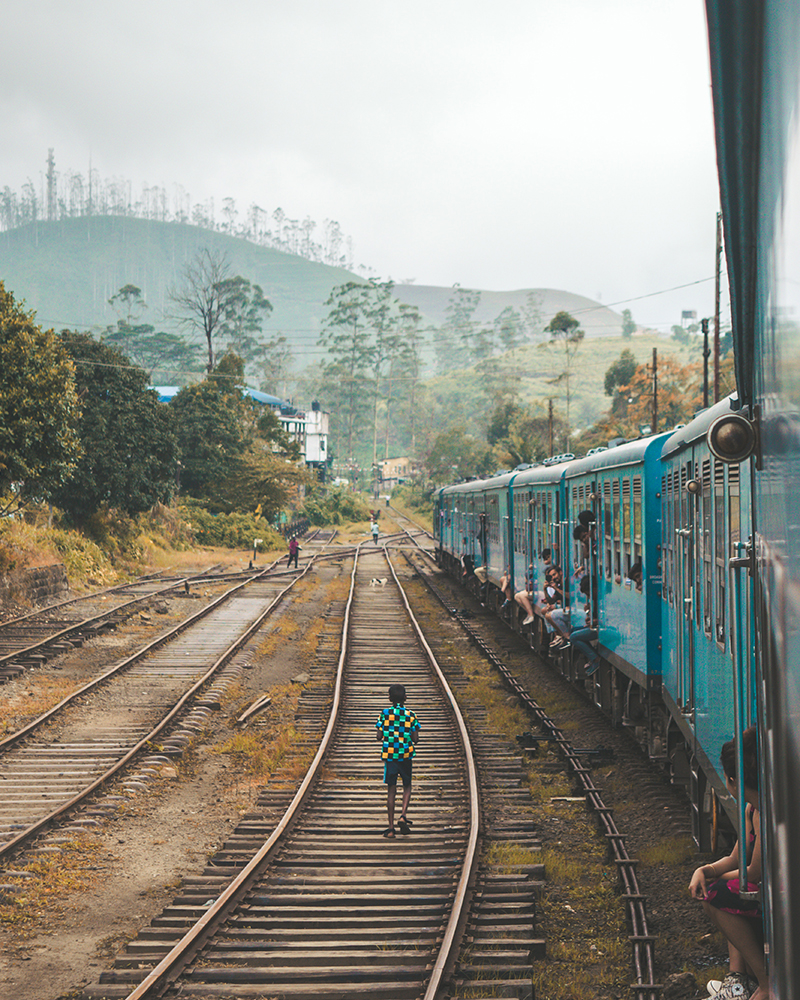 The Flåm Railway
Norway
What the Flam Railway train ride lacks in length it makes up for in sheer beauty. Beginning at sea level at Aurlandsfjord, the train ascends 867m up to the Myrdal mountain station in just one hour, giving you a great vantage point to take in the scenery—think lush green mountainside, waterfalls and ridiculous views of the fjord. From Myrdal station you can connect with both Bergen and Oslo, that's if you can resist going back down for another look.
Glacier Express
Switzerland
When you hear the words 'scenic train ride' the Glacier Express in Switzerland is probably what you imagine. If you do the entire trip from Zermatt to St Moritz (or vice versa), you can expect eight hours of glorious views of the Swiss Alps, the Rhine Gorge, rock formations, ruins, castles and more. If you can't do the whole thing, check out this handy guide to see which section you'll enjoy the most.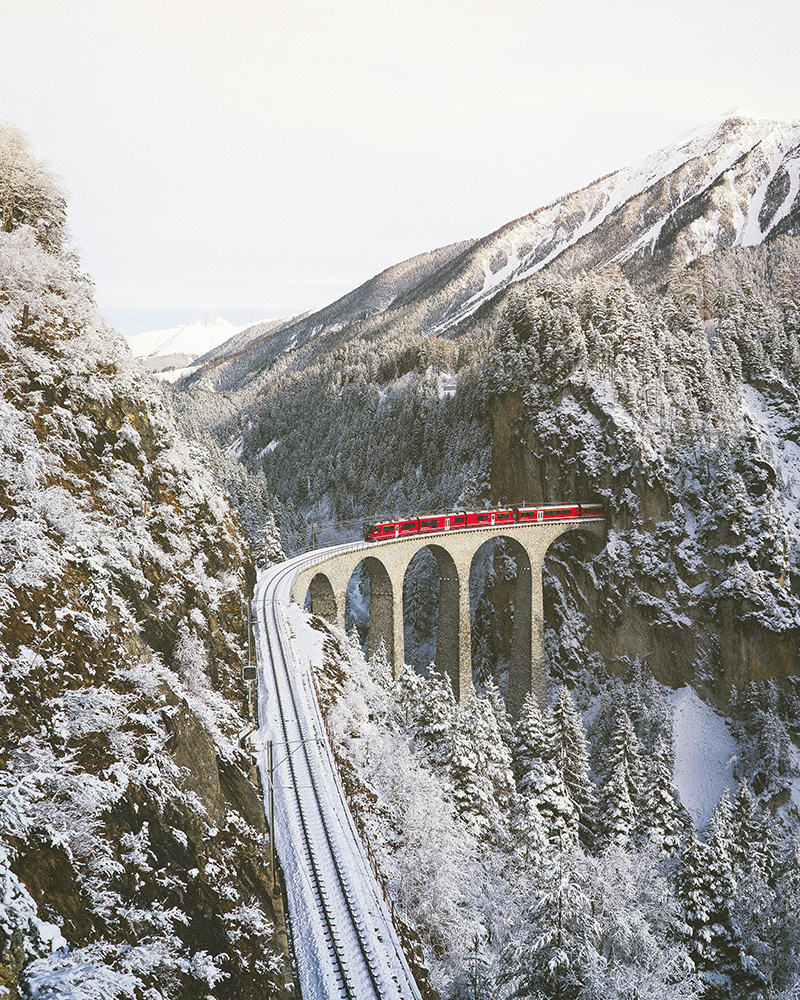 Rocky Mountaineer
Canada
We all know Canada's Rocky Mountains are pretty impressive, so it's not surprising the Rocky Mountaineer is considered one of the most breathtaking train rides in the world. It offers four different routes, but we're all about the First Passage to the West which takes you from Vancouver to Banff, stopping at Kamloops and the stunning Lake Louise on the way.
TranzAlpine Express
New Zealand
If you can't make it to the Swiss Alps, check out New Zealand's Southern Alps aboard the TranzAlpine Express instead. Running between Christchurch and Greymouth on the brilliant South Island, you'll be able to take in snow-capped mountains, rivers, glaciers and gorges before getting to the beautiful west coast. Don't forget to stop in at Monteith's Brewery in Greymouth.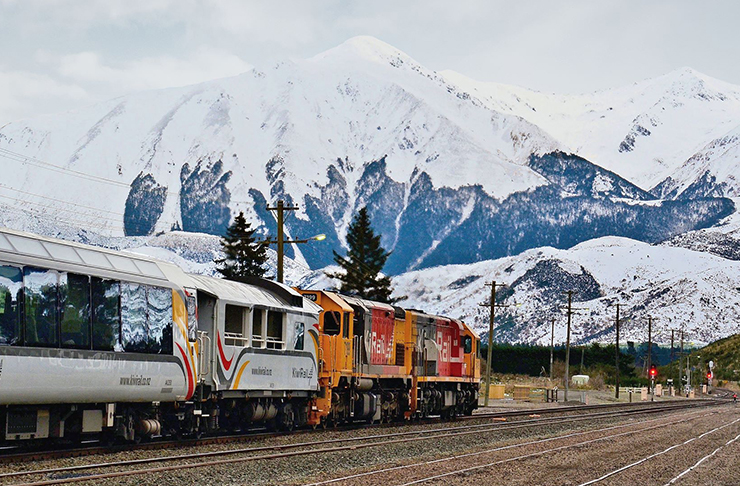 The Trans-Siberian Railway
China, Moscow and Russia
The mother of all train rides, the Trans-Siberian traverses three countries and two continents so you can begin eating dumplings in China and finish drinking vodka in Russia. You'll sleep on board the train, though you can organise a stay overnight anywhere that tickles your fancy along the way. You'll want to allow at least a couple of weeks so you can spend a few nights in Beijing, Ulan Bator and Moscow or St Petersberg. On either side you can easily continue on to most popular destinations in Asia and Europe—in fact, if you fancy taking the longest train journey in the world, you'll need to start in Vietnam, make your way to the Beijing end of the Trans-Siberian and then continue on to Portugal.
The Pacific Surfliner
America
Running between San Diego and San Luis Obispo with stops in Los Angeles and Santa Barabra, the Pacific Surfliner is our new favourite way to see California's coastline. The train makes 27 stops and the majority of the track runs right along the coast—with a short detour inland to stop in LA—making it a very scenic train ride indeed.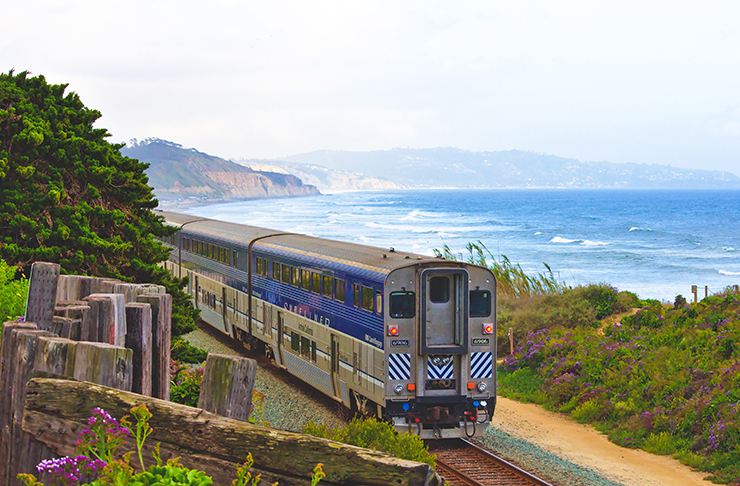 Capetown To Pretoria
South Africa
Travelling from Pretoria to Capetown (or vice versa), The Blue Train is Africa's iconic train journey. This is anything but a simple alternative to flying—in fact, it's basically a five-star hotel on wheels offering up incredible views of South Africa. If you really do just want a scenic way to get from A to B, you'll be pleased to know the Shosholoza Meyl trains running from Capetown to Johannesburg take the same route so you can get all the views for a fraction of the price.
The Indian Pacific
Australia
Always wanted to drive the Nullarbor but not sure you'd make it? The Indian Pacific is for you. A four-day journey, this is neither quicker nor cheaper than flying, but it's a great way to see a bit more of Australia. You'll get to take in the Blue Mountains, Adelaide's vineyards (you can also take a side trip to McLaren Vale or the Barossa Valley to taste some of that goodness), a gold mining town, the Nullarbor plain, WA's Avon Valley and much more.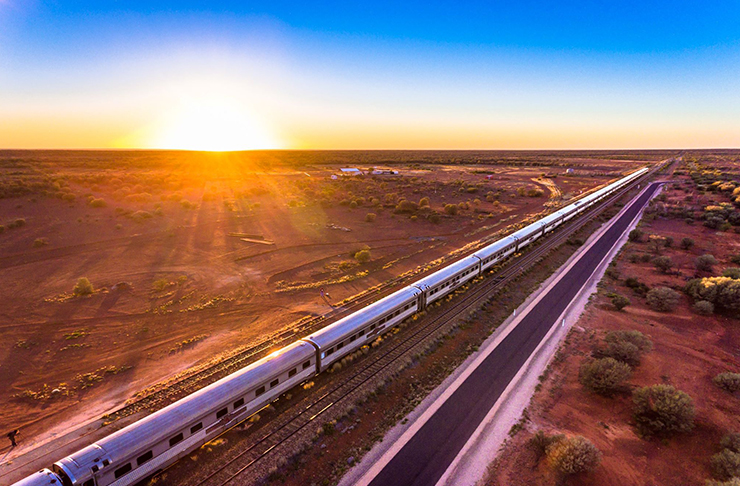 The Jacobite
Scotland
Of course, we couldn't complete a list of the world's most scenic train rides without mentioning the one and only railway line that would get us to Hogwarts, could we? But this train ride is not just for Harry Potter fans. Even if you've never seen a single movie, your jaw will be on the floor for this train ride thanks to the sheer beauty of the Scottish highlands. Beginning in Fort William, the train will make a stop in Glenfinnan (the location used in the Harry Potter movie) so you can explore a little before going on to Arisaig and finishing up in Mallaig.
Prefer fun on two wheels? Here are the best bike tours to check out around the world.
Image credit: Jack Anstey, Eranda Fernando, Johannes Hofmann, TranzAlpine Express, Hari Panicker and Great Southern Rail