Chefchaouen might be popping up all over your Instagram feed, but thanks to its location, it's still relatively quiet compared to the rest of Morocco; a quiet which will be more than welcome after the bustling souks of Marrakech, Fes and Casablanca.
While the stunning blue city makes for some great social media content, there's so much more to the blue pearl of Morocco than what you see in the photos.
Here are eight reasons to visit Chefchaouen.
Get Lost In The Old Medina
Let's start with the obvious, shall we? The blue streets of Chefchaouen are stunning and while you might think you've seen every nook and cranny thanks to social media, there's nothing quite like stumbling upon one of the hidden back alleys or a secret garden in person. There are a few theories as to why the entire city is painted that cornflower blue—ranging from very practical reasons like deterring mosquitoes to symbolic and religious reasons; but whatever the purpose, there's no denying it makes for a pretty spectacular sight. Make sure your camera is charged to 100% because you will not be able to stop taking photos. Seriously.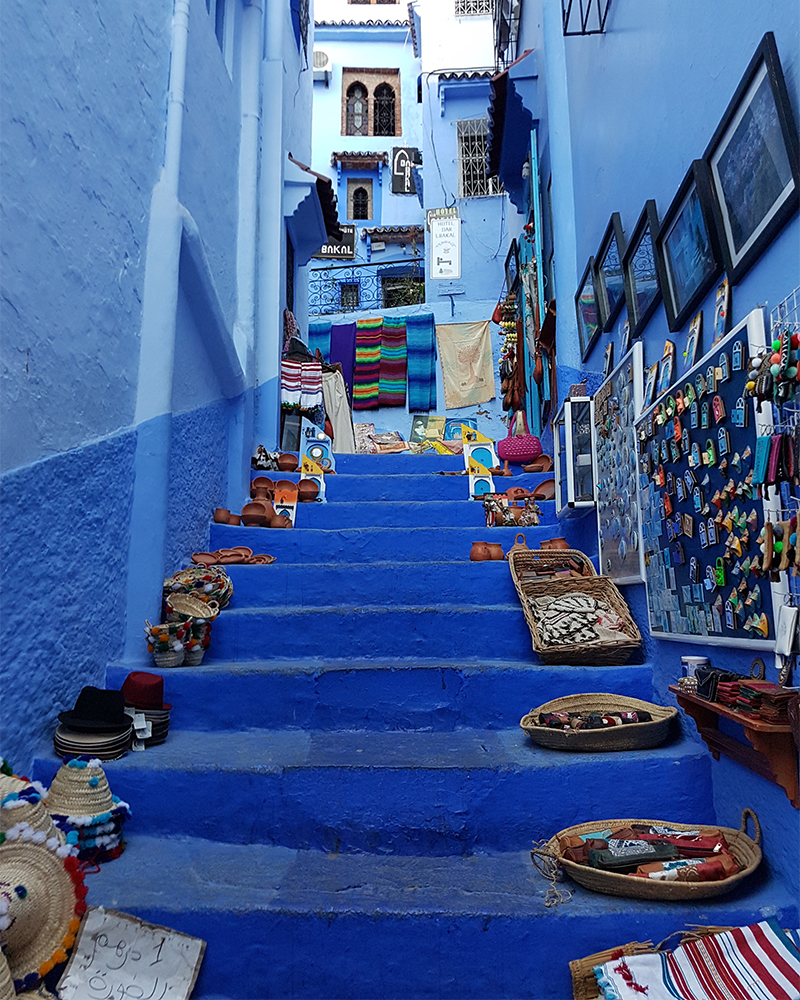 Take In The Views From The Spanish Mosque
About a 45 minute walk from the eastern edge of the medina, the Spanish Mosque is one of the best places to take in the blue-hued views of Chefchaouen. If you don't mind an early wake up, get there for sunrise on a clear day and be prepared to be blown away. If you're more a night owl, the sunset views won't disappoint either.
Hike The Rif Mountains
There are plenty of different hiking trails around Chefchaouen and you can do anything from a 20 minute hike to a 20km uphill battle. The hike to the Akchour Waterfalls is one of the best, but if you want something that leaves directly from Chefchaouen, you can simply explore the hillside close to the town or hire a local guide to go further afield. For a real challenge, try Jebel el Kalaa which is a 10km hike to the 1616m summit. The round trip is 20km so you'll want to start nice and early and take plenty of water.
Check Out A Local Hashish Farm
While you're hiking in the Rif Mountains, you'll probably stumble across a hash farm or five. Marijiuana (called Kif or Keif in Morocco) is not legal here, but it seems a blind eye is turned and if you ask nicely (and put your camera away), the farm owners will usually be more than happy to give you a tour.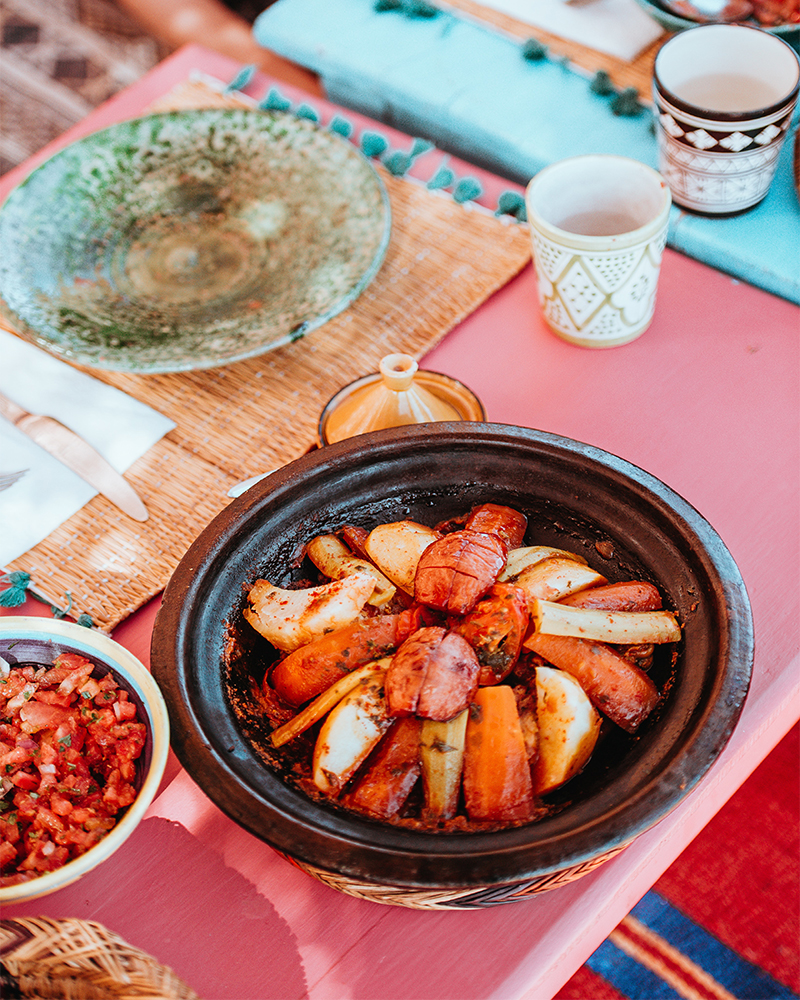 Eat Your Way Through The City
Moroccan food is an absolute treat for the taste buds, so get ready to loosen your belt a notch or two. Lala Mesouda is a sure thing for delicious homemade dishes like tagine, cous cous, kefta and pastilla; it's also very reasonably priced, so go ahead and lock this one in. Bab Ssour is another winner with authentic Moroccan dishes, great service and epic views from the rooftop, not to mention plenty of veggie dishes for vegans and veg-heads. For some of the best views in the city, get yourself a table on the terrace at Casa Aladdin and order the couscous.
Swim Under The Akchour Waterfalls
The Akchour Waterfalls are probably the most beautiful in all of Morocco and a far cry from the arid desert you usually associate with Morocco. Akchour is about 45 minutes from Chefchaouen and you can get there easily by 'grand taxi'—a shared taxi—or private taxi. Once you're in Akchour, it's a good one hour hike to the small waterfall or two hours to the big one. You'll find a few cafes and restaurants along the way so you can fuel up on tagine and Moroccan tea in between wildlife spotting. While you're there, you can also check out God's Bridge—an impressive natural bridge on the other side of the valley.
Visit The Local Hammam
While your first visit to a hammam might not be the most comfortable experience of your life—being butt naked in front of strangers rarely is—we think everyone needs to experience it at least once. Hammam el Harras is the local hammam where you'll get a real glimpse of how the locals socialise, before being scrubbed from head to toe—prepare to be shocked and slightly disgusted by the build-up of dead skin on your body—and finished off with a massage and a mud mask if you're lucky.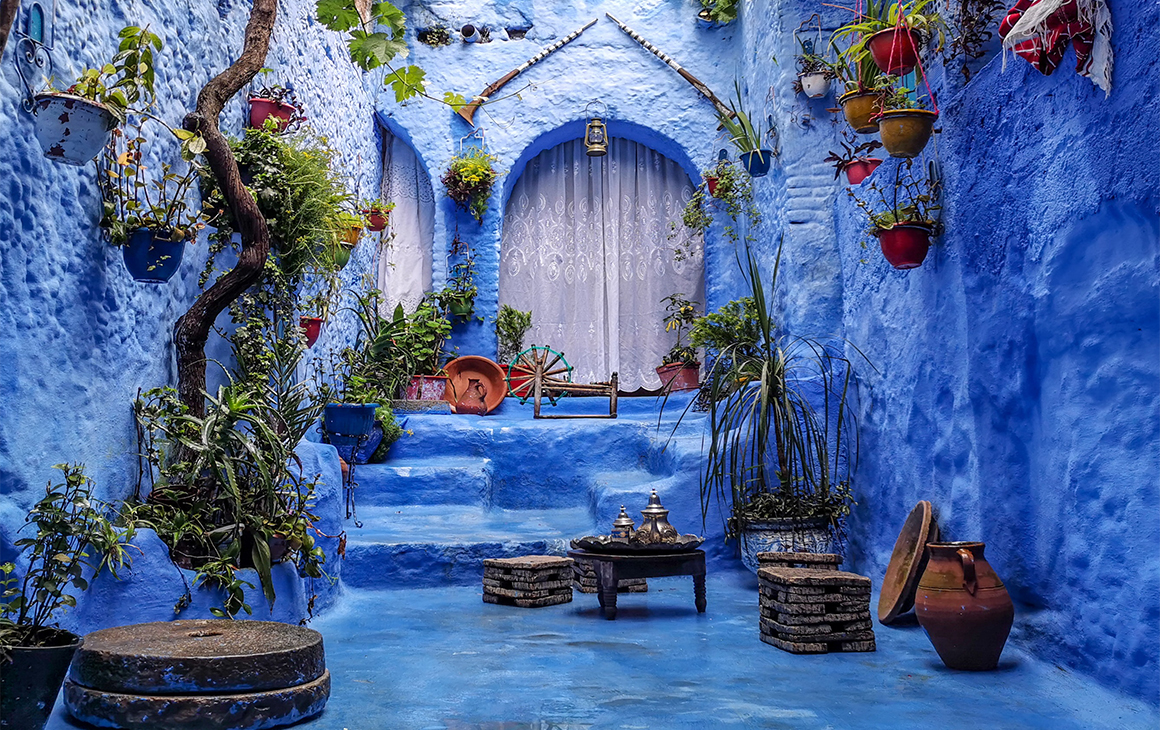 Unwind In Place Uta el-Hammam
While you'll be hard-pressed to find an alcoholic drink in Chefchaouen, do as the locals do and unwind with a Morrocan mint tea in the main square. It's full of action any time of day, but head there in the evening for live music and plenty of entertainment. There are plenty of restaurants lining the square which are surprisingly decent and make for the perfect place to enjoy a mint tea, juice or a hearty tagine.
FIrst time to Morocco? Check out our guide to beautiful Rabat.
Image Credit: Brooke Darling, Kyriacos Georgiou, Annie Spratt, Mohammed lak