It all sounds so simple in theory, doesn't it? Just exfoliate, squeeze on an even layer of fake tan and your legs become bastions of bronzed glory. Or comb through the Frosted Platinum hair dye that you were assured would suit your skin tone and wait for the fun to start. Then there are your eyebrows: what could be simpler than filling them in yourself? Hello, Cara Delevingne!
Sadly magazines and Youtube makeup tutorials have a tendency to leave out vital nuggets of information in their 'easy to follow' beauty guides. Little tips like how not to end up with an over-pencilled monobrow or the fact that your bathroom and every towel within a five kilometre radius is guaranteed to end up a murky shade of brown after a home tanning session.
As frustrating as botched beauty attempts are, most can be rectified with a few clever tricks and a little inside knowledge from the experts. So like a well-coifed Superman, we're flying in to rescue you from beauty disasters, no matter how awful. Here's our failsafe guide to fixing common beauty mistakes.
Manicure Massacre
Probably the most common of all the beauty mistakes, patching up chipped nail varnish isn't too difficult but it does require a steady hand. If your new mani is looking a little scuffed, carefully apply a thin layer of colour to the chip before using a topcoat for extra protection. If it's a full on nick, use a pair of nail clippers to take off the very edge of the nail and then seal with another coat of colour.
In a mani emergency, the talented nail artists at Brooklyn Beauty Bar will set you straight. Their manicure includes a cut or file, matt buff, salt scrub, hand massage and a perfect paint job. (Plus, they serve drinks for you to sip while your hands are getting pampered.) Home jobs < BBB.
Faulty Fringe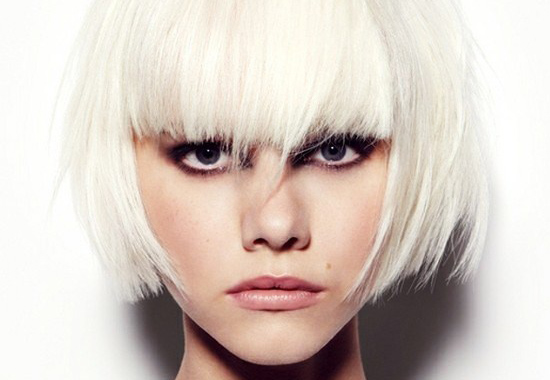 Taking a how-hard-can-it-be approach to hairdressing is never a good idea and yet everyone has at least one makeshift fringe chop horror story. Whether you coerced a friend into playing hair stylist or went for it solo in front of the bathroom mirror, you've somehow ended up with painfully lopsided bangs. What now? Sadly we have no magic fringe-growing potion but improvisation can be just as effective. Try parting your hair on the side where your fringe is the longest to create cute side bangs. Alternatively, create some texture in your new fringe with a matt texturising product (we love KMS Hair Play Messing Crème. You can find KMS products at Urban List fave, Papas + Pace), that will leave your hair looking perfectly piecey, rather than pruned..
If that fails, try a hat. Hats are great.
Ermahgerd Eyebrows
The untamed power brow may be having a moment right now but that doesn't make it any easier to perfect. "The common beauty mistake most ladies are making is overdoing their brow pencil or powder to try and achieve the look, and they end up looking downright scary!" says Kerri Irving from Eyelure Beauty Parlour in Kelvin Grove. If you're an over-plucker rather than an over-penciler, don't fear. Growth serums such as Elizabeth Arden Prevage Eye Lash & Brow Serum are great for speeding up the grow-back process and in the meantime, Kerri recommends using a light pencil or powder to shade in your brows. "Use soft short strokes through your brows following the correct brow shape that suits your face," she explains. "Then blend and soften the colour by brushing through with a spoolie brush".
Hair Dye Horror Story
Every home hair dyer lives in fear of the day they unwrap the towel to reveal a mane of green/orange/bleached beyond recognition locks. Perhaps the mother of all beauty disasters, hair dye blunders are usually best handed over to the professionals. If trip to the salon is all too mortifying, try and get your hands on a colour remover kit like L'Oreal Haircolor Remover, which promises to remove even permanent colour. Failing that, mix a little baking soda with dishwashing detergent to create colour-stripping cream.
Fake Tan Fail
So you got tired of the pale-and-interesting vibe and grabbed the nearest bottle of St Tropez. While it may have looked great when you were applying post-shower, things are suddenly starting to look a little streaky. But there's no need to cancel your morning at the beach; soaking a cotton ball in lemon juice and massaging over your skin is a great way to gently lighten fake tan without the use of harsh chemicals. Soaking in the tub and exfoliating with a soft scrub can also help erase streaky or unwanted tan, getting you back to your porcelain-hued self in no time.
Quick tip: If your home dye job has left you with tandoori paws, rub some toothpaste between your hands. Then rinse and repeat. Et voila! No tell-tale orange mitts for you!
Image credit: Sephora, All Women Stalk, Harpers Bazaar, Total Beauty, Plumb District, Cult of Pretty