Once you're an adult, a truth becomes apparent. At Christmas, you more or less fall into two camps: you love it, spend ridiculous amounts on tree decorations, give people hand-made gifts you've had ready to go since September, and have to be firmly banned from playing Christmas music in the office before December 1; or, you can't even be bothered with a Christmas tree, and prep mostly involves remembering with a sinking feeling on December 23rd that there were at least three people you forgot to buy gifts for.
The latter sound familiar? If so, you'll appreciate that we've teamed up with Skygate (AKA the total saviour of a shopping precinct that has everything under one roof you need to pull your Christmas together) to help you hack your way to looking like a total Christmas pro, with basically zero effort. Read on and thank us later!
#1. It's Okay To Procrastinate
Time is a precious commodity at this time of year, whether you're lazy OR really busy, so Skygate's come to the rescue and added late night shopping hours on Thursdays. The whole precinct, including DFO Brisbane and eateries, is now all open for late night shopping, essentially meaning yes, you can leave things just that little bit longer before you really, REALLY have to get your sh*t together. Everything's all under one roof, so you can make your Christmas shopping a one-trip wonder!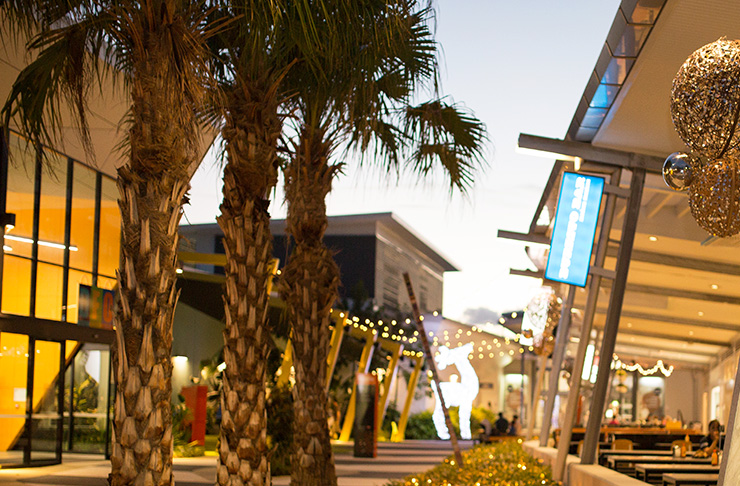 #2. Like, Really Procrastinate
Ok, time got away on you and you missed the 9pm close, and now you're really stuck. The Woolworths at Skygate is open 24/7 and if you're smart, there are plenty of options that can pass as legitimately great Christmas gifts. We mean, who wouldn't want a cutely wrapped box of Lindt chocolate balls? Not us. Not to mention, Christmas food shopping is so much more peaceful at 3am. Try it.
#3. Let Them Choose Their Gift
So, vouchers can seem like an unimaginative (yet welcome–what person doesn't appreciate basically being given cash as a gift?) option, but something about a spa voucher comes off as less last-minute and just a little more thoughtful than the norm. Grab a Beauty Stop voucher and your grateful giftee can choose from a full range of services like massage, waxing, manicures, pedicures and heaps more.
#4. Snag A Bargain
While we all know DFO Brisbane is already the place to score a designer bargain at any time of year (some things literally have 70% off!), they also have some pretty amazing sales events with even more discounts, like their Big Brand Sale from 7–10 December that will save you even more of the ol' cashola on genuinely great stuff (perfect timing, right?). Gifts from brands like Nike, Seed, Country Road, Fossil, and Tommy Hilfiger will make it seem like you travelled far and wide, dropping a fortune, when really you nipped up the road and nabbed them for an absolute steal.
#5. Fake It Till You Make It
Want to be like one of those people who are good at Christmas, but it just reeks of effort? Grab a bag of supermarket cookies (nothing too perfect-looking) and stop by Bargain Mania for some cellophane and ribbon. Just drizzle or dip half the cookies in melted chocolate and let set, or make cream cheese icing and sandwich it between two cookies. Pop them in some cellophane, tie a bow, and voila! You absolute domestic god, you.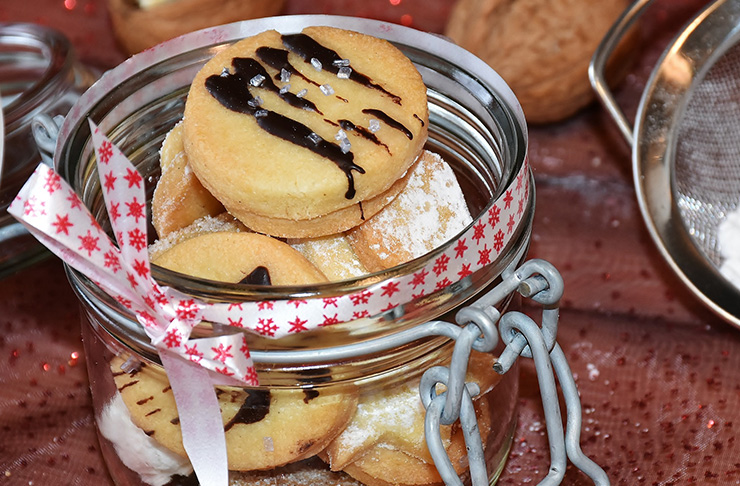 #6. Rest Up
All the effort Christmas requires definitely calls for the lazy person's fave: stopping and resting. Ain't nobody got time for Christmas shopping and home cooking, so luckily Skygate's got loads of great eateries to refuel at. No need to shop on an empty stomach: take your pick of burritos, sushi, burgers, two cafes and a tavern–all now open for dinner on Thursday nights as well.
#7. Pinterest Who?
Let's face it, a lot of how a gift is perceived is the way it's presented. People will get the impression you went to a lot more effort, and were far more prepared for Christmas than you actually were if your gifts are impressively wrapped. But you don't have to spend hours on Pinterest, or only buy gifts from expensive boutiques to get your wrapping looking profesh. Our tips? Stick to a neutral colour scheme (what looks more polished than plain coloured paper with the same-coloured ribbon?!); or go for plain white paper, brown twine (that's probably lying around the house already), and some kind of greenery tucked in (rosemary is a great one, and is often conveniently found in neighbour's gardens) for a boho-minimal vibe.
#8. When In Doubt, Buy Booze
If all else fails, including your imagination, there's a Dan Murphy's at Skygate too. You know what to do.
Image credit: supplied / Agnieszka Paltynowicz
Editor's note: this article was produced in partnership with Skygate. Thank you for supporting the partners who make The Urban List possible. For more information on our editorial policy, click here.