We asked you to nominate your favourite baristas, waiters, and cocktail makers, and you didn't let us down!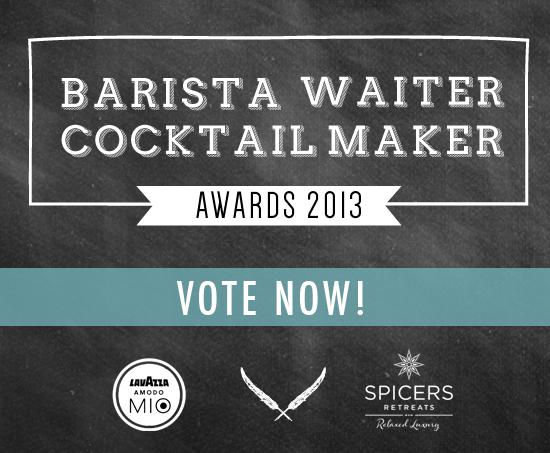 We received over 600 nominations (double the number of nominations from last year!) which just goes to show that it's not just the food and drink that keeps you coming back, but the people who make your experiences better. Thank you for taking the time to celebrate the people who bring us our cocktails, canapés and coffees! We're thrilled to see so many of our favourites represented, plus a lot of new faces!
Now it's up to you to vote for your favourite Barista, Waiter and Cocktail Maker! Here's what's on offer for the lucky winner…
Just by nominating and voting for your favourite barista, waiter, or cocktail maker, you will automatically go in a draw to win a one night, mid-week escape to Spicer's Hidden Vale. Prize includes one night's accomodation, gourmet breakfast, and a 3-course dinner at Cotton's restaurant for two*.
The talented barista, waiter, and cocktail makers who are voted the best in Brisbane will each win a Lavazza coffee machine.
The business whose barista, waiter, or cocktail maker was voted the best in Brisbane will win a partnership package with The Urban List worth $2,000!
So, without further ado, here are the nominees for The Urban List Barista, Waiter, Cocktail Maker Awards for 2013. Select your favourite in each category, hit submit, and your vote will be cast (you only get one vote in each category, so make it count!).
Votes will be taken until 12am on Monday, the 9th of December, and the winner will be announced on Wednesday the 11th of December.
*You can only vote once. A "mid-week" escape at Spicers Hidden Vale is classified as staying any night between Sunday and Thursday. Where food is included, this does not include beverages. Offer is valid from 12 months of issued date. Winner of the Spicer's overnight package will be drawn from a barrel at random.
Image credit: Geoff Zabell