Dating can be a stressful game. Not only do you have to worry about your outfit, find new and interesting things to talk about every time (hint: read the newspaper beforehand), and prepare yourself for the inevitable, awkward argument over the bill, you also need to up the ante with every date (to make sure he or she says yes to the next one, of course!).
If the old standbys of dinner, movies and the odd romantic picnic are feeling a bit stale, you've got to come up with something new and fresh to impress your heart's desire. Something that's going to get the endorphins going, but that's also romantic. And, most importantly, you want an activity that's memorable (you need stories for the grandkids, after all).
Well, don't panic, we've found a little gem of a date activity that ticks all the boxes (original, romantic, fun…you get the idea), and it's from a TUL fave, Riverlife.
How do y'all like the sound of night kayaking? Known as Friday Night Paddle and Prawns—yes, there's seafood involved, too—this option is a little bit daring, a lot of fun, and totally interactive. In essence: perfect first date material.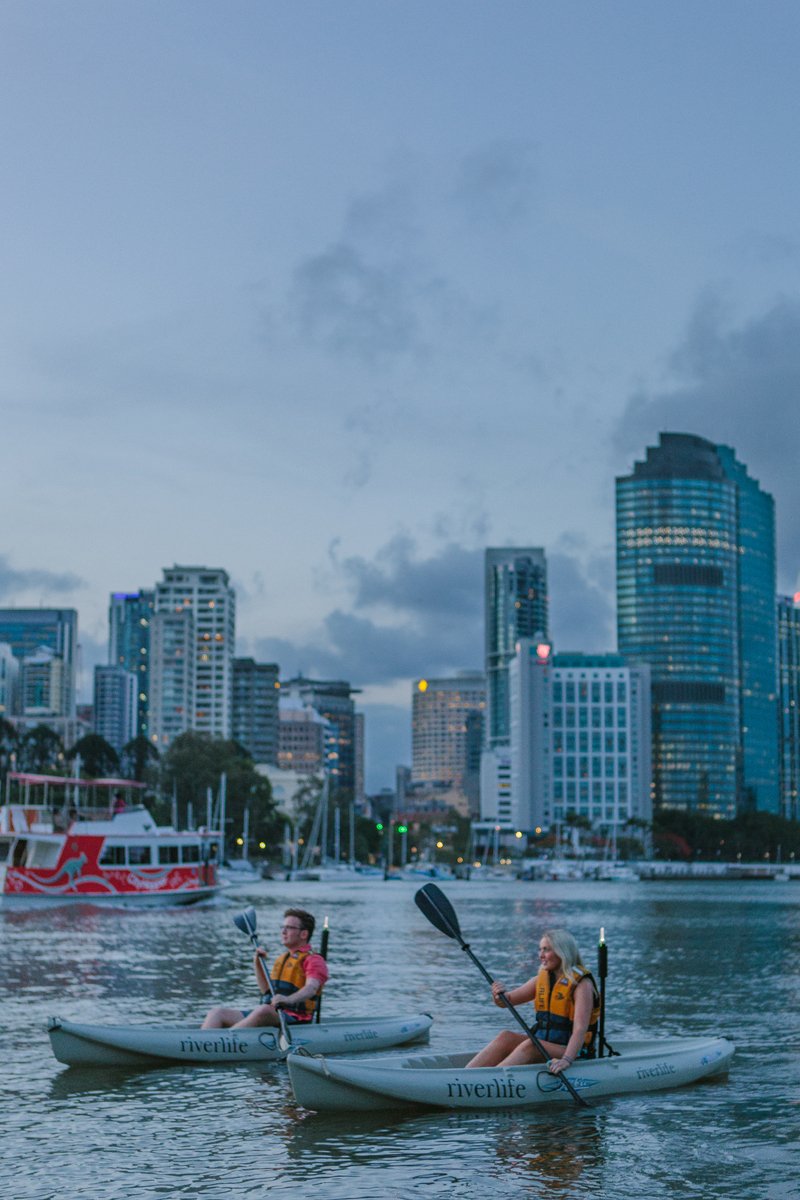 After being kitted out and run through the basics by the super knowledgeable instructors, you'll kayak up the river, soaking up the skyline as you've never seen it before, watching the city lights sparkle on the water. (See, this date is a total winner. Who could resist that view?).
Then, when you've satisfactorily impressed your companion—or perhaps embarrassed yourself with your uncoordination (hey, clumsy is charming)—you'll be guided back to an awaiting feast in the form of platters of fresh king prawns, bread rolls and drinks (including a great selection Australian beer and wine to toast your blossoming love).
Not only do these adventure wunder-kinds over at Kangaroo Point do a bang-up job of all types of river escapades (they also offer stand up paddle boarding, rock climbing, abseiling, and rollerblading, to name a just few activities), Riverlife is home to a stunning function space with jaw-dropping river views, which will be perfect if the date goes really really well. Dum dum de dum…
And not just a winning idea for first dates, Friday Night Paddle and Prawns is perfect for man-dates, corporate bonding, or a nifty idea for a bucks or hens crew. Best of all, this completely unique Brisbane adventure is only $85 per person (or $59 without the prawn part), so there's no reason not to get on it!
They also do a Saturday Paddle and BBQ for the carnivores among us.
TUL Note: Today's List Love post is proudly sponsored by Riverlife and endorsed by The Urban List. Our sponsored posts will never be a secret - the List Love seal will be stamped on any sponsored material you see on the site. Thank you for supporting the sponsors who make The Urban List possible.