Never one to shy away from something sparkly, we were deligted to meet the women behind the scenes at iconic jeweller, Lannah Dunn. What began as their mother's antique jewellery store in Toowoomba has blossomed into a series of stores that are truly a family affair, with older sister Eala at the helm of their Tattersalls Arcade boutique, and younger sister Brydie handling the brand's marketing.
If being surrounded by beautiful jewellery all day sounds like your idea of heaven (we sure think it does!) then listen up as Eala Dunn shares with us her tips. This jewel savvy lady gives us handy hints on choosing an engagement ring (things like: don't get distracted by the bling), the piece of jewellery every woman should own (hint: it goes on a finger you wouldn't expect), and the trials and tribulations of buying trips to Europe.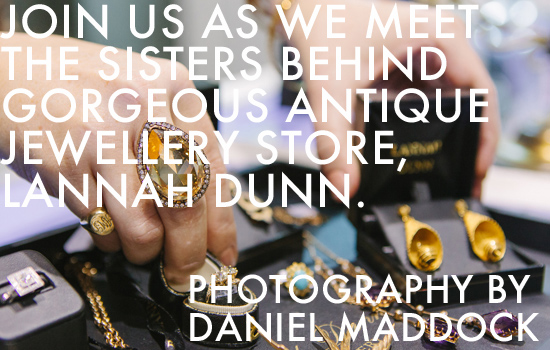 TUL: How did Lannah Dunn begin? What was the idea behind the store?
My mother Lannah has always loved jewels, particularly antiques. She founded the eponymous store in 1985 out of a labour of love and over time it has blossomed into a family affair.
An avid follower of international fashion with subscriptions to Vogue since she was 17, my mother wanted to offer something different from what was readily available to the market. She opened the Toowoomba boutique in 1985 and has maintained her philosophy of offering one-off limited pieces ever since.
The concept brings rare and original antique pieces, carefully sourced through regular trips to Paris, London and New York, to Australia. The antique world is a very delicate one and is something that we have built our reputation on. Lannah Dunn boasts one of the most exclusive collections of antique jewels in Australia.
The antique collections are then complemented by more contemporary pieces designed in-house with precious stones, as well as the Miss Dunn, our high fashion collection. The modern and costume jewels are still inspired by their historic counterparts and are often made in Paris, allowing our clients to each access that world regardless of budget.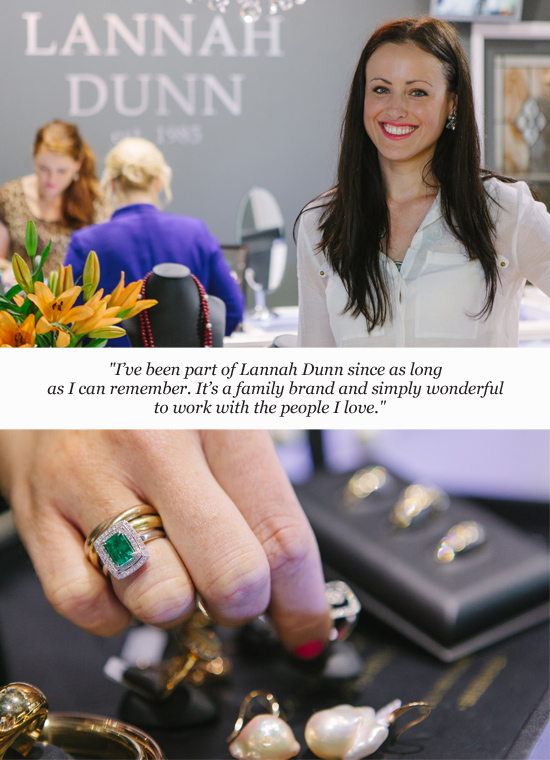 TUL: Do you do any designing yourselves?
Lannah Dunn is a family affair. The entire family – both my parents and my siblings – are heavily involved in the entire Lannah Dunn concept, from design to sourcing the antiques, to managing the operations. It's rare for an entire family to be this involved and I feel we're incredibly blessed. Bridie & I started the Miss Dunn range a couple of years ago which incorporates a combination of semi-precious gemstones and Swarovski crystals.
TUL: Can you take us through the creative process? What inspires you?
When it comes to designing for the contemporary collections, we often seek inspiration from the antique world with classical shapes that remain true to tradition. Our trips to Europe and New York are incredibly influential when it comes to creating a collection, not just with the pieces we find for our antique line, but also with our memories from these travels translating into our designs.
TUL: You seem like such a great team. What's it like working so closely with your family?
I've been part of Lannah Dunn since as long as I can remember. Whilst my parents have always encouraged my siblings and I to have other pursuits outside of Lannah Dunn as well, the brand is part of who we are; it's a family brand and simply wonderful to work with the people I love.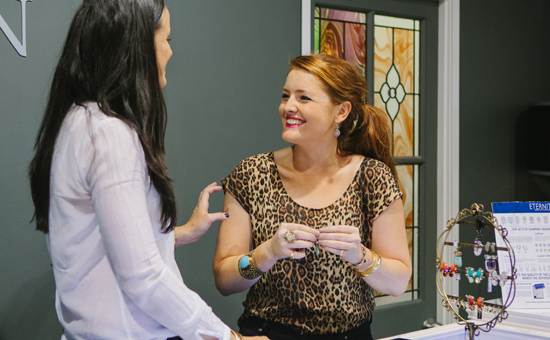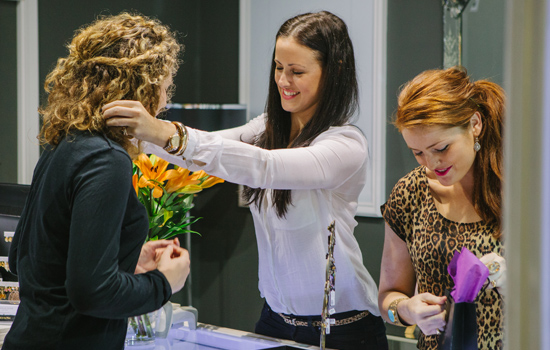 TUL: How would describe your design style?
I have a very classic style. Being surrounded by incredible antique jewellery has taught me to appreciate what goes into my style and the history behind each piece I wear – it makes up the story of who I am. I love the glamour of vintage pieces – an amazing fur paired with some beautiful heels and a bold lip (and dripping in antique jewels of course ). Classical clothes in neutral tones made from beautiful fibres, teamed with enhancing accessories – namely jewels.
TUL: Where do you source your vintage pieces?
We travel abroad annually to source pieces for the stores and I am therefore lucky enough to pick up rare pieces from New York, London and Paris. The flea markets and vintage boutiques in Paris are particularly wonderful for browsing but we have our regular go-tos.
TUL: How do your Miss Dunn and contemporary lines differ from your antique pieces?
We have three collections at Lannah Dunn: the antique collection and then the contemporary and Miss Dunn collections. The antique pieces are among the rarest and most exclusive in Australia, sourced with such precision to ensure immaculate craftsmanship and a very special history within each piece. The modern collection is designed exclusively in-house using precious stones, with designs often resembling their antique counterparts. Our Miss Dunn range is our fashion line, providing runway-inspired collections in vibrant crystal and semi-precious jewels that can be layered on with precious jewellery to create a feminine, fashion forward look.
TUL: Which is your favourite piece in store?
That is like asking someone to choose their favourite child ! I have so many favourites so it is nearly impossible to choose. We've just received our 2014 antique collection sourced from our most recent trip to Europe. It features some incredible Columbian Emerald pieces that I am madly in love with. They're at the top of my Christmas wish list!
TUL: You must feel like a kid in a candy store sometimes! (We're totally jealous!) What's the most amazing design you've had in store?
Each piece we have is special in its own way, with its love story in its background and the history adding to its beauty. Each piece in the Lannah Dunn boutiques is selected for its exquisite beauty, lively history and the joy it brings to the wearer, ensuring it is loved as passionately now as when it was first born, adding a new tale to the jewel's story. Due to the one-off, irreplaceable nature of the jewels, sometimes it is very difficult to part with the pieces when a client decides to add it to their personal collection!
TUL: Which pieces of jewellery do you think every woman should own?
Every woman should own a pinky ring. Whether it is a Lannah Dunn Monogram with hand-engraved initials or an Eros 'god of love' ring, it's a great look… Classic and chic!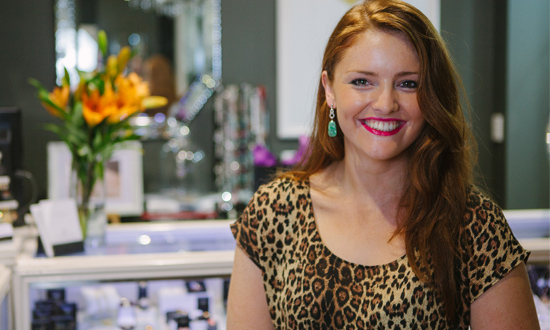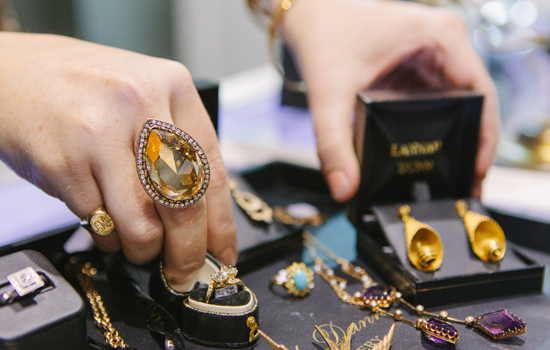 TUL: How do you help your clients choose the perfect piece of jewellery?
The most important thing to remember when buying jewellery is to purchase from someone you trust and to purchase something you love.
We like to offer advice on how to wear your jewellery so that it all looks good together. There's no point in adding to your collection if you can't wear it with what you already own!
TUL: You must have a lot of customers looking for engagement rings. Have you noticed any trends in engagement rings?
Antique pieces have always been incredibly popular but there has definitely been a noticeable increase in demand in antiques and antique inspired jewels, particularly with engagement rings. With period dramas like Downton Abbey and films such as The Great Gatsby, antique jewellery is again fashionable with Hollywood films and stars deeming vintage rings their preference. Original antique jewels and vintage inspired diamond engagement rings are in the spotlight and bringing pleasure to new owners.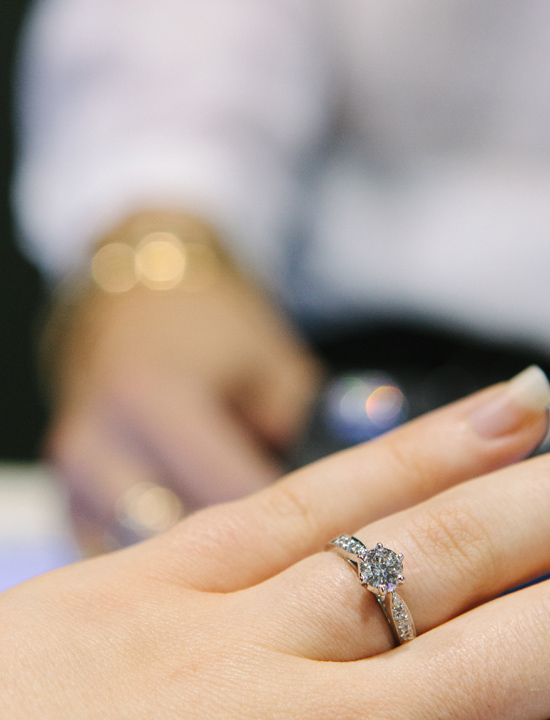 TUL: What advice would you give the guys out there looking for the perfect ring?
I think it's very romantic to go with what your heart tells you. She will be wearing it for a long time and I always think it's best to buy something you love, for the one you love and not get caught up in just the gemmological characteristics.
TUL: What's the best part about your job?
Being surrounded by incredible jewels every day! And the buying trips to Europe – all in a day's work!
TUL: Where do you like to go out for breakfast in Brisbane?
I like to mix things up a bit for breakfast and try the latest joint but I am definitely a loyal frequenter of Eve's on the River. The location is second to none, sipping on a long black while overlooking the river.
TUL: Where's your favourite spot for a drink?
Probably my local, Sixes & Sevens in New Farm.
TUL: What's your favourite indulgence?
Winding down after a long day of designing in Paris to a glass of Veuve.
TUL: What's up next for Lannah Dunn?
We've just received our new collections for 2014 so we will be promoting those in store with our loyal clientele. We have an incredible collection of antique pieces as well as the latest arrivals from Miss Dunn and our contemporary collection so we'll be very busy throughout Christmas and into the new year.
Lannah Dunn is a dynamic, motivating, challenging, creative business of which we are very proud. It's so inspiring to see today what our mother started nearly 30 years ago and we're so excited to see what the future brings!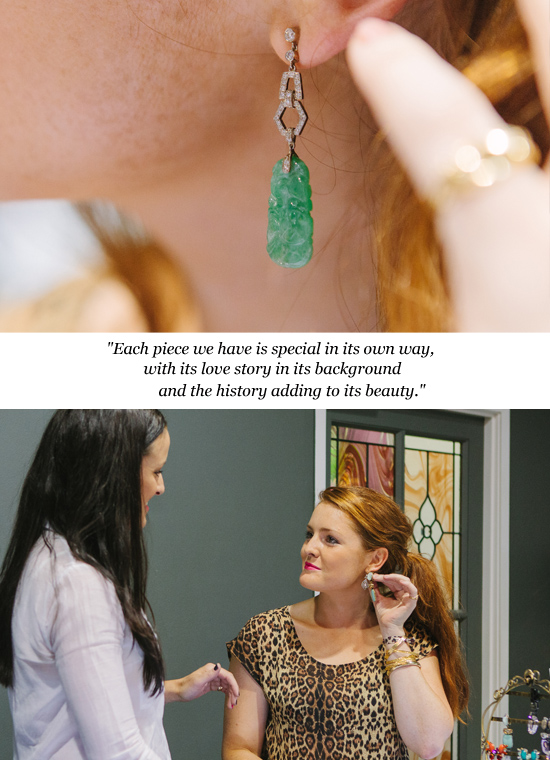 Image credits: Daniel Maddock