Welcome to Culture Curve—your go-to guide to what's on the rise and slide in August 2020.
If there's one thing that seems to ring true right now, it's that as much as necessity is the mother of invention, change is a disruptive, but ultimately inspiring force. This month, we're adding bedroom pop to our playlists, a genre spawned from artists getting creative in iso. We investigate a new wave of augmented reality e-commerce that's adding a little creativity to practicality, and we take a deep dive on the mega-force of gaming—no longer just a channel for entertainment and escapism, but the final curtain of pop culture.
We also take a look at the female action hero post-Gal Gadot and the growing appeal of the country life, with all the best bits of big-city culture thrown in.
Here's what's on the rise, and on the slide this month.
AR Boutiques
Activism Gaming
Bedroom Pop
Big City Life
Job Hopping
Superman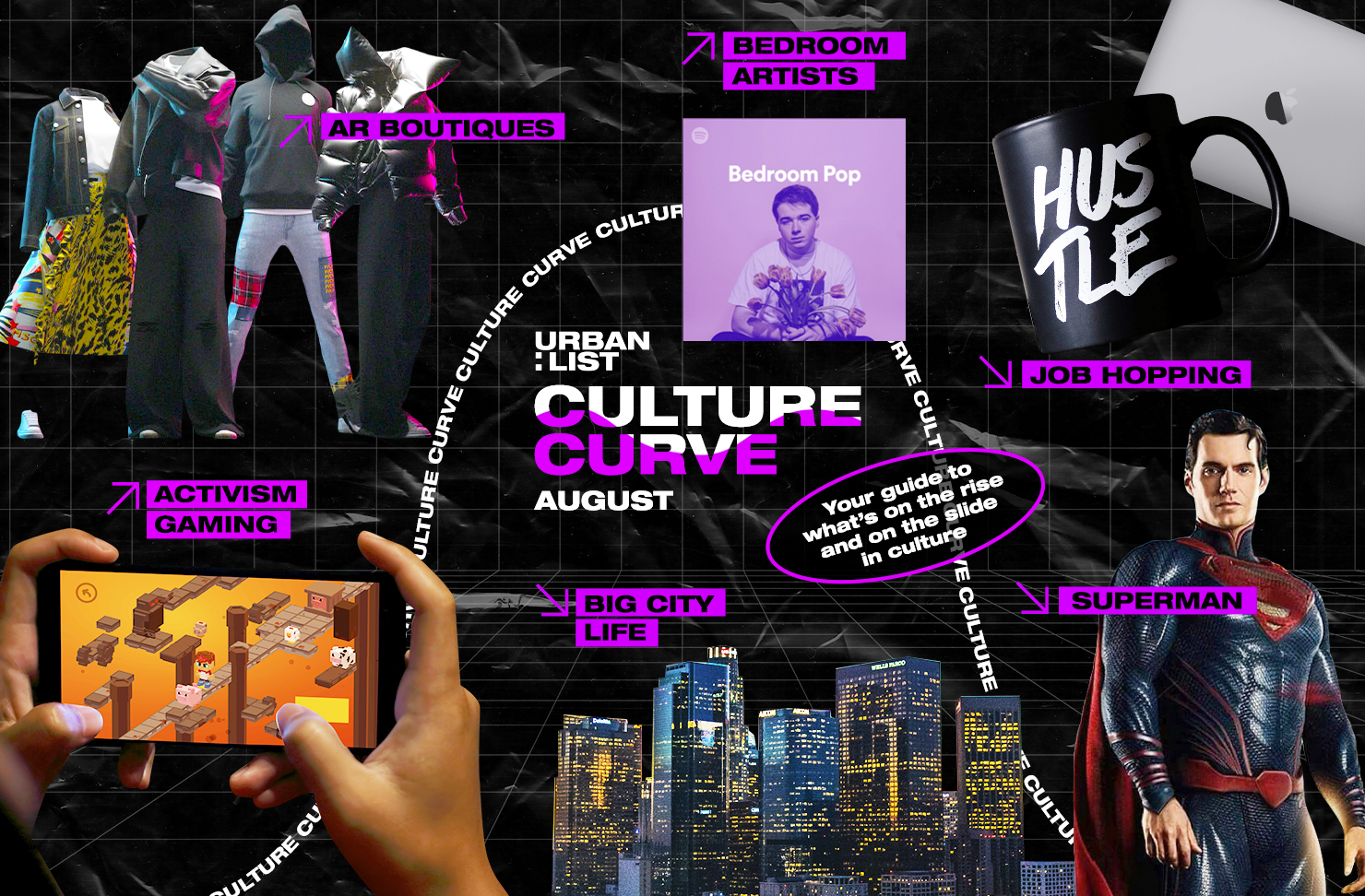 ON THE RISE
Augmented Reality Is Proving Its Power As The Boutique Of The Future
2020 has opened our minds to innovation that might have otherwise felt redundant or clunky. First created as part of a US Air Force funded project in the early 90s, AR technology has since moved leaps and bounds—but it didn't really emerge as a "useful" shopping tool until around 2017.
Sephora and L'Oreal were among the first to push the envelope with AR, painting your lips in various virtual lipstick shades to help you find and shop a colour suited to your skin tone, your outfit or your mood without having to leave your bathroom mirror. In 2017, IKEA launched IKEA Place, an app that allowed you to virtually style your apartment by placing true-to-scale 3D rendered furniture into your apartment. Shopify also launched Shopify AR, helping boutiques apply an AR dimension to their digital stores. In the latter half of 2019, GOAT launched "Try On", AR tech that allowed you to try on rare sneakers before they launched.
Fast forward to the age of COVID-19. Sampling lipsticks in-store is a health hazard, crowded IKEA campuses are best avoided for reasons beyond inevitable arguments with your significant other, and sneaker swaps have been cancelled. Now, AR is beginning to take flight and really play a leading role in how we shop, showing its potential to fill the missed connection of in-store visits and dialling up our experience of e-commerce.
Ever the innovators, Nike's "Create with Air Max" campaign is an AR zine that allowed users to get creative with their sneakers in iso. Developed by creative agency Akqa specifically for the COVID age, the AR tech touched on the trends of adult-colouring books and sneaker customization. Sneakerheads could colour in Air Max designs within the 56-page print mag before hovering their phone over the page to view their sneaker art in 3D.
And while AR tech wasn't at its core, the new Yeezy Supply e-boutique, dreamt up by Kanye West with longtime collaborator Nick Knight, pushed the boundaries of product-led digital storefronts. Launched in June 2020, the new Yeezy Supply website is low-fi in its aesthetic, but new-world in the way it swaps deep-etch product shots and product descriptions with a more human experience. Shoppers can put together an outfit on a 3D model, watch them stroll across the screen and learn tidbits about the model like their favourite food or significant life experiences. "We were trying to make the internet a more human place," Knight told Fast Company. And while West and Knight have disrupted e-boutiques, they've also paved the way for a more gamified approach to shopping, one that will likely include more and more creative application of AR tech into the future.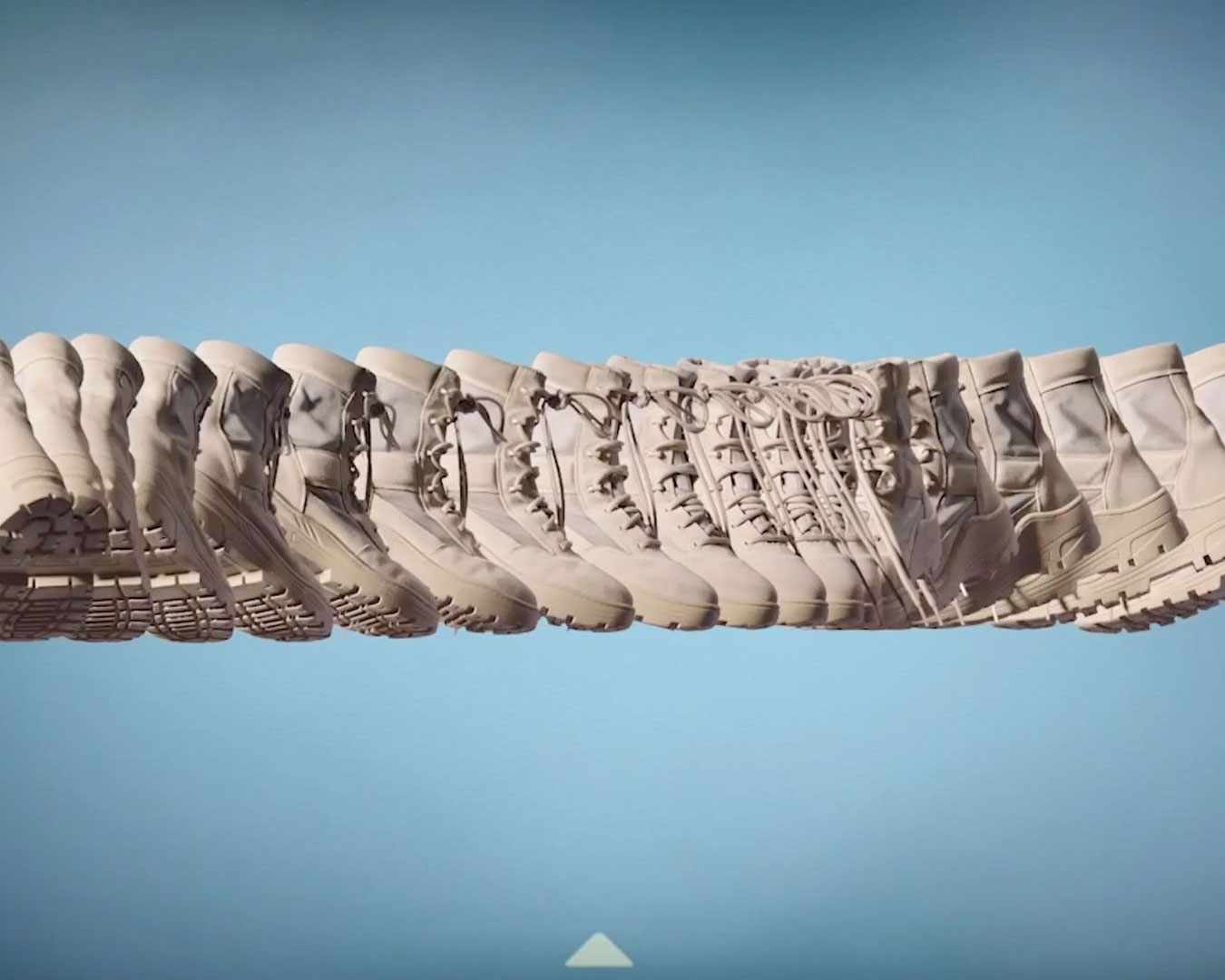 Gaming Has Eclipsed Its Entertainment Origins
Speaking of gaming, it's pretty safe to say that the world of gaming has completely transformed over the decades, starting with the likes of 8-bit graphics (arguably there isn't any better way to play Tetris), evolving into VR headsets-reliable gameplay. It's the fastest growing industry in the world and it's set to keep growing at an ultra-fast trajectory, where it could potentially make more than $200 billion in revenue until 2023. Alongside the burgeoning industry and its ever-evolving technology, users—and not just gamers—are fostering new and powerful subcultures. Twitch and eSports have opened the door to more complex and pivotal applications that are leaps and bounds from the old video game cliche mainstream society was introduced to in the nineties—the idea that video games would always be a vice for excluded people to escape to another social realm.
Right now, there is more of an ecosystem to the gaming world than meets the eye—beyond its escapist, entertainment roots—gaming has become the epicentre of pop-culture, and a space to connect with wellness and stage political movements. Mobile gaming is one of Australia and New Zealand's fastest-growing entertainment channels and for young people, some of the most downloaded apps have been ones that gamify mental health and wellness. Bloom is one of the top trending apps in iTunes—an app that gamifies meditation. Alongside this, Florence, #selfcare, and Brothers: A Tale of Two Sons are just some of the games part of Apple's "Gaming For Good" collection which is aimed at aggregating games that have a positive impact on mental health.
And this year, we've seen a huge cross-section between gaming and several other facets. Nintendo's simulation series Animal Crossing New Horizons (we've given it a full rundown here) was a digital icon when the coronavirus pandemic first started. Not only was it the home of a virtual tourism campaign with Singapore, where you could virtually explore the island of Sentosa through its gameplay and visit beach bars and markets, but it was also used to voice more political action. PETA staged a virtual protest against within Animal Crossing, and it has also been banned in Hong Kong where residents initially protested within the game against the Chinese government, calling for democratic freedoms.
BEDROOM POP AND DIY ARTISTS WILL BE THE SOUNDTRACK OF 2020
It's maybe an odd thing to think that the global pandemic has forged a fresh pathway for a new era of music artists. If you jump on Spotify and search "bedroom pop", the mega music streaming service describes the burgeoning genre as "dreamy jams from the best bedroom producers". Elsewhere, it's described as a "lo-fi and psychedelic leaning sound" and even "a woozy lo-fi style generated from self-imposed isolation". The latter should make it fairly easy to understand how bedroom pop found its feet in the age COVID-19.
YouTube recently revealed British-Filipino artist Beabadoobee as its "Artist On The Rise" for 2020. The singer-songwriter was identified for her distinctive DIY vision and sound created across the last few months, especially for how she produced new music and music videos from her bedroom.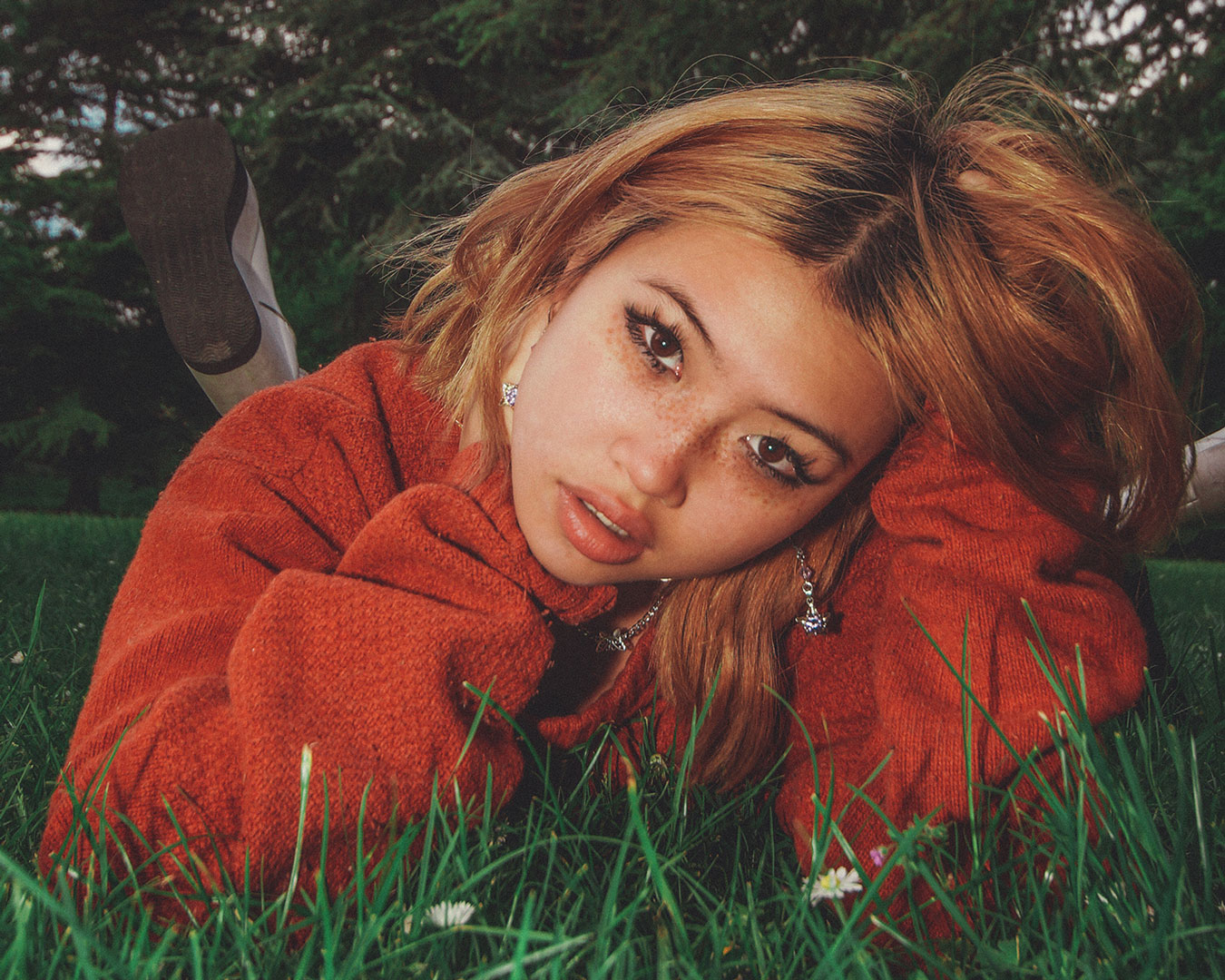 In 2020, everything an individual or group needs to make music is accessible via the internet and the quarantine-esque nature of the last few months has meant the genre could truly flourish through the likes of Garageband, Avid Pro, Audacity and other free music-making programs. It has also become inherently easy to distribute music through SoundCloud, Instagram and TikTok (the app which made Lil Nas X's song "Old Town Road" go viral back in 2018). To cut straight to the point, Bedroom Pop means anyone can become a globally recognised artist, which is paving the way for a more community-led, even democratised world of music, and music mixed with all kinds of identities, experiences and cultures.
ON THE SLIDE
Big City Culture Goes For A Road Trip To The Countryside
The appeal of life in the country for younger generations has been on the rise over the last decade for a few reasons—and for a new cohort, COVID has been the icing on the cake. In Australia, the most obvious explanation for this mental shift is the astonishing cost of living in the big cities: it's no secret that millennials have largely been priced out of buying in property in the suburbs they spent their 20s renting, bar-hopping, dining out and partying in. And, as well as those impossible million-dollar apartments, eco-anxiety and a desire to be closer to nature and wide-open spaces, food trends like farm-to-table and sustainability, and the internet and technology allowing for ultimate connectivity, have all combined to make life in the country both possible and desirable. Throw in a global pandemic and the country life becomes all the coveted life goals.
At Urban List, as regional travel restrictions lifted our local escapes vertical—featuring farm stays, tiny homes and cabins, national parks, bushwalks, stargazing, winery tours, and the like—skyrocketed in popularity. A report released this year titled "The Big Movers: Understanding Population Mobility in Regional Australia" showed that within the period of 2011 - 2016 more millennials left Sydney in favour of regional areas than those who moved to the city. Conducted by the Regional Australia Institute (RAI), it also predicted that COVID-19 would drive even more city expats. In NSW, Orange is the mid-sized regional town millennials have been gravitating to most. Often called the "foodie capital" of NSW, it's not hard to see why this is a firm favourite for the restaurant-loving generation, who want to have their cake and eat it too, which, in this case, involves hatted restaurants, bars and world-class wineries, alongside beautiful rolling green hills, affordable housing and a burgeoning community of like-minded millennials.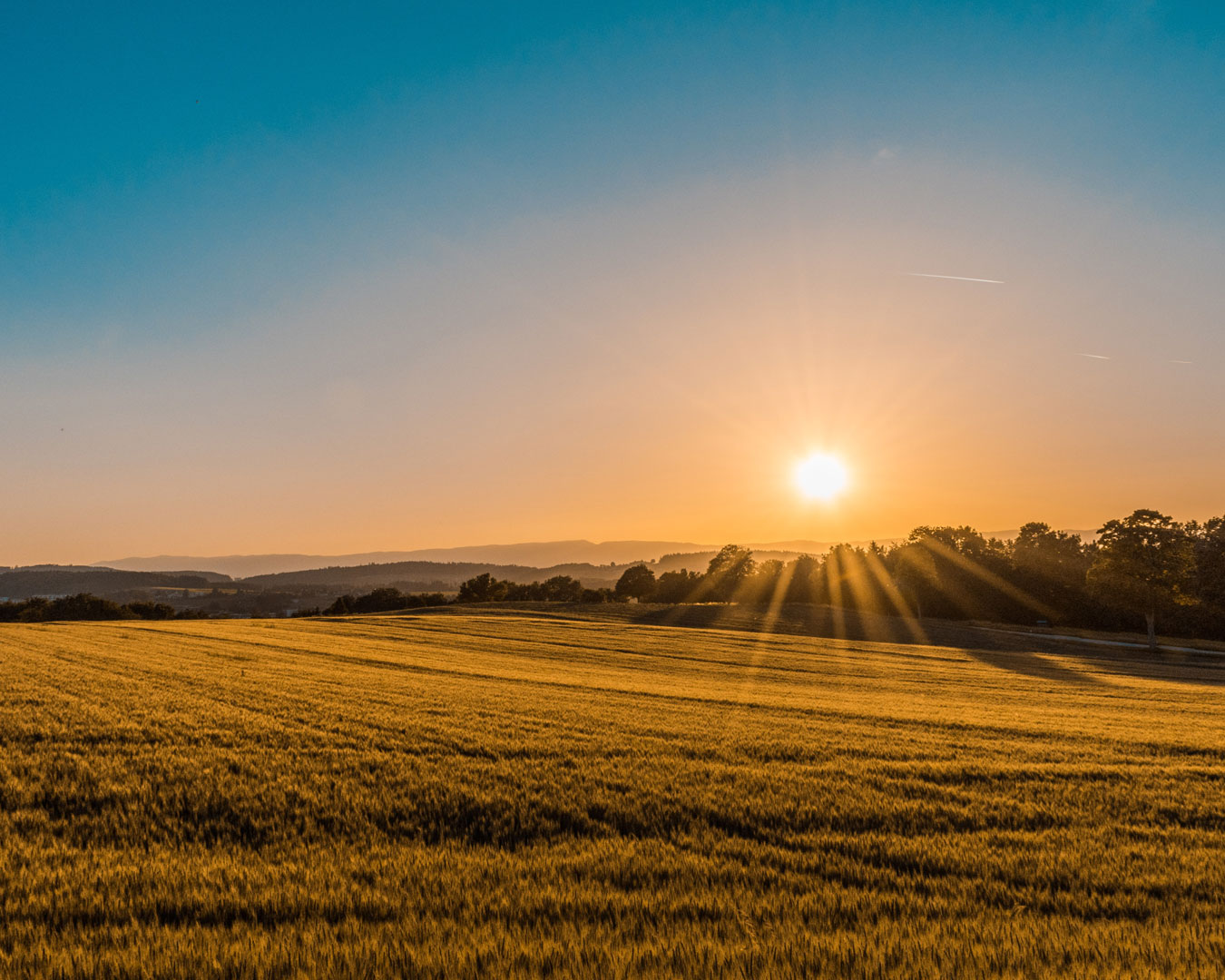 The switch in mindset about the big smoke isn't a complete reversal of values, it's almost a sharpening of them. The liveliness, creativity and vibe of the city aren't hard to find, albeit on a smaller, more bite-sized scale, as more and more millennials make the shift countryside—something we see with Urban List's dedicated Sunshine Coast and Gold Coast sites. As the population continues to grow, we like to think this reflects a greater expansion of the city's beating heart, redefined with regional centres coming into their own, rather than Australia's major cities holding court on all things culture.
Job Security Is The New Job Hopping
If we're to believe ABC Chair Ita Buttrose, millennials' resilience in the workforce is in "short supply". Buttrose's comments were said to have been in reference to a changing workforce for millennials, one which saw the generation enter during the Global Financial Crisis, and is forcing more hardship during a global pandemic.
And there's no denying the fact that our working lives have entered a new era. Almost 600,000 Australians have lost their jobs due to the impact of COVID-19, forcing many of us to rethink our careers for the future. And if there has been one big takeaway from this health crisis in relation to our careers, it's that nothing is certain and security is everything.
Pre-COVID, job-hopping was on the rise (in fact, it was even "hailed as the new face of the workforce") and it manifested the very notion of such flexibility that allowed millennials to job hunt based on aligning their values and belief systems with organisations or companies they were passionate and proud to be part of.
Based on this newfound uncertainty, the current working week has even been challenged with an underlying call for a more accommodating approach to our jobs, making it easier financially and even emotionally should a crisis like this ever happen again in the future.
However, job security is still of the utmost importance to millennials during this time, and it will be for the foreseeable future. But this job security will look slightly different to how we've previously known it to be. It no longer looks at maintaining one main job no matter what the global circumstances are, but rather providing oneself with financial stability, should that job ever vaporise, through casually participating in Australia's rising gig economy. Reduced working hours and pay off the back of COVID for many workers will bring more opportunity to invest their time in side-hustles, passion projects, part-time contract work and temporary gigs.
Are We Finally Ready To Embrace The Female Action Hero?
A piece recently published in Time magazine charted the evolution of the female action hero from the 70s until now. The article was inspired by Gal Gadot's recent rendition of Wonder Woman—the first female superhero to headline her own action movie in over a decade, a fact that feels almost out of step in our post-#MeToo world. In the article is Princess Leia and Foxy Brown; powerful but ultimately problematic to varying degrees, they offered blueprints for Elsa, Xena and Daenerys. Sigourney Weaver's Ripley in Alien was more of a true action hero sans stereotypes, but the part was originally written for a man and left mostly unchanged when Weaver was cast.
After the 70s, whether alone, in a girl gang or the token member of some bigger superhero troupe, superwomen needed to be sexy to be powerful—as in The Fifth Element, Charlies Angels and Tomb Raider. As the ultimate blockbuster and Hollywood cash-earner (hello, Marvel), it seems the superman structure has been one of the hardest moulds for the entertainment biz to shake. Could the tried and true formula ever support a flawed, female-identifying anti-hero, and would we pay to watch it? Wonder Woman has set the tone for something of this ilk to fly, and while 2019's Terminator: Dark Fate and 2020's female-directed and written Harley Quinn: Birds of Prey didn't quite earn the same level of high brow critique, they have proven that maybe, finally, we're all a bit tired of superman's adventures and we're ready to digest the action hero through the female gaze.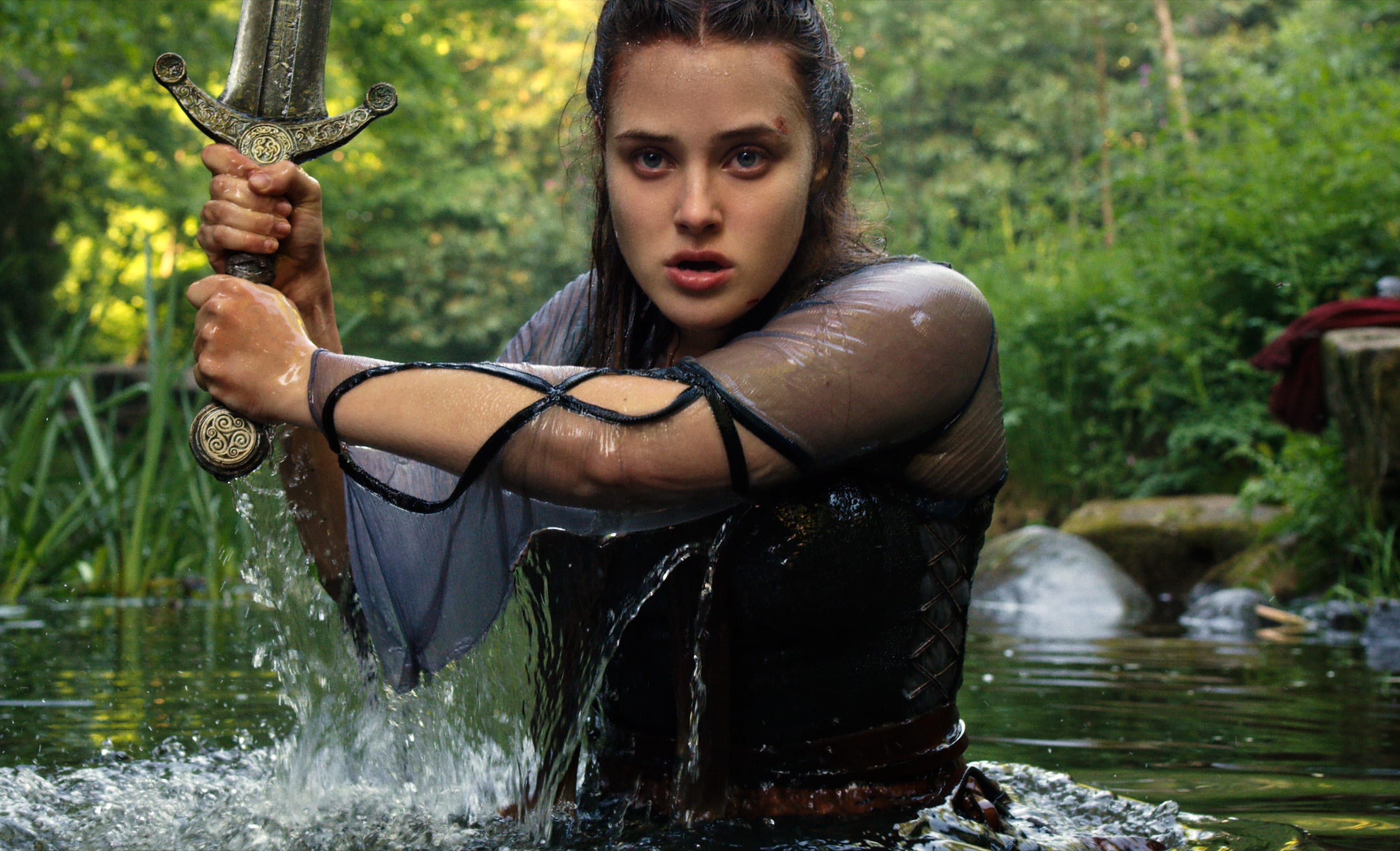 Netflix's July 2020 release Cursed offers up the newest perspective on the female hero—a retelling of the Arthur legend through the eyes of Nimue, a teenage heroine with a mysterious gift who is destined to become the powerful (and tragic) Lady of the Lake. Giving the Arthur tale a feminist spin is a challenge, given most renditions of the tale involve very few women, and none with a lot of agency or depth of character, but for author and series co-creator Tom Wheeler, the female-centric plot made it relevant for 2020. Speaking to Den of Geek he said, "I was wondering, how would I kind of lure my daughter, who was 11 at the time, like, who would she connect with? How would the mythology inspire her? ...The idea that we could build a hero out of these very complicated parts was really fun."
Catch up on previous editions of Culture Curve
Stay up to date and in the know of all things culture, right here.
Design credit: Kate Mason
Image credit: Rolling Stone, Yeezy, Federico Respini, Netflix