Christmas catering. Whether you've been involuntarily nominated by a loved one (really, family can be so cruel sometimes), or have decided to submit yourself to the biggest pressure test of all thanks to a momentary lapse of judgment, it is folly to expect that you will come out of the culinary gauntlet unscathed and looking fresh come Christmas lunch time.
So, in the name of maintaining Christmas sanity, we thought it particularly prudent at this time of year to get some festive feast cooking tips from the experts. Enter, Reef Seafood + Sushi at Gasworks Plaza in Newstead, who have shared their perfect, no-fuss (but super impressive) recipe for an unforgettable Christmas banquet centrepiece, a whole baked fish.
Now, before you get all "where's the turkey", hear us out. What you need on Christmas Day (or on any big occasion, really) is a meal that wows, without the stress behind the scenes. Why spend your day basting, prodding, glazing, and stuffing, when you can whip up an easy, summer-appropriate dish, like the delectable Baked Red Emperor with Ponzu Dipping Sauce, in no time at all?
Because Christmas was made for relaxing, here's our cheat sheet for an easy and delicious Christmas centrepiece:
[Buying tip: The Standard Market Co. has some of the freshest produce going. We suggest grabbing the required lemons, lime and dill from their Gasworks Plaza store, just next to Reef. And we dare you to walk out of there with just the necessary ingredients!]
Method:
First things, first. Get yourself prepped so you can cruise through the process stress-free, champagne (read: essential domestic hero ingredient) in hand. Pre-heat your oven to 180 degrees.
If you are feeling adventurous, you can prepare the fish by de-scaling and scoring each side of the fish yourself. Otherwise, leave it to the professionals and pick one already cleaned and prepped from Reef Seafood + Sushi.
Once you have sliced along the sides, place the lemon slices in the scores so that it will infuse while the fish is baking.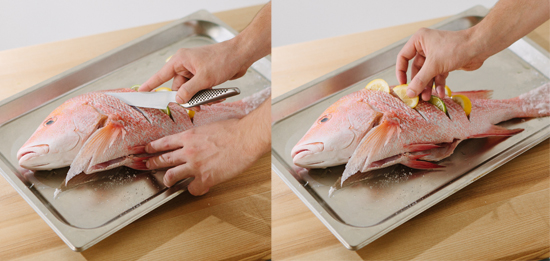 So far things are going swimmingly (OK, bad pun) and you are nearly at the end. See, easy? Season with salt and pepper.
Place the red emperor onto a baking tray and cook in your pre-heated oven for 40 minutes.
[Cooking note: Depending on the weight of your fish, decrease/increase the oven time.]
Transfer to a serving dish (Ollie & Lloyd by Olive Home stock some absolute beauties), squeeze extra lemon liberally over the whole fish and serve with dill, lime wedges and ponzu sauce.
Sit back and enjoy the accolades—you deserve it.
Looking for some party table-styling inspiration? Click here!
TUL Note: Today's List Love post is proudly sponsored by Gasworks Plaza and endorsed by The Urban List. Our sponsored posts will never be a secret - the List Love seal will be stamped on any sponsored material you see on the site. Thank you for supporting the sponsors who make The Urban List possible.
Image Credit: Daniel Maddock