Cheesecakes are often the ugly duckling on the cake counter, standing up against boldly garnished and decorated chocolate, citrus or sponge creations. But it's their simplicity in flavour and texture, and the ease with which even a novice can pull an impressive cheesecake recipe together that makes them one of the most popular cakes going.
Everyone seems to have their favourite adaptation — from a baked New Yorker to a fresh strawberry swirl that brings up memories of Sara Lee boxes.
We tracked down the best cheesecakes in Brisbane, from the classic to the kooky, and included a cheesecake recipe to try at home.
Starting with the base
Working from the ground up, you first need to choose your perfect cheesecake base.
Traditionally made from crushed biscuits mixed with butter and pressed into a springform tin, you can have fun experimenting with different flavours from gingernuts to butternut snaps.
Three Girls Skipping in Graceville take a different approach and use a shortcrust pastry base for their delicious baked cheesecakes.
Cheesy choice
Cheesecakes are usually made with cream cheese mixed with cream, eggs and sugar which creates a smooth, creamy filling.
However, you can also find cheesecakes based on other cheeses such as Bijou Bistro's baked ricotta cheesecake with rhubarb coulis and creamy Italian mascarpone.
To bake or not to bake?
This is all a matter of preference and they could almost be seen as completely different cakes.
Baked cheesecakes will generally be denser and richer, whereas unbaked fillings will be lighter and fluffier.
Try Vintaged Bar and Grill's banana and honey baked American-style cheesecake for a tasty treat.
Which flavouring?
There are some pretty incredible flavours out there, and it was an absolute pleasure researching and tasting for this article.
Jocelyn's Provisions offers a Turkish delight cheesecake — a fragrant rosewater cheesecake with jewels of Turkish delight, cold set on a chocolate shortbread.
While not on their usual cake rotation, you can order a salted caramel cheesecake from Jade at the Cake Kiosk, which uses a buttersnap biscuit base, a baked vanilla bean filling and topped with homemade caramel sauce.
Classic New York Baked Cheesecake Recipe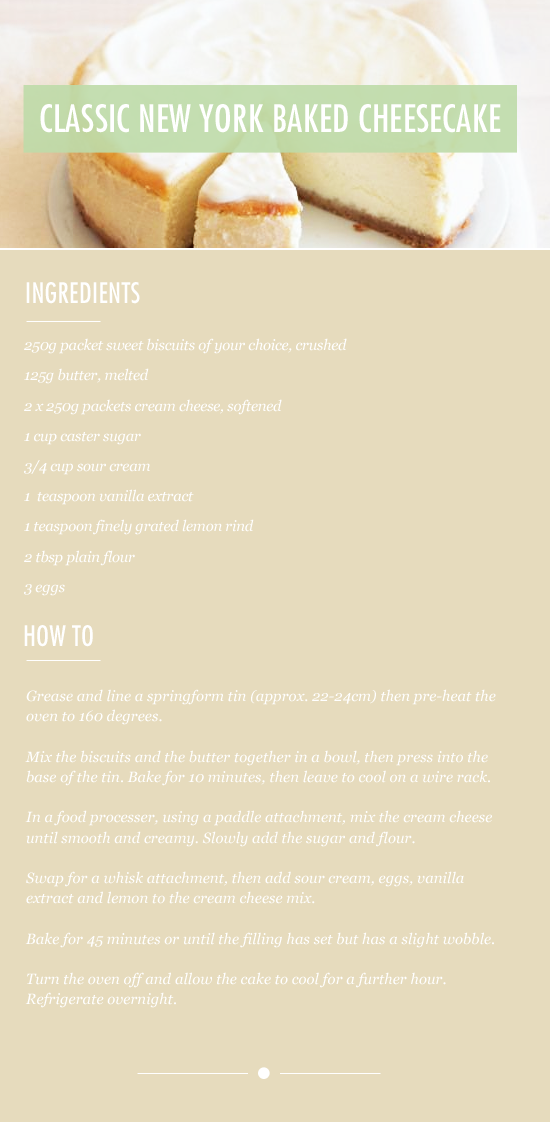 Image credit: Food and Wine Photos, Baking Answers