Sticky, juicy and sublimely messy, ribs are undeniably a party season favourite, perhaps because they are one of the few dishes around where it's acceptable to wear a bib and get your hands stuck in.
So here's the best Brisbane has to offer, and a recipe to test out at your festive season revelries.
Long and short of it
Pork, beef and even lamb can be used as long as you get a decent amount of meat on the bones. There's nothing worse than patiently preparing ribs over a series of hours, only to end up chewing bones.
Baby back pork ribs or beef short ribs will generally provide the most tender and generous proportion of meat.
Newstead Brewing Co. opt for slow braised beef short ribs with a porter sauce while Carolina Kitchen serves up baby backs for Aunt Lilly Mae's BBQ ribs.
Mighty Mighty Cue & Brew mix things up using lamb for their signature slow-roasted cola ribs.
Make sure you invest some time up front in preparing the meat. Ribs are held together on their back side by a membrane that, when cooked, can be chewy and unpleasant. It's therefore best to "skin and trim" your ribs, using a knife to cut away the membrane.
Glazing over
You can marinade, rub or glaze your ribs depending on the flavour and texture you're after.
The experts recommend creating either a dry rub (comprising brown sugar, paprika, salt, pepper, cayenne, garlic) or a wet marinade (as per recipe below) and leaving the meat to bathe in it for a few hours before cooking.
To achieve sticky, sweet perfection you might also want to consider a maple or cola-based glaze. South Side Diner serve their deliciously sticky BBQ beef ribs with a maple and pink pepper glaze.
Slowing things down
Mae West once said "anything worth doing is worth doing slowly" and she easily could have been talking about cooking ribs.
Braising the ribs for several hours on a low temperature will help to achieve that pull-apart effect you're after.
Best results will come from a two-stage cooking approach where you braise and then BBQ your ribs for that flame grilled flavour. This is easily done by transferring your ribs from the oven to a hot BBQ for a final flash fry.
Smokin'
To get that traditional, southern flavour you need to smoke your meat before you braise. This might be a bit tricky at home unless you have a smoker (or you can use a Weber) so maybe leave this step for the experts.
To achieve the best tenderness and flavour, Plough Inn smoke their hickory BBQ pork ribs in-house.
HOW TO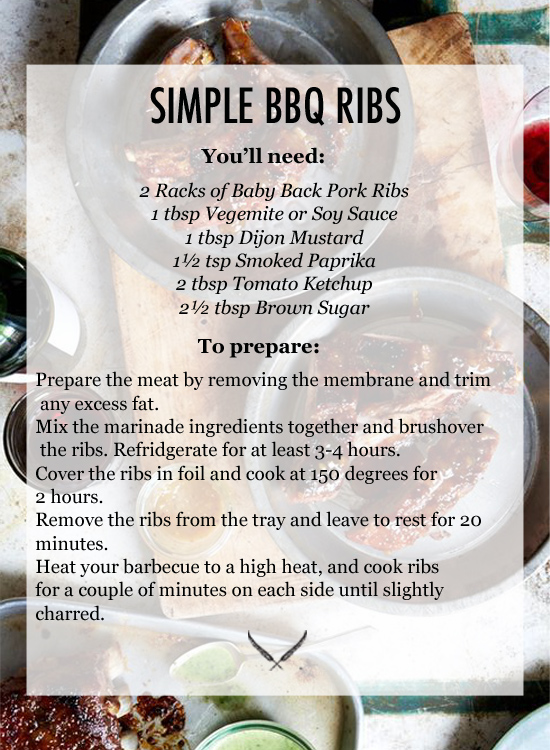 Image credit: Amy Wilson, Cooking My Way Back Home
TUL Note: Penny is a freelance food writer and obsessive cook, who has returned to Brisbane after ten years living in the UK and Melbourne. She is currently taking her passion for sweets treats one step further and learning the skills to become a pastry chef from her culinary idols, documenting her experiences through her blog Project Pastry.