What is she wearing? Depending on intonation, there are no crueler four words in the English language. How did we get to this?
Cheerleaders, mathlethes, popular kids, freaks and geeks: if Mean Girls has taught us anything (and I can safely assume it taught us a lot), is that we all have a tribe, a clique, a herd—one to belong to, to be defended by and to defend from: the primal instinct of safety in numbers. What may or may not have started in high school (after all, one must group to survive) has since gotten a lot more complicated.
Each tribe comes with a set of rules, a special language that is foreign to the uninitiated party—a fashion babel tower of sorts. Certain brands belong to certain tribes, as—or so it would seem—do certain colours, shapes and styles.
When it comes to fashion, we have:
The Cool Kids
Too cool to care, and too cool to conform, the cool kid always wears something before anyone else dares to, and sticks to his/her guns despite the passing of trends. In fact, the cool kid takes pride in the fact that she has been eating cronuts and rocking the mom jean and Birks before mom jeans were even remotely close to being cool, back when the mention of cronuts would have you immediately consulting Wikipedia, and even the vaguest reference to a Birk would send you rushing to the nearest toilet for a quick spew. Never would be caught dead wearing that, hey? The cool kid knows better. Of course, by the time you thought you were cool and slipped on those mom jeans and Birks and joined the queue for the cronuts, the real cool kid has moved on to high waisted flares, Jesus sandals and fully buttered almond croissants because, you know, the devil's in the details. Also, carbs don't count when you're cool.
You can spot the cool kid hanging around that coffee shop no one cares about (I don't care what anyone thinks, they still do the best coffee) or attending the opening of the hippest new restaurant - five months before the real opening.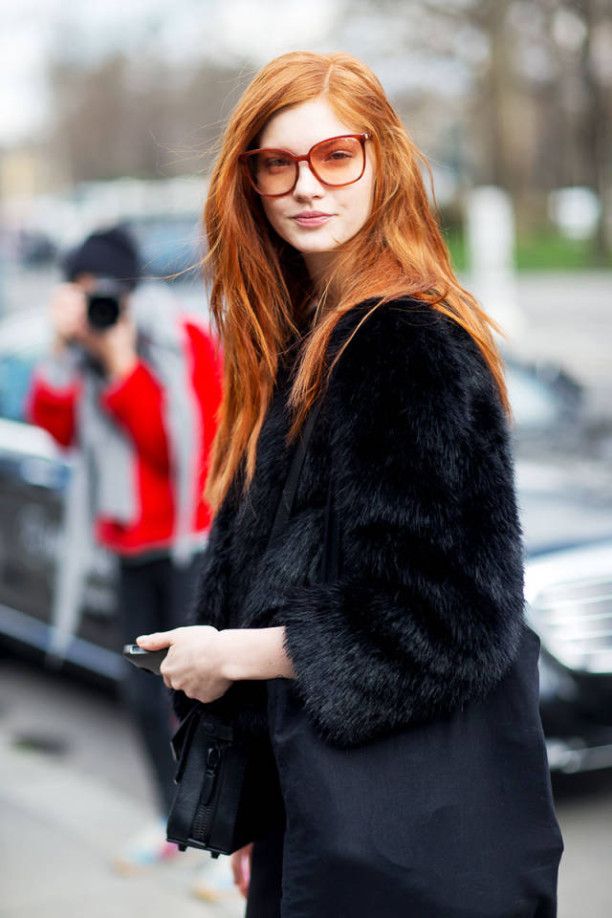 Image credit: Because I'm Addicted
The Street Pack
The interior of Kanye West's closet is their closest equivalent to holy land because, get it, he's Yeezus; they also hold an impressive collection of limited edition Nikes which they clean to the point of obsession, you know, to keep it fresh. The street pack can be spotted physically glued to an Apple gadget of choice while stalking Highsnobiety for their latest kicks. The struggle is real.
The Basic Types
Yoga pants, Ugg boots, printed tees, Taylor Swift, pumpkin chais. Frequently spotted at Starbucks, because no matter how many far superior, and more flavourful coffee spots abound in her vicinity, the basic type will always find comfort in the fact that her gigantic venti cup matches her gigantic sunglasses and gigantic bag, and therefore her hands, arms and wrists will always look tinier and skinnier by comparison. If coffee is too early for you, meet her at brunch, and have a heartfelt discussion about the state of affairs regarding Brangelina (they are, of course, team Jen).
The Yummy Mummies
High heels, skinny jeans, sexy blouse. Spot her at lunch, especially at the kind of place you would go to see and be seen, and especially if that kind of place is near a busy shopping precinct where one can purchase different variations of the aforementioned high heels, skinny jeans and sexy blouses. Not to be confused with the basic brunch as, you know, these are ladies who lunch, not brunch. As such, any two words that have decided to amalgam together don't deserve any of her attention - no, not even cronuts or Brangelina. She wears her Givenchy Nightingale as a baby bag she can be spotted looking way too hot for grocery shopping at her local gourmet markets. And here you thought you could skip Pilates and rock up in your sweatpants and flip flops. Shame on you.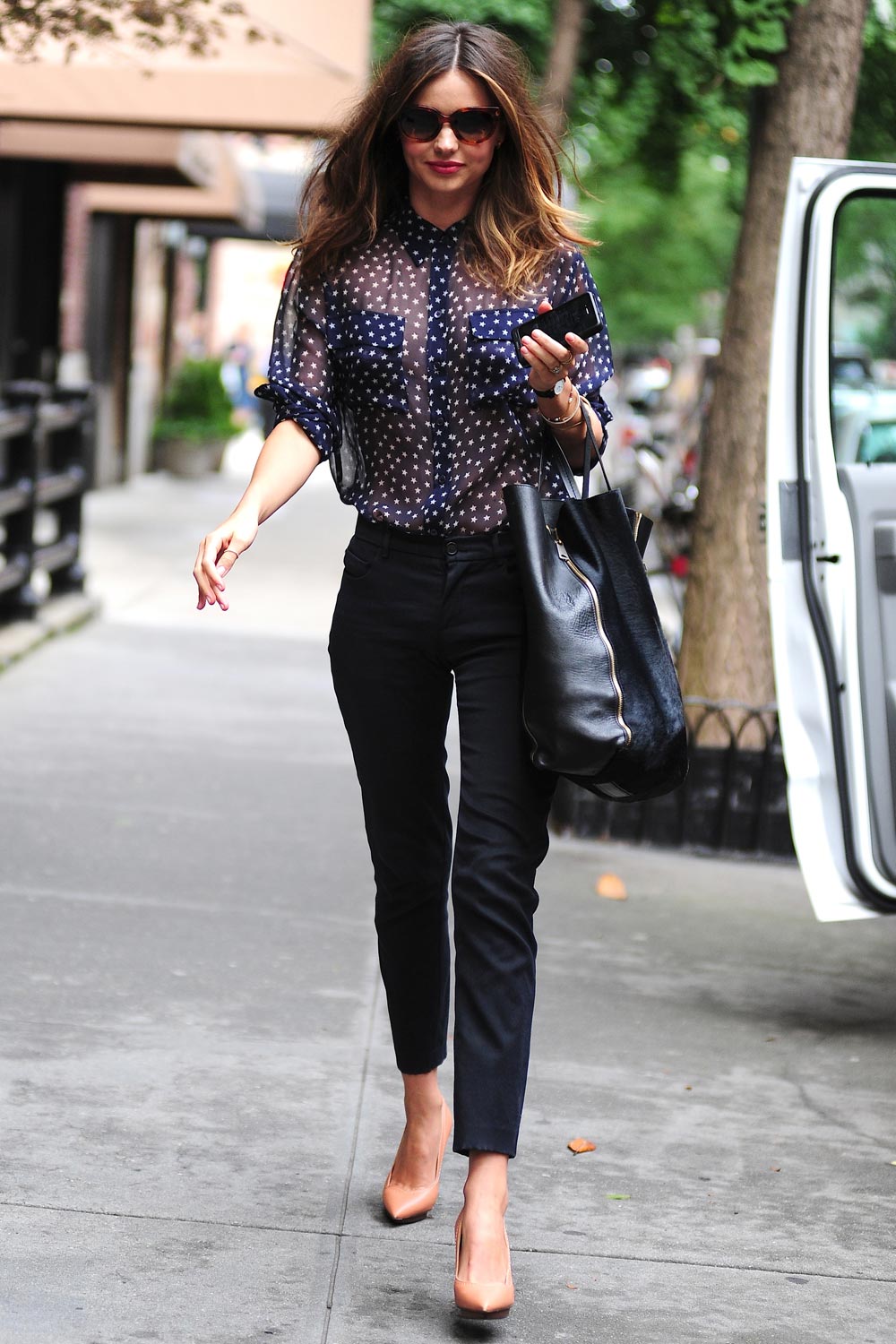 Image credit: Harper's Bazaar
The Power Player
She works hard and plays hard, and while she doesn't take herself too seriously she is very serious about what she puts on her back. You'll likely never see her in her most relaxed, just jeans-and-a-tee state because she's too busy running her empire and looking damn good while doing so.
The alpha-type woman, she's Claire Underwood in House of Cards, and she makes you want to cut all your hair off, dye it blonde and wear heels and pencil skirts everyday, all the time. You can't help but wonder what she really looks like in the morning before she puts her face on because you are pretty sure no one, not even Yoncé, can in fact claim they woke up like this.
The Minimalists
A while ago the minimalist was perpetually clad in monochrome looks featuring head-to-toe white, black or grey. Being a Céline acolyte introduced her to maroon, khaki and navy often paired together, but her latest incarnation? Fifty shades of beige. Other than Céline she is a devout The Row enthusiast and, as such, often dresses like an octogenarian nun on a weird mushroom trip, cue the wacky shoes, sunglasses and accessories. You can spot her curating her tightly edited coffee table book collection. Or, you know, feeding the cat.
The Preppy
She's the tennis-playing Charlotte York of fashion. Everything is prim and proper, all manners constantly in check. She wears her shirts buttoned up to the top and her pearls close to her neck, her dresses pretty and her colours pastel. She adores a great many deal of things, including linen, fine polka dots, and her dry cleaner, and uses the word adore a lot. In fact, she is so perfectly put together you really want to hate her, but she's too sweet so you can't help but not.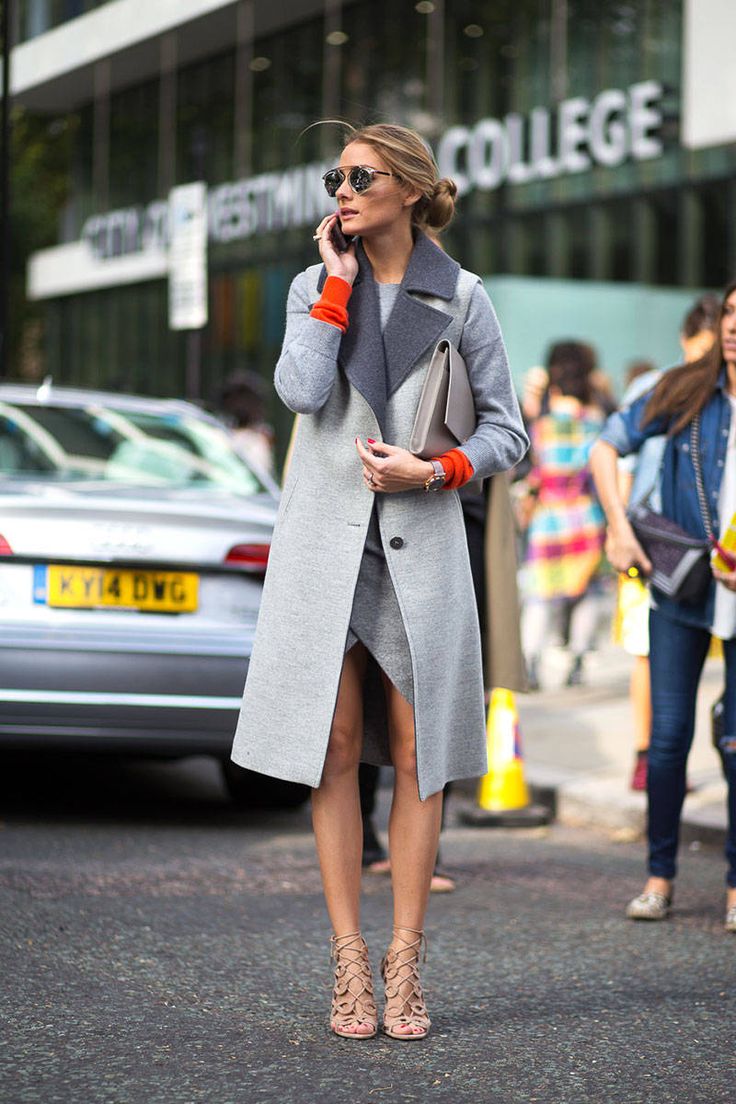 Image credit: Sprinkle of Bliss
The Essentialists
Sharing the slight obsessive compulsive propensity of the minimalists, the essentialist perpetually tries to reduce the contents of their wardrobe to its most purest state. Only the essentials: a great pair of jeans, a white cotton shirt, a well-cut blazer, a classic leather jacket, an unassuming bag, the perfect tee. Sounds easy enough, but the essentialist knows better: this is an all-consuming search that takes years, if not decades, which means you'll likely never to spot an essentialist—they're too busy online shopping.
The Intellectuals
Dressed in so many layers of head-to-toe black one could easily mistake them for a member of the Night's Watch. Memes such as I'll stop wearing black were made in her image, only she despises memes, bloggers, social media and the Internet at large. Gone are the days when fashion was so exclusive one had to trade her first born to attend the vicinity of a fashion show, figure perch above Anna Wintour to screenshot a blurry picture of a strutting model with an iPad. Sacrilege. She sighs at the mere sight of the colour yellow, and you can easily spot her for being the brooding black spot in any room.
The biggest fashion fanatics amongst fashion fanatics, they are amongst the only ones who can not only spell but pronounce Ann Demeulemeester and Haider Ackermann or really pull off Rick Owens. At home, they are likely to be found clutching their iPhones maniacally to find what they missed out on during their daily, very public refusal to conform to their Instagram feeds, all whilst wearing printed jazzy pyjamas and clutching a pint of ice-cream.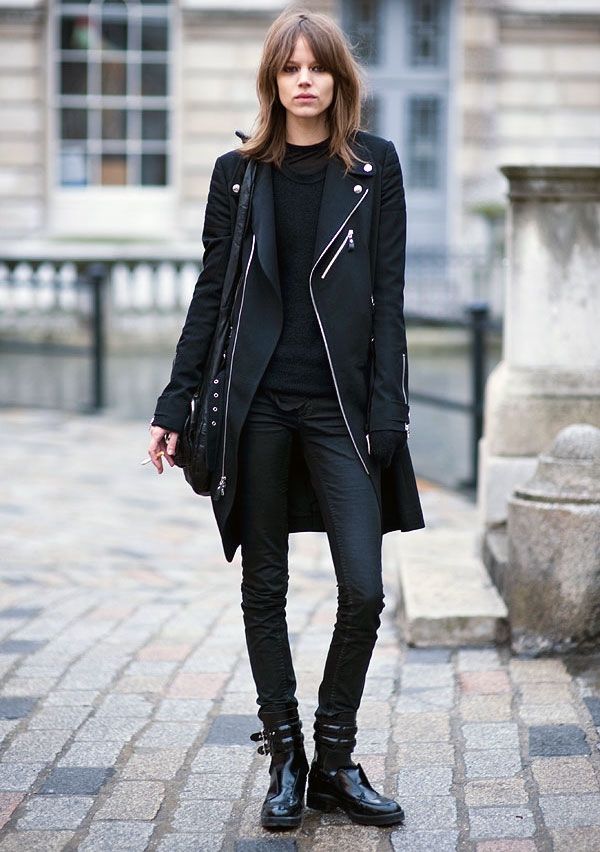 The Exotic Birds
Colour is the key word here, and the more of it the better, especially if all at the same time. The exotic bird is the biggest advocate of the caftan, for the idea is to look as if you are perpetually on holiday somewhere far-flung and amazing where sunsets are pink and cocktails are named after sunsets, even when you're not, in fact, on a holiday. They accessorise with armfuls of bangles because there's no party better than an arm party, but also to soundly announce their presence to anyone in the vicinity. Coupled with the eye-watering brights, they are not all that hard to spot. They are often seen in groups, because birds of a feather stick together.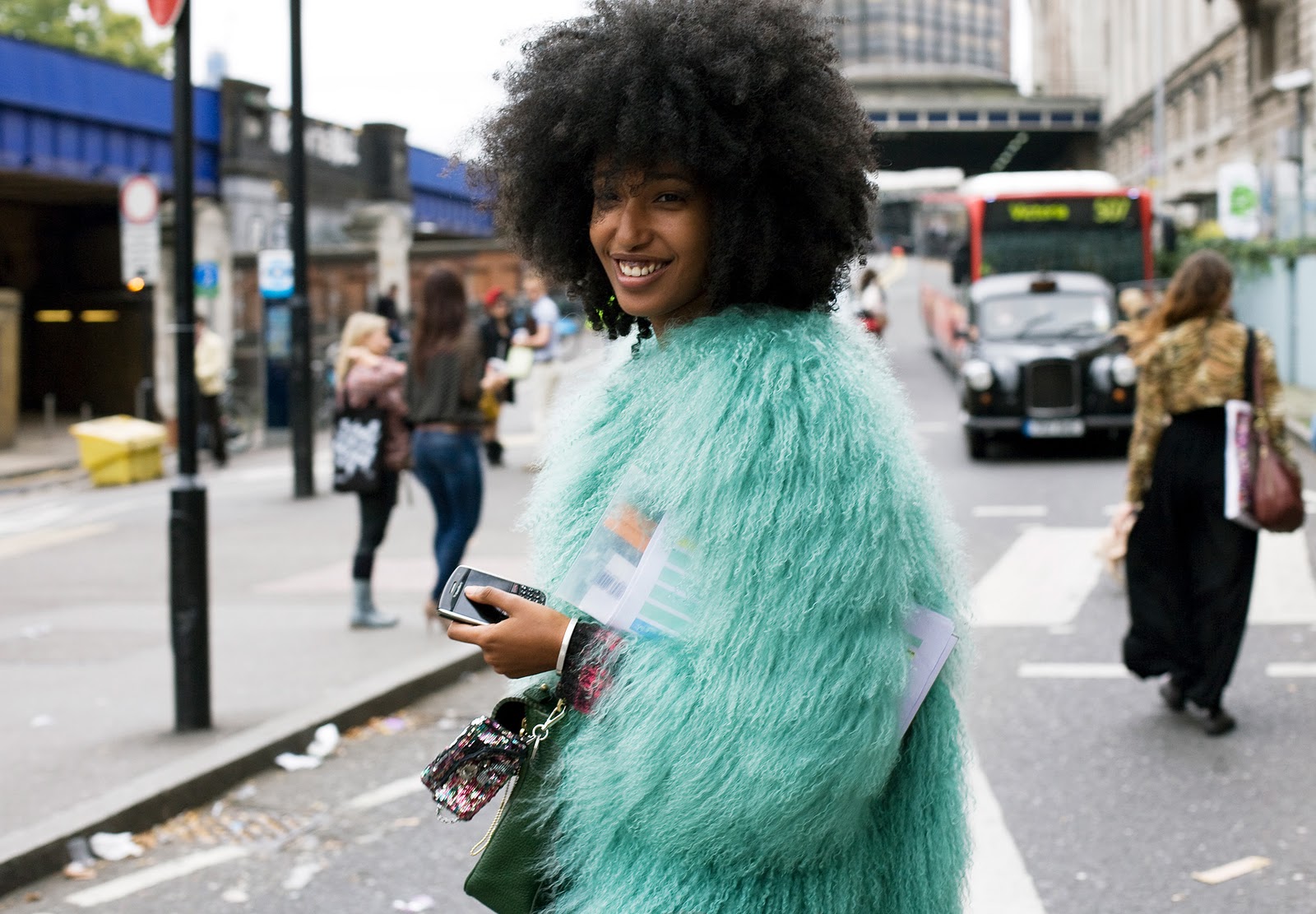 The Bohemian Muses
In short, Kate Moss in every festival, ever.
The French Emulators
Watch her walk by, her overgrown bangs partially covering her eyes. She cuts them herself so they are not too even, you know, which is only part of the charm. Her silk shirts are a bit retro and unbuttoned dangerously low, she does not wear a bra and her jeans are just slouchy enough to make her perpetually look as if she just lost 5 pounds—which she hasn't really because, just like the cool kids, she's also eating all those full-buttered croissants. Again she's cool, and when you're cool carbs don't count. Bread and wine are sacred, and because she's kind of French, they also don't count. She also has a lot of sex, which ends up evening things out a bit. Spot her buying fresh flowers at the market, reading the paper in the esplanade behind her round, tortoiseshell-trimmed sunglasses or playing chess while listening to Edith Piaf.
The Statement-Makers
True style chameleons, the statement-makers are kind of like the cool kids, only with a very short attention span. Every day must be different, no outfits must be worn twice and they will try anything once, and everything at once, all the time. They are the ones who will wear that cashmere sweater in the middle of Summer in a subtropical climate—and don't you dare you suggest I take my jacket off, that is my outfit!
They are also the ones who will pretend they are not freezing when they're in the snow wearing only their bare legs and a flimsy dress: anything for fashion, because even looking bad is always better than looking boring.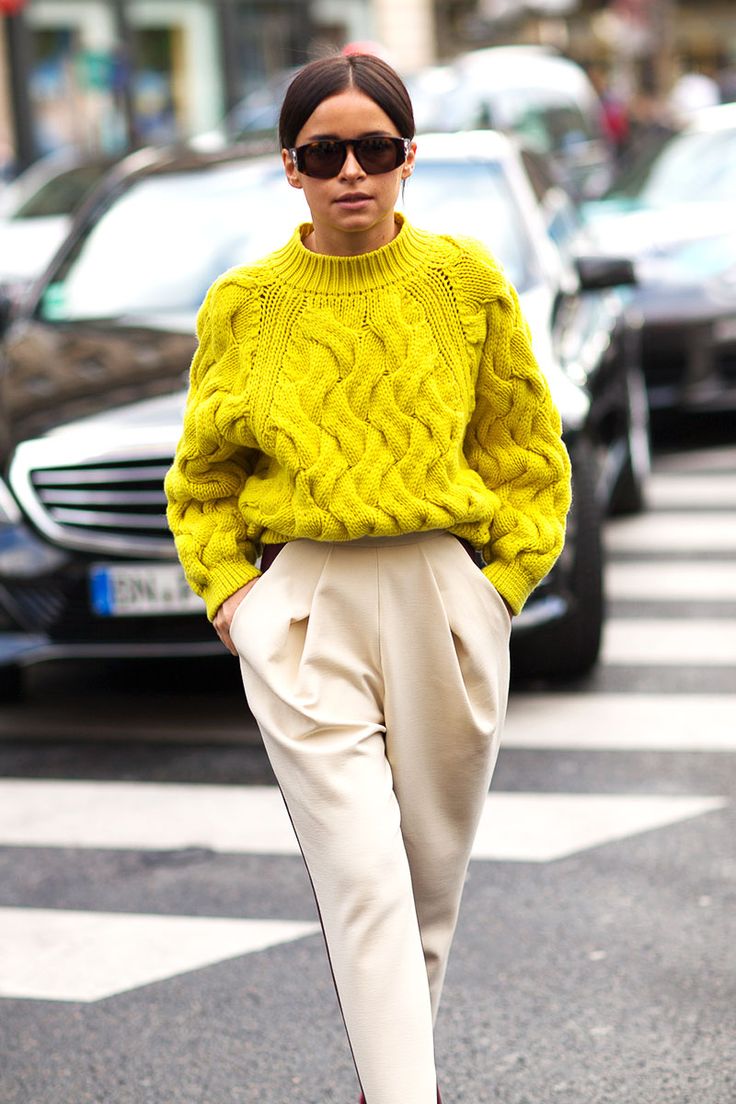 Image credit: Harper's Bazaar
For the true believer in the oddball industry that is fashion, the magic will always be in the power it has to function as a vehicle for self-expression—as such, all rules are out, and there is really no right or wrong. The beauty of it is, what works for you might as well never work for me, and what works for me today is not necessarily what will work for me tomorrow. Fashion is change and, much like karma, it is a bitch—what comes around always goes back around to eventually smack you right back in the face. I mean, who would have thought we would be once again collectively lusting after flares? Or double denim? Or leather skirts, thigh high boots and turtlenecks? Nothing is ever gone forever—not even those shameful '80s references you try to keep in the back of your closet or, dare I say it, velour track pants.
The wheels of fashion are always turning and, despite our best efforts, we're all bound to wear something we'll later find embarrassing at least once per season, or something we ourselves would laugh and stare at, should we see it on someone else at another point in time.
And if we're all going to be making mistakes anyway, why not make them together? After all, sneakers are awesome, pumpkin chais are delicious, we all sing along to Taylor Swift in the shower, and who has, in the privacy of their own homes, ever forgone the comfort of a good pair of yoga pants? And yes, I'll admit it: I f*cking love Starbucks. So pass on that venti latte.
What I'm trying to say is: walk a mile in my bad pants. Who knows, you may actually really like them.
Image credit: Where to Get