Summer is almost over. And boy, what a summer it has been—torrential downpours and sweltering heat aside—with sun-dappled Sunday sessions, days spent lying by the beach, and most importantly, all of the cold, crisp cider on hand 24/7.
If we've floored you with the revelation that summer is almost over—don't worry, it was a shock to us too—then take note: we've teamed up with our summer-loving friends at Rekorderlig Cider to put together the ultimate summer bucket list so you don't waste another second of the sunny season. We want your days jam-packed full of cocktails, afternoons spent in the sun, and most importantly, your best bud by your side (a cider on ice, duh).
#1 Plan the BBQ to end all BBQs. Gather your pals, get your ciders on ice, and get that meat or veg marinating. For a different take on the humble barbecue, sprinkle your favourite stone fruit with brown sugar and grill them up. Set up in the park by the water and loll in the sun all day with your friends. How summer is that?!
#2 Find the most picturesque hike. Conquer it. Here are picks for Melbournians, Brisbanites, Perthies, and of course, Sydneysiders.
#3 Eat your entire body weight in gelato because calories don't count on holidays, right? Plus, the weather makes it totally acceptable to smash at least a tub of gelato a day. Tell us we're not alone on this one!
#4 Indulge with a gourmet picnic in the sunshine; complete with a fruit salad bursting with summer's freshest fruits, an epic platter loaded with cheese and meats, chilled Rekorderlig Cider, and amazing company. Simply fill your glass half way with ice, pour your Rekorderlig Passionfruit Cider on top, add some lime wedges, voila! Best Summer sip ever. Now, go forth and picnic!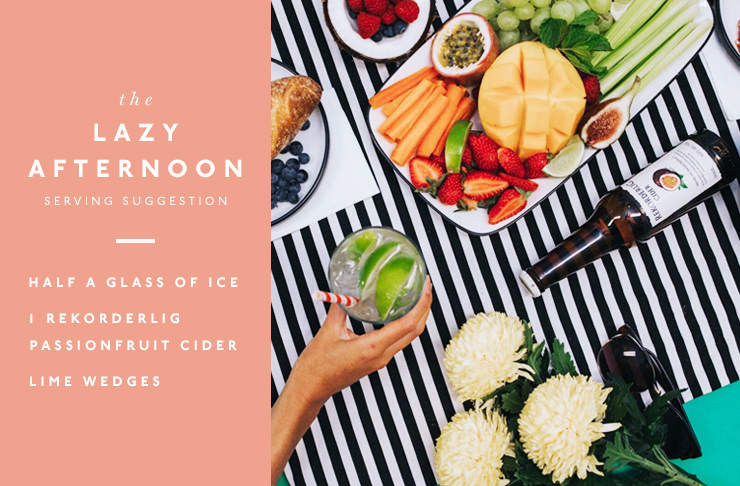 #5 Do what so many past summers have failed to do, and finally learn to surf! Reward yourself with a post surf cider, obviously—you've earnt it!
#6 Get your DIY on: macramé, bedside tables… whatever takes your fancy, do it—summer makes you more productive! That's a fact, right?
#7 Get familiar with the Swedish art of Fika: take a moment, slow down, and appreciate the little things in life.
#8 Throw a real-life, adult dinner party. That means an epic platter (complete with meats, cheese—even blue vein, summer fruits, and crackers) paired with a sophisticated tipple to impress guests and give them a break from having to BYO wine. We love serving Rekorderlig Wild Berries Cider over ice and topping with raspberries and blueberries to seriously wow our guests. Trust us, works every time. If you are keen to experiment, check out their Facebook page here for cocktail recipes.
#9 Get out amongst nature: go koala spotting, keep an eye out for dolphins—whatever it is, just get out and explore!
#10 Go on a jet-ski safari and uncover secret beaches. Our tip is to pack a picnic basket for the trip loaded full of fresh fruit salad and baguettes.
#11 Summer is the perfect to experiment with your drinks. Try adding berries, mint, limes…get your mixologist on and find the perfect summer tipple. There's no limit to being creative here!
#12 Practically live by the pool—lathered in SPF, of course—with a cider in hand, and a punnet of fresh raspberries for snacking. Our favourite way to enjoy Cider poolside is served over ice and garnished with lime and mint.
#13 Build a sandcastle like a total pro. Then destroy it. That's always the best part isn't it? Plus, bonus points if you can incorporate a mote!
#14 Obliterate your 'to read' list. By the beach, of course. This summer we're loving A Little Life and The Assistants—both are certified beach reads that you're guaranteed to devour in one day.
And there you have it, folks: how to wrap up your summer in style. Get to it before the season is over already!
Do summer the Swedish way with Rekorderlig Cider here.
Image credit: Hayley Williamson
Thank you for supporting the sponsors who make The Urban List possible. For more information on our editorial policy, please click here.