Move over Kenzo sweaters, colour-blocking and box clutches. These are the trends you'll be wearing in 2014.
The New Colour: Pink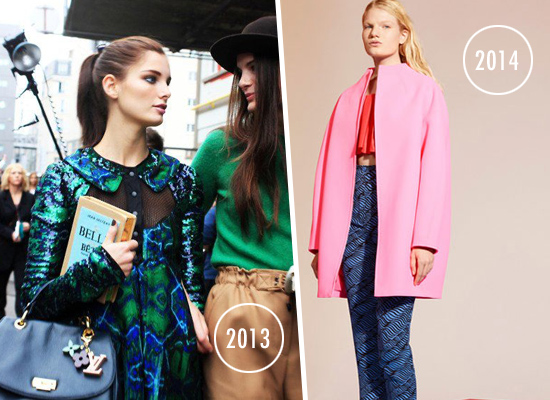 Call it the Simone Rocha effect, but the 2014 runways were swamped with designs in this youthful hue. Ranging from fresh blush to berry to bold fuscia, and done up in leather, ruffles, and fresh cuts, the new pink felt ultra-modern, and not even a little bit innocent.
Where you saw it: Thakoon, Altuzarra, Alexander Wang, Marc Jacobs, Kenzo, and Carven.
The New Bag: Backpacks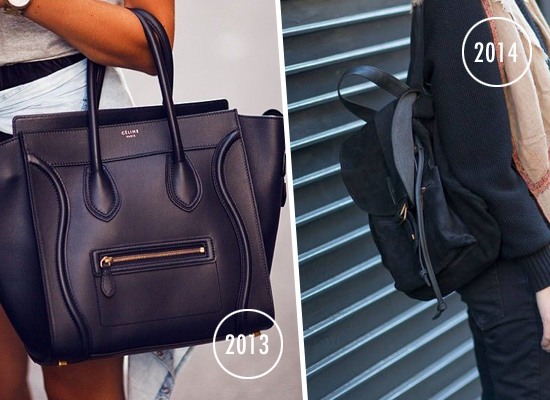 We've seen this carryall around for a few seasons now, but the backpack has taken a step up in the style stakes and is now the bag to be hauling. Despite fashion's tendency to reject the practical, the backpack — the most comfy of bags that we all lug with embarrassment to the gym — are now the tote de rigueur on off-duty models and cool kids.
Where you saw it: The Row, Alexander Wang, Jerome Dreyfus, and 3.1 Phillip Lim.
The New Print: Gingham
While plaid's not exactly over (we saw it on the A/W14 runways at Vera Wang and Honor), the new way to be a total square is to rock this cowgirl check. Gingham is plaid's lighter, more frivolous country cousin, and we're loving it. We recommend you wear the squares big to avoid any school-girl connotations.
Where you saw it: Balmain, Carven, Oscar de la Renta, and Derek Lam.
The New Skirt: Pleated
Far from stiff and demure, this season's sharp pleats, folded with origami-like precision, were summery and light in sporty cottons and metallics. Keep it casual and girlie up top (think sheer sweaters and form fitting crops) and avoid crisp button downs or you'll risk turning your skirt into one half of a school uniform.
Where you saw it: Proenza Schouler, Celine, Alexander Wang, and Christopher Kane.
The New Detail: Fringe
This adornment—beloved by the music festival set—has had a high fashion upgrade this season, and, surprisingly, it's neither flapper nor western, but thoroughly modern and sexy. The theme de jour seemed to be fringe on fringe, and understated embellishment.
Where you saw it: Emilio Pucci, Proenza Schouler, Derek Lam, Altuzarra, Calvin Klein, and Rodarte.
The New Nail: Subtle Graphics
As cute as nail art can be, its proliferation was bound to come to a natural end. In 2014 the subdued nail will rule, but, just to be clear, subdued does not mean boring. The new nails borrow graphic elements from nail art, like exaggerated moons, subtle metallics, and hyper-French tips, albeit it lighter, more wearable colours and patterns. Rather than in-your-face designs, these nails reek of subtlety, sophistication, and catch the eye for all the right reasons.
Where you saw it: 3.1. Phillip Lim, and Nina Ricci.
Image Credits: Vogue.com, Paper Heart Chronicles, Vogue.com, Our Favourite Style, Harper's Bazaar, Pinterest, Pinterest, T Magazine, Diary of Style, Fashionable Inspirations, Style Operator, Total Beauty, Pinterest, Elle, They All Hate Us, Fashion Magazine