It's nearly upon us in all its hoof-stamping, turf-shredding glory, but if you're anything like us you are probably yet to organise yourself properly for Melbourne Cup. Well, have no fear our disorganised friends, we've found a smorgasbord of venues who want you to come on in for their Melbourne Cup celebrations. But giddy up kids, they are booking out fast.
New Farm's Spicers Balfour are hosting a gorgeous traditional high tea, where you can cheer on the ponies in style with a glass of Veuve in hand. Enjoy drinks and canapés in the courtyard, then move on to a Royal High Tea. The boutique hotel will decked out with bales of hay, saddles and other horse-y finery to bring a touch of Flemington to you. The race itself will be displayed on two screens on the terrace, with sweeps on the day and lucky door prizes, donated by James Street's Libertine Perfumerie. To follow the event, there will be drinks in Spicers' magical rooftop bar.
Where | Spicers Balfour Hotel
How much | $120 per person. Phone 1300 597 540 to reserve a spot.
For the ultimate track-side event in Brisbane, head to The Spring Affair at Doomben racecourse, hosted by Byblos and Laruche. Revel in the spring time market bazaar as you sip a glass of Mumm, chill to the sound of Sneaky Sound System performing live, and enjoy canapés, fresh seafood, cocktails, and —the best part of any race day— Fashions on the Field, judged by Urban List fave, Khim Hang from Han the Label!
Where | Doomben Racecourse
How much | General admission is $350. Phone 0414597794 to find out more, or book your tickets here.
Like fashion? Like nine-course banquets? Of course you do! You should head to Sake for Melbourne Cup, where there will be a fashion show by Easton Pearson, Canturi Jewels, and Maryon's shoes, as well as best-dressed prizes for males, females, and best hat (the prizes are provided by Easton Pearson, Veuve Clicquot, Issada makeup, and Canturi Jewels, so you're going to want to put some effort in)! Plus, there will even be an Issada Lip Bar on hand for lipstick touch-ups. Thoughtful? Choose from a nine-course banquet or canapes on the sake deck, with both menus created by Head Chef Shinichi Maeda.
Where | Sake Restaurant & Bar
How much | $99 for the seated banquet, or $45 for canapes on the sake deck. Phone 07 3015 0557
You're going to want to race in for this one. Mecca Bah are hosting a Melbourne Cup party, where you can enjoy a four-course meal, and unlimited drinks for only $80 per person. There are also prizes to be won by the best-dressed lass or gent.
Where | Mecca Bah
How much | $80 per person. Phone 07 3252 5299
Melbourne Cup is getting frisky at Libertine. There will be fashions on the field, Libertine sweepstakes, live entertainment, and there's even a TAB right across the street, in case you want to do some last minute money makin'. There are two stellar options available at Libertine this year. You can either enjoy any and all of your favourites from the Libertine menu for $85 per person (large groups are more than welcome), or choose the equally delicious 7-course Chef's Selection Banquet with a glass of Veuve, for $65 per person.
Where | Libertine
How much | Option 1: $85 per person. Includes any combination of menu items and drinks. Option 2: Chef's Selection Banquet and glass of Veuve $65 per person. Phone 0422 948 949 to book
Fans of classic British prep' style and Bollinger will be all over the Dandy's Rooftop Picnic at The Fox, where you'll be treated to fashion parades, canapés, glorious views of the city, Italian disco beats, and lots and lots of Bolli.
Blonde Venus's own Thea Basiliou will be providing the fashions, while DJ Domestic Sphere will be on the decks. There will be sweepstakes, TAB facilities for you to get your bet on, and, of course, the big race on an even bigger screen.
Where | The Fox Dandy's Rooftop Bar
How much | $130 per person for groups, or $150 for singles. Phone 07 3844 2883 to book.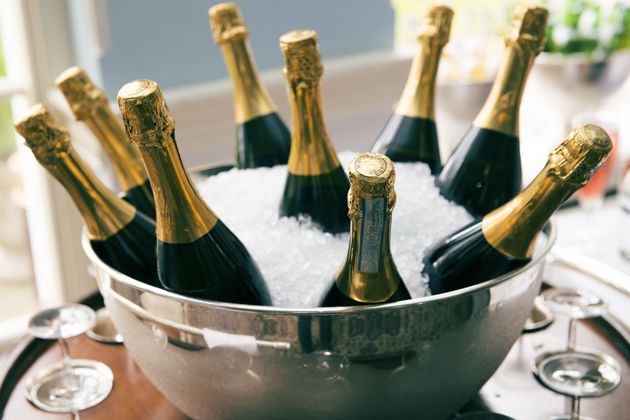 Our CBD faves, Public have an afternoon of Clicquot, canapés, and a sumptuous four-course feast planned for Melbourne Cup. There will be lucky door prizes and an award for the best-dressed filly.
Where | Public
How much | $150 per person. To book call 07 3210 2288
Go a little bit nutty at Byblos's always entertaining, Mad Hatter's Melbourne Cup Tea Party. There will be roving entertainment (including the Queen of Hearts), summertime tunes, and full coverage of the race. Tickets will secure you a divine three-course banquet and drinks, including cocktails. There will also be door prizes and charity sweepstakes that go towards supporting Youngcare.
Where | Byblos, Portside
How much | $155 per person. Call 07 3268 2223 to book.
We've already let you know about the killer Melbourne Cup event on at Bacchus (click here for a memory refresher), but for those of you seeking a party destination after the race is run and (hopefully) picked a winner, Bacchus are also hosting a kickin' after party. Kicking off from 3pm (or should we say, kicking on), DJ Benn Hopkins will be providing the tunes, there will be Dom Pérignon, Moët (and free freshly shucked oysters with every glass) AND there will be free canapés between 5pm and 6pm. So you'll be winning regardless of your gambling efforts.