We'll always have the upmost respect for chefs, they feed us, they bring us joy and they save us when the only thing we have in our fridge on a Friday night is a sad looking packet of mixed greens. Which is why we're always keen to sit down with them and find how they got their epic gig. This time we've been lucky enough to chat to Wayne Liew, a third-generation chef that heads up Singapore's famed Keng Eng Kee.

Known for experimenting with wild flavours, resulting in crazy-delicious dishes, we caught up with the award-winning chef to find out what inspires him, the difference between Aussie and Singaporean eats and the biggest hurdles he's had to overcome.
What's your earliest memory of food?
It would have to be Fishball Noodles, it's such a simple yet delicious dish. It's basically blanched yellow noodles mixed with vinegar, soy sauce, pork lard oil, and tomato sauce or sambal chilli (blend of local spices and chilli), served with fishballs and minced pork. I've loved it since I was little because it can be enjoyed anytime of the day.
And the first dish you mastered?
Fried rice—I very much believe that being able to cook a good fried rice with great wok aroma and flavour, is a good indication of the basic wok skills a chef has.
Your family have long been in the food industry, do you think you were always destined to be a chef?
I don't think I was! My parents never expected my brother and I to work in the food industry, and I certainly don't think they expected us to take over their restaurant as it was a lot of hard work and it would be a massive dedication of time. From memory, I always enjoyed the moments when my dad would toss the wok in the small kitchen with customers shouting in, praising his great food. I guess you could say, the idea of being a chef was planted a long time ago.
What did you learn about yourself, going from a kitchen assistant to a head chef at KEK?
The most important lesson I've learnt during my time as a chef is to be humble and always have hunger and passion for your work. When I started at Keng Eng Kee, I was an apprentice in my father's kitchen, so it was natural that my co-workers just saw me as the boss's son, the person that would give commands. In reality, I started at Keng Eng Kee with very little culinary knowledge, but I had a hunger to learn more and get a better understanding of how the kitchen flowed and worked before I could make my way up the ranks. I think being humble is very important as a chef and ultimately it was that which enabled me to earn the respect of those who I work alongside. Although I might do less washing up today, I will still be there to help my team with it, at any time.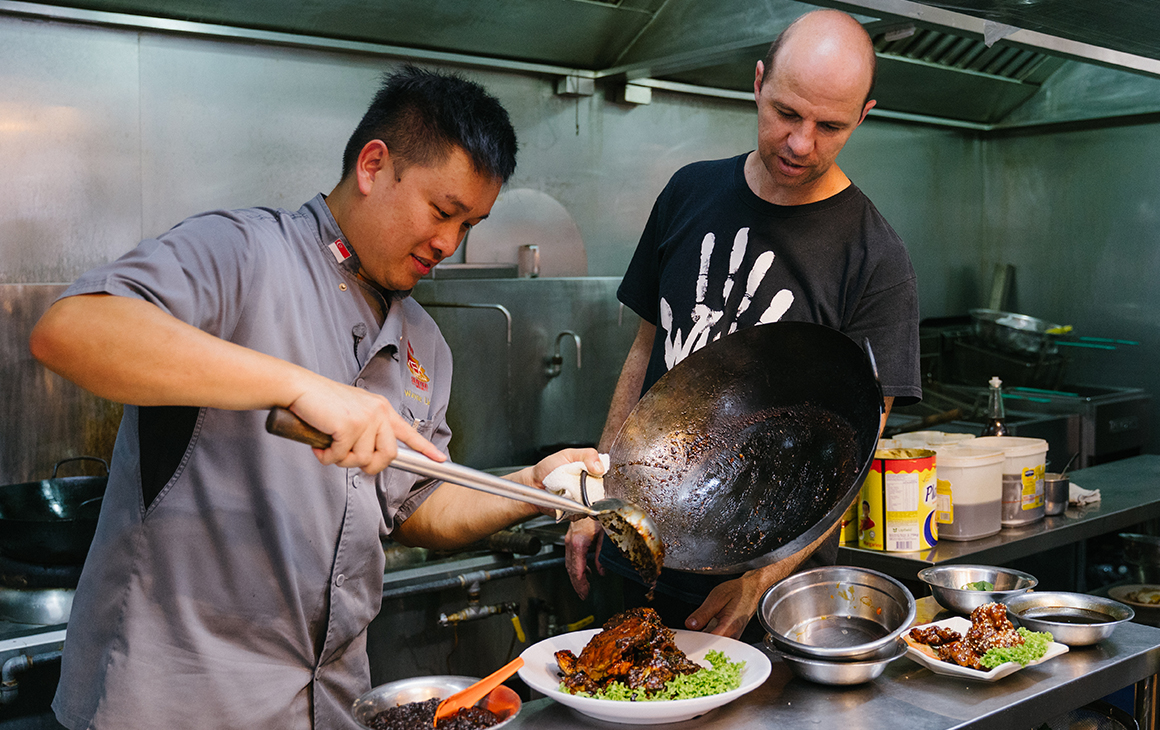 What's been one of the biggest hurdles you've had to overcome in your career?
Taking over my father's role, as the head chef of Keng Eng Kee was one of the most difficult things I've done. He is an incredible chef with amazing wok skills, so taking over his role and cooking for his very loyal customers, was a big challenge for me.
And on the flip side, what's been one of your proudest moments to date?
Being acknowledged by my father and his customers as a good chef is without a doubt my proudest achievement.
Last year you branched out and launched Wok In Burger, what inspired you to do that?
Wok In Burger came about from a staff meal that was made four years ago, in which I took our coffee pork and used it to create a burger. It was such a hit with the team and after that we began experimenting, using traditional flavours to inspire our burgers. Last year we officially opened our first Wok In Burger outlet and it's been incredibly popular and successful since then.
KEK comes from generations of your family, what did they think of Wok In?
KEK may be a 50-year-old establishment, but over the course of this time we have not only preserved many traditional dishes but have also experimented and innovated with new flavours and ingredients and therefore our family has always been able to embrace new creations.
You're known for experimenting with interesting flavours, vegemite chicken, coffee pork ribs – where do you get your inspiration from?
A lot of my inspiration comes from travelling. As a chef I always want to try the local cuisine and often there is a reason behind the existence of many dishes, so I love trying to understand the culture and history behind it. I have been able to pick up a lot of flavours and adapt this within my dishes at KEK. At the same time my three teenage daughters have influenced me too! When we eat out together they expose me to the latest food trends, which a lot of the time is very new to me. It's a great way to learn and continue to experiment with flavours.
How would you describe Singapore's food scene to someone who has never been?
Singapore's food scene is made up of many different cultures. We are a young country and many of the food influences have been brought in by our original immigrant forefathers of Malay, Chinese, Indian and Peranakan heritage. These dishes have evolved over time, with many original recipes being tweaked and changed along the way, ultimately creating a cuisine that's unique to Singapore. Therefore, if you have tried the cuisine of one of our neighbouring countries, it doesn't mean you have tried Singapore cuisine. It's like a local saying: "Same same, but different".
How are Singapore and Australia different when it comes to food?
Australia and Singapore are both cultural melting pots, made up of people from different backgrounds and ethnicities. This is embraced so passionately in both countries, particularly when it comes to food. There's an incredible cross-section of food available, from street food to fine-dining and everything in between. I also see similarities when it comes to the passion and innovation our chefs demonstrate by using modern techniques to create a twist on the tradition or produce fusion fare. The ability to embrace this is what puts Australia and Singapore on the map as foodie destinations.
Finally, what advice would you give to aspiring chefs out there?
Remember to be humble and always have hunger and passion for your work.
If you want to sample some of Wayne's drool-worthy dishes, like his famous moonlight hor fun (trust us, you do), then you'll want to check out Taste Obsession Singapore. For diners who missed out on the special Keng Eng Kee event at Cirrus the first week of March, fear not as Co-Owner and Chef at Cirrus, Brent Savage will be serving a Singapore-inspired menu across April, including the special collab dish he co-designed with Chef Wayne that reflects the fusion of their styles and experiences discovering Singapore together earlier this year. For more information head here.
Image Credit: Supplied