If you're still counting Fendi, Gucci, Versace, Prada, Miu Miu, Marni, Valentino and Armani as Italy's veritable claim to fashion supremacy (let's just leave Dolce and Gabbana out this round), well—you have some catching up to do.
NYC might have been the birthplace of Supreme, sure. Stüssy? Straight out of Laguna Beach. The last two years, however, have reaffirmed Milan and Italy as one of the key creative origins of the streetwear universe.
It's a style legacy and a subculture that kicked off in an 80s era Milan with the Paninari, Superga sneakers, puffy Moncler jackets, Stone Island and Slam Jam. And it's all back.
Driven by Instagram moguls, streetwear's general global domination and earth-shattering labels based out of Milan like your boy Virgin Abloh (yes, even Off-White calls that iconic Italian fashion capital home), the shift to the streets of Milan is real. Streetwear labels with their roots in Italy are some of the most coveted and clued-in right now, reigniting the street tribe with future visions, unisex collections and limited edition collections.
Here are a few you need to be across moving into 2019, and where to shop them now.
Aries
EDITOR'S PICK: While not technically run out of Milan, Aries was co-founded by Italian streetwear designer Sofia Prantera. Hands down one of my favourite labels right now, Aries kicked off creating high-low streetwear with women in mind in 2011—though its broader appeal has always been gender neutral.
Start with Aries' "Perfume" tee. The familiar type fonts are inspired by perfume branding and are a statement on brand appropriation. Approximately $77 at Ssense.
God Can't Destroy Streetwear (GCDS)
Loved by the likes of Sita Abellan, Hailey Beiber and Caroline Vreeland, GCDS is a digital project born in Italy and named after a Milanese party called Giuro Che Domani Smetto (or, "I swear I'll stop tomorrow").
The GCDS S/S '19 Futuro Beach collection was many levels of outrageous. Buy in with this crystal-embellished logo choker, approximately $153 at Farfetch.
Palm Angels
Launched in 2015 off the back of the success of designer Francesco Regazzi's coffee table book packed with images of the LA skate scene, Palm Angels is the perfect marriage of Milan and LA.
Make like A$AP Rocky in a set of Palm Angels jersey sweatpants. Approximately $444 at Mr Porter.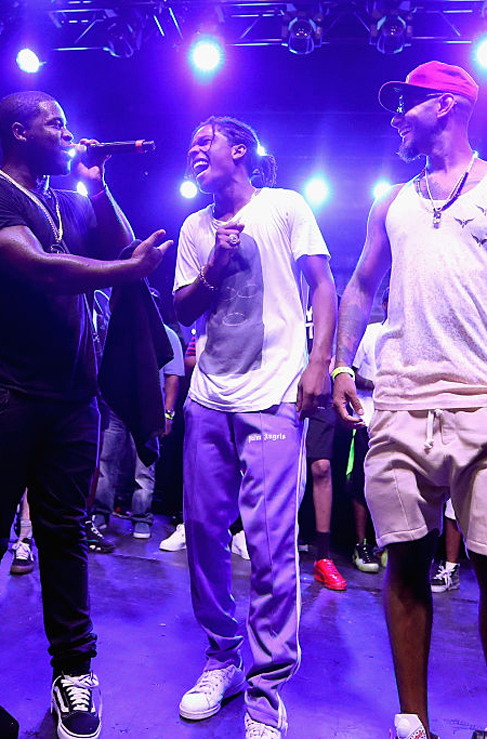 Stone Island
Stone Island's streetwear legacy dates back to the early 80s and the OG Paninaro, when it was founded by Massimo Osti. These days, it's a high-end staple loved by Drake and Travis Scott that dishes out low-key luxury parkas, sweats, hoodies, jeans and knits.
Ride the mint wave with this dyed "Fissato Effect" slim tee, $175 at END.
County of Milan
Argentinian-born Milanese local, Marcelo Burlon's brand of streetwear has a distinct nightlife bent. The designer slash DJ delivers graphic tees, hoodies, sneakers and accessories with a darker aesthetic, that easily double up as clubwear.
He recently collaborated with the NBA and MLB, reworking iconic American logos from the Red Sox, the Lakers and the New York Mets. Shop this County of Milan x Rex Sox sweatshirt, approximately $167 at Ssense.
Lilith
Self-described techno princess, Sita Abellan is a streetwear legend all of her own. This year, the model, DJ and stylist designed a peekaboo bag for Fendi and, just casually—launched her own gilded jewellery line at a private party in Paris during the S/S '19 shows.
Called Lilith, the pieces are handmade in Milan and are inspired by a biblical myth about the first woman in the garden of Eden. Made to be layered, the full collection will drop early 2019. For now, shop similarly snake-heavy pieces from her "Observed" merch drop. Snake charm bracelet, approximately $55 at Sita Abellan.
Fiorucci
The Italian brand that launched in the late 60s made a pretty epic Instagram-led comeback in 2017—in a short period of time, those winged Fiorucci angels were revived by the likes of Chloë Sevigny, Gigi Hadid and Justin Beiber.
The 2018 reboot is a lot less feminine, and a whole lot more street too. Try this Lou bomber jacket, $316 at HBX.
Shop the trends with us in our Add To Cart series, right here.
Image credit: Fiorucci.