Gone are the days of awkward visits to the fluorescent-lit female-dominated hairdressing salon, where you often left internally cursing your hair disaster, and resorted to cutting your own locks or, heaven forbid, trying to pass with a greasy, unkempt mop.
Over the past few years we've witnessed a resurgence of masculinity and thoughtful facial hair (farewell Mr. Metro-sexual), and with a vintage barbershop trend infiltrating the Coast, we welcome the notable revival of traditional barbering, catering for the next generation of style-conscious men.
Whether you're new to town or a local, let us guide your mane decision with our pick of eight of the best barbers on the Gold Coast.
Barber Bros and Co.
Isle Of Capri & Broadbeach
A hands down favourite among Gold Coast locals, last year Barber Bros and Co. expanded to a larger location and added a slick espresso bar when demand far exceeded original capacity. This stylish team of passionate barbers live and breathe their trade, so it's little wonder gents flock to this traditional full-service barber shop for beard-scaping, perfectly manicured moustaches, hot towel cut-throat shaves, and expert rockabilly and hipster hair styling. We know you won't knock back a complimentary JD or Corona while you're there, either; these are the kinda guys all other barbers aspire to. In Broadbeach? These guys now have a shopfront on Oracle Boulevard.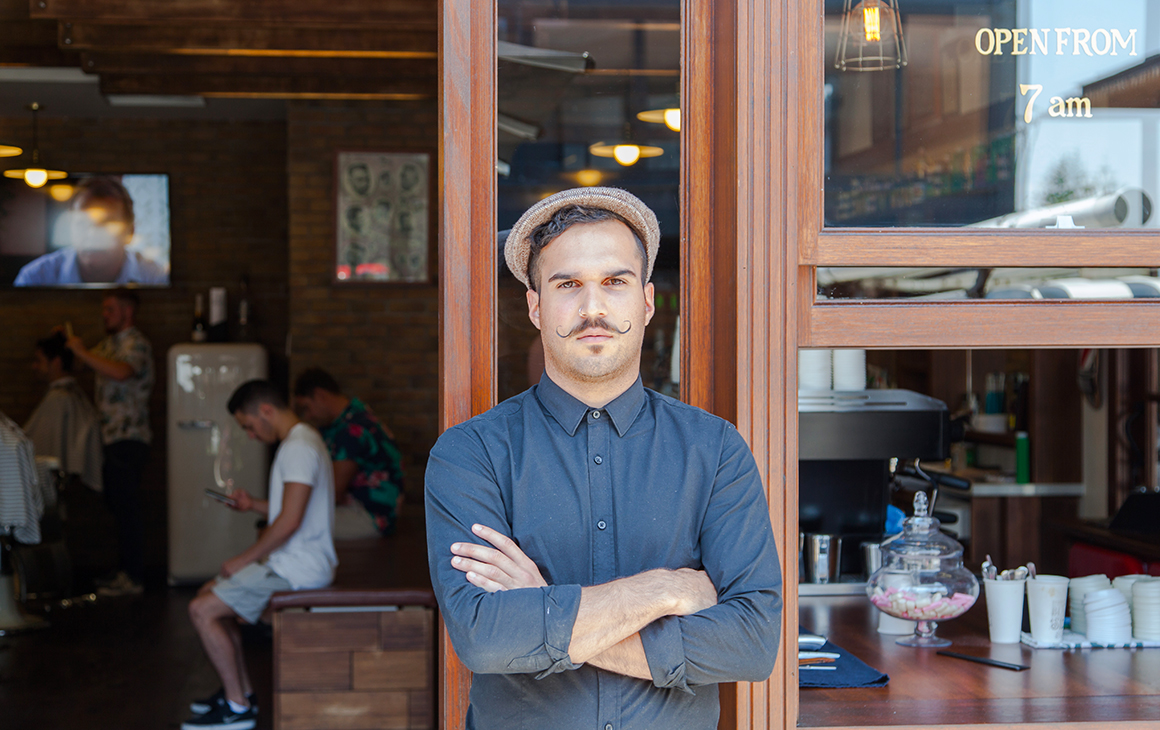 The Barberoy
Coolangatta
They say good things come in small packages, which stands true for Coolangatta hole-in-the-wall grooming den, The Barberoy. We love the vintage-inspired interior dressed with wallpaper, pressed metal, and a gorgeous old wood floor; combined with classic full-service extras such as hot and cold towels, massage, and Turkish ear fluff singeing. And with just enough space for two clients at a time, you're assured of some bro love and attention from the expert owner-operator scissorhands, Clement and Matthew. Coolangatta is finally finding its cool again, largely thanks to establishments such as The Barberoy. Cheers boys!
Zeppelin Barbers
Miami
Jase Alpen knows his way around a barber shop, having snipped and shaved his way across the Coast. For those dedicated clients wondering where he'd snuck off to, last year Jase opened Zeppelin Barbers, a two-seat man cave within Miami salon cum gallery, The Front Yard. Expect friendly banter, slick cuts, and rock 'n' roll theming and tunes—hence the name—plus lovely ladies in the adjacent salon for when you strut past looking your dandiest. By appointment only.
Shipwreck Barbers
Palm Beach
It's no longer a woman's world where only us gals are carving out hours for self-indulgence—guys, now you understand the pleasure of being primped and groomed. Another top shop among the best barbers on the Gold Coast, you'll love Shipwreck Barber's man den atmosphere where you can sip on a smooth spiced rum while the cool gents get you looking your best with clean shaves and classic cuts.
Alfred's Apartment Barber
Mermaid Beach
So you prefer a more intimate date with your barber, with one-on-one attention and bromance-worthy convo? Fashionable men's clothing store, Alfred's Apartment is a one-stop shop in Mermaid with an adjoining diner and in-house barber. Both bookings and walk-ins are welcome and all manner of pomades are on sale to keep your mane in check. When you're done, let the Neilson brothers pair your fresh do with a ballin' new outfit. You'll walk out looking like a new man.
Luigi & Sons Barbershop
Ashmore
Operating on the Gold Coast for a staggering 55 years, second generation barbershop Luigi & Sons has proudly stood by and watched the renewed love for traditional barbering. With 25 years experience under his belt, this family-orientated barber is now in the capable hands of Lino who is a world-renowned ambassador for American Crew and has also developed his own man-grooming tool, the King Louis IX styling rake. What's really cool is hearing stories of gents who were first taken to Luigi and Lino as boys, and are now returning with their own sons to keep the man-love and grooming tradition alive. No list of best barbers on the Gold Coast would be complete without this local institution.
Blackmarket Collective
Robina
This joint is badass, 'cause they can not only help you out with slick fades and moustache trims in the barber shop, but Blackmarket Collective is a triple treat with an adjoining tattoo studio and a custom-printed clothing line in-store. So be warned, you might just be tempted to depart with more than a fresh new do.
Did we miss your fave among our pick of the best barbers on the Gold Coast? Tell us in the comments!
Image credit: Hayley Williamson and Claire Dryden for The Urban List