You can trust you're in for a serious treat when one of the Gold Coast's most respected and awarded bartenders realises a dream and opens his very own bar. If you've been wondering where the insanely talented yet always humble Tom Angel has been hiding this year—we've found him.
Tom, twice placed among Australia's top 100 bartenders, has teamed up with his wife Sam and good friends Euan and Bella, to create the Coast's first genuine laneway bar. You'll be channelling serious Melbourne vibes, nibbling on sophisticated bar snacks and sipping mind-blowingly good cocktails under fairy lights when you make a date with Fig + Frankie's.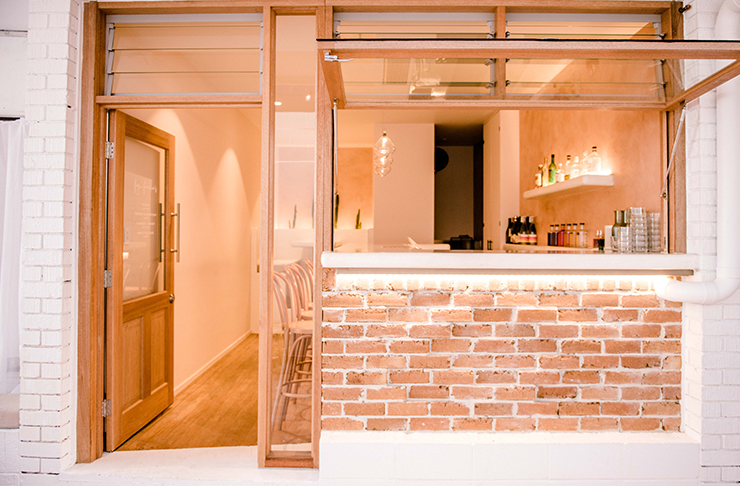 An endearing blend of their cat (Fig) and dog (Frankie), Fig + Frankie's are words certain to be on everyone's lips when news spreads about this hip new establishment hidden in Broadbeach.
With a good scrub and tasteful wash of white paint, Fig + Frankie's has stylishly converted a forgotten alleyway into an inviting social nook that we expect will be seriously popular under balmy, starry nights. They've made magic with the hole-in-the-wall bar space too, with white and terracotta washed walls, peach-hued brick, blonde wood, sophisticated pendant lights, solo booth at the rear and five bentwood stools lining the bar which you'll totally want to nab for quality banter with the bartender.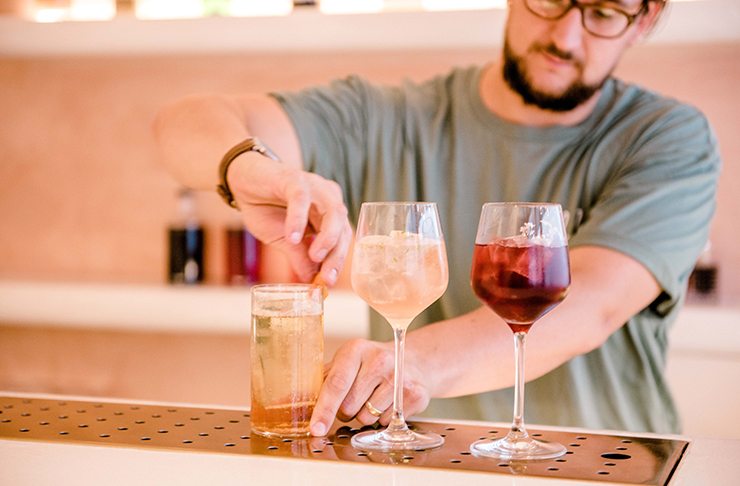 Come for the cool-as-hell atmosphere and stay for the epic specialty cocktails. The star of the show here, Tom and Euan have crafted a cocktail list that's as tasty as it is original. Interestingly, they've decided less is more, choosing to go super minimalist with their liquor selection, with just eight carefully-selected bottles lining the floating shelf behind the bar, complemented by housemade scrubs, mixers and native flavours.
Numbered 1 to 8, instead of being named, the numerical cocktail list will change as bottles run out (they've purchased small batches only) or seasons bring something new to showcase.
Local producers will be featured wherever possible too. Take for instance the No.1 with MAC by Brookies from the Byron Hinterland (MAC is their smooth macadamia nut liquor) topped with housemade (and carbonated) lemonade and clarified green apple. Or perhaps the No.6, which features Miami's very own Granddad Jack's Penny Vodka with caramelised peach, Muscat rose spritz and kaffir lime zest. Yep, they're pretty special.
We reckon Fig + Frankie's will be the kind of place you slip in for a cocktail or two and then oops, stay for the entire night. They're lining your stomach with refined share plates of halloumi cubes dipped in truffled honey, heirloom tomatoes with whipped buffalo ricotta, plus addictive bites of sweet potato slithers with a sprinkle of lemon chilli salt and dipped in confit garlic aioli.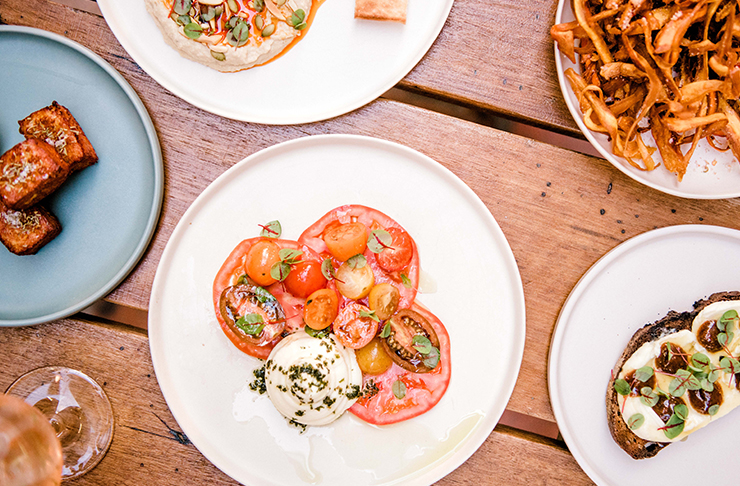 We've been told of plans to reconfigure the outdoor furniture for whimsical long table events (yes, they can do private event hire), and if Fig + Frankie's undeniable success is any driver, we truly hope the small bar momentum continues to grow, adding another layer of depth to the Coast's after-dark scene.
Fig + Frankie's is now open in Broadbeach (you'll find the laneway a few doors north of Cha Cha Japanese) Thursday through Monday, 4pm until midnight. Go hunt them down this weekend and tell them we sent you.
The Details
What: Fig + Frankie's
Where: Shop 4, 2707 Gold Coast Highway, Broadbeach
When: Thursday to Monday, 4pm to 12am (closed Tuesday and Wednesday)
For more information, click here.
Ready to make a night of it in Broadbeach? You'll want to check out the insane cabaret show SAUVE at The Pink Flamingo.
Image credit: Kaitlin Maree for Urban List