Another new venue graciously swung open its doors in Palm Beach this week, without any fanfare or confetti popping. We went to check it out, and we think you'll be pleasantly surprised.
Collecting the keys from dearly departed Pablo Pablo and turning the space and concept around in a speedy two and a half weeks, The Blue Door On 5th's intimate 32-seat dining room is minimal and classic, yet the fanciful dishes are anything but.
Young owner and head chef, Dylan Cashman's resume is nothing short of impressive. Recently moving on from Kingscliff's acclaimed Fins restaurant with a coveted chef's hat under his belt, as well as challenging stints at Sydney's Sean's Panorama and Cottage Point Inn, and abroad. As far as chefs go, this guy comes across as crazy relaxed and modest about his beautiful creations.
The Blue Door has a back-to-basics food philosophy focussing squarely on making magic with simple, seasonal ingredients, and showcasing local produce in a casual, yet refined, way. Dylan has tight relationships with the likes of Freeman's Organic Farm in the Currumbin Valley, Buck's Farm in Chillingham, Palmers in Kingscliff, Prichards in Cudgen; the list goes on. Together with his friend and sous chef, Ariel Hameiri, their daily menu will be dictated by whatever farm fresh produce is available at that moment.
We were treated to a small sample and, oh boy, did it impress! Take for instance, the tuna tataki entrée: Yellowfin tuna soaked in a bonito soy, wrapped with nori and tempura fried, then served with crisp wakame, pickled chilli, and a sprinkle of beach rocket that Dylan had personally foraged from the beach at Kingscliff. A curious side dish was a handful of whole baby sweet potatoes that came inside a steaming salt-baked pocket and opened to reveal the golden, gem-like spuds inside.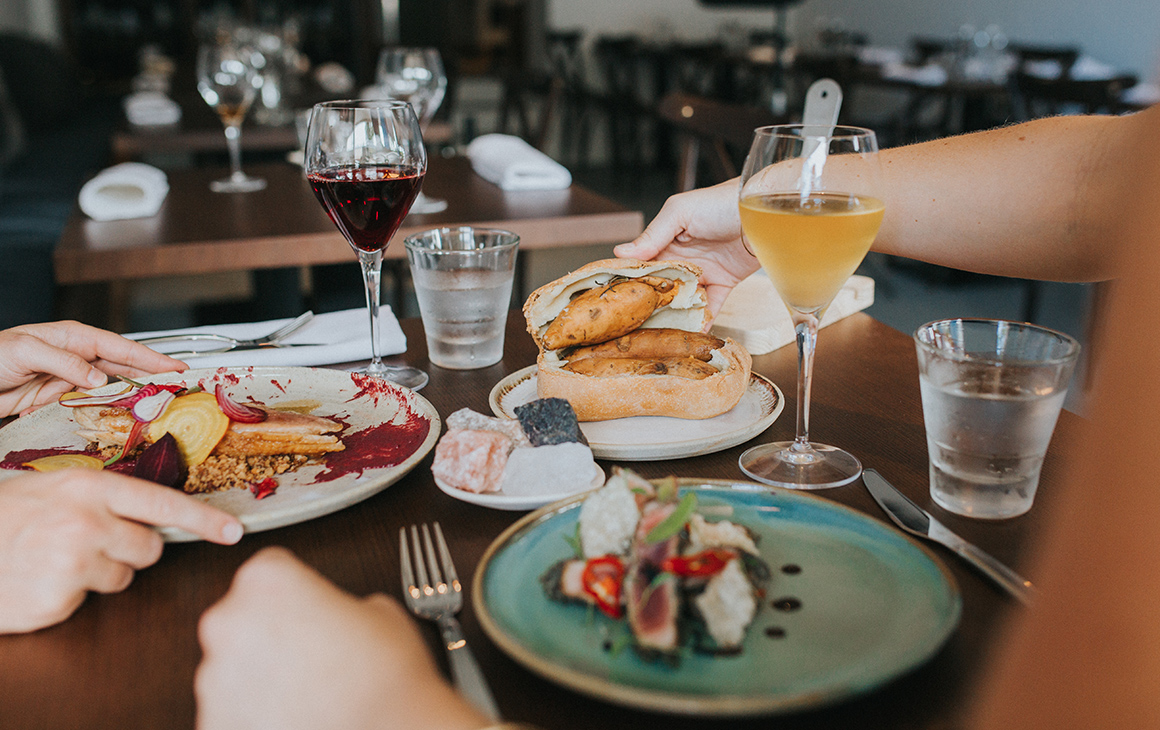 A fun and interactive addition to the table setting was a four-way selection of salt rocks from Bolivia, Hungary, India, and Pakistan, which were grated before our eyes. Each with a distinct colour and flavour, characteristic of salt pans across the globe. We suggest tasting each one first, as well as your dish, then seasoning to taste. 'Cause you don't wanna be responsible for over salting your own dinner now. You have been warned.
Showing his prowess and using handcrafted ceramic plates by Harvest Clay as his canvas, Dylan's roasted duck breast was presented on a base of artistically splattered red cabbage puree, with baby beets, an intriguing bed of house-cured bacon and cacao crumbs, and a duck jus. Made for Instagram (without even intending)? You betcha!
Dylan's hazelnut sponge dessert with its triple white chocolate explosion (tempered, mousse, and caramalised, drool) was another knockout.
Up from Melbourne, Jessica Fleetwood, The Blue Door's manager and chief wine and food matcher, knows her stuff; way more than we'll ever grasp, so we happily put the reigns in her hands. Come for dinner and she'll recommend the full gamut of mostly Australian vinos, from small batch classics to organic and all-natural drops. She's endeavouring to "bring sherry back" too and explains it's not just for post-dinner, proving sherry can complement the sweet and salty in any entrée or main. We were sold.
The five-course tasting menu is undoubtedly the ideal way to let this small team really flex their muscles. From the aforementioned Yellowfin tuna tataki to Northern Rivers' beef tartare, seared scallops with peas and burnt corn, grade 9+ Wagyu rump cap cooked over charcoals, and the soon-to-be-famous smoked vanilla pavlova, we're already planning our next return.
We've got to be up front though; prices here are on the higher end to what's usually found in Palm Beach. In their defence, the gorgeous meals are at a fine-dining level, without the pretentiousness, which goes to show the diversity of offerings this booming beachside suburb is capable of.
It's date night territory or celebratory occasion quality, so add The Blue Door to your hit list and let us know what you think!
Where: 2 Fifth Avenue, Palm Beach
Photo Credit: Hayley Williamson for Metropolist