Whether you are here for a good time or a long time, you can find some damn fine drinking establishments tucked inside our many (many) hotels.
So if you're a local looking for a change of scenery, or a visitor who chooses your hotel based on the room where you'll be spending the most time (and we're not talking about the bedroom), here's our pick of the Gold Coast's best hotel bars.
Chapter and Verse
Marriott Resort and Spa
Chapter and Verse is a recent addition to Surfers Paradise's lovely Marriott Resort and Spa. Café by day, come late afternoon the indoor-outdoor space morphs into a swanky bar. Its gorgeous alfresco deck sits under a towering vaulted ceiling, giving the illusion you are outdoors among the foxtail palms and landscaped lagoons. Time your visit with the live DJs every Friday and Saturday night and good luck deciding on a beverage from the mind bogglingly-long drinks list. Our hot foodie tip? The crab bites and wood-fired king prawn pizzas are delish!
Where: Marriott Resort and Spa, 158 Ferny Avenue, Surfers Paradise
Garden Kitchen and Bar
Jupiters Hotel and Casino
If you've not visited Jupiters in a while, sorry folks, but you don't know what you're missing. We've all read there are big changes afoot for Jupiters (um, an epic six-star hotel perhaps!) but there are already several additions worthy of a date night or weekend escape. Take for instance the stylish new Garden Kitchen and Bar, with an outdoor bar servicing the deck and overlooking the lush grounds. After a few late-afternoon cocktails (must try: The Garden, with Captain Morgan Spiced Rum, Crème de Cassis, lime juice, berry marmalade, and fresh mint), stay for dinner or head onto Kiyomi for some of the Gold Coast's best Japanese food. Need an Italian fix? Try Cucino Vivo.
Where: Jupiters Hotel and Casino, Broadbeach Island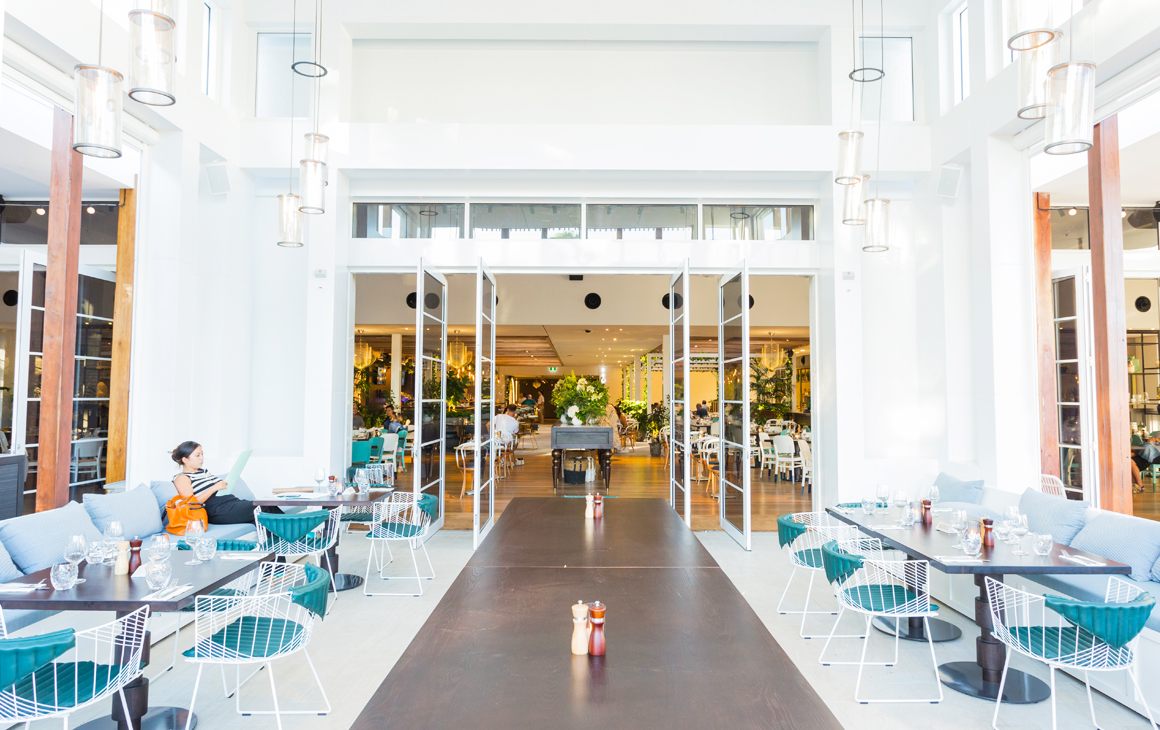 Stingray Lounge
QT Hotel
If you can tear yourself away from the mini bar, QT Hotel's Stingray Lounge is on hand to keep you sauced. Undoubtedly one of the Gold Coast's best hotel bars, it has a pop art theme and is usually poppin' on the weekends, with over 50 in-house tequilas (you've been warned). But if this Mexican charger is your thang, then Tequila Appreciation Thursdays is your night.
Where: QT Hotel, 7 Staghorn Avenue, Surfers Paradise
Seventy7 Café and Bar
Q1 Resort and Spa
No first-time visitor to the Gold Coast should depart without downing a cocktail at Seventy7 Café and Bar on, you guessed it, floor 77 of the towering Surfers Paradise icon, Q1 Resort and Spa. Not only will you be standing at the highest physical point of Australia (Q1 is the country's tallest!), but the insane view allows you to see the tippy top of the famed GC coastline to the bottom (and beyond), with just a turn of the head. But note, you'll need to pay the $24 entry fee to access the SkyPoint observation deck.
Where: Q1 Resort and Spa, 3/3003 Surfers Paradise Boulevard, Surfers Paradise
Walrus Social House
Watermark Hotel and Spa
Named in honour of the legendary SS Walrus, the steamship an enterprising gent utilised as a floating rum distillery on the Nerang River during the 1800s, the bar's heritage-inspired design includes dark wood, pressed metals, and contrasting textures and patterns. Watermark's Walrus Social House is a destination bar in its own right, with live artists to serenade you across the weekend (check their Facebook page for details), Happy Hour food and drink specials from 4—6pm daily (excluding Saturdays), an impressive tapas menu, and a sun-drenched alfresco cabana overlooking Surfers Paradise Boulevard. Sounds divine, yes?
Where: Watermark Hotel and Spa, 3023 Surfers Paradise Boulevard, Surfers Paradise
Komune Beach Club
Hotel Komune
Epitomising our laid-back coastal lifestyle, Coolangatta's Komune Beach Club can't be beat for a Sunday session that feels more like a party at your mate's epic beach house (you can only dream right?). Get wet with pool volleyball fun, lounge in stripy bean bag chairs, fist pump to DJ tunes, and embrace an afternoon that'll likely end with getting busy on the dance floor. Hotel Komune guests can kick back with a frosty beer and join the party, safe in the knowledge that bed is just a short walk way.
Where: Komune Hotel, 146 Marine Parade, Coolangatta
Photo Credit: Marriott Resort and Spa, Edmond Tsang, and Daniel Hine