It's no secret that a lot of businesses in regional Australia have been doing it tough since the pandemic. And hopping in the car to hit up those cute hinterland shops isn't always at the forefront of everyone's mind.
Luckily for regional business owners though, The Merry Muster is there to lend a hand and boost the regional economy by taking us city slickers on the bus trip of our Christmas shopping dreams.
On Saturday 5 December, a convoy of buses will depart the Gold Coast and Brisbane headed for Queensland's Southern Downs (specifically Warwick and Stanthorpe) for a day of shopping in the region which has been facing ongoing hardship due to drought, bushfire and COVID-19, which have caused a significant lack of tourism.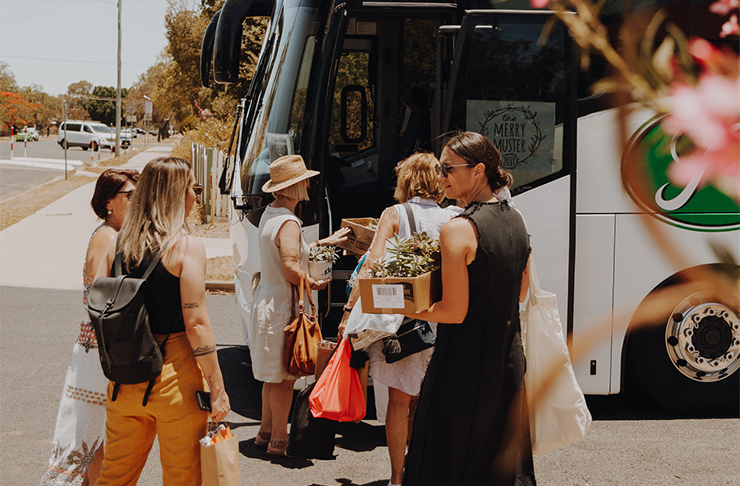 The Merry Muster event is about all the city peeps taking their dollars which would otherwise be spent in the big smoke and supporting smaller, struggling local businesses. As well as encouraging guests to bring their eskies to load up on fresh food, meat, fruit and veg, cheeses and wines, as well as crafts, homemade products, homewares, jewellery and Christmas goods, the buses will also carry Foodbank hampers to drop off in town, and will make a cash donation to a charity on the day.
In between plenty of shopping time, you'll also get treated to an incredible lunch featuring local produce at award-winning winery Ballandean Estate. And since you'll definitely want to sample a few of their vinos while you're there, getting their by The Merry Muster bus rather than driving yourself sounds like a very good idea.
So if you wanna do a bit of good while having some fun, you can book a ride on The Merry Muster here and ho-ho-hop on. Tickets are $85pp but helping out someone in need is priceless.
The Details
What: The Merry Muster
When: Saturday 5 December
Where: Gold Coast and Brisbane
For more information, click here.
After you've booked your ticket and done some good, treat yourself to Messina's supermarket chocolate bar range.
Image credit: The Merry Muster