I'm sure we can all relate to those days where literally EVERYTHING goes wrong. You wake up late, your hair is so dirty it's beyond being helped by dry shampoo, and your petrol light is absolutely on empty when you're already 10 minutes late. It's been a rough week, and chances are it's only 9:25am on a Monday morning. Yikes.
The good news is, Mercury doesn't retrograde again until July, and Bendigo Bank have got just the thing to make those days when the universe is hating on you (hard!) a thing of the past. Sign up for one of their Low Rate Platinum Mastercards and you're pretty much signing up for a bad day first aid kit. Because its perks are so en pointe, we've decided to keep the ball rolling with 10 life hacks to seriously turn your bad day frown upside down. Lord knows we need 'em!
#1 Keep A Pin In Your Bag For Emergency Spills
It wouldn't be a day that ends in tears without spilling coffee all over ourselves now, would it? As much as we'd love to be that person whose clothes are totally stain free, we aren't. If you're not yet at the level of adult where carrying around stain remover is your thing, we're all about keeping cute pins in your bag or desk draw to a) cover up the stain until you're back home and can treat it appropriately, and b) make your outfit look real cute. Try and tell us this isn't the best advice you've heard all day. And if you need some inspo on the best pins to save you from your #StainShame—search no more, these are our faves cats in berets and on trend leaves or a friendly reminder for the universe.
#2 Never See Something On Sale After You Paid Full Price Again
Hands up if you've ever been personally victimized by spending all your cash on something lust-worthy only to see its price slashed literal moments after you've swiped your card on it? Honestly, it's the worst. Life hack, though: if you've purchased something using your Bendigo Bank Low Rate Platinum Mastercard, you're able to use their nifty little Best Price Guarantee feature. Which is—just quietly—the best thing since sliced bread. If something goes on sale within 30 days of your purchase for $100 less than you bought it for, they'll refund the difference. Plus, they'll even extend the manufacturer's warranty on things like fridges. If this isn't fool-proofing for bad days, we don't know what is.
#3 Unsend Emails You Probs Shouldn't Have Sent
We're sure there's plenty of you reading this who've pressed send on an email only to realise you absolutely should not have done that. Whether it's to the wrong person, contained the total wrong info, or was just hands down inappropriate, we've all been there (take a shot for every time you've hit send on a 'see attached' email only to watch the email jet off into the cloud with no attachments). But, life hack: you can enable unsend in Gmail! It's super easy, simply hop into your settings and tick the "enable unsend" box. Boom—it's that simple! Word of warning though, this is only enabled for up to 30 seconds after hitting send so proofreading should still apply.
#4 Lose The Stress When You Drop Your Phone
A broken phone screen is as a clear a motif as any for a seriously rubbish day. Chances are it's happened when your phone is brand new, has been out of its case for five minutes, or when you're running ridiculously late. Either way, it sucks. Once you've signed up for Bendigo Bank Low Rate Platinum Mastercard you're able to cash in on their mobile phone and tablet insurance which means if you lose your device or break the screen, they repair or replace it! Check out the terms and conditions here.
#5 Release Those Endorphins
So many "the universe hates me" days are the result of sitting behind your desk all day without a drop of sunshine or a breath of fresh air. So, give your body that hit of endorphins it needs to make it through the day without a sneaky cry in the bathroom by skipping your desk lunch and popping out for a (leisurely) lap around the block. We guarantee just two extra minutes of time spent outdoors will turn your day around. Just look out for cars driving through puddles, okay!?
#6 Relax With Purchase Protection
Why is it that you only ever seem to lose brand new (v expensive) things?! Because the universe hates us, that's why. One up the universe by activating the 90 day purchase protection offer with your Bendigo Bank Low Rate Platinum Mastercard for stolen or damaged items. True story: a friend of a friend had their $500 bike stolen from their apartment complex and the thief was on CCTV, but was totally unrecognizable and there was nothing that could be done other than mourning the loss of a new, expensive bike. But, because the bike had been purchased within 90 days, the friend of a friend got their $500 back and rode off into the sunset with a brand new bike and a very apparent lack of a bad day. Get the full low down here.
#7 Start Each Day With An Inspirational Quote
There's something to be said about starting your day with super clear intentions. Whether you're one of those people who can't leave the house without making their bed or you're all about a morning meditation, a simple way to hack those good vibes is by downloading the Chrome extension, Momentum. Each new tab that you open becomes a stunning, wanderlust-inducing international location with an inspirational AF quote and a section to fill in your main goal for the day. It's hard to feel like you're taking a loss when your new tabs are full of so many positive vibes!
#8 Stop. Sleeping. In.
Snoozing an alarm is probably the number one reason for all bad days. You sleep in, you don't have time to shower, you rush your make up, and you probably end up chucking on an outfit that's not as clean as you think it is—we're all guilty. But if you download an app that wakes you up naturally, you can totally negate the need to ever drowsily hit snooze again. You could splash out on a fancy alarm clock that wakes you up with light (pro tip: don't forget with your Bendigo Bank Low Rate Platinum Mastercard you'll get the difference back if it goes on sale within 30 days!) or, you could download a free app like Sleep Cycle Alarm Clock that will optimise the perfect time for your body to wake up based on when you go to sleep and when you need to be up and at 'em. The best part though, is that it will wake you up by gradually increasing the volume of its (gentle sounding) alarm so you're waking up in a state of zen and not panic.
#9 Never Do The Reverse Of Shame At The Petrol Station
It wouldn't be Monday morning if you hadn't slept in, realised you're out of fuel, and had to to do the dreaded reverse of shame at the petrol station when you realise you've pulled up to a pump on the wrong side of your car. This tip is probably the most adult we've ever felt, so we're doing you a solid by sharing it with you. On your dashboard right near your fuel gage there's a little arrow that's easy to miss. This arrow, you guys, changed our life. Why? Because it points to the side of the car that your fuel cap is on. Next time you fill up, check the arrow before you pull into the wrong pump again.
#10 Never Have Low Battery Again
A lousy phone battery can make or break your day. Especially if it's one of those days where you're in back to back phone meetings, have had to use your GPS for a long trip, or just forgot to charge your phone before you went to sleep. Short of keeping it on charge 24/7 you can lower your brightness, set your phone to automatic lock, turn off vibration, disable useless notifications, and disable location services—this should get you a whole lot more bang for your charge. Plus, if you're one of those people who never has a charger on them, you can even get keyrings that double as chargers, because it's 2018 people.
Day not looking so bad after all?! Thought so! Read more about Bendigo Bank's Low Rate Platinum Mastercard here, and check off our bad day checklist: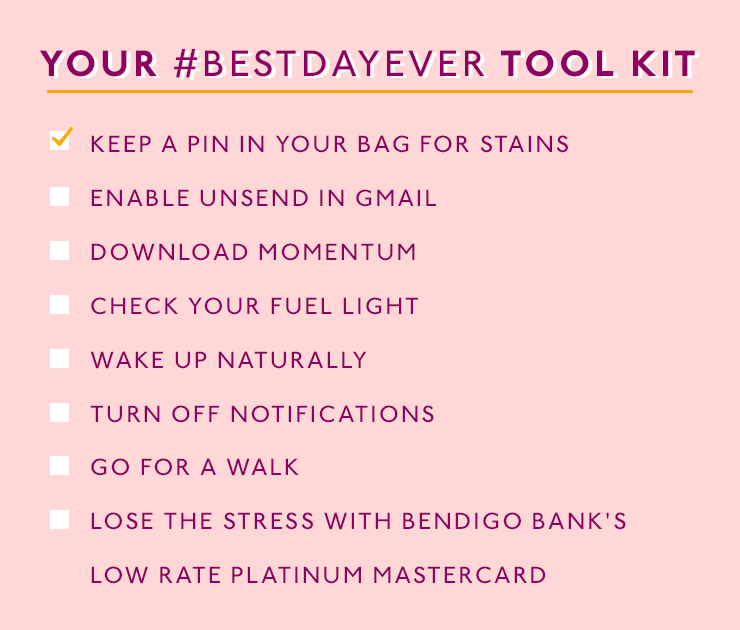 Editor's note: this article was produced in partnership with Bendigo Bank. Thank you for supporting the sponsors who make The Urban List possible. To read our editorial policy, click here. This article contains general advice only. Readers should seek a trusted professional's advice on financial matters. Mastercard is a registered trademark of Mastercard International Incorporated.
Image credit: via Unsplash.