It's that time of year again when Crown Palladium turns into a sea of footy players in penguin suits, WAGs in the glitziest piece of fabric they could find, hordes of reporters and photographers, commentators throwing about statistics as if they're going out of fashion, and bookies scrambling to confirm the latest betting odds.
That's right people, it's time for the Brownlow Medal – the one night of the year when we inexplicably stare at our TV for what feels like 14 months, but is more like three or so hours, whilst the names of footy players are called out in the same monotonous voice (no offense Andy D) before the Best and Fairest player is awarded Charlie.
It begs the question – if the attendees are drinking solidly for three hours, then why shouldn't we?
Well, well, well, you're in luck! We've put together our inaugural Brownlow Drinking Game so you and your friends can pretend you're also at Crown, drinking away until you stand up and realise you better stay the night at the host's place.
Here are the rules…
HAVE A DRINK EACH TIME:
- A player brings his mum
- A player arrives not wearing black tie
- Gary Ablett or Joel Selwood gets a vote
- An ineligible player gets a vote
- It's mentioned that Buddy Franklin might be leaving Hawthorn at the end of the season
- There's any mention or footage of the incredibly impressive Sydney Swans beard brigade
- Same goes for Ivan Maric's horrifying mullet
- The camera pans to Eddie McGuire during the Collingwood games
- The Essendon supplements saga is mentioned
- The phrase 'supplements saga' is used
- The camera pans to Essendon players after said mention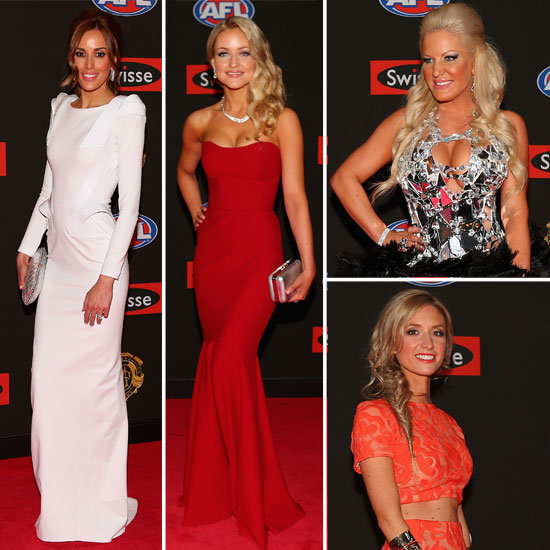 The 2012 red carpet highlights - can't wait to see what the ladies will wear tonight! Image Credit: Fabsugar.
- The camera catches players sneakily grabbing a drink
- A player does the peace sign behind someone else's head
- The father-son team that Geelong has produced is mentioned
- There's a Tom Waterhouse betting ad
- Greater Western Sydney's losing margins are mentioned
- A Greater Western Sydney player gets a vote
- Bruce McAvaney tries to make a joke
- Bruce McAvaney uses a statistic
- Andrew Demetriou mispronounces a player's name
- Andrew Demetriou messes up the counting
- Andrew Demetriou pauses longer than 2 seconds (goooood luck towards the end!)
When the winner is announced you must clap until he arrives on stage, bow down and hail whilst the medal is being awarded by the previous winner and then yell 'HIP HIP HOORAY' as loudly as you can during the toast – all without spilling your drink. Anyone who does must skull their drinks pronto!
Have fun and bring on the Brownlow!
2013 Brownlow Medal
Fox Footy (Channel 504 on Foxtel) | Coverage from 6:30pm
Channel 7 (Free to air) | Coverage from 7:30pm
Main Image Credit: Norma Jean Magazine.