It's school holiday time. Have I lost you yet? Well hold up, because even if you don't have an education-aged small person currently clawing at you for something to do, there are some juvenile activities that need not be reserved for only the snotty nose set.

These five super-fun Melbourne hangs may pertain to be aimed at pre-teens, but actually make a cracker of a day out for your inner-kid, no matter how old and long-out-of-school you are.

CLIP 'N CLIMB

Getting high has never been more fun. Or legal! Clip 'n Climb is a welcome adventure hub for those who want to challenge themselves by scaling new heights – or getting scared shitless. All in the name of a good time, there are a massive 33 climbing challenges within the epic, kaleidoscopic space.

Start small, and aim higher, with all ages and abilities welcome, making this literally Melbourne's funniest social climb. Non-stop, you can clip on, climb up and glide down with ease. Before all the fun stuff starts, the serious matters must be checked off, via a 15-minute briefing for every climber. Oh, and sans stilettos is best. Sensible shoes will ensure a more terrific, terrifying experience. And hopefully prevent a stint in traction.

Clip 'n Climb |144 Murphy Street in Richmond
03 9421 6600 | email

BOUNCEinc

The antidote for any OCD adult, BOUNCEinc is a veritable aerial disco that discourages sitting still. If anything, bouncing off the walls is absolutely encouraged. The jumping revolution began in Glen Iris, and now springs into Blackburn North with 2,500 square metres of free jumping space.

Floor to ceiling trampolines are the stuff of hyperactive dreams, with dodge ball, backflips, crazy tricks, triple-flips – and everything else your mum banned you from doing on the tramp – applauded. Shelve your shoes, pop on your supplied socks, grab some friends, drop your shoes at the door, crank up the tunes and go jump!

BOUNCEinc | 22 Joseph Street in Blackburn North
1300 000 540 | email



Image Credit: Clip 'n Climb Facebook

INSIDE THE BRICK

Think Lego is for nerds who prefer to connect small, colourful plastic blocks than connect with the opposite sex, or indeed, anyone? Think again. Lego is way fun. And Inside the Brick is a toy sanctuary that can actually prove a social winner.

Providing a community feel with a 'kid in a candy store' appeal, the unassuming studio exterior belies its wonder. Not only to create, but to absolutely connect. Even if you don't think Lego is for you, slap down ten bucks with a few of your besties, and take the chance. You will have a giggle; you may even tap into your inner Joern Utzon. Casual Play is the best option for the older-set, but kids can get cranking with Brick Clubs and parties.

Inside the Brick | 70 Station Street in Fairfield
03 9481 7868 | email



Image Credit: Trees Adventure Facebook

TREES ADVENTURE

Check your vertigo at the front desk and get your monkey business well and truly on at this outdoor, slightly-out-of-town adrenalin escapade. Situated within an eight hectare forest in Belgrave, this is a breathtaking – figuratively and literally – ropes adventure course set amidst 150-year-old Algerian Oaks and a sixty metre Sequoia rising up above the earth.

You won't want to look down when it comes to harnessing up and hanging out amidst the canopy of swinging, leaping, climbing and flying options. You'd be amazed at how much you get out of this – and I don't mean potential nose bleeds – but the absolute feeling of achievement that comes with leaping and landing with abandon. You will giggle. You may shake. But guaranteed, you will retain a high that comes only with being this close to heaven.

Trees Adventure | Glen Harrow Gardens, Old Monbulk Road in Belgrave
03 9752 5354 | email

THE BUNKER

This indoor skate park lives up to its name. A rad behemoth of half-pipes, resi mats, grinding rails, jump ramps and a massive foam pit, it caters to wheel-warriors from kindergarten age to anyone whose hips haven't yet given out. This premium designed converted warehouse is one totally gnarly nirvana for anyone hoping to become a better skater, more skilled on a scooter, or who simply doesn't want to wait in line for a 'Go'.

Supervised around the clock, rest assured you won't encounter any anti-social, skater-park hierarchy here, however you will most probably incur multiple, well-earned bruises. BMX lovers are welcome, too, with scheduled times allocated for two-wheels.
The Bunker |15 Century Drive in Braeside
03 9580 1368 ?| email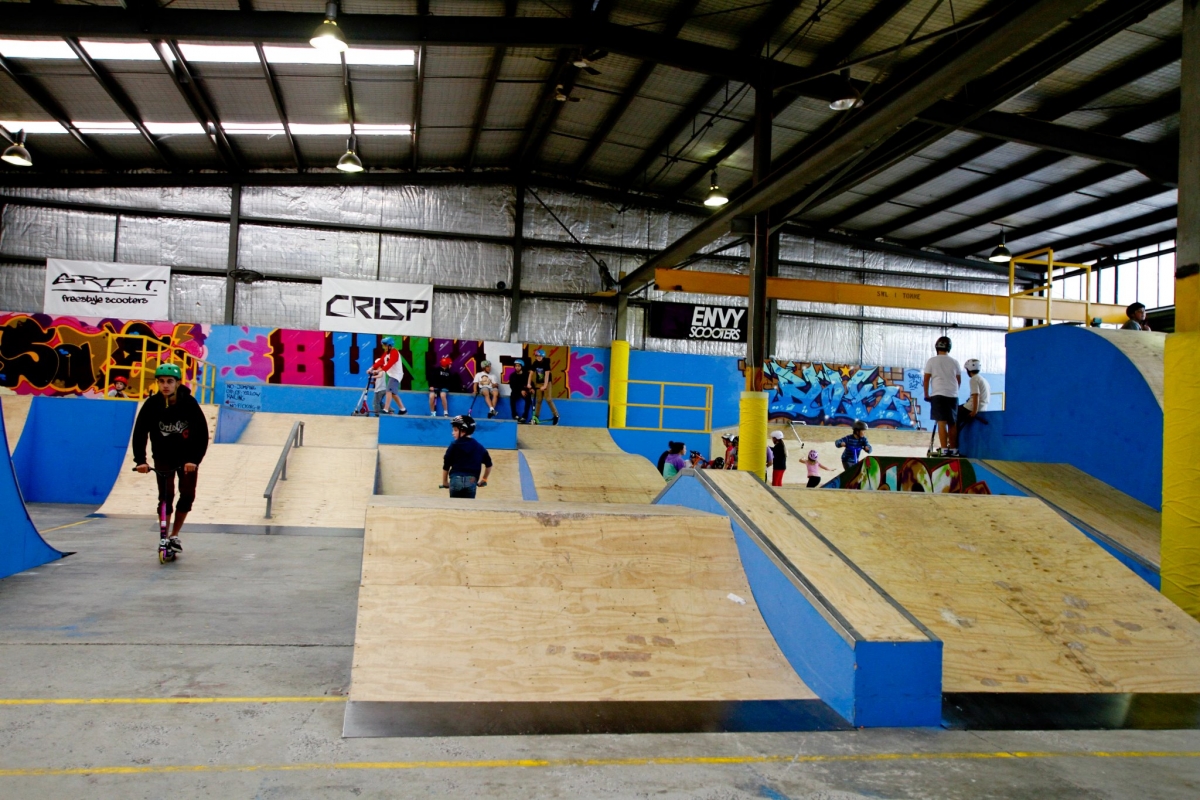 Image Credit: The Bunker Facebook
Main Image Credit: Pinterest