While we're all for indulging in—well—everything, we also consider ourselves nature-loving adventurers and wannabe adrenaline junkies. Which makes the Mornington Peninsula the source of some ultimate #minibreakgoals in our opinion.
Just an hour from the hustle and bustle of Melbourne, the Peninsula's stunning coastline and treescapes offer endless options for adventuring. From dipping in the sea with dolphins to zipping through the sky, trail rides to bike rides, sea dragon spotting to SUP, it's like a real-life game of Choose Your Own Adventure. Here are six top ways to get a healthy buzz on at the Mornington Peninsula, plus our top picks to refuel and catch some z's—you've earned it!


#1: Zip Line & Tree Surf
As you enter through the lolly shop, you'd be forgiven for thinking the Enchanted Adventure Garden is just for ankle-biters. But, while you'll definitely spot a few, you'll soon be trampling them to get to all the adult action. Just kidding. (Seriously, please don't do that.)
Nestled in 22 acres of hinterland at Arthurs Seat, the Adventure Garden is (for want of a better word) unreal. Start your exploring in the Hedge Maze, wander through the 20 manicured gardens (there's even a Christmas-themed one!), ride the giant tube slides, then wobble your way along the Treetop Canopy Walk.
Whatever you do, don't pass up the Big Zip! On the first go, we found stepping off the launch platform kinda terrifying, but the 170-metre flight positioned 20-metres (20 metres!) over the lake was truly breathtaking. Just remember to bend ze knees on landing.
Craving a challenge? The Tree Surfing Grand course has over fifty sky-high obstacles, including bridges, zip lines and a rock climbing wall. Slap on some sunscreen and enjoy two hours of active, outdoorsy, good ol' fashioned fun.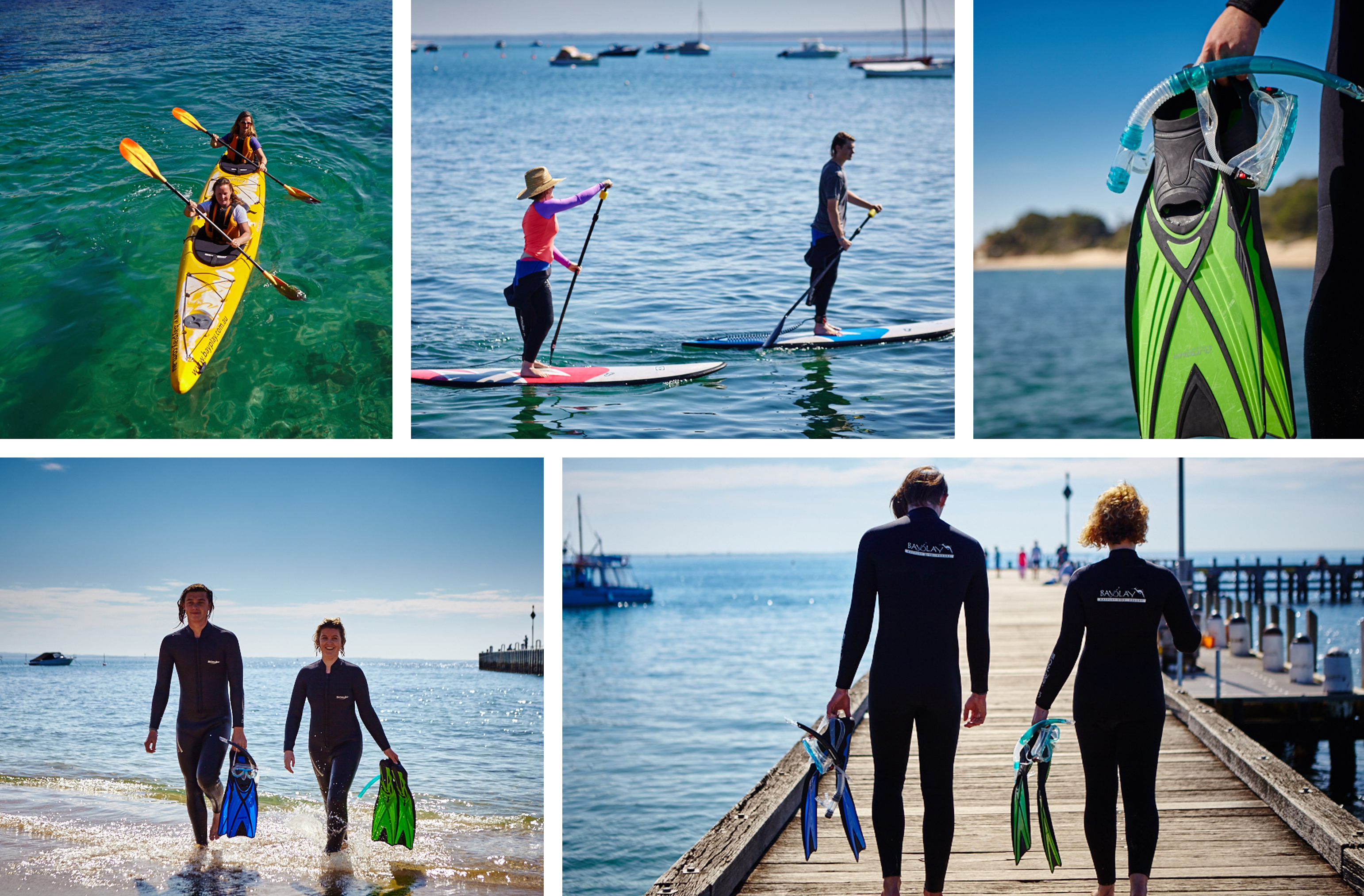 #2: Scuba, Snorkel, Kayak & SUP
If your previous experience of Portsea begins with the Pub and ends with the Polo, it's time to live a little! Bayplay have ALL your landlubbing and wet and wild adventures covered, with a heap of guided tours on offer, or equipment for hire if you prefer to go it alone.
Maybe you want to spend your morning sailing and snorkelling with the seals (of course you do), see how the other half live on the guided Millionaires Walk, burn some cals cycling to Point Nepean National Park, or take a Stand-up Paddleboard tour through the pristine waters.
If you are a scuba lover, the pros at Bayplay will take good care of you—whether you're a beginner or a regular bottom-dweller. There's also a sea kayaking tour to a dolphin sanctuary, or you can snorkel with the Weedy Sea Dragons and admire pretty soft corals off the pier.
Based in Rosebud West, Extreme Watersports is another slick aquatic operation, offering a host of kayak and snorkel tours, dive training, and equipment hire. Our pick is the no-experience-required snorkel tour to Popes Eye and Chinaman's Hat, where you'll get to splash about with your sealy good friends. They also do awesome deals that include VIP entry to the Bath House at Peninsula Hot Springs.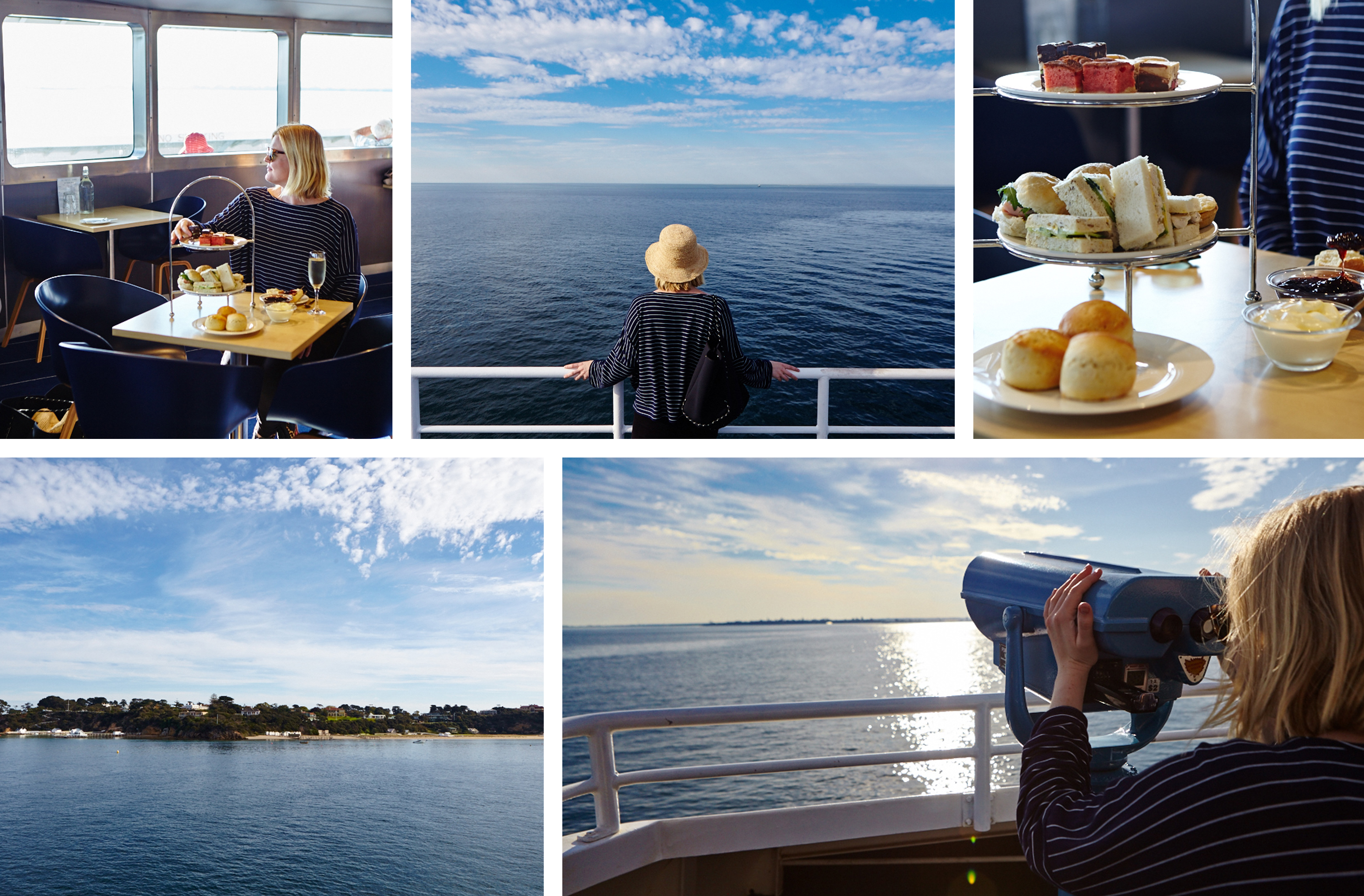 #3: Frolic with Flipper
Australia's most awarded Eco Adventure Company, Moonraker Dolphin Swims, has been running its stellar tours out of Sorrento for over 25 years. Chose from a 90-minute adventure cruise, or the 3-hour dolphin and seal swim where you'll get up close and personal with Fur Seals and Bottlenose Dolphins. Or, if you're really ballin', make like 007 and book out the Moonraker for a private dolphin swim cruise for you and 19 buddies.
For those civilians who prefer to view aquatic life from a distance, there's a 40-minute scenic ferry trip that runs from Sorrento to Queenscliff. The views are top notch, and you'd be exceedingly unlucky not to spot a cheeky dolphin or two—or maybe even a migrating whale over winter. Plus they also run a tasty high tea in the Portsea Lounge on a Sunday. Just sayin'…
#4: Saddle Up
If your dream animal comes without a fin and you fantasise about cantering along the beach at twilight, you're going to want to check out Gunnamatta Trail Rides. These horse-loving legends run a bunch of rides for all experience levels, from the 2-hour St Andrews Beach ride, to the Truemans Bush Trail ride, plus more hardcore nature trails and an all-day ride for expert horsefolk.
#5: Get Yo' Glamp On
If you love the idea of camping, but get a bit bummed out by the twiggy ground and lack of mod cons, Happy Glamper will go ahead and make your day. Operating exclusively on the Peninsula, the team will set up your glampsite by the beach or among the trees, all ready for you to enjoy once you arrive. Choose from a beautifully styled 'belle' or 'lotus belle' tent, or up the ante with Peggy Sue the Airstream, or Miss Myrtle the vintage caravan. From board games to rugs, lovely linen and magazines, you'll have all the creature comforts a city dweller could want.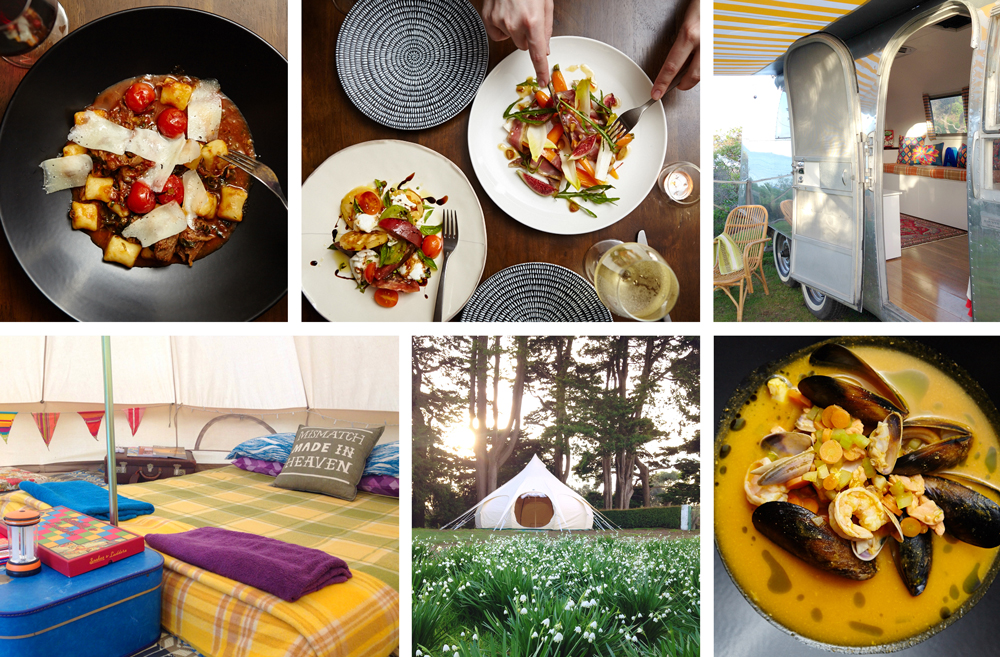 #6: Top Spots to Refuel After All That Action…
While they do serve sweet treats and beer, Sorrento bistro Cakes and Ale takes its name from an ancient reference to 'the good life', and its exceptional food and wine offering more than delivers on that promise. Located in a light-filled building on buzzy Ocean Beach Road, grab a seat among the ferns and rustic, paint-peeled charm inside, or go alfresco in the sunny, plant-filled courtyard.
Open for lunch and dinner (apparently they don't really do the breakfast thing in Sorrento!), the highly accomplished team of ex-Melbourne foodies are plating up some cracking local produce in the form of mouth-watering charcuterie, and dishes like Dromana mussel salad, soul-warming pot pies, and whole baked garfish cooked in brown butter.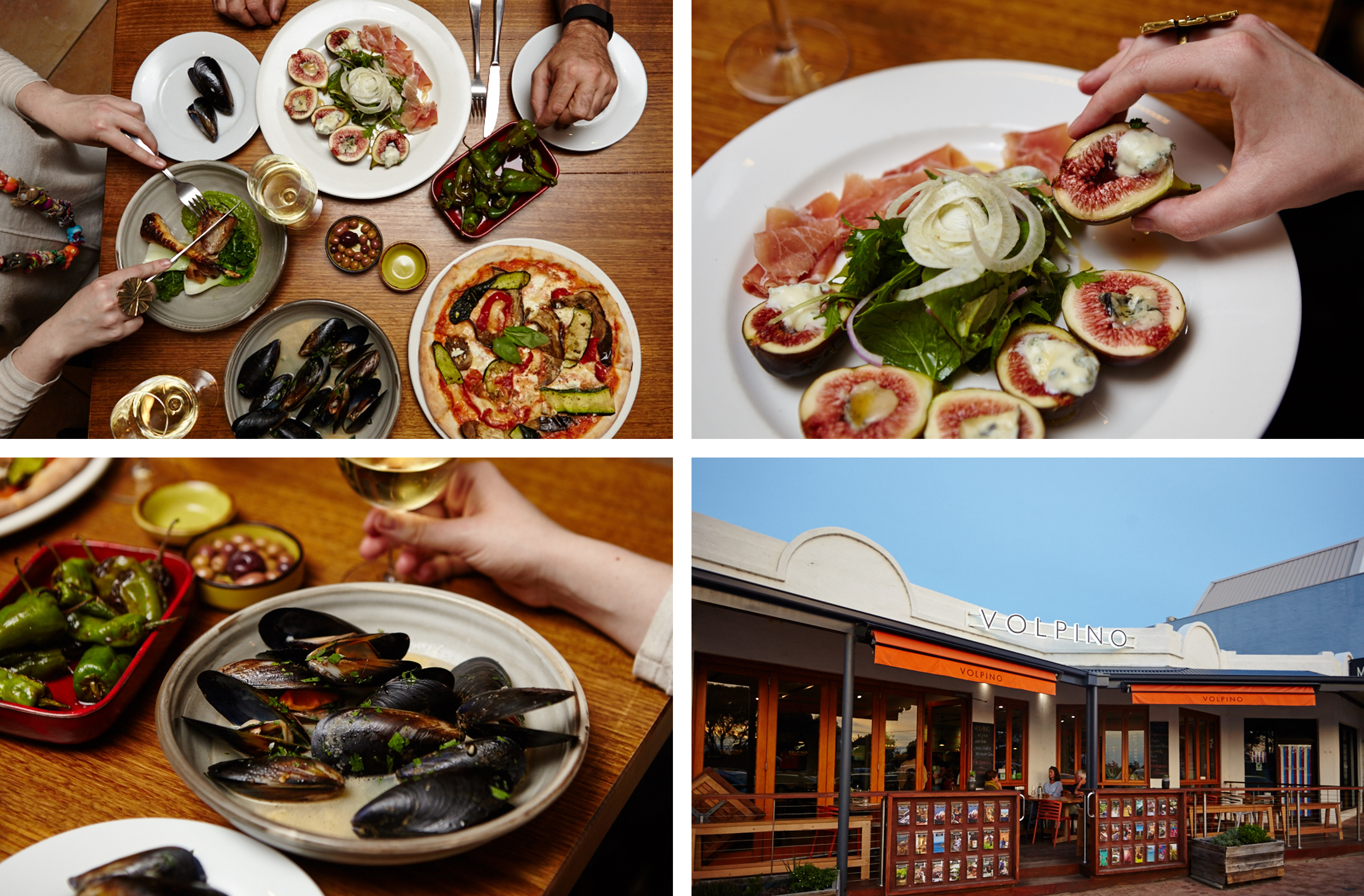 Meanwhile, opposite Mt Martha Beach sits Volpino—a cute, casual eatery with a sunny outside deck, and yummy, fresher-than-fresh Mediterranean-inspired menu. Think tapas, pizzas and seasonal salads, as well as fresh seafood which makes for a delicious pairing with a glass of local wine.
The restaurant's open seating at the front of the venue is a fantastic spot for a long lunch or summer's evening spent dining with your nearest and dearest. And if you haven't satisfied your sweet tooth on your roadtrip yet, Volpino's Nutella and seasonal berry pizza is one for the dessert fields. Bellissimo!
#7: And Have A Well-Earned Snooze
True story. A hotel can only have the word 'royal' in its title if members of the royal family have stayed there. So says the manager of The Royal Hotel in Mornington. Whether or not that seduces you, the historic Mornington hotel with its stunning views over Royal Beach is a beautiful spot to rest your weary head. There are a handful of chic black and white rooms on the top floor, each with a private balcony upon which to enjoy your complimentary continental breakfast. There's a fancy restaurant downstairs too, but we're particularly partial to a Captain Morgan in the cosy tavern out back.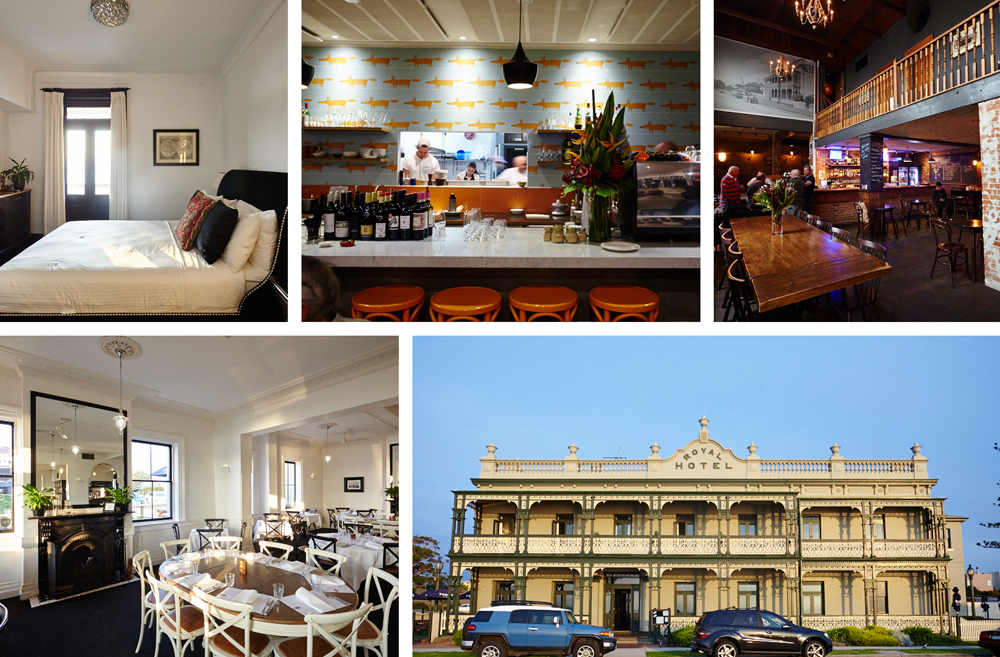 Over in sleepy Flinders, the Quarters at The Flinders Hotel is the ultimate in luxury digs. The architecturally designed accommodation is sympathetic to its surrounds, with interiors inspired by the coastal surrounds. All rooms come with dreamy Abode bed linen, Aveda prods in the lush bathrooms, and a mini bar stocked with local goodies like Mornington Peninsula Chocolates. In terms of eats and drinks, The Deck Bar & Bistro is a great spot for quality pub grub, while across the road, recent addition Georgie Bass is a lovely, light filled cafe and cookery school with a patch-to-plate philosophy.
Melbourne's an incredible city, but sometimes we all need to get out of town for a weekend. The Urban List has partnered with Visit Victoria to bring you our Get Out Of Town! series — the ultimate guide to Victoria's regional gems. For more ideas about where to wander in Victoria's Mornington Peninsula, click here.
Image credit: Michelle Jarni for The Urban List, supplied