A night out for dinner is one thing. A night out for a birthday dinner is an entirely new level of pressure and expectation. Thankfully, Albert St Food & Wine did not disappoint.

This particularly significant autumnal evening called for a warm, inviting dinner; one to heat up the heart and tummy whilst adequately toasting another lap around the sun.

Stepping inside the all day eatery, wine bar and wine store from the brisk Brunswick Street, I knew this birthday girl was in the right restaurant. Slipping into the super sweet bench seat, the cosy environment cloaked me immediately. I threw off the winter coat, made nice with the menu and revelled in Albert St Food & Wine's auspiciously high ceilings, exposed beams, inspired bar and intimate environment.

This cavernous space of an inner-city eatery hummed with on-spot temperature, perfect pitch and intimacy. The sensorial success had begun, and we hadn't even ordered yet.

Things got even better with the arrival of the menu. Michelin-Starred restaurant protégé Jason Rodwell certainly seduced with his menu of meals heavy on the autumnal flavours, but evidently light on the palate.

Amidst all this, the muted bustle of the Sydney Road precinct outside only added the cloistered appeal of this authentically industrially restored space (read: not tacky or Tuckey).

Grilled Haloumi is always a guest at the best parties. So why not start from there? Lucky for us it was served with fresh zucchini pickle, much to the delight of our tastebuds. Sharing the table with Juvenile oysters, the scene was set for a high-benchmark of degustation.

Mains of Spaghettini, prawns, charred corn, black garlic and chilli beside my fellow diner's 400g Gippsland beef rib eye and gruyere mash were complemented to perfection with 2009 Gippsland's Bellvale 'Quercus Vineyard' Pinot Noir. The liquid delights go far farther than we had time to dabble in – but the 'oohing' and 'aahing' from nearby thrilled swillers didn't go unnoticed. Cocktails are quite clearly King at Albert St Food & Wine, and the cellar – which was once the bank's safe – acts as the heart of the space.

Food and Wine; Albert Street has it in spades. Not surprisingly a favourite for foodies and wine connoisseurs alike, Albert St Food & Wine has definitely done its bit for redefining the Brunswick beat as the original food bowl of our beautiful state.

I will definitely be back. Well before I chalk up another candle for the cake.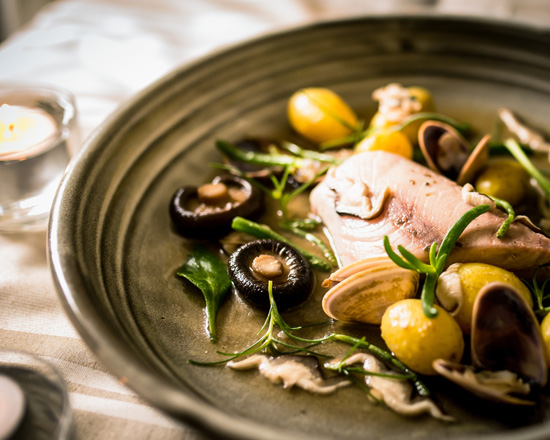 Image Credits: Ben Mulligan