Too lazy to mix your own drinks? Who really has time for zesting glasses and muddling cantaloupe anyway? (We might be doing that wrong).
Good thing Bar Americano is back with a new take-home bottled cocktail.
This is Bar Americano's fifth addition to the 'hometender' range. It's called Antica Fashionista, and it's Matt Bax's take on the classic 'old-fashioned' cocktail.
Mixed with local and Mediterranean fruits, herbs and spices, this bourbon-based drink is splashed with a little house Amaro Americano.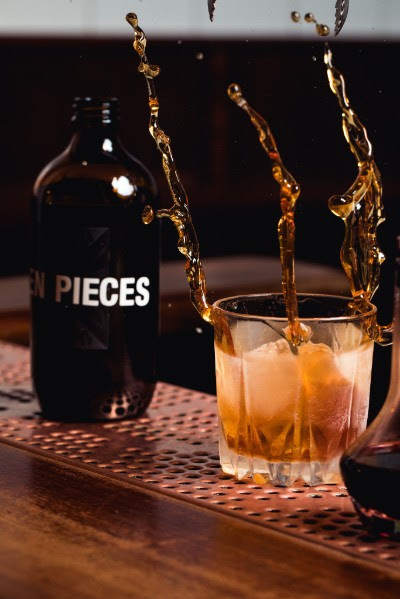 Matt Bax has dedicated the release of this one to Maurice Terzini, an old friend and collaborator—he's also the mind behind some of Sydney's best establishments, like Icebergs. Terzini also owns streetwear brand Ten Pieces, which is where the whole Antica Fashionista thing comes in.
Now, let's get down to the booze specifics. It's available to purchase in 200ml and 500ml bottles at Bar Americano in Melbourne, Bondi Beach Public Bar, Icebergs, Da Orazio Pizza + Porchetta and The Dolphin Hotel in Sydney, and Australia-wide via the online store.
Recipe
BYO old-fashioned glass and enjoy this bevvy by following the below steps, provided by Bar Americano.
Prepare your orange zest garnish first. Antica Fashionista is also lovely with lemon – you can offer the choice if you like.
Place ice (we use two oversized large cubes) into mixing jug. Be careful not to pour any melted ice water in by accident.
Pour your Antica Fashionista mix.
Stir well with a bar spoon until chilled, but watch out for over dilution.
Take a rocks glass from the freezer.
Pour with a julep strainer carefully into your glass from a short height. Excessive or dramatic pouring disturbs the drink and creates bubbles. This is a stirred drink and it should be handled accordingly.
Carefully place one big or several ice cubes in the drink.
Zest the rim of the glass with your citrus garnish and twist oils over the top.
Stand the zest up in the drink and serve immediately.
Or if you'd like to take my approach, pour in any glass/mug/container, add a few ice cubes and enjoy.
More Bottled Cocktails
If you're a fan of the fuss-free bottled cocktail, we've got a few favourites to add to your list. Check these bad boys out.
Happy drinking, guys.
Image credit: James Morgan