Just as you thought you had every contouring trick in the book down pat, here we are again… with yet another brand new trend for sculpting your face and chiseling your cheekbones.
It's called "tontouring"—and before you beg us to stop with all the contouring-inspired techniques trending at the moment (we know, they're getting out of control)… hear us out for a moment. You'll only have to "tontour" once a week, it takes no more than 10 minutes and doesn't involve a stitch of makeup. Intrigued? Us too.
This new technique involves contouring with fake tan—it'll leave you waking up with a near perfect contour, sans makeup. Replacing a palette of cosmetics with just a couple of products and steps once a week can only be a good thing (and we're only too happy to say sayonara to the laborious daily application and removal of the perfect contour).
"Tontouring" was coined by Marissa Carter, tanning-guru and founder of socialite-fave Irish fake tan brand, Cocoa Brown. Carter describes tontouring as a semi-permanent way to enhance the structure of the face. It's quick, easy and can work for anyone. "Unless you have Kim Kardashian's make-up artist on hand, achieving a perfectly contoured look with make-up can take hours. Contouring with a (faux) tanner is a really easy technique that literally anyone with tan and a makeup brush can do," explains Marissa.
We were skeptical… but we gave tontouring a try for ourselves; and it works! Here's how we did it…
Step 1 – Apply a facial tanner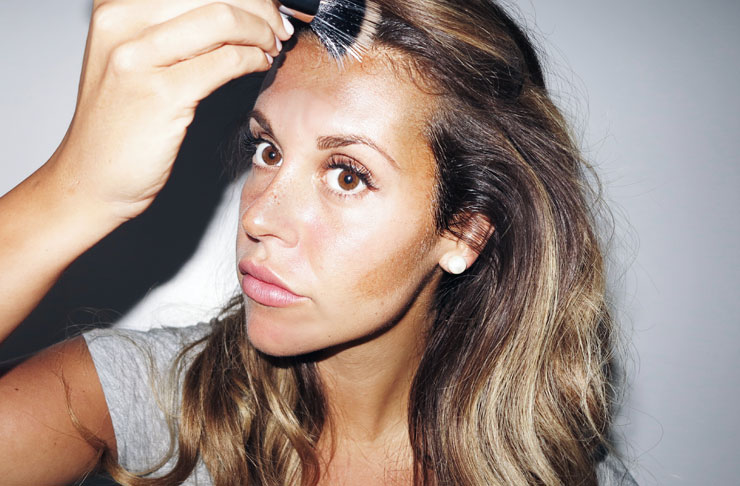 Apply a face self-tan all over your face, blending down your neck and onto your chest. A facial tanner will ensure your tan doesn't block your pores and cause breakouts. If you have paler skin, try a gradual self-tanner for your face. Your base tan doesn't need to be particularly dark, you simply want to create a sunkissed-glow that will act as the foundation for your tontouring and will make sure the darker tan you're about to apply doesn't look too harsh (not cute).
We love
St. Tropez | Self-Tan Luxe Facial Oil:

Incredibly hydrating and lightweight, St. Tropez Self-Tan Luxe Facial Oil is one of our favourite tans made especially for your face, it delivers a dewy, golden, steak-free sun-kissed glow.

Kate Somerville | Somerville360 Face Self-Tanning Pads:

A set of 12 self-tanning pads that deliver a believable sun-kissed look in just one easy step. They work with your skin's own proteins to ensure the shade is perfect whilst also moisturising your skin.
Step 2 – Start contouring your face with a darker fake tan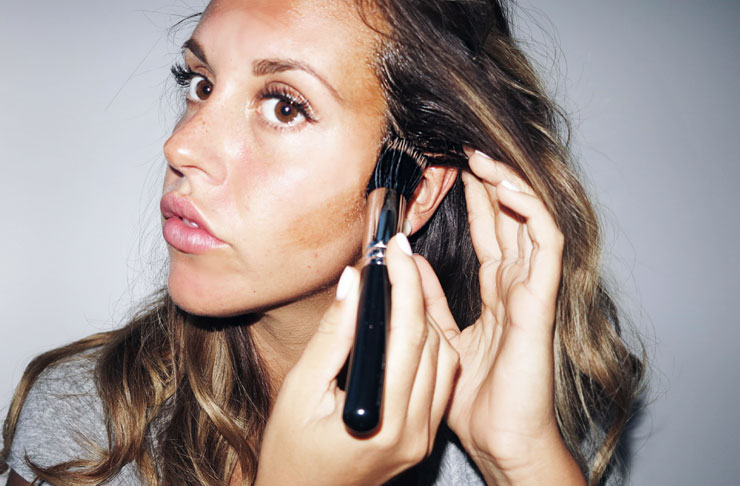 You'll need a dark fake tan for this step. We recommend a mousse formula as it's fast drying and easy to apply, make sure that you're using a tinted formula so you can see where you're applying it. You'll also need a stippling makeup brush.
Either squeeze out some fake tan and dip your brush into it; or apply the tan directly to your brush and buff the areas of your face that you'd usually contour; your temples, your forehead near your hair-line, your chin and the sides of the bridge of your nose (leave your cheekbones for later!)
Remember that less is always more—given that this technique lasts near week, you can always apply more product in a couple of hours, but it's going to be trickier to remove…
We love
Cocoa Brown by Marissa Carter | 1 Hour Tan Mousse in Dark:

The tan of choice of the tontouring queen herself, this tan is fast absorbing and the perfect golden shade.

Karora | Tropical Tanista Ultra Dark Mousse:

One of the deepest bronze shades, this mousse is creamy, velvety, extremely long-lasting and develops in just a couple of hours.

Zoeva | Stippling Brush available at SEPHORA:

The perfect brush to stipple, buff and dab on your (faux) tan, it promises an airbrushed foundation finish and delivers a streak-free, perfectly blended tontour.
Step 3 – Chisel your cheekbones and blend
We're giving your cheekbones their own step, as they're one of the easiest areas to, well, make look disastrous (you know, like you rubbed them with fingers coated in mud/dirt/chocolate mousse).
Head make-up artist and global director of education of Stila, Sarah Lucero (who has sculpted the face of almost every celeb imaginable) suggests identifying your "contour zone" to ensure a fool-proof contour. Achieve this by drawing an imaginary straight diagonal line from the top of your ear to the top of your cheekbone. Where you feel that little socket is the line your contour should stay. Apply your fake tan to the area right under your cheekbone with your brush; blending as you would a blush or bronzer, then quickly blend with your fingers.
Step 4 – Check your contour
Your face should be flawlessly blended and even on both sides, if you spot any areas that are a little heavy-handed, you can blend with your fingers or a Beauty Blender. If it's a real catastrophe, use a mixture of lemon juice and baking soda on a damp towel to buff it off. Remember your tan will continue to develop over the next couple of hours, so don't feel as though you need to apply more product—and don't forget to wash your hands!
If your skin is feeling a little dry, instead of applying moisturiser (that will move the tan around your face and ruin your contour whilst it's developing) try a hydrating facial mist like Chantecaille Pure Rosewater mist or MAC Prep & Prime Fix + which will also keep your fake tan in place.
And just like that, you're good to go! Your sculpted face will last three to seven days and there's no need to layer a makeup bag full of products daily to achieve the perfect contour. We are on board!
Accent your sun-kissed and flawlessly contoured face with (faux) glowing limbs with one of our favourite fake tans, check out 8 of The Best Self Tans.
---
Image credit: Bree Nowland