If there's one thing Melburnians are experts at: it's pampering ourselves. As fully certified adults, we love a life filled with NSFW doughnuts, extreme cocktails and OTT cheese-filled atrocities. But when you decide your body (*temple*) needs a well-deserve time-out from the horrors, hobble your way to ODOS.
Boasting the latest and greatest in wellness technology (yes, when you weren't looking it got a lot more complicated then downward dog), ODOS is the newest studio to grace the streets of Armadale with relaxing treatments for every #fitspo and #haventbeentothegyminayear foodie.
AirPods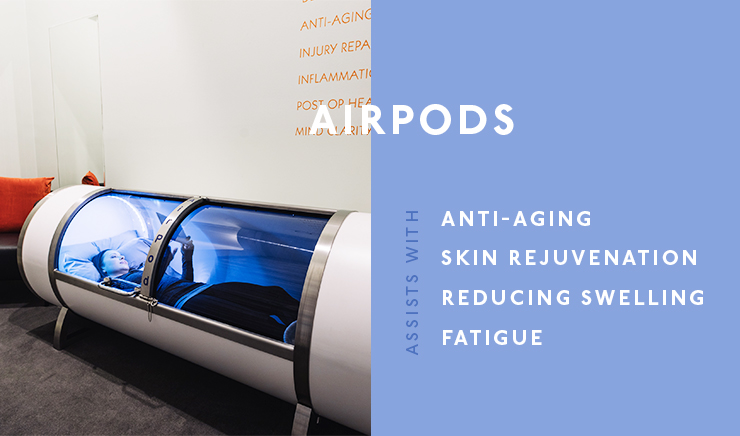 Not the kind you put in your ears, AirPods are a form of mild oxygen therapy which assists with everything from anti-aging and skin rejuvenation; to reducing swelling and fatigue.
Step into the comfy, futuristic circular pod (it's lined with puffy pillows and padding for the peak cosiness) and over a 60-minute session the pod will increase the availability of oxygen to the blood. It's higher than the levels achieved at normal atmospheric pressure (eg. your lounge), plus there's two-way communication with a professional operator if you ever need anything during your session.
The best bit is that your iPhone and iPad is totally welcome in the AirPod, because the ODOS team understand you have some serious Netflix to catch up on.
Infrared Saunas
The hottest trend among the fashion crowd at the moment, infrared saunas have got to be one of the most loved treatments on Instagram. Heated up to 60 degrees Celsius, sessions last 45 minutes at ODOS and assists with niggling pain while detoxifying the body.
Infrared saunas utilise a full-spectrum of rays to pull out up to seven times the amount of toxins compared to a traditional sauna, giving your skin the best purification in less than an hour.
There are a range of sauna sizes to choose from, depending on how much you like your friends (…joking). Individual, domo-style saunas are perfect if you need some you-time, while group saunas can fit up to three people and are 100% adjustable via the screen attached to the inside of every sauna. The screen also allows you to hand-pick a specialised program for your sauna sesh, with options including a weight loss program (which works by making the body cool itself and increasing heart rate, cardiac output and metabolic rate).
On top of all that, every sauna also has complimentary Netflix, because the team knows what pampering means.
If you're a clever cookie, you'll pair up your sauna and AirPod sessions to maximise each appointment. ODOS offer a range of packages and passes so you can save your spare dollies on a post-sauna froyo.
You can also enjoy showers, luxury products and a blissful tea selection that will get every leaf-lover drooling after your session. It's pretty much our idea of heaven.
To book your treatment, head to the ODOS website here. For a limited time, ODOS is offering an Introductory Special which will get you three Infrared sauna sessions for $99 (valid for 14 days). The team also offer Foundation Memberships, limited to the first 100 members (#exclusive) at $39 per week, per annum.
Image credit: Griffin Simm for The Urban List
Editor's note: This article is proudly sponsored by Sunlighten and endorsed by The Urban List. Thank you for supporting the sponsors who make The Urban List possible. Click here for more information on our editorial policy.