Let's be honest – waxing is probably not at the top of most people's list of 'super fun things to do on the weekend' (and you know, it'd be a little strange if it was!)
While the results of waxing are too good to pass up – smooth, hair-free skin? Yes please! – the process itself can be, well, a little uncomfortable.
That's why we've turned to Melbourne's waxing specialists, Waxed, to talk us through the things you can be doing to not only make the waxing experience easier, but also the end result even better. Especially when it comes to that most #awkward of waxes – the Brazilian.
With four salons under their belt – Elsternwick, Bentleigh, Balaclava, and their latest in Malvern – Waxed are on hand to make the waxing experience literally and figuratively as smooth as possible for their loyal clientele. Waxed is considered to be one of Melbourne's best waxing salons, thanks to their unique environment, stellar customer service and most importantly, excellent waxing services for both women and men, that are not only efficient but affordable!
Whether it's facial, body or Brazilian waxing, no one is too hairy for the Waxed team! However, of all the services they offer, it's Brazilian waxing that Waxed really excels at. Hayley and Leah, the brains behind Waxed, totally get it – when it comes to something that personal, only the best will do.
Behold, Waxed's top tips – aka The 10 Brazilian Waxing Commandments…
Thou shalt prepare the skin beforehand
Gently exfoliating the skin one to two days prior to your wax is key – not only does it help to get rid of dead skin cells, but it'll also make it easier for your therapist to get every little hair. Remember, do it gently – you don't want to irritate the skin pre-wax!
Thou shalt protect skin from the sun
Another thing to keep in mind both pre and post-wax is that the sun is the enemy! It seems fairly logical but whatever happens, DON'T get a wax if you're sunburnt (unless you want to yelp your way through the appointment) and keep out of the sun for 24 afterwards. Trust me, you'll be thankful!
Thou shalt know thy options
Not sure how much you want to get waxed off? Don't stress, the great thing about Waxed is that you have plenty of options. From the Standard Bikini (sides only), to Tassie, Down Under and of course, the 'all-off' Brazilian, there's a less hairy option for everyone!
Thou shalt leave thy shyness at the door
Ladies, if you're going to venture into the land of Brazilian waxing then you better forget being shy. Sure, there are disposable g-strings (which are the most ridiculous looking things we've ever seen by the way) but why bother when the Waxed therapists have seen it all anyway? For what it's worth, they couldn't care less – they just want to focus on getting you hair-free!
Thou shalt remember to breathe
Sounds simple enough, but continuing to breathe is not only vital in, ummm, staying alive, but also means your body won't be so tense. Breathe in as the therapist goes to remove the wax, and breathe out as it's being removed. Say it with me girls, breathe innnnn, and breathe outtttt.
Thou shalt lie back and relax
One of Waxed's unique features are the flat screen TVs that feature on the walls of each treatment room – perfect for distracting yourself during your Brazilian wax! There's a wide range of shows on offer from Modern Family, to Will & Grace, Friends and more, so take your pick, sit back, relax and distract yourself!
Thou shalt not wear skinny jeans afterwards
We know you love your J Brands but trust us, the last thing you should be wearing after a Brazilian wax is skinny jeans – you need to let the skin breathe! Put it this way – sensitive skin encased in tight pants? Ouchhh.
Thou shalt maintain regular appointments
Sure, the first time you get a Brazilian wax it hurts but the more you do it, the easier it gets. The good thing about regular appointments is you get used to the pace and know what to expect…and so does your body!
Thou shalt ditch the gym that day
Exercise-fiends, forget about going to the gym post-wax! Why? Heavy exercise and working up a sweat can block the pores, increasing your chances of developing those damn ingrown hairs. Hayley and Leah's tip? Wait at least 24 hours.
Thou shalt look after thy skin once at home
There's no use in getting a Brazilian wax if you're not going to maintain your skin at home! Waxed stock a range of post-waxing products including Colloidal Silver body wash, soothing Moo Goo post-waxing cream, Egyptian Magic all-purpose skin balm and 'Out' ingrown hair preventative – our holy grail product – all perfect for keeping your skin in tip-top shape.
In return for abiding by the 10 Brazilian Waxing Commandments, the Waxed team will help you go from Bear to Bare. Curious as to what actually happens in the room? Here are Waxed's six key steps…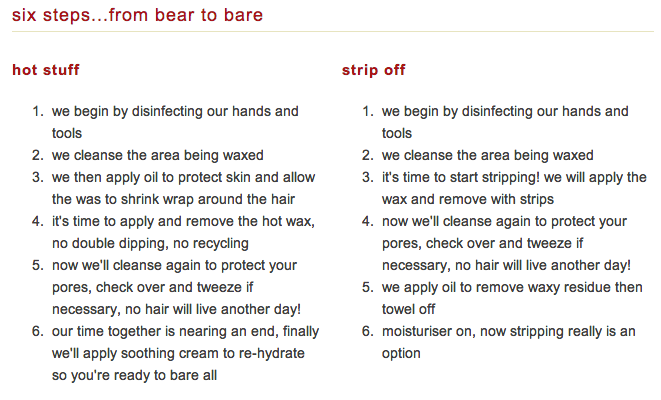 Do you feel like going from Bear to Bare too?
Book in for a Brazilian wax at Waxed, mention the 10 Commandments and you'll receive 10% off (valid until Sunday 3rd August 2014). Booking is too easy – simply download the Waxed app to make appointments on-the-go, book online or call 9523 5331.
TUL Note: Today's List Love post is proudly sponsored by Waxed and endorsed by The Urban List. Our sponsored posts will never be a secret — the List Love seal will be stamped on any sponsored material you see on the site. Thank you for supporting the sponsors who make The Urban List possible.
Image Credits: Couturing, Tash Sorensen (The Urban List) and Waxed.