Okay ladies and gents it's time for some #realtalk. Humans buy about one million plastic bottles per minute. Oh, and worldwide, only 10-13% of plastic items are recycled. The vast majority of plastic is accumulating in landfills or being tossed into the environment as litter and much of it is ending up in the oceans.
The good news? You can help the environment while looking totes farshun with these trendy AF drinking vessels.
Time to wet your whistle with these 10 re-usable water bottles.
#1 Flow Vessel
This ain't your average bevvy holder. Flow Vessel has not only invented a stylish stainless steel and BPA-free plastic bottle, but they are designed to be completely accessible for people with disabilities AND 100% of every purchase goes to Aussie social enterprise Care Collective, an organisation dedicated to empowering people with disabilities. The water bottles keep your cold drink cold, your hot drink hot and duhh… will have you feeling cooler than Regina George's mum.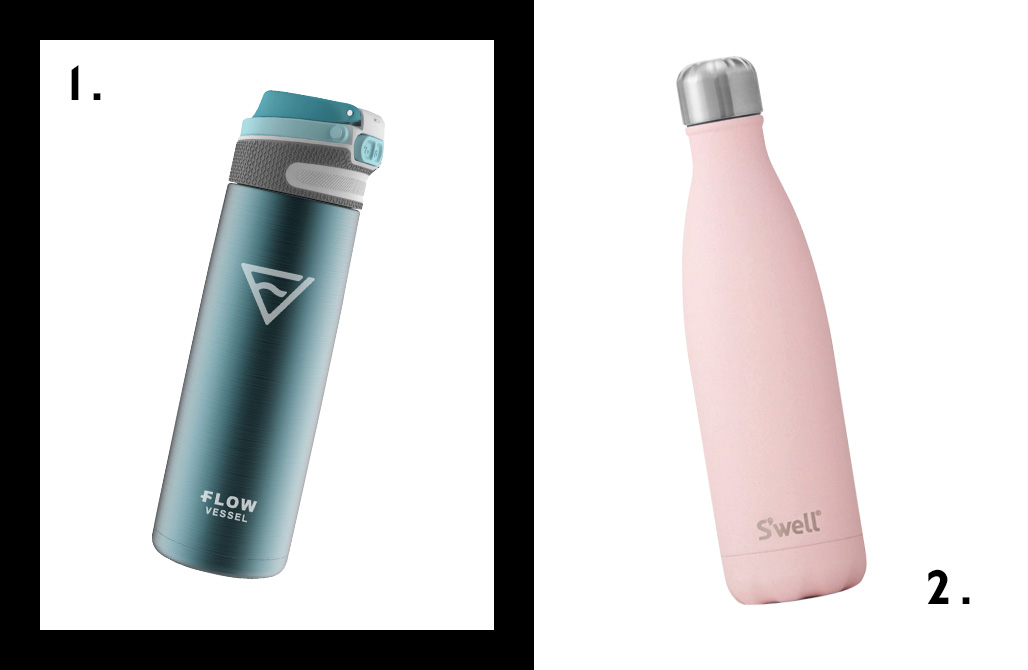 #2 S'well
Okay we're not going to keep this bottled up any longer, we're kind of obsessed with the new Lilly Pulitzer x S'well range. S'well can do no wrong in our eyes, a hydration accessory that does good and ofc there's no excuse not to hit the gym with a water bottle that looks this fine. An environmentally sustainable choice with a side of summer bod? Get us to the bottle shop.
#3 Sea Shepherd
We know a great option when we sea one. Sea Shepherd's Jolly Rodger stainless steel bottles are mega cool, won't break the bank and the best part? All proceeds go to their mission to defend ocean life worldwide. Jolly good.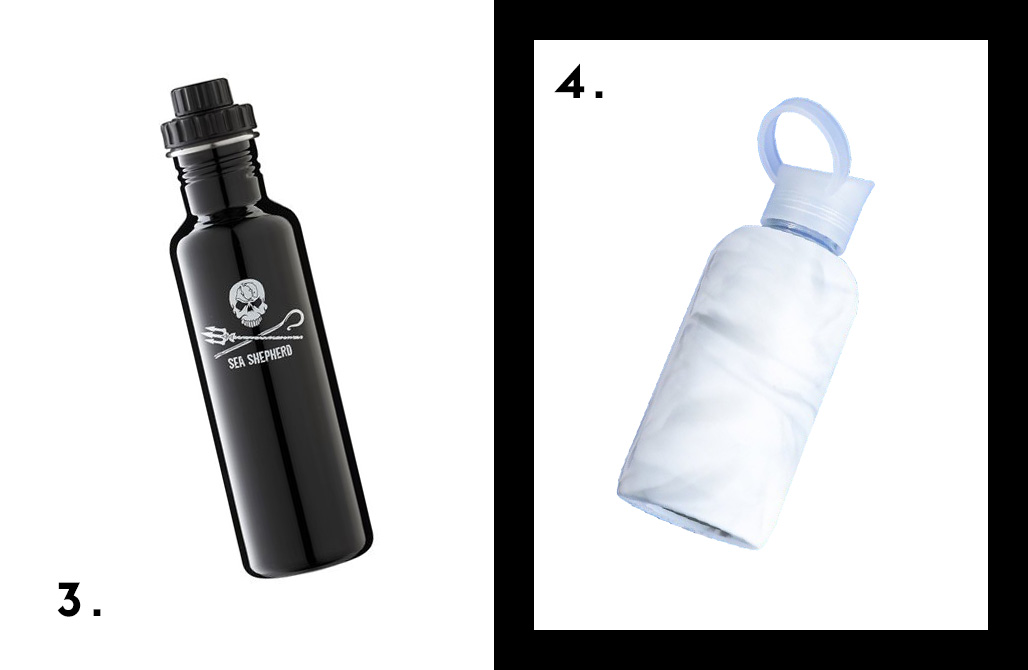 #4 Chuchka
We are soooo in love with these glass beauties from Chuchka. They look gawj while taking care of the environment and your health, winner winner chicken dinner. A glass bottle with a silicone sleeve in four different ever-so-chic marble designs that just may be your perfect yoga or beach accessory
#5 Frank Green
We're going to go as far to say this is the superhero of the water bottle world. We can see why these simplistically designed, spill, stain and odour resistant bottles are called the 'Smartbottle'. The Frank Green water bottles come with exclusive access to their associated Hydrate app which records your daily water consumption goals. The app also lets you know exactly how you're protecting the earth with a live record of plastic bottles saved from landfill. DA-NA-NA-NA-NA Bott-man!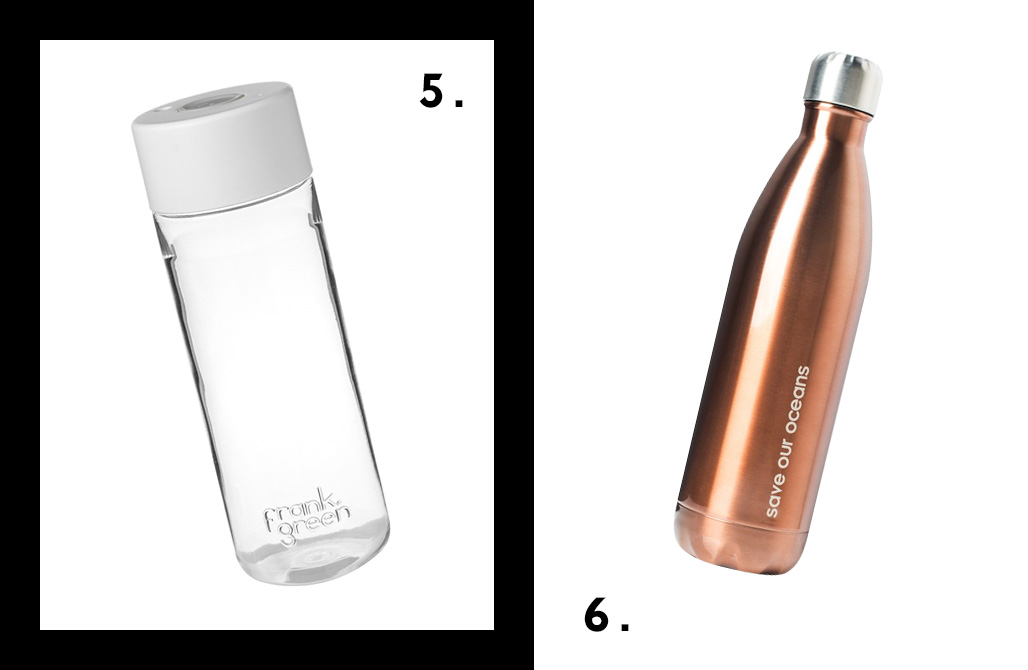 #6 BBBYO
BeautifulBeachesBYO have an array of premium insulated stainless steel water bottles that keep your hot choccie piping hot for 12 hours and cold drinks cold for over 24 hours! The legends at BBBYO encourage adding citrus, mint or even your fave wine to these babies. Now we're talking. BTW you can also get funky protective carry covers for your BBBYO bottle. If you missed out on being one of those cool kids at school with the really trendy handbag style lunch boxes, now is your time to make up for that.
#7 Yogibeings
Get yourself a tall drink of water with these handsome copper bottles from Yogibeings. These trendy vessels are made from pure copper so they're super lightweight and will keep your bev cool. We're about to get a little technical but stay with us. Copper also activates antioxidant, anti-inflammatory and anti-microbial properties aka it engages your digestion, joint health and red blood cells. Aka this bottle makes you a cool cat (that's all you really need to take from this).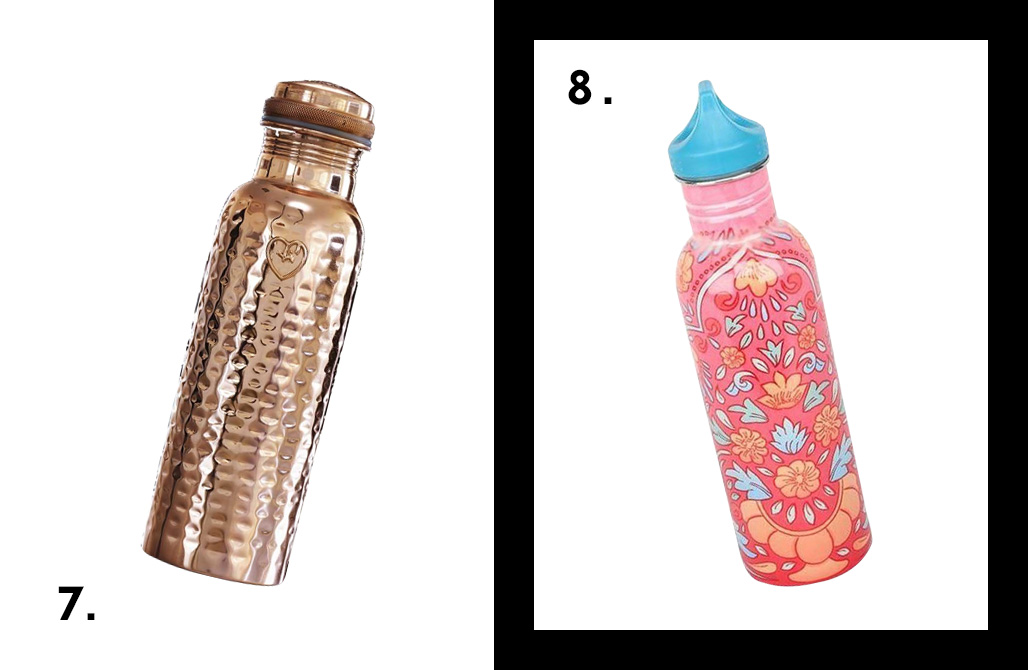 #8 Ishka
Ever dreamt of a drinking vessel with David Bowie's face on it? Us too. That is all.
#9 Joseph Joseph
Thank you Joseph, for helping us fulfil our healthspo goals. The Joseph Joseph Dot bottle tracks your daily water intake. The lid displays a new dot every time you refill the bottle so you can keep track of the number of bottles you go through. Hydration Sensation.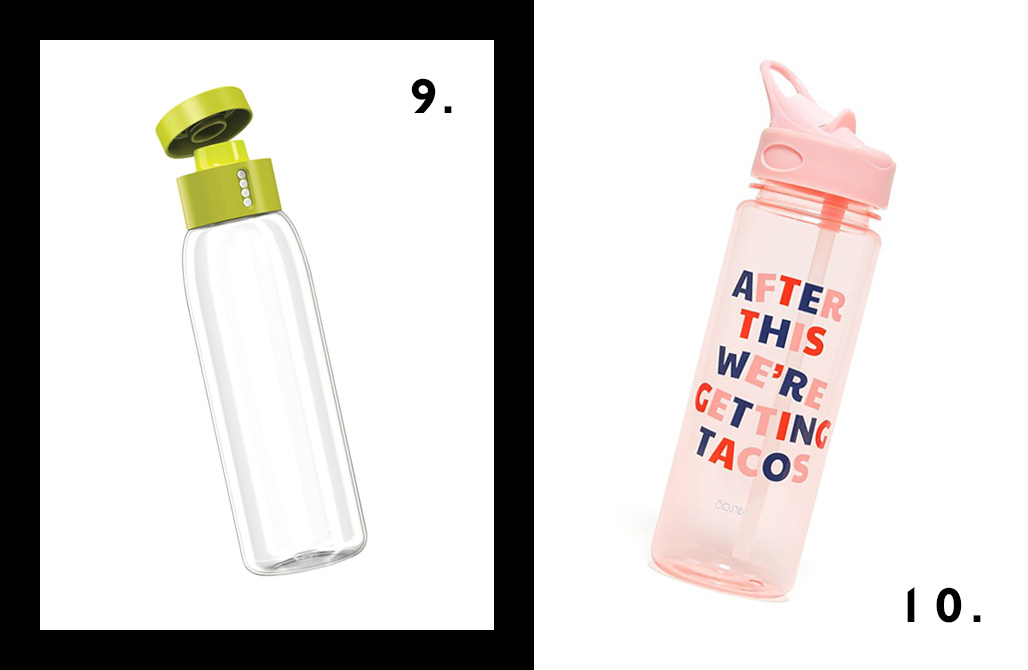 #10 Ban.do
Pretty sure Ban.do may be a closet psychic because she's got these water bottles saying everything we're thinking. TBH, these funky things make single-use water bottles look pretty darn basic. Our personal fave is the bottle with 'I was told there'd be wine' printed on the front. Told you she's psychic.
Love the environment? Check out these gorgeous re-useable bags.
Design credit: Isaac Smith