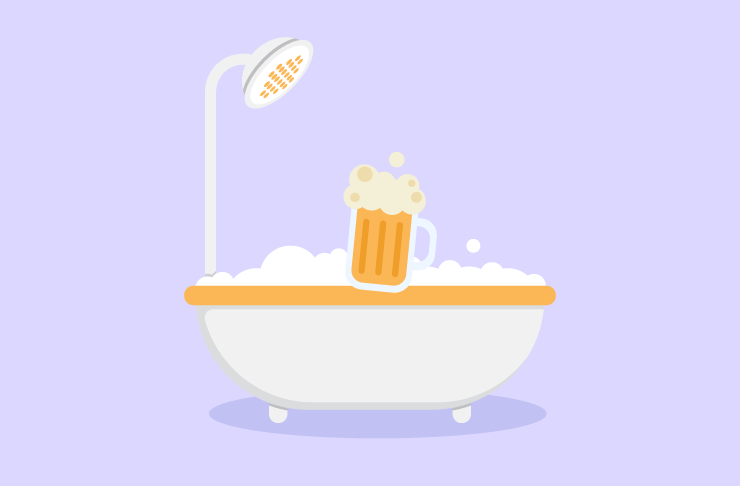 Everyone loves a big cold beer, and the best cold beer is literally anything you're drinking at that very moment. But there's a certain type of beer that has been skulking in the shadows, people have been afraid to talk about it, that is, until now.
I'm talking of the shower beer. You're getting home from a long week at work, the shower is turned on, and a beer is there to guide you through you washing the stink of the work week off your shoulders. Maybe you're getting ready for a night out, prior to any other part of the getting ready process comes the shower, and it's only enhanced by a shower beer.
We've got our only picks for what works when the water is running, but we decided to contact some of Victoria's best brewers and find out what their pick is. They've nominated one of their own, plus another option that their brewing brethren have put together.
So let's get stuck in.
Bright Brewery
Bright
Own Brew
Razor Witbier
"A Belgian Style Wheat Beer that's the perfect accompaniment to a warm shower on a late spring afternoon. Awesome drinking from the bottle and ok to be consumed from a hot shower hand."
Other Brew
Blizzard Kolsch
"From just up the road, it's always fresh when we get our hands on it and has a little something different for a kolsch due to its Belgian yeast inspiration too! Very approachable and refreshing"
Find out more about Bright Brewery here, and Blizzard Brewing here.
Mornington Peninsula Brewery
Mornington
Own Brew
Hop Culture Session IPA
"Fruity, tropical flavours making you feel like you could be dancing in a steamy, humid tropical downpour, rather than being trapped inside a glass case of emotion."
Other Brew
Holgate Hop Tart
"Ringing light sourness and citrus finishing with a clean, dry finish—which is the ultimate goal of a shower after all"
Find our more about Mornington Peninsula Brewery here, and Holgate Brewhouse here.
Tallboy & Moose
Northcote
Own Brew
Cream Ale
"It would likely turn into a pre-shower, and post-shower beer all at the same time...or better yet might even be more suited to a bath?!? Our Cream Ale ticks all the boxes, it's super dry, clean and crisp but it carries a subtle noble hop note and in the 1L can it means you can take your time enjoying that bath with no need for resupply from the fridge!"
Other Brew
Pirate Life's Throwback IPA
"It's only 3.5%, and fairly light in body, so it will drink really well in the shower. It's also got a lot of hop character to keep things interesting"
Find out more about Tallboy & Moose here, and Pirate Life here.
Bridge Road Brewers
Beechworth
Own Brew
Chestnut Pilsener
"The Chestnut Pilsener is a unique pils brewed from local chestnuts sourced from the area"
Other Brew
Fixation Squish
"A nice warm shower deserves from tropical notes, and the Squish from Fixation Brewing has that in spades"
Find out more about Bridge Road Brewers here, and Fixation Brewing Co. here.
Thunder Road
Brunswick
Own Brew
Hopstar XPA
"From our range I usually find myself choosing a growler of Hopstar XPA on flavour and body, it seems to suit any time of year"
Other Brew
"For my more luxurious shower beer I'd go with Mismatch Evil Archie Red IPA now that it is canned because I like the whole package both inside and out, and it tastes good at any temperature"
Find out more about Thunder Road here, and Mismatch Brewing Company here.
Colonial Brewing Co.
Port Melbourne
Own Brew
Colonial Draught
"Our Colonial Draught as it is the only one of our beers that doesn't have a 360 lid. Our Small Ale, Pale Ale and IPA all have rip lids and a can with no lid doesn't mix well shower water"
Other Brew
Founders All Day IPA
"Has to be a can as the risk of broken glass is too great with bottles. As for which can, I'd have to say the Founders All Day IPA. As the name suggests, it can be drunk anytime of the day so if it's a pre-going out shower, a cleansing post-work shower or even a cheeky shower with your special one, the Founders works beautifully"
Find out more about Colonial Brewing Co here, and Founders Brewing here.
East 9th Brewing
Prahran
Own Brew
Doss Blockos Fuck The Rent Golden Ale
"You can't go past East 9th Brewing's Doss Blockos Fuck The Rent Golden Ale as the perfect 'Shower Beer'. It's the perfect weight of flavour to kick off any night, and the combination of Amarillo, Cascade, Citra and Centennial Hops will have you up and about...it's brewed for enjoying life now, and worrying about tomorrow, tomorrow..."
Other Brew
Kaiju Krush Tropical Ale
"Kaiju Krush Tropical Pale Ale is another brew that'll get you primed for a night on the town. It comes in a tin that fits perfectly into any shower caddy, and it's light tropical notes pair perfectly with most fruit-driven shower gels.."
Find out more about East 9th here, and Kaiju Beer here.
Mountain Goat
Abbotsford
Own Brew
Barrel Breed Barleywine
"Shower Beers? I'm more of a bath beer kind of guy. 4th century poet Wang Xizhi gathered 41 fellow wordsmiths along the bank of a running stream. Cups of wine were launched down the stream and any poet who was unable to improvise some verse before his drink arrived had to do a shot. Presumably of something worse than rice wine. Like the Jin Dynasty equivalent of Jaegermeister.
Inspired by that example, I like to decant our Barrel Breed Barleywine into a small ceramic bowl and push it around the tub, coming up with a limerick or two before it ricochets back to me. The open vessel and warmth allows the beer to breathe, so I can enjoy the full spectrum of aroma and flavour.
Unlike Wang Z.X. and his mates, there's not much competition at my bath time poetry slam. It's hard to fit many poets into my tub, even though they tend to be pretty skinny (poetry not paying very well recently, and probably vegans). After a couple of turns I'm mainly beatboxing anyway."
Other Brew
Holgate Brewhouse Beezlebub's Jewels
"When I run out of barleywine, I might reach into my cellar of the Holgate Brewhouse Beezlebub's Jewels. Another barrel-aged beauty suitable for conjuring verse whilst immersed"
Find out more about Mountain Goat here, and Holgate Brewhouse here.
Hawthorn Brewing Company
Albert Park
Own Brew
Hawthorn Amber Ale
"The Amber because it's always been his favourite. He just admitted to me he has on occasion been known to down an easy dozen – which is fairly impressive given it's a pretty decent malt bill. That bit about the dozen is probably not for print but he loves the warmth and the biscuity and caramel tones, it also reminds him of many a pint in London pubs"
Other Brew
Quiet Deeds Session Ale
"In summer the crisp, fruity Quiet Deeds Session Ale is his go-to with a cold shower while our richer, maltier Hawthorn Amber Ale is his pick for a mid-winter bath –because bath beers are also excellent"
Find out more about Hawthorn Brewing here, and Quiet Dees here.
Stomping Ground
Collingwood
Own Brew
Stomping Ground Gipps St. Pale Ale
"This is the beer that we first brewed in the brewery and still one of my favourites. Gipps St. Pale Ale has a great malt palette that balances well with the juicy orange citrus and pine aromas and flavours of the american hops used. It's a beer I love to drink all year round, in and out of the shower"
Other Brew
Feral War Hog IPA
"This is my go to beer in the tin that I can get from one of my local bottle shops so it's always in my fridge. It's a lighter coloured American IPA but still carries over 7% ABV which makes it easy to drink and puts you in a good place. Lots of tropical and pine aromas and flavours with an even, balanced bitterness"
Find out more about Stomping Ground here, and Feral Brewing here.
2 Brothers
Moorabbin
Own Brew
Pay Day Pale Ale
"There aren't many things in this world more satisfying than a beer in the shower, and what better way to end a hard day's work than indulging in a steamy sesh with a Pay Day Pale Ale?"
Other Brew
Modus Operandi Sonic Prayer IPA
" If cleanliness is next to godliness, this is a beer that demands long contemplation while washing away the sins of the day"
Find out more about 2 Brothers here, and Modus Operandi here.
Staff Picks
We couldn't help ourselves, we just want to be heard.
Chris | Asahi | "Something that is crisp and clean. Counters the steam of the shower"
Phil (who drank a beer a day for 365 days) | 3 Sheets Pale Ale | "You need a bottle over a tin, a brown bottle to be specific. Never trust a beer in a clear bottle. Choose the Sample Gold Ale if you're into golden showers"
BT | Pirate Life Throwback Ale | "A nice hot shower is only complimented by a big beefy IPA, and Pirate Life does the trick"
Ben | Mountain Goat Steam Ale | "Get it? But actually, it is. Has to be crisp and easy to drink in hot climates"
Feeling a bit thirsty? Here are the best breweries inside the city limits of Melbourne.
Image credit: Irene Diaz