If you haven't yet heard of Emily Nolan, we suggest you get acquainted with her and her debut label, E Nolan. The young designer is part of a new wave of emerging talent paving the way for Australian fashion, and her unapologetic approach to classic tailoring is something we can get around.
Scrolling through E Nolan's Instagram it's easy to see why Nolan graduated as designer of the year from Whitehouse Institute of Design in 2016; pops of jewel tones paired back with classic silhouettes and a strong creative eye.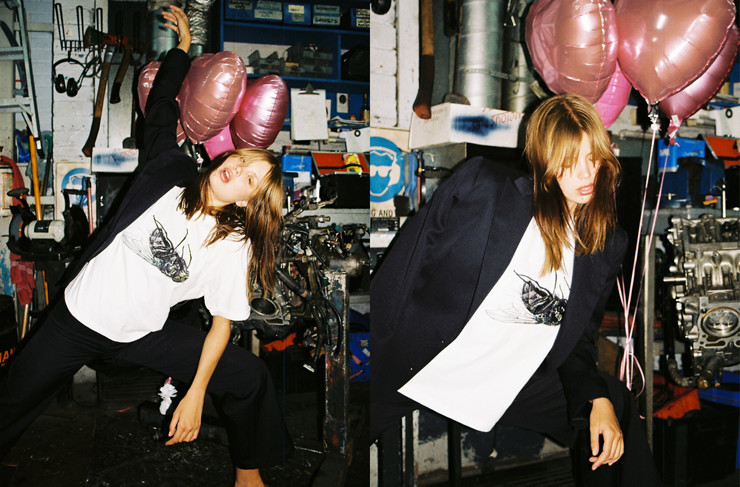 When we reached out to Nolan to chat about her debut brand, we were keen to first get some insight into her personal vibe; "I love dancing and beer". Yep, that's when we knew she was right up our alley.
Following her graduation, Nolan commenced her apprentice at menswear tailor P Johnson, working for director Tom Riley as the only female tailor at P Johnson for 18 months. From there, she decided to take action on her dream of one day owning her own brand—and E Nolan was born. With some pretty impressive credentials, it's no surprise E Nolan has found a gap in the womenswear market – custom made suiting, alongside some rad tee shirt designs.
How did this all come about—did you always plan to create your own brand?
Any decisions that come to mind, have always been centred around having my own brand one day. After graduating The Whitehouse Institute of Design, E Nolan was launched in December 2017 at Melbourne's iconic luxury boutique 'Le Louvre'. The debut featured a collection of embroidered blowfly t-shirts which derived from my graduate collection that owner Georgina Weir & buyer Anastasia Driver spotted on a jumper I had made for my brother.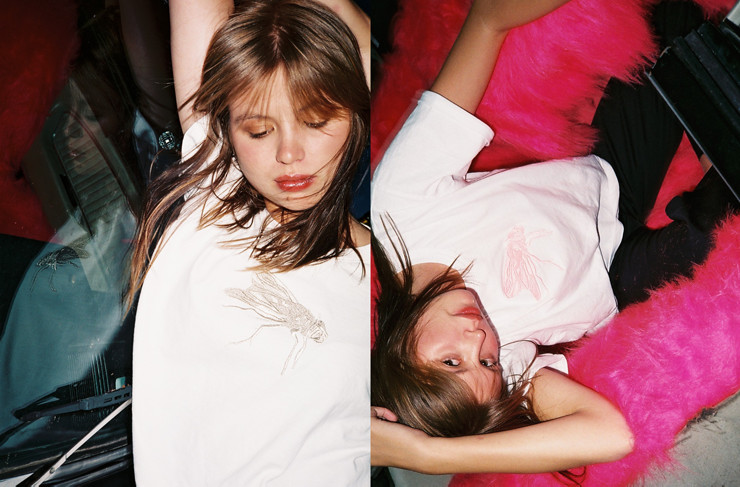 On a personal level, where do you find inspiration?
The women in my family continue to inspire me and push me to question. I am very close with my grandmothers; my granny taught me to sew, my grandma taught me to make hats and my great aunt taught me about fabulous. My mum has an incredible work ethic, working very hard professionally and managing to find balance. Both my parents have always worked full time and as a family, with my brother James, we are very close. Also a notable mention to my Labrador, Rosie.
What has been the most rewarding part of starting E Nolan?
The most rewarding part is the tangible manifestation of something I've loved and laboured over and overcoming that 'buzzing fly' of doubt just before sharing a new collection to others.
And the hardest?
The hardest part is the isolation of working for yourself and not being able to switch off as easily; I'm lucky to have an incredible network of friends and family who inspire me and keep me sane(ish).
How would you describe the E Nolan persona and brand spirit?
The E Nolan branding is pretty irreverent. The campaigns and branding are my playground, the clothing however, I hope to be for other women. E Nolan garments are to fit into the lives of all different types of women, all ages looking for a suit, jacket and or trouser that are beautifully made, comfortable, durable, weather appropriate and easy to migrate between dress codes and the schedules of modern life.
The Valentine's Day collection of t-shirts are a tribute to the beginnings of the brand and to the heart of sleeve ethos. The E Nolan logo is a little blowfly at the centre back of the t-shirts as a reminder of the labels idiosyncratic nature. Anchored by a long-standing necessity to blur dress codes and add personal style to uniforms, E Nolan will supply a comfortable alternative with an intention to see the suiting and motif t-shirts anywhere from desk jobs to disco dancing. Fabulous without the fuss.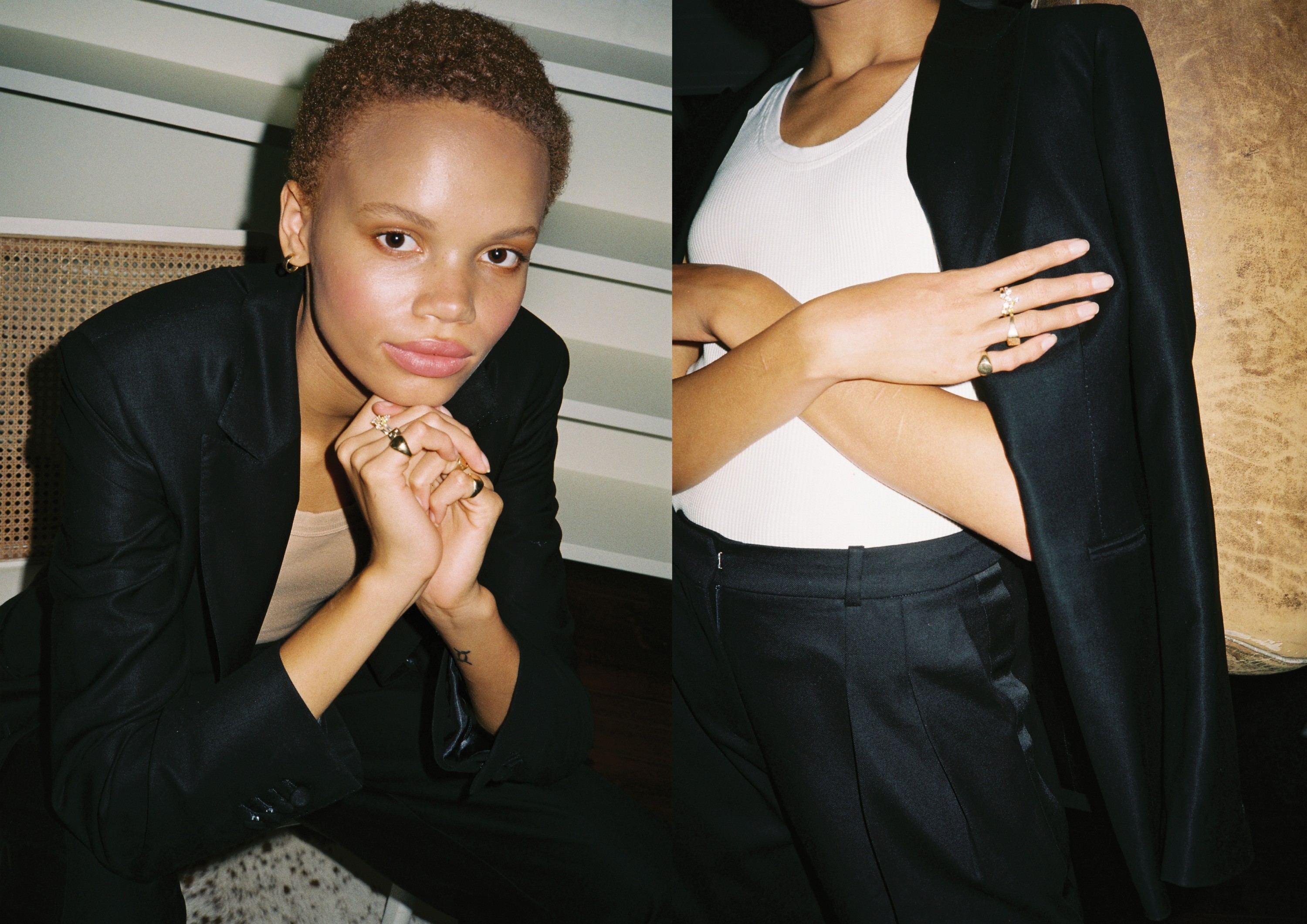 Can you tell us about the Valentine's Day collection? What prompted you to release that collection specifically?
The Valentines Day special collection, 'Love loves to love love', is a collection of six t-shirts to break your heart and mend it all over again. The collection consists of 6 t-shirt designs; 'Heartbreak Blows', 'Every Tom Dick & Harry', 'A British Blowy', '3 Blows To The Heart', 'Draw Me Like One Of Your French Flies' and 'Fresh Cock'. The t-shirts have between 95,000 and 275,000 stitches per motif and are made in Melbourne (with love).
Always inspired by love but it was heartbreak that kept me up creating. In the midst of it, there's always stifling amounts of self-doubt, reset buttons and relearning basic routines and rituals. Heartbreak never gets easier but you do get better at navigating through it. Laughing is very important - also to try not to let idiots ruin your day.
Each year I hope to curate a Valentine's Day capsule collection. Hearts are usually for the sleeves but I'll wear mine on my tees.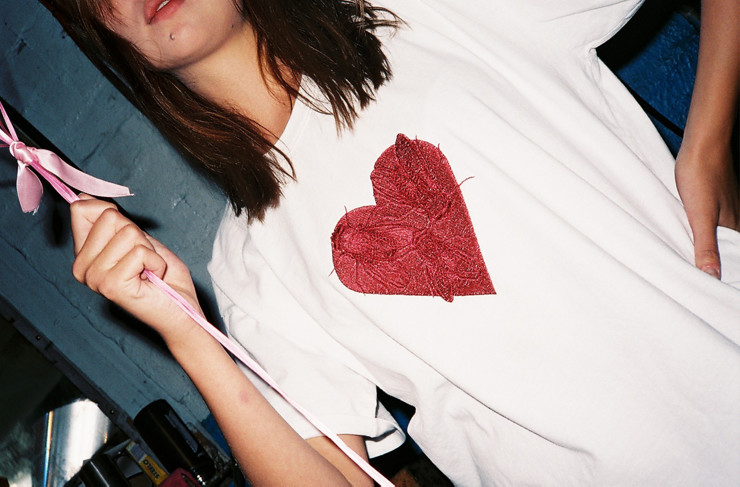 So, what's next for E Nolan? What can we expect to see in the future?
E Nolan currently sells women's embroidery motif t-shirts. E Nolan is releasing a capsule women's made to measure suiting service with an emphasis on luxury fabrication and androgynous tailored cuts season to season. The collection will be available for purchase at an E Nolan trunk show in Melbourne in the first week of June. The debut collection is made of black 100% Italian wool garments, a single-breasted jacket, double-breasted jacket, high rise trouser and double pleated trouser. To visit and view the collection, clients are able to book in an appointment and have their garments tailored to their desired fit.
Also worth noting is her love for footy, cheese toasties and choccie milk—we told you you'd love her.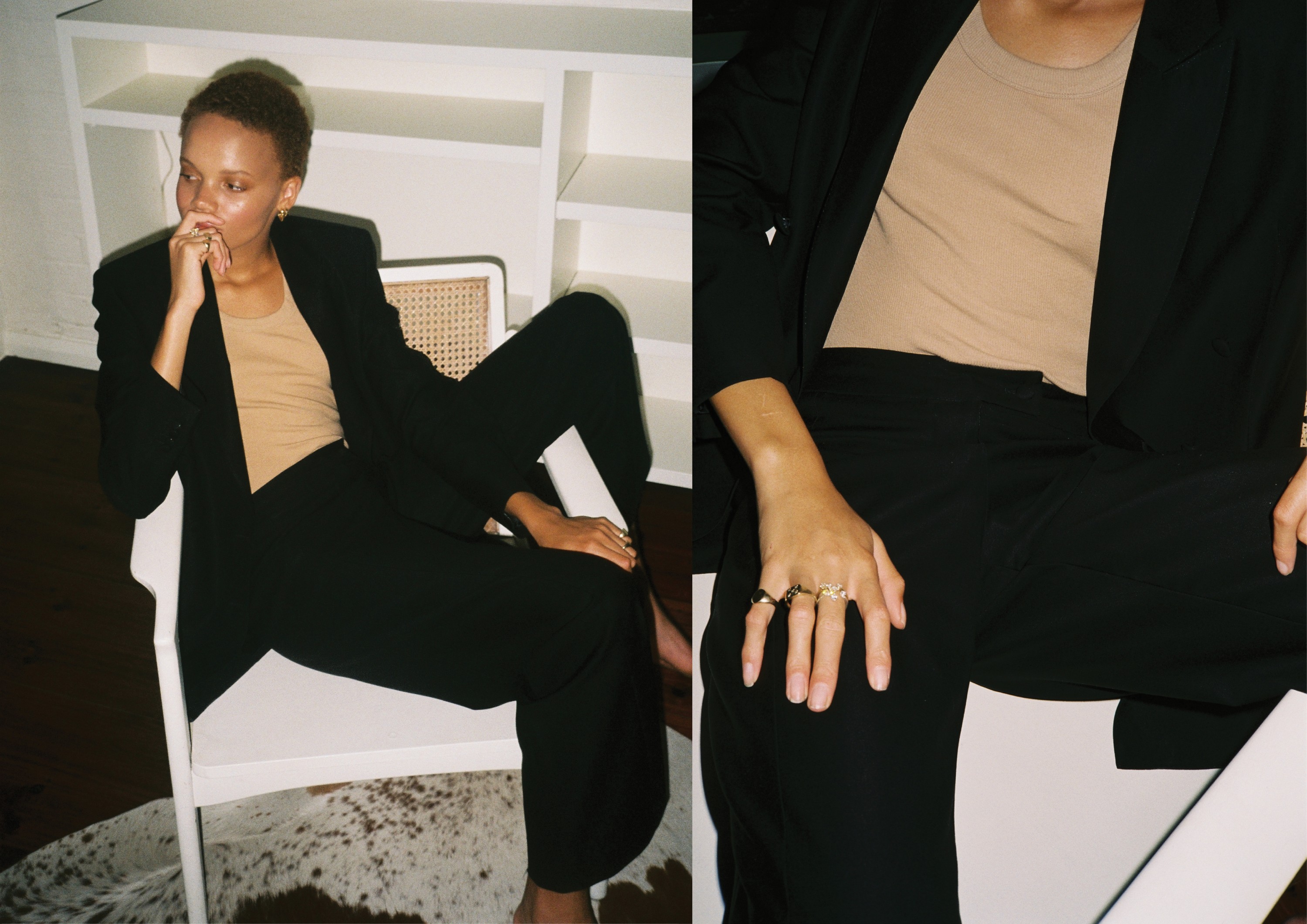 For more information and appointments, and to purchase E Nolan t-shirts, head to the online site and keep tabs via socials.
Image credit: E Nolan